Nokia 6, 5 and 3 hands-on: A closer look
A closer look
GSMArena team, 02 March 2017.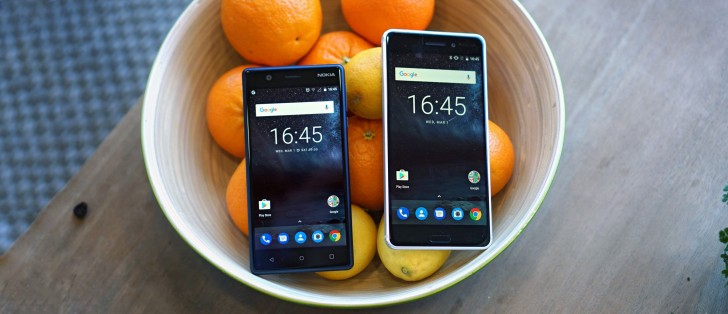 Nokia 6
The shining jewel in Nokia's crown - literally, the Arte Black has a high gloss piano black finish that looks superb. It's well worth the effort it takes to keep clean (no different form glass-backed phones, really).
For the young'uns in the crowd, Arte was a part of Nokia's 8-series and some of the most beautiful phones at the time. Shame that sliders are no longer a thing now that touchscreens took over, but we digress.
The Nokia 6 Arte Black also deserves attention because an exclusive memory option is tied to the color - 4GB of RAM and 64GB of storage. This model will retail for €300. The rest of the 6 models will have 3GB/32GB memory and go for €230. Those look beautiful too, but we're partial to the Arte.
The design of the phone is clean with soft curves on the Gorilla Glass 3 front and the aluminum back. The antenna lines have been curved to follow the top and bottom edges on the back. As far as antenna lines go, these are some of the less obtrusive ones. On the Arte Black model they blend in with the back especially well.
The one decorative element on the back is the glossy rim on the camera and flash assembly. It's missing the traditional Carl Zeiss branding that we're used to on a Nokia of this caliber, that would have really kicked our nostalgia into high gear.
Anyway, going around the front we find 5.5" 1080p display. While it isn't officially branded ClearBlack, it uses the same technology (a polarization filter) to reduce glare. The sunlight legibility on this phone is fantastic. We did have one issue, though - you can't use the phone in landscape while wearing polarized glasses (the screen would appear black). That aside, the IPS LCD panel offers great viewing angles and colors that pop.
Below the screen on the Nokia 6 (and the 5) is a fingerprint reader/home button. While it takes a bit to set up initially, the reader unlocks the phone with enviable speed. It doesn't support gestures, though, something that is slowly gaining popularity on Android.
I was disappointed with the music playback time of the nokia 6 which is only 22 hours.
Nokia had 11 manufacturing sites globally, Finland, Hungary, Romania, England, Germany, Brazil, China (2), South Korea, India and Mexico. All those factory's where Nokia "owned" and they made genuine Nokia phones. Now Nokia 3 is made in India, in old...
You Are Right.Nokia 5 Is The Best Of All.Heavy Game Players Did Not Love This Phone.But One Who Use Smartphone As Smartphone, They Will Really Love It.It's Durability Just Amazing.Salute Nokiaaaa....