Nokia 7.2 review
GSMArena team, 23 Oct 2019.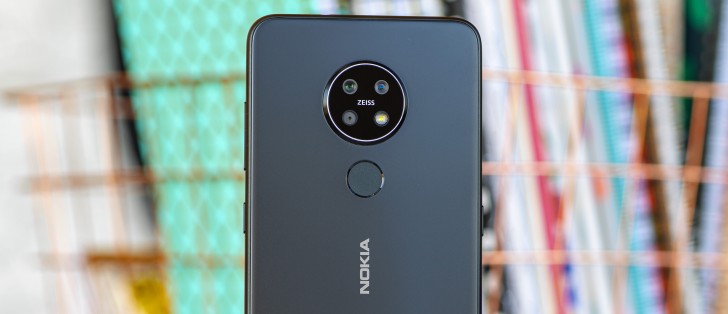 Android 9, in One flavor
As we've come to expect from recent Nokias, the 7.2 is part of the Android One program and runs a mostly stock version of Android, and our review unit is still on Pie for the time being. While Android One does carry a promise for timely updates, it's worth noting that carrier-specific versions might not receive them just as quickly as those sold in the unlocked (retail) channel.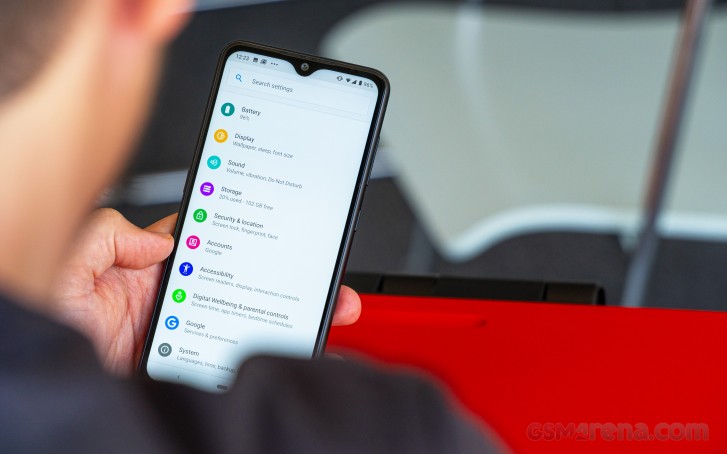 The Nokia 7.2 has a rather basic implementation of the Ambient display feature which will wake up the screen for new notifications, but that's it - there's no lift to wake capability, nor is there an always-on feature, not that LCDs are known for it. On a positive note, the LED inside the power button will alert you of missed notifications.
Security is handled in a conventional way - a capacitive fingerprint sensor on the back is the go-to option, but there's also a camera-based face unlock too. The fingerprint reader works as expected and unlocks reliably though it's not among the fastest around. Face unlock is barely usable, and we found it to fail on occasion even in good lighting, not to mention anything dimmer - stick to fingerprints.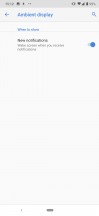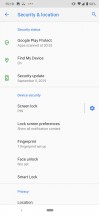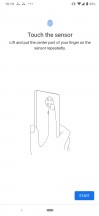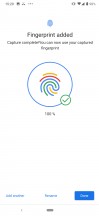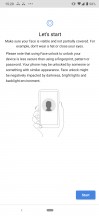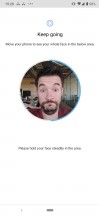 Ambient display • Lockscreen and security settings
Once unlocked, the 7.2's software is Android as Google intended it through and through. The standard Android 9 homescreen utilizes the default Android pill-based navigation. A tap on the pill button takes you Home, a quick flick from it to the right switches back and forth between the last two apps, while sliding it to the right takes you to one of the UIs for task switching.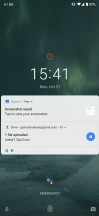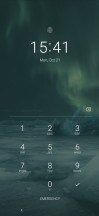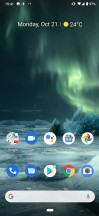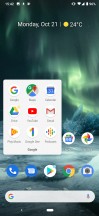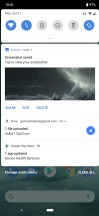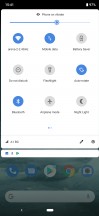 Lockscreen • Lockscreen • Homescreen • Folder view • Notifications and toggles
A short-ish swipe up from the bottom evokes the 'other' task switcher which is also the way to go into multi-window, which we've ranted about on numerous occasions for its clumsiness. A longer swipe up takes you straight to the app drawer, though a second swipe up from Task switcher 2 will also work. And there's a back button on top of all that, to be replaced with a gesture come Android 10.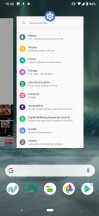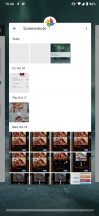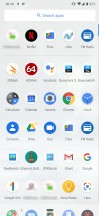 Task switcher 1 • Task switcher 2 • App drawer
As for multimedia, it's all in the hands of Google's default apps. The Photos app is in charge of gallery-related tasks and video playback, while Google Play Music is the audio player. There's a file manager with batch actions and Google Drive sync, and Google's Calendar is Nokia's calendar of choice. An FM radio receiver is available on the Nokia 7.2, and the app that goes with it is one of the more barebones takes we've seen.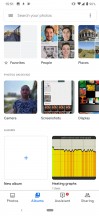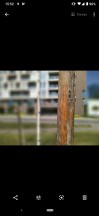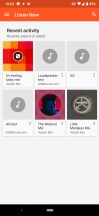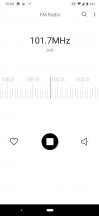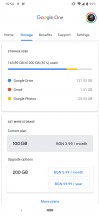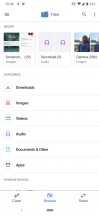 Google Photos • Photos • Google Play Music • FM radio • Google One • File manager
Synthetic benchmarks
The Nokia 7.2 has the Snapdragon 660 inside, a chipset that was all the rage some two years ago when the Nokia 7 plus came out. Now, it's obviously not so hot with newer, more efficient, options available in the 600 and 700 series. The 14nm S660 is nevertheless decently powerful, packing an octa-core CPU in a 4x2.2 GHz Kryo 260 & 4x1.8 GHz Kryo 260 configuration (Cortex-A73 and Cortex-A53 based, respectively) and an Adreno 512 GPU. Our review unit is the top-spec 6GB/128GB trim, with 6GB/64GB and 4GB/64GB options also available.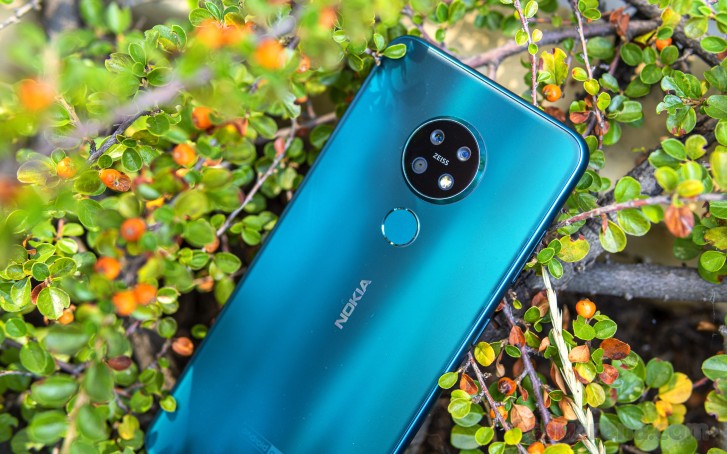 The Nokia 7.2's Kryo 260s struggle to match the performance of more recent midrange Kryo 360's in Snapdragon 710/712-powered devices like the Realme XT and the Xiaomi Mi 9 lite even if the difference isn't huge. Still, the Nokia does tend to occupy the bottom half of the charts in both single-core and multi-core tests in GeekBench 4 and 5 alike.
GeekBench 4.1 (multi-core)
Higher is better
vivo V17 Pro
6629
Samsung Galaxy A70
6584
Samsung Galaxy A60
6582
Realme 5 Pro
6106
Realme XT
6102
Xiaomi Mi 9 SE
6017
Xiaomi Mi 9 Lite
5989
Nokia 7 plus
5893
Realme 3 Pro
5881
Motorola One Zoom
5802
Samsung Galaxy A9 (2018)
5763
Huawei P30 Lite (perf. mode)
5549
Huawei P30 Lite
5523
Nokia 7.2
5440
Xiaomi Redmi Note 7
5411
Nokia 7.1
4975
GeekBench 4.1 (single-core)
Higher is better
Samsung Galaxy A70
2391
Samsung Galaxy A60
2388
vivo V17 Pro
2382
Motorola One Zoom
2084
Realme 5 Pro
1913
Xiaomi Mi 9 SE
1905
Realme XT
1899
Xiaomi Mi 9 Lite
1851
Xiaomi Redmi Note 7
1650
Nokia 7 plus
1634
Samsung Galaxy A9 (2018)
1611
Huawei P30 Lite (perf. mode)
1576
Nokia 7.2
1534
Huawei P30 Lite
1534
Realme 3 Pro
1471
Nokia 7.1
1344
GeekBench 5 (multi-core)
Higher is better
vivo V17 Pro
1657
Realme XT
1569
Xiaomi Mi 9 Lite
1471
Nokia 7.2
1425
Samsung Galaxy A60
1410
Motorola One Zoom
1409
GeekBench 5 (single-core)
Higher is better
vivo V17 Pro
509
Samsung Galaxy A60
507
Motorola One Zoom
501
Realme XT
410
Xiaomi Mi 9 Lite
395
Nokia 7.2
336
The same hold true in Antutu, where the Nokia 7.2 is outperformed by pretty much every current competitor.
AnTuTu 7
Higher is better
Realme XT
185193
Realme 5 Pro
182765
Xiaomi Mi 9 SE
180057
vivo V17 Pro
176791
Xiaomi Mi 9 Lite
175478
Samsung Galaxy A60
170102
Samsung Galaxy A70
167750
Realme 3 Pro
155647
Motorola One Zoom
146810
Huawei P30 Lite (perf. mode)
141600
Nokia 7 plus
140820
Samsung Galaxy A9 (2018)
140500
Nokia 7.2
139495
Xiaomi Redmi Note 7
139075
Huawei P30 Lite
129887
Nokia 7.1
117175
In the graphics department, the 7.2 trails the 700-series competition, but it does match the S675 devices in some tasks, and it pulls ahead of them in others. So in this respect 660>=675.
GFX 3.1 Car scene (1080p offscreen)
Higher is better
Xiaomi Mi 9 SE
15
Realme 5 Pro
15
Realme XT
15
Realme 3 Pro
13
Xiaomi Mi 9 Lite
13
Samsung Galaxy A9 (2018)
9.1
Nokia 7 plus
9.1
Xiaomi Redmi Note 7
9
Nokia 7.2
9
vivo V17 Pro
8.8
Samsung Galaxy A60
8.1
Motorola One Zoom
8.1
Samsung Galaxy A70
8
Huawei P30 Lite
7.7
Huawei P30 Lite (perf. mode)
7.7
Nokia 7.1
6.3
GFX 3.1 Car scene (onscreen)
Higher is better
Xiaomi Mi 9 SE
14
Realme XT
13
Xiaomi Mi 9 Lite
12
Realme 5 Pro
12
Realme 3 Pro
11
Nokia 7 plus
8.6
Samsung Galaxy A9 (2018)
8.3
Nokia 7.2
8.1
Xiaomi Redmi Note 7
7.7
Samsung Galaxy A60
7.3
vivo V17 Pro
7.3
Motorola One Zoom
7.1
Huawei P30 Lite
7
Samsung Galaxy A70
7
Huawei P30 Lite (perf. mode)
6.9
Nokia 7.1
5.9
3DMark SSE 3.1 Unlimited
Higher is better
Realme XT
2284
Realme 5 Pro
2253
Xiaomi Mi 9 SE
2218
Xiaomi Mi 9 Lite
1959
Nokia 7.2
1427
Xiaomi Redmi Note 7
1409
vivo V17 Pro
1221
Samsung Galaxy A60
1123
Samsung Galaxy A70
1112
Motorola One Zoom
1107
Huawei P30 Lite (perf. mode)
988
Huawei P30 Lite
985
Two years is a long time and putting out a phone with the same chipset as the model two generations before it is a bit puzzling. The Nokia 7.2 isn't slow or anything - on the contrary, it delivers very decent numbers. Newer, better, more efficient and more powerful silicon options are available, however, and those do come in rival offerings.
3500 isn't a small capacity. I use my 3000mAh phones for around 2-3 days
Actually it's not a bad phone, don't mind the hate comments and check the phone for yourself
Yah nokia 7.2 is good i have it