Nokia 8 review: Connecting the dots
Connecting the dots
GSMArena Team, 25 August 2017.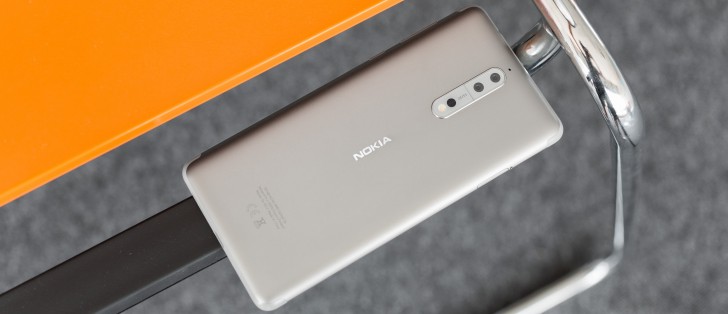 Clean Nougat at your service
The Nokia 8, just like the 3, 5, and 6, runs the an almost vanilla Android Nougat OS. Everything but the camera is handled by the stock Google app suite and while this approach may not be appealing to some, it does come with two indisputable pros - fast updates and the smoothest Android experience.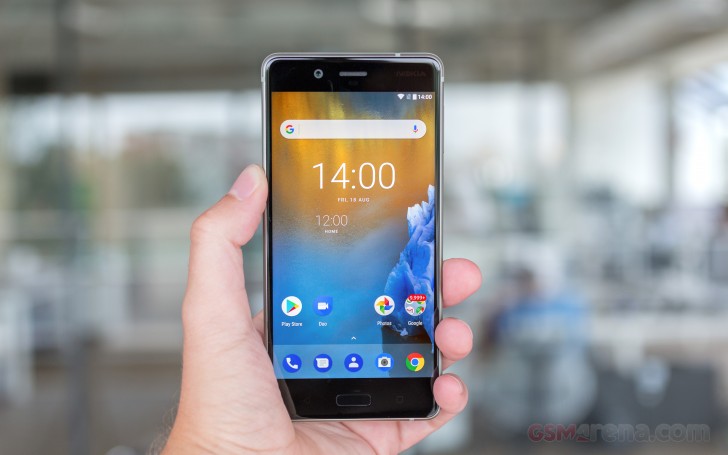 Before we get down to Android business, we should mention the return of the Glance screen. Once a valued feature in the Lumia series, Glance is making its way back to Nokia. It isn't an always-on screen, but it pops up every time the Nokia 8 detects movement and goes off after a predefined time-out (up to 20 mins). It can be configured to show a clock, missed calls count, unread messages count, among other small notifications.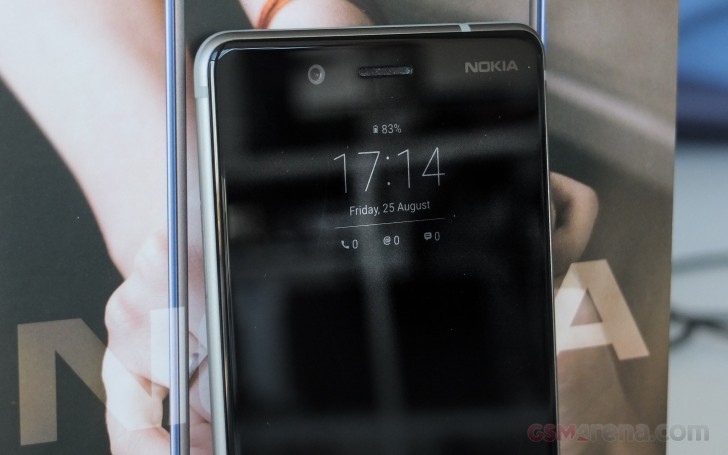 HMD did tweak Android's look to certain degree with blue accents making it distinct enough to be easily recognizable and thus good for brand awareness. However, the two-color approach is not universally appealing.
The lockscreen displays the standard Nougat notification cards, complete with grouping, expanded view and direct reply.
There's a camera shortcut in the bottom right, and the fingerprint icon is also around - if you have fingerprint recognition enabled, that is. These cannot be changed either. While we're at it, the camera can be launched with a double press of the power button, if you enable the setting.
The homescreen is where the Nokia looks like no other. All of the system icons and pre-installed apps are painted in Nokia blue, and they're all circles. We often found ourselves scrambling to find the icon we're looking for, because we couldn't tell them apart by shape or color, but eventually they grew on us. There are no themes - the blue color scheme is the one you get and that's it.
On the other hand, all the third-party apps retain their original icons - the launcher doesn't apply any changes to them. That makes them recognizable, but then they look nothing like the built-in ones. This often caused a mild urge to put them away on their own separate screen, just to keep things consistent (and mostly, to oblige our OCD).
The Pixel-like app drawer that you pull up from the dock is your only option. Of course, since there is folder support on the homescreen as well, you can organize everything there and simply forget the Pixel-like swipe up gesture to open the drawer even exists.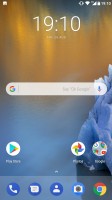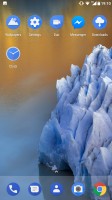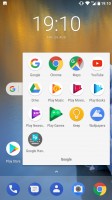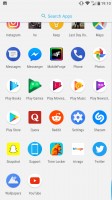 Home screen • Homescreen • Folder view • App drawer
Speaking of gestures, a long press on the home screen toggles edit mode on. You also get access to widgets and wallpapers. The latter can be sourced from the pre-loaded Google Wallpapers app, which has the handy option for daily wallpapers. The homescreen setting menu only has a couple of options, but both are interesting.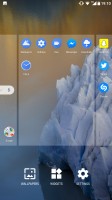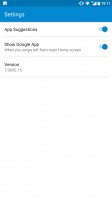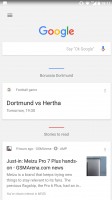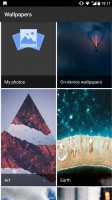 Homescreen editing • Homescreen settings • Google Now panel • Google Wallpapers app
App suggestions is the nifty first row in the app drawer, which is automatically populated with recently used apps. As for the Google App toggle, it is used to enable or disable the Google Now interface, accessible through a swipe to the right form the homescreen. There's Google Assistant too - the customary long press on the Home button summons it.
The Nokia 8's notification shade is about as stock as you get. A single pull down gets you six small toggles, pull a second time and you get a total of 9 large ones per pane, with multiple panes supported. There's also a brightness slider, but Auto brightness is only accessible through the settings menu.
The task switcher is business as usual - the Android rolodex is present here. The 'clear all' button only appears when you scroll all the way to the top - a bit of a nuisance. There is multi-window multitasking (thanks, Nougat), but the screen is always split 50/50 - you can't resize the windows.
There are a few gestures you can enable on the Nokia 8, but just basic stuff, really. There are magnification gestures, pick up to mute and turn to reject call, and the double press of the power button to launch the camera counts as a gesture.
Aditya Ray
09 Jul 2023
X$W
My phone always restarts :( I hate it and there are duplicate apps but If I delete the other get deleted, I need new phone
Steste1984
19 Nov 2022
0Uy
Since unboxing i can not use the screen in cold weather. Around 10c it stops responding. Even 15 and windy weather. All nokia 8 affected with this problem. :( Over all pretty good device.
Pedro Lima
10 Aug 2022
Lc6
I still own a Nokia 8 nowadays and I use it daily for a lot of calls, reading news and using some apps. Even for games it still handles pretty solid! Battery life haven't changed much since when it was new and I am just sad they did not kept thi...