Nokia 800 Tough and 2720 Flip put KaiOS in a rugged and a clamshell body respectively
Peter, 05 September 2019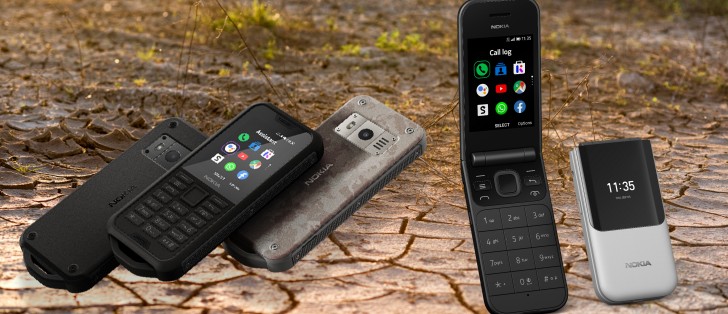 Nokias of old had the ambition to connect a billion people to the Internet. HMD is carrying on this mantra with the help of KaiOS, which has similar goals. This is where these two new models come in – HMD is unveiling two Kai-powered, 4G-connected phones. One is rugged, the other is a flip phone.
This is billed as a spiritual successor to the Nokia 3310, which legends say is indestructible. Well, this one actually might be – the Nokia 800 Tough has an IP68 rating and is MIL-STD-810G certified.
It can last under 1.5m of water for half an hour and it's dust proof. It can survive temperature swings and drops. Dropping the phone is unlikely, however, as it features anti-slip coating and rubberized edges. There's also a lanyard eyelet if you want to fasten it tightly.
The Nokia 800 Tough has a 2,100mAh battery, which promises over a month of standby and up to 12 hours of talk time. With a loudspeaker rated at 103 phons you won't be missing any phone calls. Also, you can use the phone as a flashlight thanks to the LED torch (198 lumens).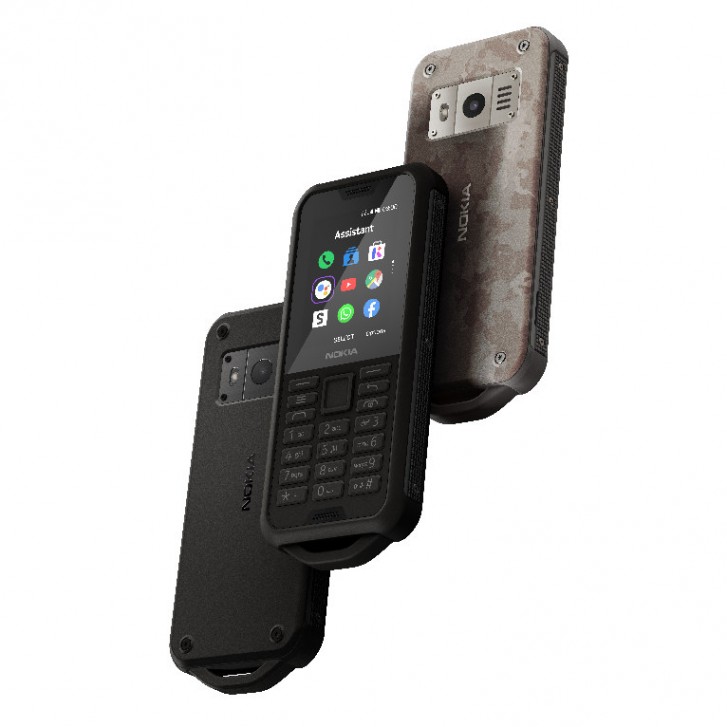 And as you venture out further from civilization, you can track your progress on Google Maps with the integrated GPS+GLONASS receiver. There are more smart features courtesy of KaiOS, including WhatsApp and Facebook. There's Google Assistant too, which can be summoned with the push of a button.
The phone comes in single and dual-SIM versions and supports 4K connectivity with VoLTE and VoWiFi. It also supports Wi-Fi b/g/n and Bluetooth 4.1. There's 4GB of built in storage and a microSD slot if you want to pack some MP3s for your travels.
The Nokia 800 Tough will be available in early October at €110. You can have it in Black Steel or Desert Sand.
Flip phones have the perfect form factor for telephony. Open them to answer a call, close them to end it – you can even slam it shut. Also, when it's open, the form of the phone conforms to your face.
The Nokia 2720 Flip brings back those old comforts but combines them with new tricks. It's a KaiOS phone with a 2.8" internal screen (QVGA) and 1.3" external display for checking notifications.
You'll be getting messages on WhatsApp and Facebook and you can type up replies the T9 way using the large keys of the keypad. Google Maps is on board as well (with a GPS+GLONASS receiver) and you can grab more apps from the Kai app store.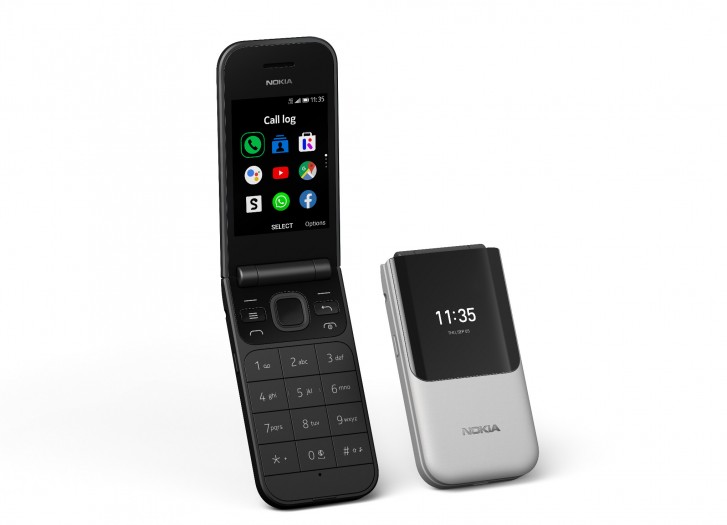 The Nokia 2720 Flip features LTE connectivity (150/50Mbps) and can create a Wi-Fi hotspot or connect to existing Wi-Fi networks (with b/g/n support). There are single and dual SIM versions of the phone.
Like its Tough sibling, the Flip features a basic 2MP camera with flash. It has 4GB of storage and you can have more with a microSD card. There's a 3.5mm headphone jack or you can use Bluetooth 4 with A2DP.
The Nokia 2720 Flip will be available in September for €90 in Black and Grey.
Nokia 110
The Nokia 110 is a basic feature phone – the cheapest phone with a camera. At just $20, it will be available in mid-September and will be like a big sister to the Nokia 105. It can play music from a 32GB microSD card for up to 27 hours or you can listen to FM radio. Snake provides alternative entertainment (there's Doodle Jump too, but that's just a trial version).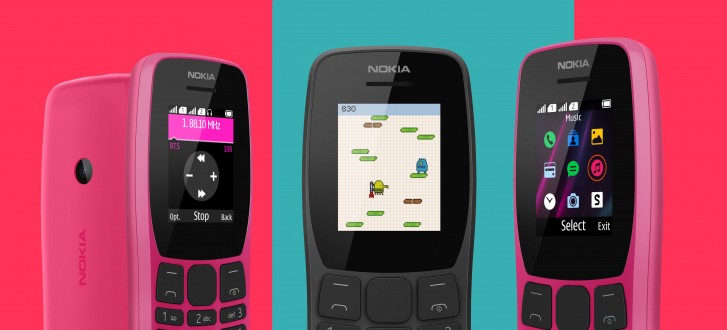 Related
Anonymous
07 Mar 2020
0A@
Those two phones are expensive considering its featured phones including kaios. 100 euro. If KaiOS wants to make a difference 100 euro mark is a no go. For 100 euro u are already buying Android doesnt matter if its one or a regular version. But even ...
Tough looks great actually except for that protrusion at the bottom for lanyard. Spoils it a lot. You can do lanyard without including that piece
May I ask if the 800 tough has 1000 phonebook names and multiple entry?
Popular articles
Popular devices
Electric Vehicles