Nokia Asha 200 review: Dual SIMpatico
Dual SIMpatico
GSMArena team, 3 February 2012.
Introduction
Nokia's Asha is back for another round of bargain basement action and we find ourselves wondering how much cheaper it can get. Most of the time it makes sense to be skeptical of the lowest bidder but we've found the Finns' budget lineup to be efficient and dependable.
So, cheap it is. And although there're lots of bad ways to be cheap, the Nokia Asha 200 seems to get it right. It's a QWERTY messenger with dual-SIM support. There isn't a whole lot more to it than that - but Nokia are getting ready to sell big. You don't offer eight - repeat, eight - paintjobs unless you anticipate huge demand.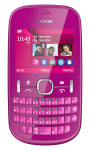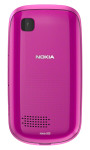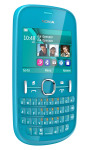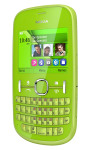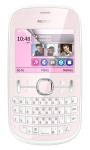 The Nokia Asha 200 in Pink, Aqua, Green, Light Pink, Blue, Orange, Graphite and Pearl White.
The Nokia Asha 200 is two phones in one and we don't mean the dual SIM support only. The Asha 200 is literally made out of a couple of fairly recent Nokia handsets. And it's pretty obvious which two ended up in the blender. The Nokia X2-01 provided the S40 interface and QWERTY keyboard, while the dual SIM support and colorful bodywork is courtesy of the x1-01.
Key features
Dual-SIM, dual-standby phone, hot swap
Dual-band GSM/GPRS/EDGE support
QWERTY keyboard
2.4" 256K-color QVGA TFT display
2MP camera
Series 40 UI
Stereo FM radio with RDS, recording
Bluetooth 2.1 (with EDR)
Standard microUSB port
Hot-swappable microSD card slot (32GB supported)
3.5mm audio jack
Good audio quality
Main disadvantages
No Wi-Fi
No 3G
Basic camera
No multitasking
No smart dial
No USB charging
As usual, we'll have to do without one or two things that are otherwise taken for granted in contemporary phones. But the omissions shouldn't be hard to forgive in a phone that costs next to nothing. 3G and Wi-Fi are available elsewhere in the Asha lineup, and so is touchscreen. The Asha 200 focuses on the basics instead - with value-for-money features like dual SIM and a QWERTY keyboard.
A dual SIM QWERTY messenger pretty much sums the Nokia Asha 200. But it comes in plenty of colors and is not entirely clueless when it comes to music, social networks and even some basic photography. Of course, shoppers on a budget have priorities and build quality and durability are usually high on their list. They should look no further than the next page where we explore the hardware of the Asha 200.
Peoples choice
15 Jul 2017
fsV
My windows phone nokia 200 asha is not having any issue, but slight problem occured as i was browsing, for the fact that i am not an I T person i contacted my chief service provider Google.com through her i discovered you, so perfect my request,
I hardly hear conversation on my phone,what is the likely causes and proffered solutions Thanks.