Nokia Asha 200 review: Dual SIMpatico
Dual SIMpatico
GSMArena team, 3 February 2012.
Image gallery sans the touch
The Photos app on the Nokia Asha 200 offers only a single viewing mode, displaying a grid of 12 pictures on the screen. The landscape orientation of the screen helps when viewing images because there are no black bars around the images.
Zooming into photos is a tiresome process as it takes long and isn't as comfortable as on touch-enabled S40 devices.
There's a simple image editor on board, which can crop/rotate images, add text, clipart and effects, plus adjust brightness/contrast and color.
You can organize photos into albums, view them in a timeline and, of course, you can start a slide show.
Creating an album is very straightforward and the album view makes it easier for you to sort through your photos.
You can also start a slide show, which gives you options like setting the interval between pics, the transition effect and offers a pleasurable experience for those that like to watch slideshows on their phones.
As for the regular Gallery app, it's still here - but it's hidden in the Applications menu. It's a capable file manager, especially for a feature phone. It can manage folders and files - both one by one and in bulk.
Music player is simple but gets the job done
The music player on the Nokia Asha 200 has taken a step back compared to the one on the 300 - being more of an affordable and not multimedia-minded device.
There are no great visuals and the now playing screen is as simple as it could get - just the name of the artist, album and song, a virtual rewind, forward, pause and a timeline scroll.
Unfortunately, there are some annoying limitations - for example, hitting the red receiver key turns off the music player and goes to the homescreen. The player can work in the background, but you have to go to Options > Play in background for that.
Also, when not in the Now playing interface, there is no way to pause a song or skip to the next one, not even with the homescreen widget. You have to get into the music player to do that.
Displaying the artist and title of the currently playing song are all that the homescreen widget does. They appear in the Radio and music area on the homescreen so they need to be enabled in the Homescreen mode settings for the info to be displayed.
There are several basic equalizer presets hidden deeper in the Music player menus.
FM Radio with RDS
The music player interface has carried over to the FM Radio one and covers the same basic functions.
RDS support is available and you can make the handset search and save all available stations in your area. RDS info and frequency appear on the homescreen, much like with the music player.
The FM radio can also record broadcasts but that feature is regional.
Dodgy video codec support
The Nokia Asha 200 managed to play DivX videos up to nHD resolution and those above were only audible - without actual video, only sound.
The interface is simple and plain - users get a rewind, pause/play and forward buttons, going into options gives you fullscreen mode and others.
Audio quality is decent, if unspectacular
The Nokia Asha 200 did fairly well in our audio quality test. It's hard to recomend it to the most demanding audiphiles, but it should be good enough for just about everyone else.
With no resistance applied to its line-out (when used with an active external amplifier), the Nokia Asha 200 got great scores for signal-to-noise levels, dynamic range and kept distortion levels well under control. The stereo crosstalk is higher than average and the frequency response is not exactly ideal, but its deviation is hardly detectable with a naked ear. Plus the Asha 200 is quite loud, so it really is a pretty good performer in this scenario.
When headphones come into play you notice a moderate amount of degradation. Stereo crosstalk increases(though it's hardly major), distortion shoots up to just above average levels and frequency response worsens slightly. It's not too bad and the volume levels are still good, so as we said - everyone but the most pretentious users should find it fine.
And here come the full results so you can see for yourselves:
Test
Frequency response
Noise level
Dynamic range
THD
IMD + Noise
Stereo crosstalk
Nokia Asha 200
+0.15 -0.31
-81.2
80.9
0.049
0.067
-78.1
Nokia Asha 200 (headphones attached)
+0.62 -0.39
-80.4
79.5
0.039
0.348
-56.2
Nokia Asha 300
+0.04 -0.09
-87.9
87.9
0.0050
0.014
-86.8
Nokia Asha 300 (headphones attached)
+0.53 -3.34
-86.8
85.6
0.042
0.917
-51.5
Nokia Asha 303
+0.04 -0.10
-87.5
87.4
0.0060
0.017
-73.3
Nokia Asha 303 (headphones attached)
+0.50 -0.17
-87.5
87.2
0.017
0.350
-55.7
Nokia 500
+0.07 -0.37
-90.1
90.1
0.0058
0.015
-91.2
Nokia 500 (headphones attached)
+0.49 -0.25
-90.0
90.0
0.017
0.270
-67.0
Nokia C2-02
+0.19, -0.49
-83.3
83.1
0.050
0.064
-80.7
Nokia C2-02 (headphones attached)
+0.68, -0.41
-81.5
82.1
0.050
0.488
-63.3
Nokia X2-01
+0.07 -0.56
-83.8
83.8
0.010
0.024
-83.8
Nokia X2-01 (headphones attached)
+0.63 -0.37
-81.7
84.0
0.028
0.280
-64.2
Nokia Lumia 710
+1.94, -2.90
-80.9
80.8
0.061
1.603
-85.7
Nokia Lumia 710 (headphones attached)
+2.04, -2.69
-83.3
83.0
0.061
1.574
-54.5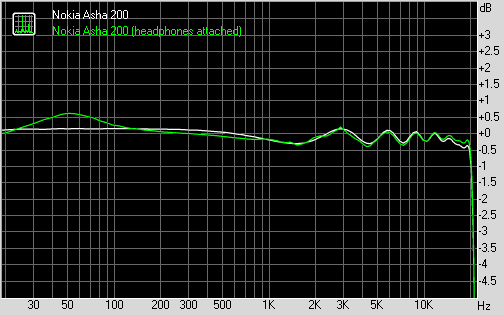 Nokia Asha 200 frequency response
You can learn more about the whole testing process here.
Peoples choice
15 Jul 2017
fsV
My windows phone nokia 200 asha is not having any issue, but slight problem occured as i was browsing, for the fact that i am not an I T person i contacted my chief service provider Google.com through her i discovered you, so perfect my request,
I hardly hear conversation on my phone,what is the likely causes and proffered solutions Thanks.