Nokia E66 review: Clean-cut business tool
Clean-cut business tool
GSMArena team, 15 August 2008.
It's Symbian S60 UI, Feature Pack 1 (and a bit of FP 2)
Nokia E66 runs on Symbian 9.2 OS with the Series60 3rd Edition user interface. Much like the E71, it has the Feature Pack 1 preinstalled but it benefits from a number of enhancements and upgrades inherent to Feature Pack 2.
Nokia E66 is powered by a single 369 MHz CPU and has 128MB of RAM. Those are some really good numbers in Symbian terms, allowing it to go fast and smooth with no holdups whatsoever. Even the new animations and transition effects that pervade the menu aren't causing problems. Memory Full warnings are highly unlikely and you should make quite an effort to deplete the available RAM.
The phone has an accelerometer, which allows its user interface to automatically rotate. In fact, this is the only feature that Nokia E66 has over the E71, and is probably more of a compensation for the fact that the landscape screen is more comfortable for browsing documents and multimedia content. Nokia have learned their lesson this time and have added a nice transition animation when changing the screen orientation.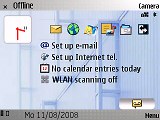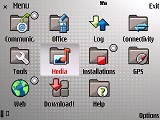 The UI automatically rotates thanks to the built-in accelerometer
The phone's main menu has two view modes: a 4 x 3 grid of icons and a list. However with the E66 you cannot even opt for having animated icons as with most other Nokia phones. This is probably just another way of reiterating the business targeting of the phone. At least the font size is configurable depending on your preferences.
The circle next to the icon of a running application is a well known Symbian indication reminding users to quit unwanted applications that are still running in the background.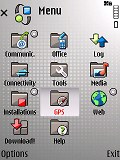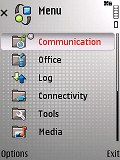 Grid and list view modes are available for the main menu
The active standby mode goes without saying on Nokia E66. This is a nice and convenient way to bring shortcuts to all favorite applications to your home screen. You can even assign shortcuts to websites of your choice for quicker access. Furthermore, each of the one-touch keys can be customized to access any feature of choice (actually two per key).
The two soft keys functions can also vary. If active standby mode isn't activated, you can also assign shortcuts to the directions of the D-pad.
Nokia E66 has an automatic key lock. It gets activated upon a user-defined interval with the options ranging from 5 seconds to an hour. This option can also be disabled if the user sees fit. There's even a remote lock option, which prevents your personal data from being accessed, if your phone gets stolen.
A novel feature in Nokia E66 allows you to toggle between two different phone setups. Each of them can be customized with its own theme and homescreen applications for maximizing usability. This way you can have a leisure and a business profile and switch between them at a single click on your home screen.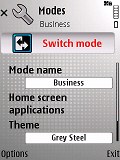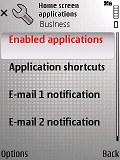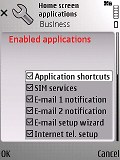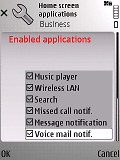 Nokia E66 allows you to easily toggle between two different preset phone setups
The built-in memory is 120MB, which is a decent figure by all means. The included 2GB microSD memory card comes in very handy for extending it but even higher capacity cards are supported.
Our test showed that Nokia E66 has no problem handling an 8GB microSD card, which is the largest one currently available on the market. Accessing applications or any other files on the memory card is quick and you probably won't notice any difference compared to accessing ones in the phone memory.
As with any Symbian phone, there is a built-in voice recognition system. It is launched by the dedicated key on the side of the E66 and is doing a good job, being fully speaker-independent and recognizing a very high percentage of the user commands.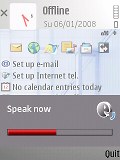 The voice recognition system on E66 is doing a good job
Furthermore Nokia E66 has a built-in message reader that gets started once you press and hold the right selection key in standby. It then automatically reads all your new messages including SMS and emails.
Customization
There are four preinstalled themes on Nokia E66. The rest is left to the imagination of the user, as you can download as many other themes as you wish. There is hardly anything in greater number than themes for QVGA Symbian devices out there.
Phonebook
The phonebook of Nokia E66 just clicks. No changes have been made to it but we can hardly think of anything worth changing anyway. It is simply great - offering storage space for a virtually unlimited number of contacts and fields, with all the available internal memory potentially usable for the purpose.
Depending on your preferences, contacts on SIM or in-phone, or both at the same time get displayed. The contacts can be ordered by first or last name, and can naturally be searched by gradual typing.
Editing a contact offers an enormous variety of preset fields and you can replicate each of them as many times as you like. You can also create new fields if you happen to be able to think of any. Personal ringtones and videos are also available for assigning. If you prefer, you may group your contacts and give a specific ringtone to each group.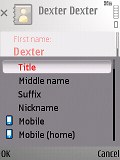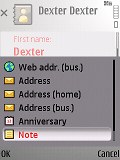 Each of the fields may be added as many times as you like when editing a contact
The Call log application, although not exactly a part of the phonebook, is also one of the Symbian elements. It can hold up to 20 call records in each of the tabs for outgoing, received and missed calls. These are all accessed by pressing the Call key in standby.
If you access the Log application from the main menu, you'll see a detailed list of all your network communications for the past 30 days. These include messages, calls and data transfers. You can even filter the entries (by contact or by type), a useful feature if you're looking for a specific call.
Nokia e66 was my old phone before this windows Lumia. The thing that I really enjoyed on the e66 was the car game. But now, unfortunately, there us a lock and now I cant access it
Nokia E66 my phone is lock. Please guide me nokia code