Nokia E75 review: Business on the slide
Business on the slide
GSMArena team, 16 April 2009.
Messaging got even better
The E-series devices are mostly about messaging and connectivity so we are not surprised that they got this part right. What actually did surprise us is that they somehow managed to outdo the already excellent E71 email client. The full-fledged keyboard and the software support make for a great messenger. From a nice and intuitive editor to advanced predictive input and error correction - it's all there.
There are three message editors aboard: SMS and MMS share the first one, audio and e-mail. The SMS editor is the familiar application for all Symbian S60 smartphones. It has a counter of the characters left from the limit of 160. There is also an indicator in brackets showing the number of separate parts the message will be divided into for sending.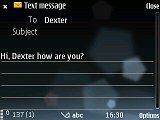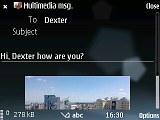 An SMS automatically turns into an MMS when you add some multimedia content
It goes without saying that a delivery report can be activated. The reports pop up on screen, once the message reaches the addressee and are subsequently saved in a separate folder in the messaging sub-menu. When you are exiting the message editor without having sent the message, the editor prompts you to either save it to the Drafts folder or discard it.
The audio message, albeit technically a type of MMS, was obviously deemed worthy of a dedicated editor.It allows you to either record the message on the spot or use a previously recorded sound clip.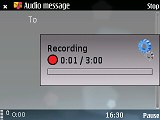 Recording an audio message for sending
Email is the highlight in the Nokia E75 and at the MWC 2009 Nokia showcased their updated email client for the first time. It's a downloadable application so you can probably upgrade your Nokia E71 as well.
The new email client has better looks and better messaging organization. Each of the folders of your mailbox can now be ordered by whatever criteria you might like and can then be searched if necessary.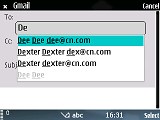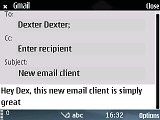 Composing an email on the E75 is as easy as it gets
You can also select what the folders preview should look like i.e. how many lines should be given to each entry and whether the title dividers should be applied etc.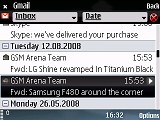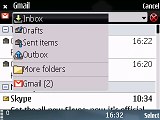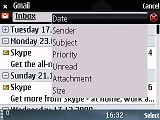 You can sort your email much like on a desktop computer email client
The email client supports a wide range of personal and corporate email standards such as IBM Lotus Notes Traveller Microsoft Exchange, Gmail, Yahoo! Mail etc.
Encryption is also on board, as well as mobile VPN support for connecting to secure corporate Intranets.
It seems Nokia has got everything covered except for Blackberry Connect support. The company has announced that since they are offering a push email service similar to that of Blackberry Connect, they are now direct competitors and as such, they do not offer Blackberry Connect support since the Nokia E71 and E66.
It's a really odd decision and it clearly shows that selling their email service to end customers is more important to Nokia than selling their handsets. While this may sound perfectly reasonable to Nokia's marketing department, it might turn out to be a deal breaker for some potential E75 buyers.
Quite naturally the Nokia E75 supports the ultra easy email setup we've been treated to recently. If you are using any public email service (it has to be among the over 1000 supported providers), all you have to do is enter your email address and password to start enjoying email-on-the-go. The Nokia E75 takes care of downloading all the relevant settings to get you going in no time.
On the whole, much like Nokia E75, the Nokia E75 is a dream texting device and certainly ranks among the best messengers we have ever seen. Nothing beats the large keys and screen of the Nokia E90 for example, but the E75 has some other tricks up its sleeve. And besides, the E90 pays the price for all that real estate with its huge size and weight.
All quiet on the music front
Full-featured music ability is not supposed to make or break a business device but the music player of the Nokia E75 is still pretty decent. That's hardly surprising considering how mature the Symbian S60 music player is, and it didn't cost Nokia anything to just put it in the E75.
The lack of dedicated music keys is easily overcome by the smooth D-pad control. There is a huge number of audio formats supported including MP3, AAC, eAAC+ and WMA. M3U playlists are also managed seamlessly and transferred files are added to the music library trouble-free by choosing the refresh option.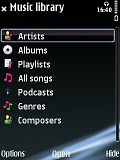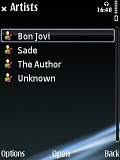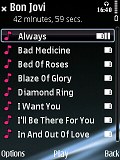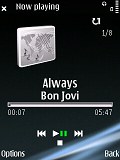 The music player is pretty straightforward
Filtering tracks by artist, album, genre and composer is automatic and searching tracks by gradual typing is also available. Tracks are uploaded to Nokia E75 via Bluetooth, USB or by simple download. You can also use a card reader for that purpose and transfer them directly to your memory card. Upon completing a USB transfer, the phone automatically prompts scanning for new music tracks and, if allowed to do so, adds the new ones to the music library.
The player comes with five equalizer presets, bass booster and stereo widening effect. You can also create new equalizer presets if the preloaded ones won't do.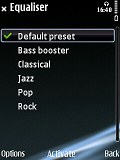 The available equalizer presets
Finally, being one of Nokia's best equipped phones, the Nokia E75 naturally also includes support for the A2DP Bluetooth profile, which allows listening to music on a Bluetooth stereo headset.
Video player
The Nokia E75 features Real player for playing your video clips. The video player works in portrait or fullscreen landscape mode. The softkey functions are hidden in full screen so they don't get in the way, and they only pop up when a key is pressed.
The relatively big screen and the MP4 video clips support add up to a passable video watching experience but you will probably resort to another player anyway. The reason for this is quite simple - the E75 lacks DivX and XviD support out of the box. Luckily, finding applications for the S60 3.2 that support those codecs is a fairly easy task.
Kaanaismyfriend
01 Apr 2020
U@G
I have this phone from a decade,works good enough until now.
Bugged Out
13 Apr 2017
Fv4
It's funny that this phone's 3.2MP camera is produce better shots than the 5 or 8MP's of most smartphones today.
have been using this fone for over 3 years now. All in all it served great to all my needs. And it was really great for those who didnt use autotype (which is obselete nowadays but still a few years back). The mail app of this phone is now obselete t...