Nokia enhancements soon to come
27 Aug, 2007
Today, Nokia revealed a variety of add-on products for your mobile phone, generally intended for Nokia N-Series mobiles. The new devices are fresh enhancements in design and functionality - Nokia Bluetooth GPS Module LD-4W, Nokia Bluetooth Headset BH-903, Nokia Bluetooth Headset BH-902, Nokia Bluetooth Speakers MD-7W, Nokia Power Pack DC-1, and Nokia 500 Auto Navigation.
The Nokia Bluetooth GPS Module LD-4W is a stylish monoblock module, compatible with a wide range of Nokia devices and Nokia maps with up to 10 hours of battery life and a LED indicator for GPS navigation, power and battery status, as well as Bluetooth connectivity status. The GPS module will be released at a price of 125 Euro.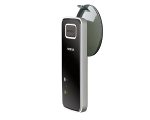 Nokia Bluetooth GPS Module LD-4W
The Nokia Bluetooth Headset BH-903 is a quality stereo headset that supports compatible devices with Bluetooth A2DP, AVRCP, PBAP, HFP and HSP profiles. Its remote control has a convenient OLED display and is capable of 15 hours of talk/music time. An incoming call will force the BH-903 to automatically switch to talk mode and return to the music player mode after the call. It will be available at a cost of 200 Euro.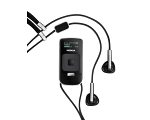 Nokia Bluetooth Headset BH-903
The Nokia Bluetooth Headset BH-902 is a modern headset with integrated OLED display and enhanced audio quality thanks to Digital Signal Processing (DSP). It weighs 18.2 g and its display conveniently indicates at a glance an incoming call, MMS or SMS message. There is no official information on talk/stand by time. The device will cost 115 Euro.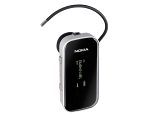 Nokia Bluetooth Headset BH-902
Other music enhancements include the classic designed Nokia Bluetooth Speakers MD-7W, that as Nokia says, perform in 3D stereo sound and dynamic bass control. An integrated LED indicator displays on/off, pairing mode and battery status. The MD-7W will cost 130 Euro.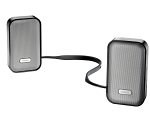 Nokia Bluetooth Speakers MD-7W
Among the practical devices comes the Nokia Power Pack DC-1, a power charger that accumulates a charge equivalent of up to three batteries. Being light and portable you can take it wherever you go and recharge up to two mobile phones simultaneously if needed. It will be available at a price of 105 Euro.
The listed enhancements will be available globally from the fourth quarter of 2007.
The icing on this enhancements cake is the Nokia 500 Auto Navigation car kit solution. This is Nokia's first handsfree dedicated personal navigation device for in-car navigation and communication. Apart from its main GPS functionality with spoken turn-by-turn navigation, it also serves as a Bluetooth hands-free communication system for your mobile. The navigation and information is accessed through its 4.3-inch wide color screen as well as dedicated buttons, while the good audio quality is assured by the Digital Signal Processing (DSP). The car kit comes with pre-installed regional maps, and travel information, including points of interest such as hotels, petrol stations and tourist sites.
According to Nokia, the device can keep you away of trafic jams thanks to the integrated Traffic Message Channel Service and get to your destination more quickly. The screen displays guidance information such as details on your next turn, estimated time of arrival and distance remaining. It also offers an included music and video player plus a picture browser. Thanks to the built-in FM transmitter the device can even stream audio to your in-dash FM radio.
The Nokia 500 Auto Navigation is expected to be available in selected regions Q4 2007 at a price of 300 Euro.
Related
Hello all, Nokia is best characterized as a customer-oriented, that doesn't solely rely on technological break throughs to boost its' sales. The key element in Nokia's success is how appealing it is to many current and potential mobile users, b...
Ok, to all the Nokia-bashers... Nokia's global market share: 36.9% Motorola's global market share: 14.9% Sony Ericsson's global market share: 9% 'nuf said. (oh and in case you need me to remove the benefit of doubt, here's the pag...
The Alcoholic
12 Sep 2007
U2a
This is a reply to SeF's comment dated 28-08-07, its seems that you have been in some kind of global study for a long time, that you so proudly boast of Nokia being the champ, and if you have been in for some study, I would like to see the stats whic...
Popular articles
Popular devices
Electric Vehicles