Nokia G21 review
GSMArena Team, 9 March 2022.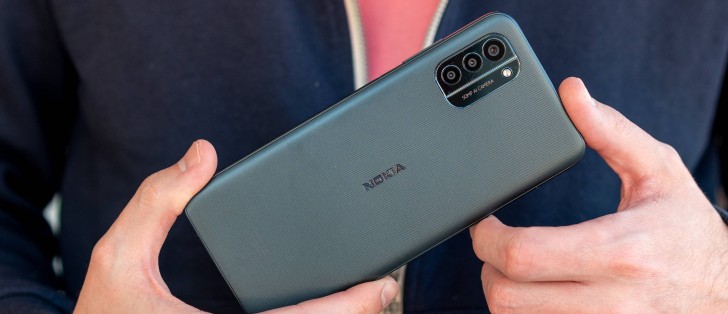 Decent 6.5-inch display
The Nokia G21 has a 6.5-inch display with a 1600x720px resolution, an understandable compromise in pixel count given the budget. It still makes for an acceptable pixel density of 270ppi.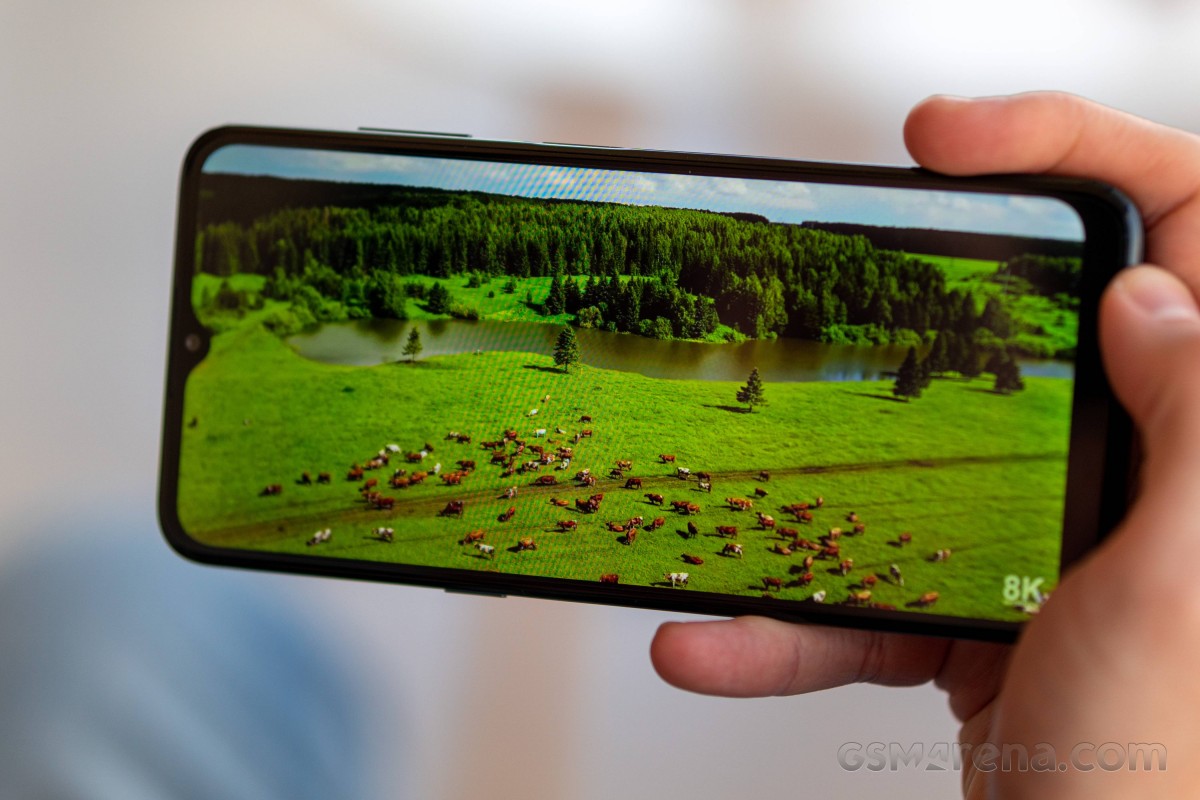 It's an LCD, and that too isn't surprising for the money, though Samsung does fit the A22 with a Super AMOLED display. It's Samsung that makes them, though, and the A22 is slightly more expensive anyway.
The G21's budget went into refresh rate, and the 90Hz capability is appreciated. We'd say the jump from 60Hz to 90Hz is more noticeable when it comes to user experience than from 90 to 120Hz, while 90Hz also tends to be a lot more frugal than higher RR. We're not saying that 120Hz is bad, just that 90Hz is good enough for what the G21 is trying to achieve.
Nokia promises a maximum brightness of 400nits for the G21, and we actually measured a little more than that. Still, 437nits is underwhelming for an LCD, and with only a minor boost under bright light, you may struggle when out in the sun. In less demanding ambient conditions, however, you'll appreciate the nicely high contrast - high as LCDs go, that is.
Display test
100% brightness
Black,cd/m2
White,cd/m2
Contrast ratio
Nokia G21
0.268
437
1631:1
Nokia G21 (Max Auto)
0.333
500
1502:1
Samsung Galaxy A22 5G
0.236
385
1631:1
Samsung Galaxy A22
0
391
∞
Samsung Galaxy A22 (Max Auto)
0
597
∞
Xiaomi Redmi 10
0
396
1494:1
Xiaomi Redmi 10 (Max Auto)
0.4
477
1193:1
Xiaomi Redmi Note 10
0
475
∞
Xiaomi Redmi Note 10 (Max Auto)
0
682
∞
Poco M3 Pro 5G
0.28
413
1475:1
Poco M3 Pro 5G (Max Auto)
0.366
536
1464:1
Poco M4 Pro 5G
0.264
410
1553:1
Poco M4 Pro 5G (Max Auto)
0.33
510
1545:1
Realme 8
0
458
∞
Realme 8 (Max Auto)
0
657
∞
Realme 8i
0.348
433
1244:1
Realme 8i (Max Auto)
0.475
540
1137:1
There's not a lot to talk about when it comes to color handling - there aren't any color modes (there is a color temperature slider), and the phone makes no claims for wide color gamut coverage. In its default state, it's about average in its overall accuracy when examining sRGB color swatches, but there's a noticeable cold shift (dE2000 for white is 10). Bumping that temperature slider all the way to the warmest setting actually makes the blue tint go away, and we get an average dE2000 of 2.9 for the set of sRGB patterns - a pretty good result for the class, though it does come at the expense of some 60nits of max brightness.
There's no HDR support on the Nokia G21.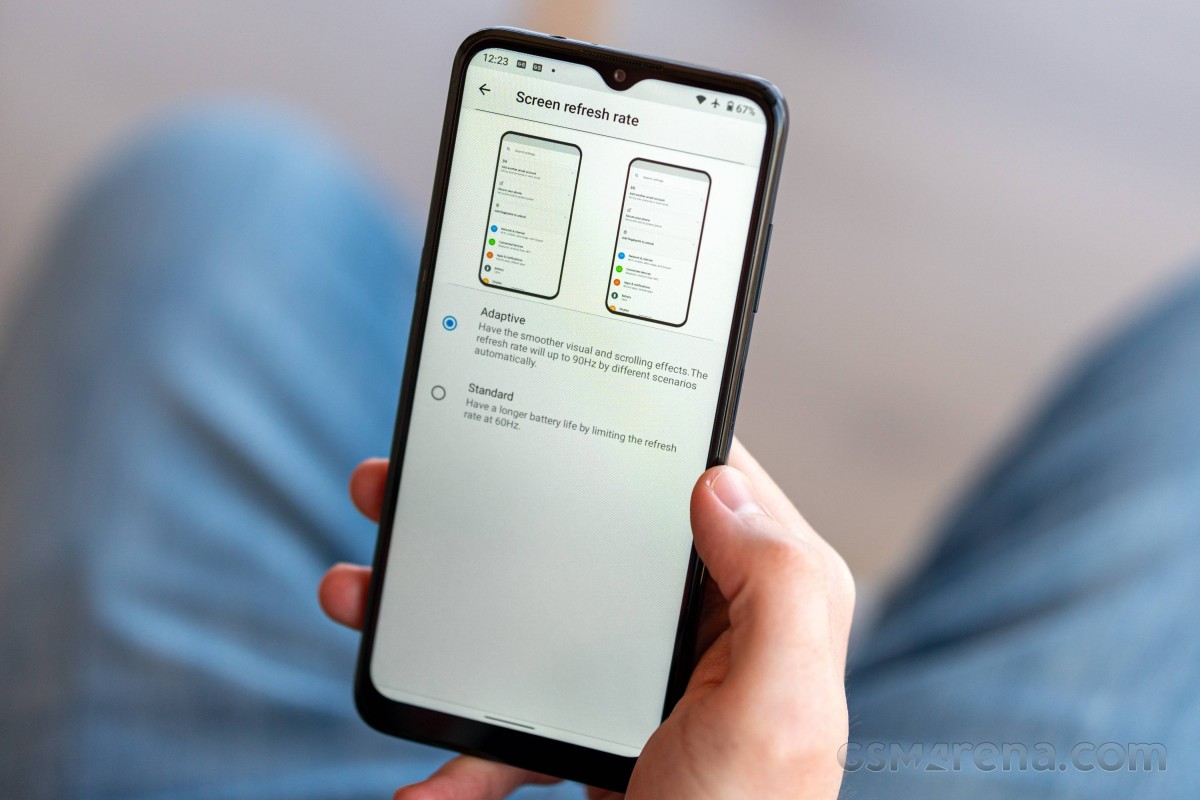 The G21 has two options for refresh rate - Standard limits things to 60Hz, while Adaptive lets it go up to 90Hz with a basic activity-based logic reverting to 60Hz when you don't touch the screen for a couple of seconds. It's a simple and sort of effective solution, though, in the past, we've seen little difference in battery life on most phones with 90Hz LCDs between 60Hz and 90Hz modes. In any case, the adaptive behavior couldn't hurt.
Nokia G21 battery life
Nokia advertises 3-day battery life for the G21, with their testing methodology including 5 hours a day of actual usage ('gaming, video streaming, calling, sending sms, browsing and using apps such as social media, news, navigation and music') in an indoor environment with 'normal' settings. While our testing is different, we'll admit that with a fairly modest chipset at the helm, a 720p display and a large, 5050mAh battery inside it, the phone does have all the markings of a marathon runner. And indeed, that's pretty much what we observed in our testing.
The G21 was good for almost 20 hours of web browsing in its Adaptive refresh rate mode, where we got 1-2s spikes to 90Hz on page loads (every 10s) and 60Hz the rest of the time. Video playback turned out a little more taxing, though the 16 hours we clocked are hardly a number to complain about. Over 37 hours of voice calls are a lot as well.
The overall Endurance rating of the Nokia G21 then worked out to 136h.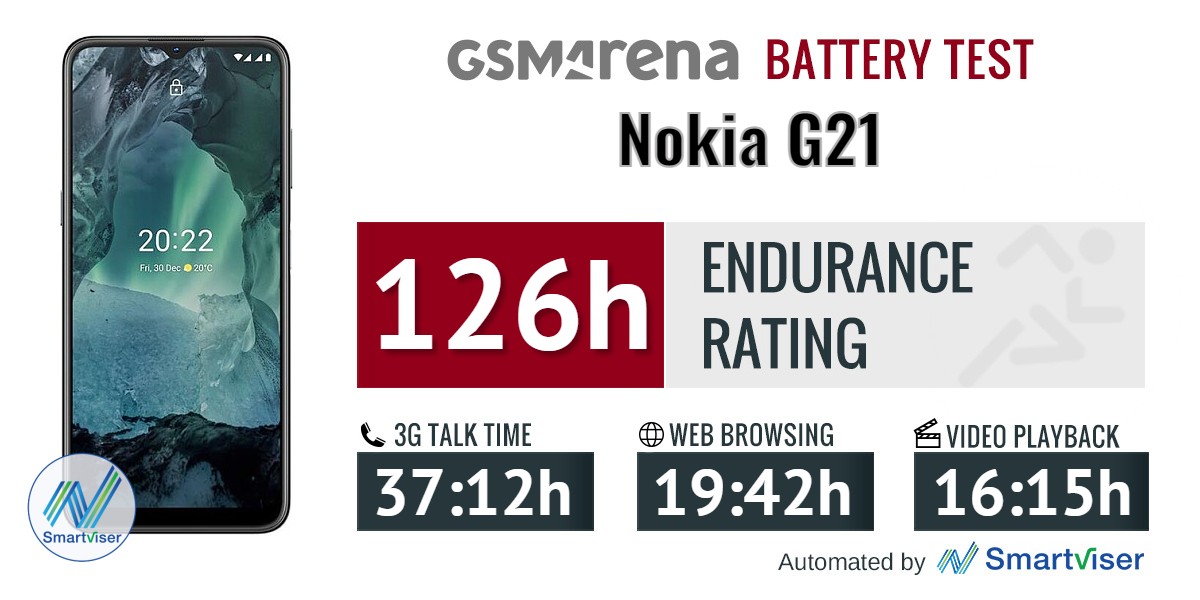 Our battery tests were automated thanks to SmartViser, using its viSerDevice app. The endurance rating denotes how long the battery charge will last you if you use the device for an hour of telephony, web browsing, and video playback daily. More details can be found here.
Video test carried out in 60Hz refresh rate mode. Web browsing test done at the display's highest refresh rate whenever possible. Refer to the respective reviews for specifics. To adjust the endurance rating formula to match your own usage - check out our all-time battery test results chart.
Charging speed
The Nokia G21 supports charging at up to 18W over USB Power Delivery but ships with a less powerful 10W adapter. Using this bundled unit, we clocked a full charge to take a rather sluggish 2:49h, with the battery indicator showing 22% at the 30-minute mark. Even for a budget phone, that's pretty slow, though competing Samsungs aren't any better. In any case, overnight charging appears to be your best bet with the in-box charger.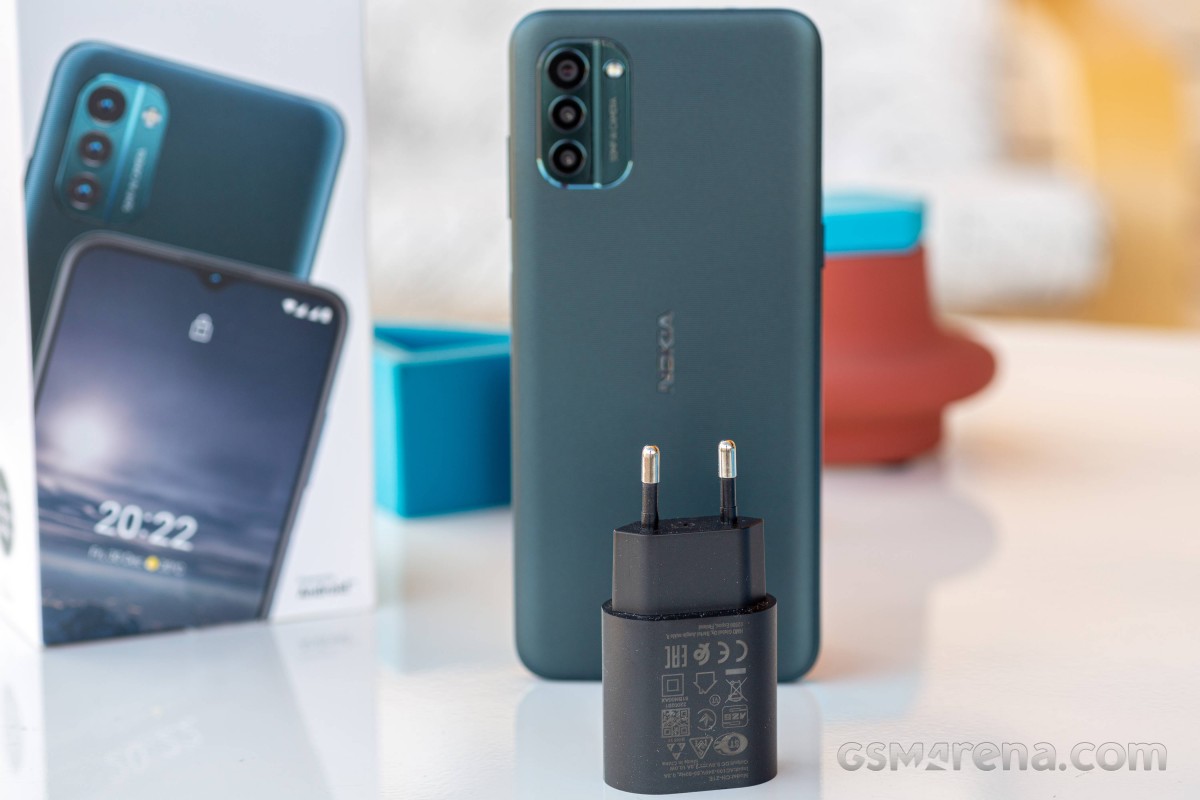 You could get better results if you have a PD-capable adapter. We tried a third-party unit that can deliver 18W, which got us 37% in half an hour, plus it shaved a good 40 minutes off the 0-100% time. It's one of the better results outside of the realm of proprietary charging tech that the chart-toppers have.
30min charging test (from 0%)
Higher is better
Xiaomi Redmi Note 10
65%
Realme 8
56%
Poco M4 Pro 5G
54%
Nokia G21 (65W PD)
37%
Poco M3 Pro 5G
33%
Samsung Galaxy A02s
30%
Realme 8i
30%
Xiaomi Redmi 10
26%
Motorola Moto G51 5G (Global variant, 10W)
26%
Samsung Galaxy A22 5G
23%
Samsung Galaxy A22
23%
Nokia G21
22%
Samsung Galaxy A03s
15%
Time to full charge (from 0%)
Lower is better
Poco M4 Pro 5G
1:07h
Realme 8
1:09h
Xiaomi Redmi Note 10
1:13h
Poco M3 Pro 5G
2:00h
Nokia G21 (65W PD)
2:09h
Xiaomi Redmi 10
2:13h
Samsung Galaxy A22
2:20h
Realme 8i
2:21h
Samsung Galaxy A22 5G
2:29h
Motorola Moto G51 5G (Global variant, 10W)
2:35h
Samsung Galaxy A02s
2:36h
Nokia G21
2:49h
Samsung Galaxy A03s
3:38h
Speaker test
The Nokig G21 has a single loudspeaker, a bottom-firing one. It's more or less to be expected at this price point, but stereo speakers can be had for as much money too - take the Redmi 10, for example.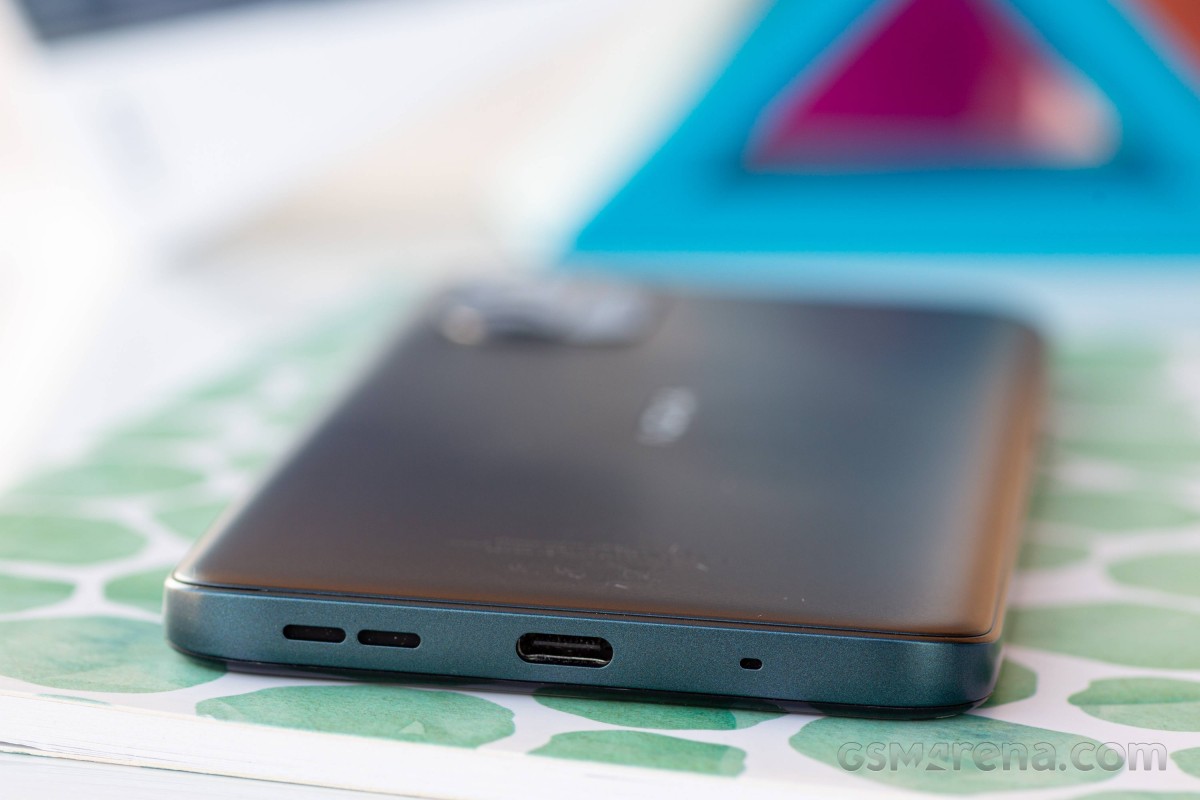 The Nokia's one speaker isn't very loud either, and it ended up in the 'Below Average' category in our test - on par with the Galaxy A22, but the Realme 8 is slightly louder, and the Redmi 10 noticeably more so. Despite the underwhelming loudness, however, the Nokia does sound quite alright for its modest setup - it's more balanced than the in-bathroom-like Galaxy and the overly highs-forward Realme.
Use the Playback controls to listen to the phone sample recordings (best use headphones). We measure the average loudness of the speakers in LUFS. A lower absolute value means a louder sound. A look at the frequency response chart will tell you how far off the ideal "0db" flat line is the reproduction of the bass, treble, and mid frequencies. You can add more phones to compare how they differ. The scores and ratings are not comparable with our older loudspeaker test. Learn more about how we test here.
After listening to the sounds via the various phones pitched against Nokia G21, I can safely say Nokia G21 has a richer sound, although low, than all of the competitions.
TuggerNutz
03 Jul 2023
wgL
Nokia has been there for me in life more than my parents
How do you turn on notifications light so you could see a flicking light for missed calls, unread messages etc on this devise?