Nokia Lumia 720 review: On target
On target
GSMArena team, 12 April 2013.
Nokia Lumia 720 360-degree view
At 127.9 x 67.5 x 9 mm, the Nokia Lumia 720 certainly feels like it could've been at least a little more compact for a smartphone with a 4.3" display. The Motorola RAZR i, which is probably our favorite reference, is half a centimeter shorter in each direction, which makes quite the difference in handling.
However, the Nokia Lumia 720 handles reasonably comfortably and is actually the slimmest Lumia smartphone to date. Considering the screen size, the less than perfect use of the available space is something you can quite easily live with, even if you don't have particularly large hands.





The Nokia Lumia 720 sized up against the Lumia 520
As for the weight, at 128g the Lumia strikes a great balance. It's not overweight like the Lumia 920 and yet it manages a reassuringly solid feel in hand.
Design and build quality
The Nokia Lumia 720 follows the design language of the company's Lumia 920 flagship, employing a similar polycarbonate unibody. Nokia will be offering a range of snap-on covers too, which will enable wireless charging. Depending on the color you choose you will either get a glossy (like our white review unit and the red version) or matte (the blue and black versions) finish, but they both look pretty sleek.





The Lumia 720 is quite the looker
The visual appeal of the smartphone gets a boost of its pleasingly slim waistline. The subtly rounded Lumia 720 fits nicely in the hand and looks even slimmer than it actually is. The curved screen, a la Nokia N9, is much appreciated too, especially in sideways swipes, which are frequently used in the Windows Phone UI.
Overall, the Nokia Lumia 720 is certainly among the most attractive offerings in its class. It's a gadget you won't mind being seen with and one that might even make a few Lumia 920 owners a little jealous. And that's as good a compliment as a mid-range smartphone can hope to receive.
Display
The Nokia Lumia 720 comes with a 4.3" ClearBlack IPS LCD of WVGA resolution. In the day of 1080p screens, its pixel density of 217 ppi doesn't sound particularly exciting, but the Windows Phone 8 platform is designed in such a way that the relatively low pixel density doesn't really show.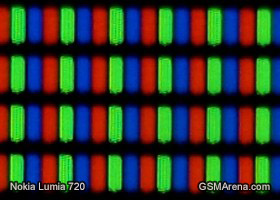 Of course when browsing images or surfing the web the Lumia 720 won't be able to provide as much fine detail or fit as much content, but on most occasions the WVGA resolution feels perfectly adequate. Besides, there are only a handful of smartphones in the Lumia 720 price range to offer even 720p screens, let alone 1080p displays, so the Nokia mid-ranger has little to worry about.


The display has excellent image quality
Even more so, when you consider that its ClearBlack screen is excellently bright and provides very good contrast, as testified by the measurements in our test. Viewing angles are splendid, too, and while there's some color shift when you reach extremes, everything on the screen remains perfectly legible at all times.
Display test
50% brightness
100% brightness
Black, cd/m2
White, cd/m2
Contrast ratio
Black, cd/m2
White, cd/m2
Contrast ratio
Nokia Lumia 720
-
-
-
0.69
813
1172
Nokia Lumia 620
-
-
-
0.72
762
1068
Samsung I9300 Galaxy S III
0
174
∞
0
330
∞
HTC One X
0.15
200
1375
0.39
550
1410
Nokia Lumia 920
-
-
-
0.48
513
1065
Nexus 4
0.22
314
1447
0.45
608
1341
LG Optimus G
0.14
197
1445
0.33
417
1438
Apple iPhone 5
0.13
200
1490
0.48
640
1320
Here's the display pixel arrangement under a microscope.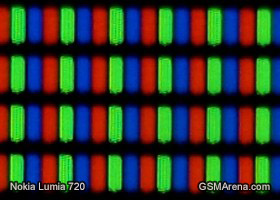 Sunlight legibility turned out pretty good, too, with the Lumia 720 easily ranking in the upper half of our chart.
Sunlight contrast ratio
Nokia 808 PureView
4.698
Apple iPhone 5
3.997
Samsung I9300 Galaxy S III
3.419
Samsung I9300 Galaxy S4
3.352
Samsung Omnia W
3.301
Samsung Galaxy S
3.155
Nokia N9
3.069
Samsung Galaxy Note
2.970
HTC One S
2.901
Samsung Galaxy S II
2.832
Samsung Galaxy S II Plus
2.801
Huawei Ascend P1
2.655
Nokia Lumia 900
2.562
Nokia Lumia 720
2.512
HTC One
2.504
Sony Xperia Z
2.462
Samsung Galaxy S III mini
2.422
Motorola RAZR i
2.366
Samsung Galaxy Note II
2.307
Apple iPhone 4S
2.269
HTC One X
2.158
Nokia N8
2.144
Oppo Find 5
2.088
BlackBerry Z10
2.051
Apple iPhone 4
2.016
Sony Ericsson Xperia ray
1.955
Samsung Galaxy Camera
1.938
HTC Butterfly
1.873
Sony Xperia V
1.792
Sony Xperia U
1.758
LG Optimus 4X HD
1.691
HTC One V
1.685
LG Optimus Vu
1.680
HTC Desire V
1.646
LG Optimus G Pro
1.552
LG Optimus 3D
1.542
Nokia Asha 302
1.537
Nokia Lumia 610
1.432
Gigabyte GSmart G1355
1.361
HTC Desire C
1.300
LG Optimus L7
1.269
LG Optimus L9
1.227
Meizu MX
1.221
Sony Xperia E dual
1.203
Samsung Galaxy Pocket
1.180
Sony Xperia tipo
1.166
Samsung Galaxy mini 2
1.114
You can find more about our display testing process here.
I love my Nokia Lumia 720. Is fast and easy to use. My problem is screen is broken, I looked for screen for over four years and, I wish my Lumia can be fixed, I miss my Lumia 720,and My Lumia was upgraded to Lumia 920
AnonD-443708
23 Sep 2015
tht
This phone is a rip-off! Single SIM, 1/2 GB RAM, really suck! Good thing I'm a Nokia lover. Are Microsoft and Nokia have same quality? Thanks
AnonD-377588
30 Jun 2015
7tB
Hi everyone ! I have a Lumia 720 and have been using for more than a year now. Till now I had no issues but recently noticed horizontal black lines on the whole screen. I have taken screen shots but couldn't find lines in them.I am quite sure my ph...