Nokia Lumia 820 review: Backup squad
Backup squad
GSMArena team, 22 November 2012.
Camera with many features, OK image quality
The Nokia Lumia 820 boasts an 8MP camera with interesting sensor design - it snaps photos at 3264 x 2448 resolution in 4:3 mode and 3552 x 2000 in 16:9 mode, only 11% less resolution. Most other cameras simply crop a 4:3 photo into a 16:9 photo and lose a quarter of the resolution.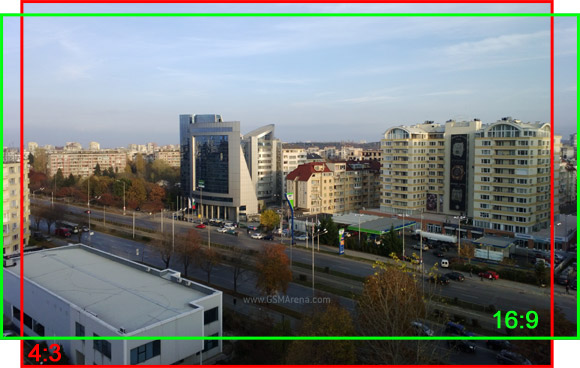 The difference between 4:3 and 16:9 photos
The camera has a 26mm wide-angle lens with f/2.2 aperture and a dual-LED flash.
The camera UI is pretty simple - you have your viewfinder and some controls on the right. From top to bottom they are the still/video camera toggle, front/back camera toggle, flash mode setting and the Lens button. On the left you have an arrow that takes you to the images taken with the camera, alternatively you can do a swipe gesture too.
The camera app on Windows Phone offers extensive settings, ranging from scenes and effects to white balance, contrast, saturation, sharpness and ISO among others. You have a dedicated Macro focus mode but no face detection. The flash can be set to auto, forced or off.
The shutter key will wake the phone up with a single press and launch the camera app. The Lumia 820 is not the fastest shooter around and it takes it a couple of seconds before a photo is taken. This is more delay than we're used to from modern phones.
Lenses is an interesting feature, enhancing the camera functionality without making a mess of third party apps each with its own UI. Lenses are accessible directly from the native camera app (they show up in the list of installed apps too if you want to pin a Lens to the start screen).
Nokia has preloaded the Smart Shoot lens, which is by far the most powerful, and you can also download the Panorama and Cinemagraph lenses.
Smart Shoot uses Scalado technology (Nokia owns the company) - it shoots multiple photos and lets you pick which one to save (a sort of burst mode). You can also pick the best face and cycle through each facial expression a person made while the camera was snapping photos. The third option is Erase, which will remove moving objects (e.g. someone walking in front of the landmark you're trying to shoot just as you press the shutter).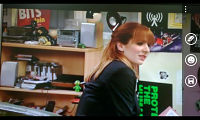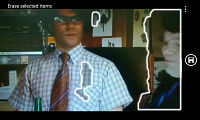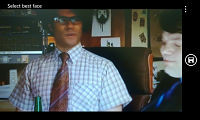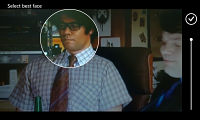 Smart Shoot snaps several photos • and you can delete a moving object • or pick the best face
Panorama does what it says - you press the shutter and then align the camera as instructed (the app will put circles you have to aim for). It's good, but you always shoot right to left (can't switch direction), which is a bit annoying.
Cinemagraph create photos that are mostly static, but a part of them is animated, it really brings them to life. You have to hold the phone steady while shooting. When you're done, the Lens will offer two (sometimes three) areas that can be animated and when you pick an area, you can tweak the animation, trim it, and set the loop pattern.
The Nokia Lumia 820 doesn't do too well when it comes to actual image quality. Photos are grainy and noise reduction smears away fine detail. Photos have a yellowish tint, other than that colors are reasonably accurate. Overall, photo quality is average.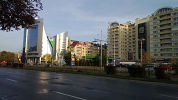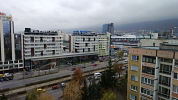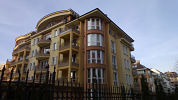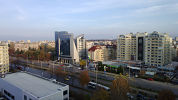 Nokia Lumia 820 camera samples - both 4:3 and 16:9 shots
Here are a couple of Cinemagraphs and a panorama we shot with the Lumia 820 too.
Photo quality comparison
The Nokia Lumia 820 enters our tool, where you are free to compare it to any of the smartphones in our data base - the tool's page will give you information on what to watch out for.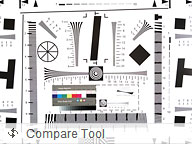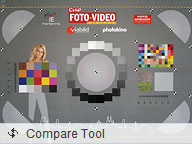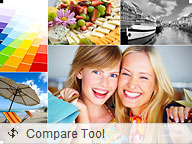 Nokia Lumia 820 in our photo compare test
Video camera is better
The camcorder interface is identical to the still camera's and has plenty of features too. You can change the white balance, sharpness and the video resolution among other things. The LED flash can be made to work as a video light, too.
The Nokia Lumia 820 shoots 1080p and 720p videos (720p is the default mode). The quality of the videos is good in terms of fine detail. Colors have a slight yellow tint again but the bigger problem is that the continuous autofocus is a bit too sensitive (at least it's quick and mostly unobtrusive).
The bitrate of the 1080p video was a steady 21 Mbps while the framerate hovered around the 30 fps mark. Audio is recorded in mono (99Kbps, 44.1kHz), which is rather disappointing, given that the smartphone has two microphones.
With 720p videos the bitrate fell to around 16 Mbps with the same 30 fps framerate. Audio is mono again too.
Anyway, here's a 1080p sample we uploaded to YouTube:
You can also download an untouched 1080p@30fps video sample.
Video quality comparison
The Nokia Lumia 820 is ready to bump heads with the likes of the HTC Windows Phone 8X and Samsung's Ativ S in our video quality comparison tool. Once again you should consult the tool's page for information on what to look out for.
how to hard reset nokia lumia
T-Bone Winchester
05 Nov 2020
UNy
I've had my 820 for 8 years now. It still works well but it is not my everyday phone. I have owned many phones (Android, IOS and WIN) this one is the best built of all of them. Everything still works well, no issues with anything. It's too ...
This phone has been incredible. I too have had it 6 years, keep thinking I should update, but it still does everything i need, never freezes, just the battery is starting to tire by the end of the day now.