Nokia N95 8GB review: Return of the king
Return of the king
GSMArena team, 23 November 2007.
Display to brag about
Screenwise the N95-2 is undoubtedly in its element. The display has a 2.8" diagonal and offers striking image quality and unmatched sunlight legibility. This one is definitely among the best examples in the field. Apart from the fingerprint susceptibility, there is hardly anything to criticize about this display. The picture quality seems a little better than the one of the original N95 but the difference is so small you'll need to look at quite a number of images on both displays simultaneously to notice it. The increased size however does make a difference even if 0.2" sounds like an insignificant figure.
Telephony of great quality
Nokia N95 8GB's signal reception is just what you would expect from a Nokia high-end phone - simply flawless. The loudspeakers are also good and because of their position they are almost impossible to muffle, no matter if you have the phone in your pocket or on a desk. The vibration of the phone is also strong enough to make sure you never miss an incoming call or message. The phone offers brilliant speaker quality and the sound during calls is very clear and without any interferences.
The ringing volume of Nokia N95 8GB is on an overall good level but, surprisingly enough, it is quieter than the original Nokia N95. Here is how it ranks among some of the other handsets we have measured in our loudspeaker test. You can find more details about the test itself and the results of the other tested handsets here.
| | | | | |
| --- | --- | --- | --- | --- |
| Speakerphone test | Voice, dB | Pink noise/ Music, dB | Ringing phone, dB | Overal score |
| Nokia N95 8GB | 75.7 | 66.2 | 70.5 | Good |
| Nokia N95 | 77.3 | 66.6 | 78.0 | Excellent |
| HTC Tytn II | 76.0 | 75.7 | 82.7 | Excellent |
| LG KU990 Viewty | 72.0 | 68.8 | 77.8 | Good |
| Sony Ericsson K850 | 71.0 | 75.7 | 75.7 | Very good |
Pure Smart
Nokia N95 8GB runs on Symbian 9.2 OS with the Series60 3rd Edition user interface. The added feature pack 1 is no news for Nokia smartphones any more but still deserves mentioning. Demand paging is also included in this handset, although it is normally not to be expected in phones with OS prior to Symbian 9.3. This means that only the most essential parts of the program are loaded in the RAM memory with the rest of it remaining on the phone or mass memory. Then they are only loaded if their use is required. The 128MB of RAM is also an important factor to OS performance. In reality, 128MB is virtually impossible to deplete no matter how hard you try. Unless you do it intentionally, Memory Full warnings are not something you can expect on the Nokia N95 8GB screen.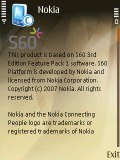 Symbian 9.2 OS with Series 60 3rd Edition UI is the heart of the handset
The phone's main menu has only two different view modes. They are both well known: a 4 x 3 grid of icons and a list. In addition you can choose whether you prefer your icons animated or not. Although we have Feature pack 1 in Nokia N95 8GB, the V-shape and Horseshoe views are not available. As mentioned, navigating the menus is fast with instant response to key presses and no delays. It is important to also note that all screens of the user interface, including the stand-by screen, can be displayed in both portrait and landscape mode depending on the user preference. The screen rotation is also faster than with N95-1 or otherwise said - almost instant. Nokia hasn't included any animation for the screen rotation - as seen in Apple iPhone - the screen just fades out and pops back up in the desired mode.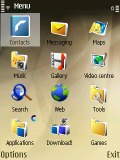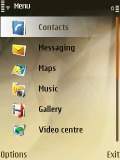 The two different main menu views
The blue circle next to the icon of a running application is a well known Symbian indication reminding users to quit unwanted applications that are still running in the background. Luckily, the days when there was only a single alarm slot and the voice recorder was limited to a miserly minute are now long gone.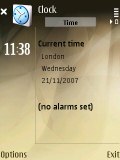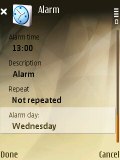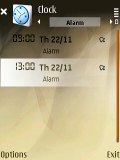 You can now set as many alarms as you like with Nokia N95 8GB • Some of the alarm settings
The active stand-by display is naturally also present with Nokia N95 8GB. This is a nice and convenient way to bring shortcuts to all your favorite applications to your home screen. You can even assign shortcuts to websites of your choice for quicker access. The two soft keys functions can also vary. As the standard keypad lock pattern is a quick successive pressing of the left and right selection keys, when the left one is pressed it will wait for about a second before acting as assigned to see if a lock command is to follow. Otherwise, key-lock is automatically on when the slider is closed and turns off when the phone is slid open in any of the directions.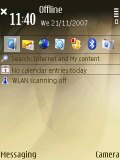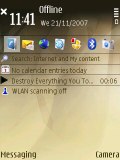 Active stand-by is well familiar but this time a line for the Search application has been added
The built-in memory (that's on top of the 8GB gross) is 133MB, which is a considerable figure but you probably will never use it, as accessing applications or any other files from the Mass memory doesn't seem to be any slower.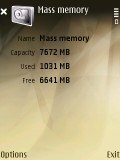 The mass memory is actually 7672MB
The multimedia menu is a focal item in Nokia N95 8GB. It is launched by pressing the dedicated key and provides quick access to the multimedia features of the handset. It is identical to the one found on Nokia N81, with icons sorted thematically. They appear as drop-down menus when the respective tab is selected. If you find the menu layout unsuitable, you can freely rearrange icons until you're pleased with the result.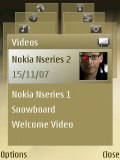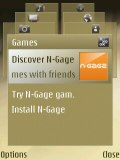 Multimedia menu brings new look and increased functionality
As with any Symbian phone, there is a built-in voice recognition system. It is doing a great job, being fully speaker-independent and recognizing a remarkably high percentage of the given commands.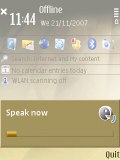 Voice recognition works like a charm on N95 8GB
| | |
| --- | --- |
| "...Demand paging is also included in this handset, although it is normally not to be expected in phones with OS prior to Symbian 9.3. This means that only the most essential parts of the program are loaded in the RAM memory with the rest of it remaining on the phone or mass memory..." | <#AdRectangle#> |
Nseries Themes
There are only four preinstalled themes on Nokia N95 8GB, all of which are named Nseries. The rest is left to the imagination of the user, as you can download as many other themes as you wish. If you find it necessary to do so that is, as we personally find the preloaded themes quite nice.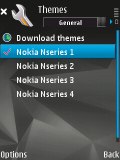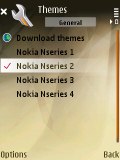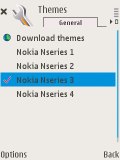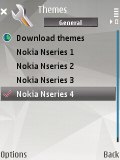 The four preinstalled themes on the handset are quite similar
SMILEY LOLA
01 Aug 2021
IbI
Very good picturesand videos needs a better case. Would be cool if it was slightly modified. With printing technology Microsoft word excel and PowerPoint and additional memory...
Anonymous
07 May 2021
U@L
I like it.
Mohammad Ashraf Wani
04 Mar 2020
GXm
I love Nokia n95