Nothing Phone (1) review
GSMArena Team, 22 July 2022.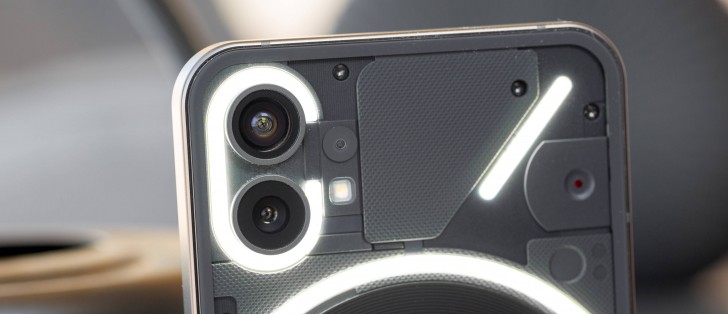 Clean Android 12 with Nothing UI
The Nothing Phone (1) runs on the Nothing OS, an ever so slightly modified version of 'stock' Android 12. Our review unit was running on OS 1.1.0, which was the latest available at the time of testing.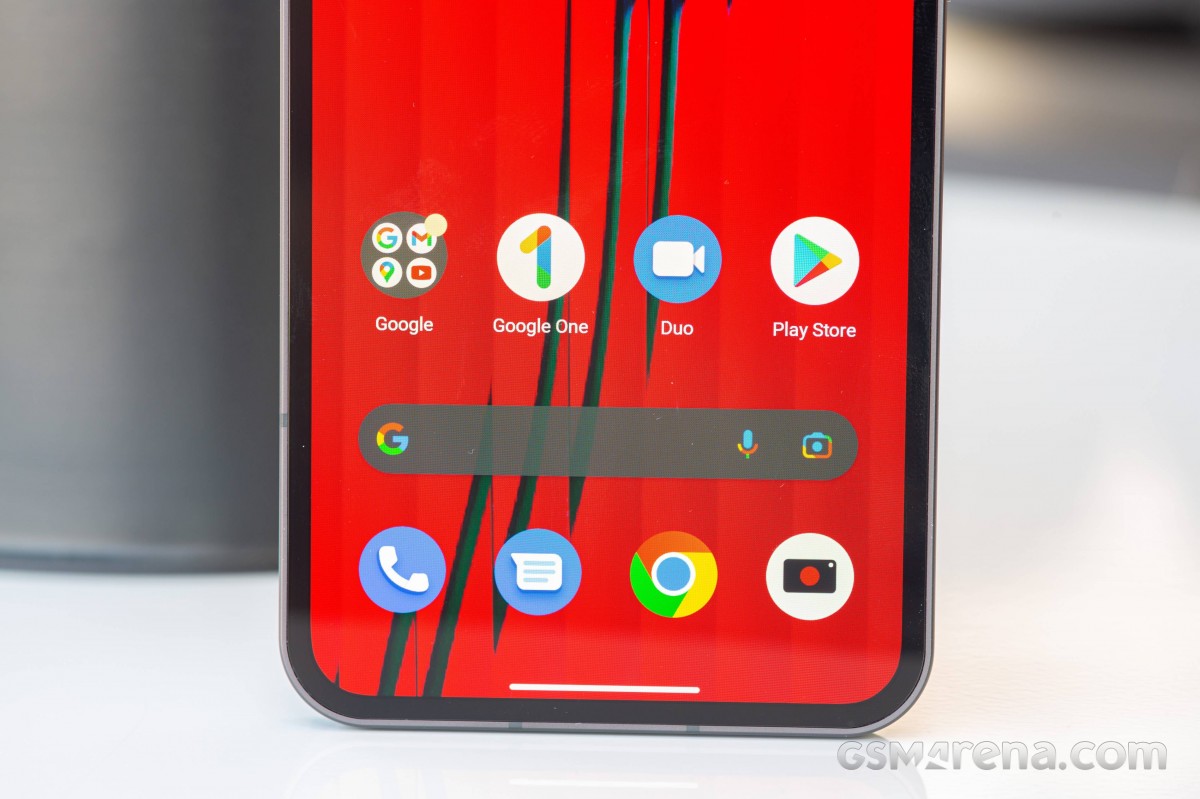 Our Nothing Phone (1) unit received two major updates during the review process - both improving on battery life, Glyph UI, and camera performance. Our review is based on the latest version of Nothing OS - 1.1.0.
Using the Phone (1) does feel a lot like using a Google Pixel. Most of the user interface is familiar, with things like the launcher, the Settings app, and most of the pre-installed apps being identical to what you'd find on Google's smartphones.
The changes Nothing has made are quite selective and judicious in nature. While the phone mostly uses Roboto for the interface, there is also sparing use of the company's distinctive dot matrix typeface for certain UI elements, such as for the headings inside the Settings app, the lockscreen, the charging UI, and the custom widgets.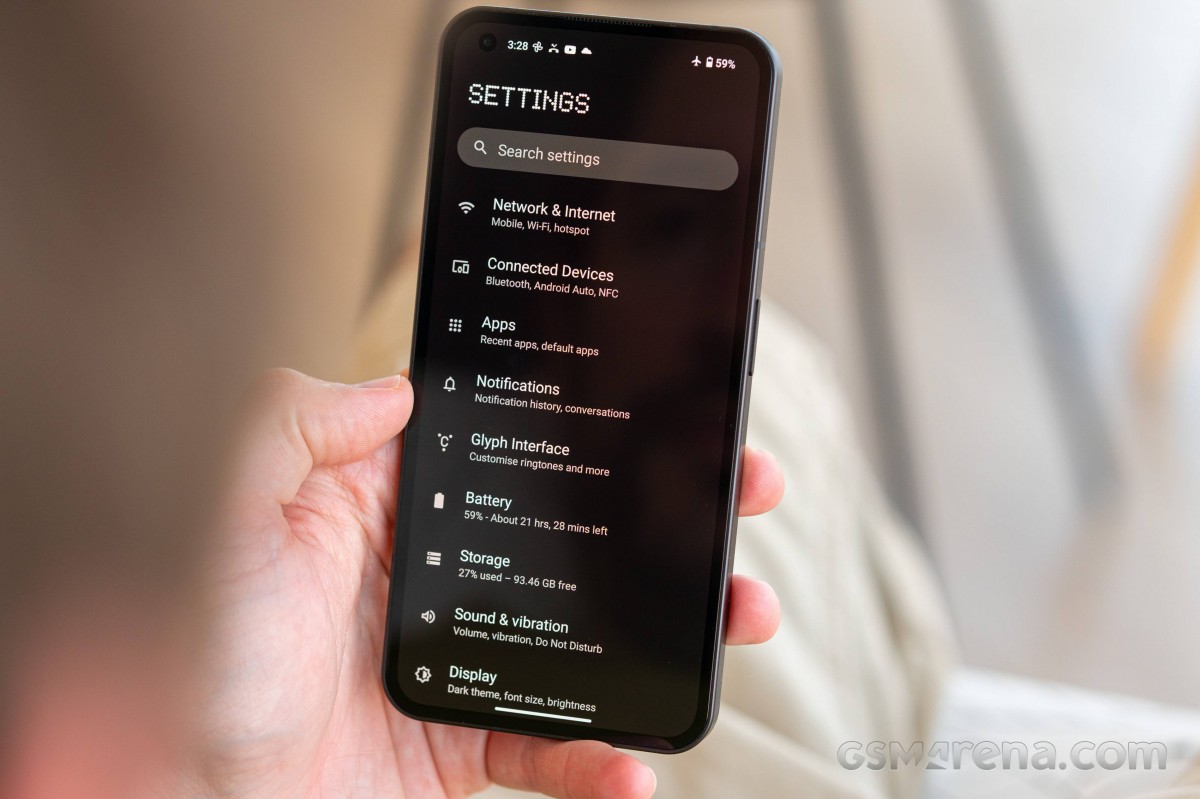 Speaking of custom widgets, there are four on the Phone (1), all of which are variations of the usual clock and weather widgets. There is also an NFT Gallery widget to showcase your NFT collection if you're into that sort of thing. There are four custom wallpapers included, and although the default Nothing icon pack is essentially just the default icons, there is an option to download and apply your own.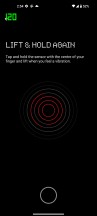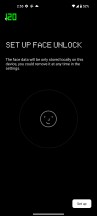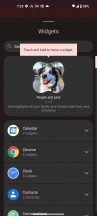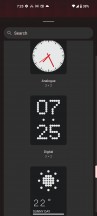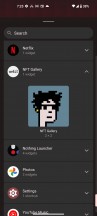 Fingerprints • Face unlock • Widgets
Within the experimental features section, there is also a Connect to Tesla option, which is supposed to let you control some features of your Tesla vehicle directly from the phone without requiring the Tesla app. Unfortunately, we did not receive a Tesla with our review unit to confirm if this feature works.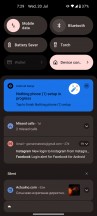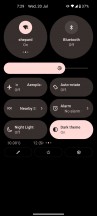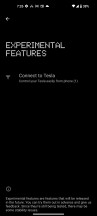 Notifications • Quick settings • Tesla integration
There is also a game mode, but it's not as elaborate as on other phones. You have to manually add games for this mode to kick in, and when it does, it can just enable Do Not Disturb mode and enable mistouch prevention around the edges of the screen. If you have a Nothing Ear (1) paired, it will also enable low latency mode on them.
Speaking of the Ear (1), we didn't see any special integration between the two Nothing products. We had to install the Ear (1) app just like we would on any other phone, and that was how you control the various functions of the earbuds. The experience was identical to pairing them with any other Android phone.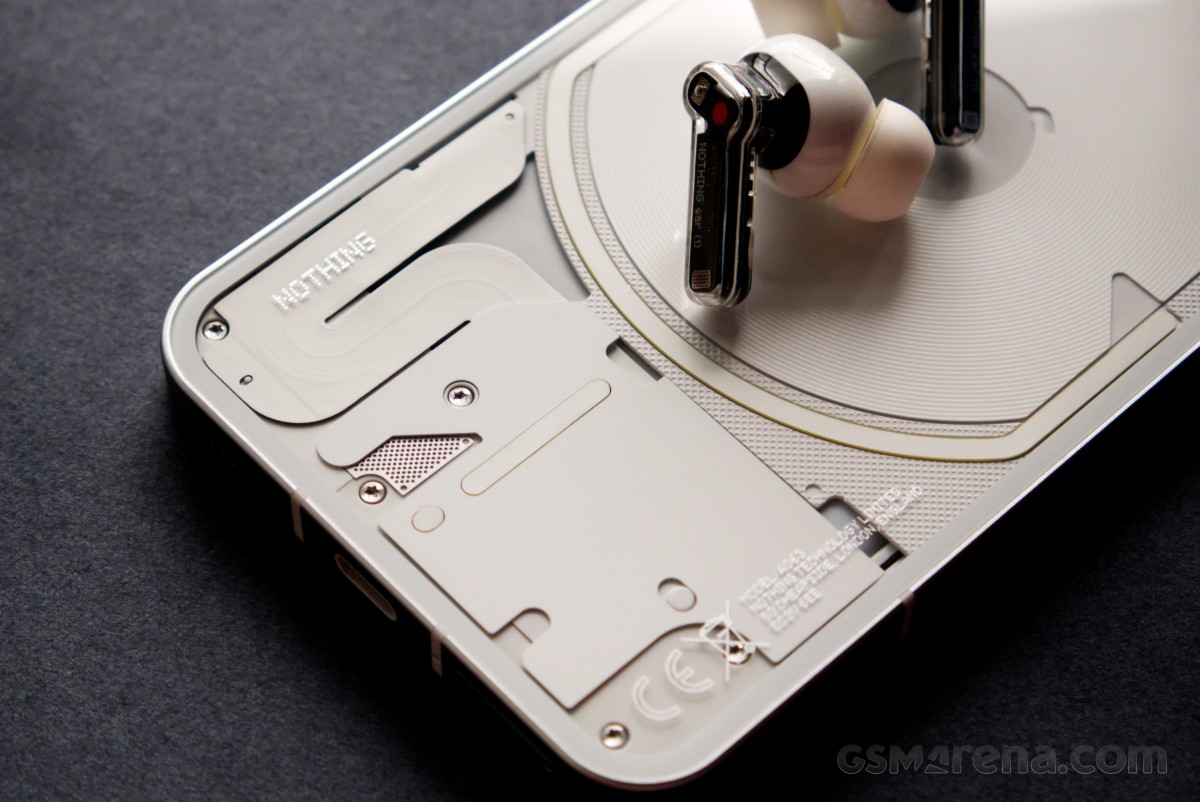 The most custom aspect of the Nothing OS is the inclusion of the Glyph Interface, which controls the LEDs on the back of the phone. First, the feature is optional, so you can just turn it off if it bothers you or if you don't think you will get much use out of it. You can also adjust the brightness of the LEDs, which, as mentioned before, can get seriously bright, even at the default medium brightness.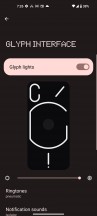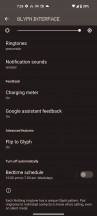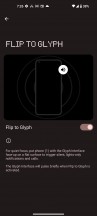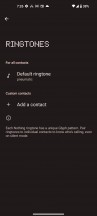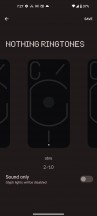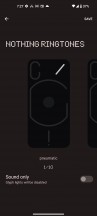 Glyph • Settings • Flip to Glyph • Ringtones
At present, the Glyph Interface can be used primarily for notifications. The Phone (1) comes with ten custom ringtones for calls and ten notification sounds. Each of these has a pre-programmed pattern assigned to them that plays out on the LEDs whenever they are playing.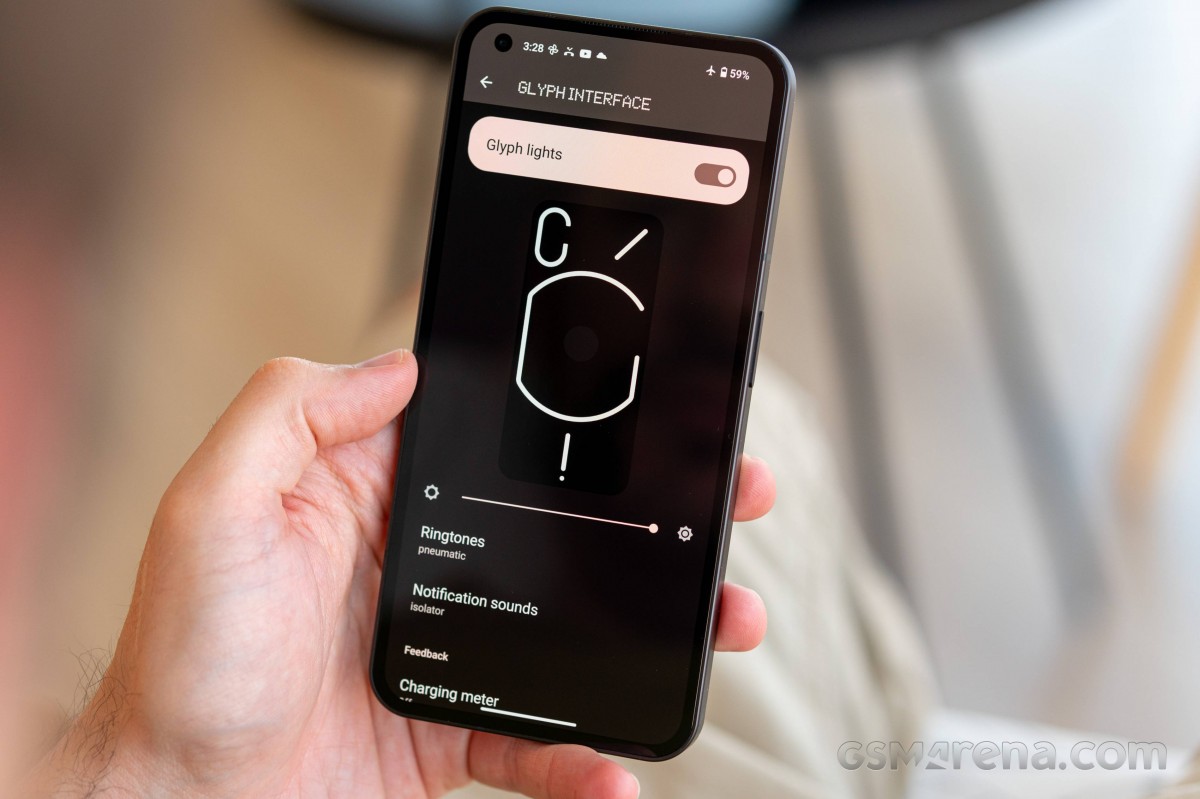 You can add your own ringtones to the phone, and it will try to map them to the different lights, but in our experience, this does not work that well, and usually, the lights will just blink in more simple patterns rather than the more complex animations that you get with the default sounds.
For calls, you can assign a ringtone to each of your contacts. This way, not only do you get audible confirmation of who's calling, but if the phone is placed face down, then the unique light pattern on the back can also inform you of the caller id. Of course, there are only ten custom ringtones, so there's only so many unique callers you can assign them to, but any more would likely be too much to remember.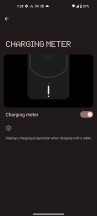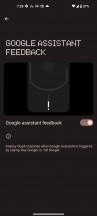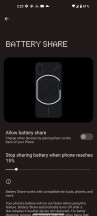 Charging Meter • Google Assistant • Battery Share
This can also be done for app notifications, provided the app allows setting a custom notification. Some messaging apps will also allow setting a custom ringtone for each contact, but again you are limited to just ten.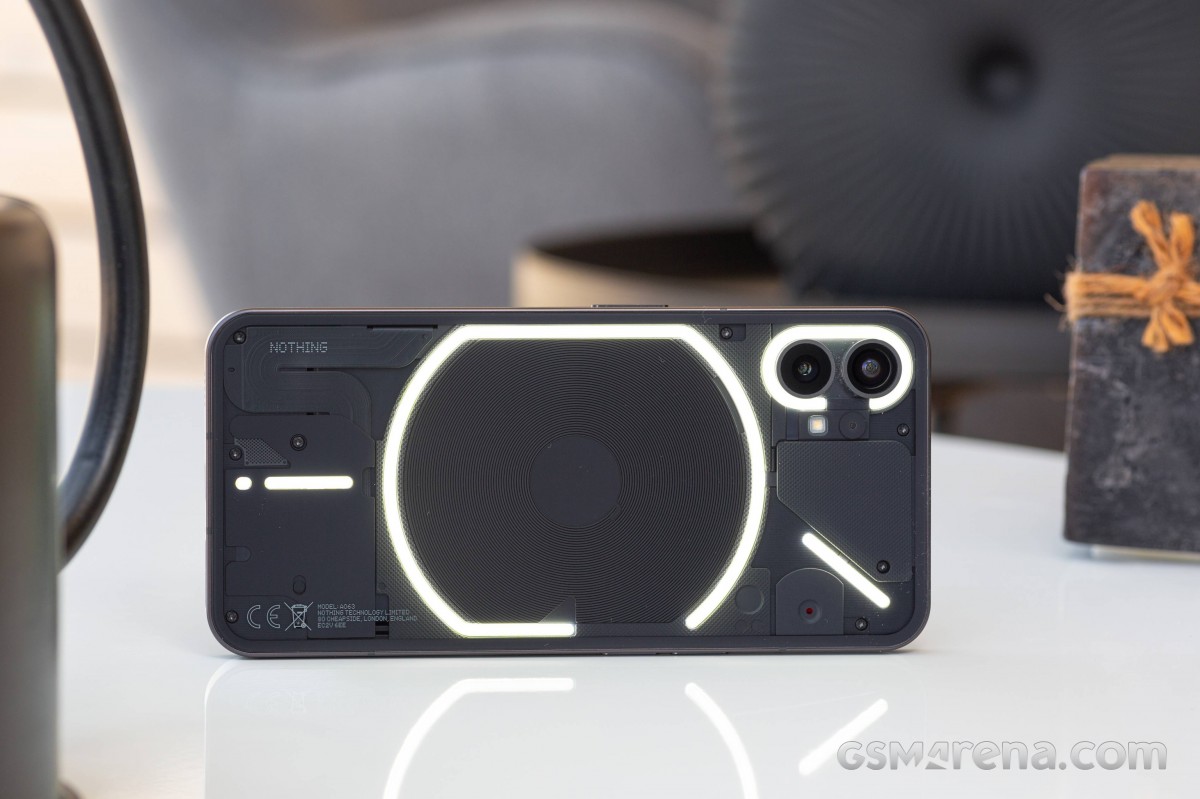 Of course, with app notifications, things can get easily out of hand, and it can get quite overwhelming trying to remember all sounds and their light patterns. Then there's also the thing where most apps don't have custom sound alerts, so you will just get the default notification sound and its pattern, which makes it impossible to identify one app from another.
Other things you can do with the lights at present is have the bottom LED bar light up incrementally with the phone's charging status. The lights can also be made to flash when you say the Google Assistant hotword.
The Glyph LEDs can also be activated to act as a fill light for when shooting videos or taking portraits.
Finally, the feature Flip to Glyph is really cool - it's like an expanded silencer. See, once you flip the phone, the Glyph interface will be active (and you will get a glyph prompt for that), while sounds will be silenced.
From what we understand, there are more features planned that will take advantage of the lights on the back. Some users have found a way to make the lights blink with your music by enabling a hidden music visualization feature. These should become available over time through future software updates.
As far as bloatware is concerned, the Phone (1) really has none to speak of, assuming you don't count the ever-increasing mandatory Google apps as bloatware (although maybe it's time we do). The only custom apps on the phone are the Camera app and a Recorder app. The Recorder app has the same dot matrix UI and looks pretty cool aside from offering useful functionality. It can't, however, record calls, and it also cannot be uninstalled if you don't need it.
In terms of stability, the Nothing Phone (1) was surprisingly well-behaved. There are some application-specific issues, such as the YouTube app freaking out when you select 2160p for HDR videos and locking itself to 480p.
That aside, our experience with the software UI was perfectly pleasant and uneventful. Things worked as expected, which is not at all what we expected from the company's first phone, especially since this is an area where Nothing's more established rivals often struggle with. Not to mention the fact that Nothing itself struggled with getting the software right on the Ear (1) even months after launch, so the fact that our Phone (1) basically worked fine after just a single Day 1 update is really impressive.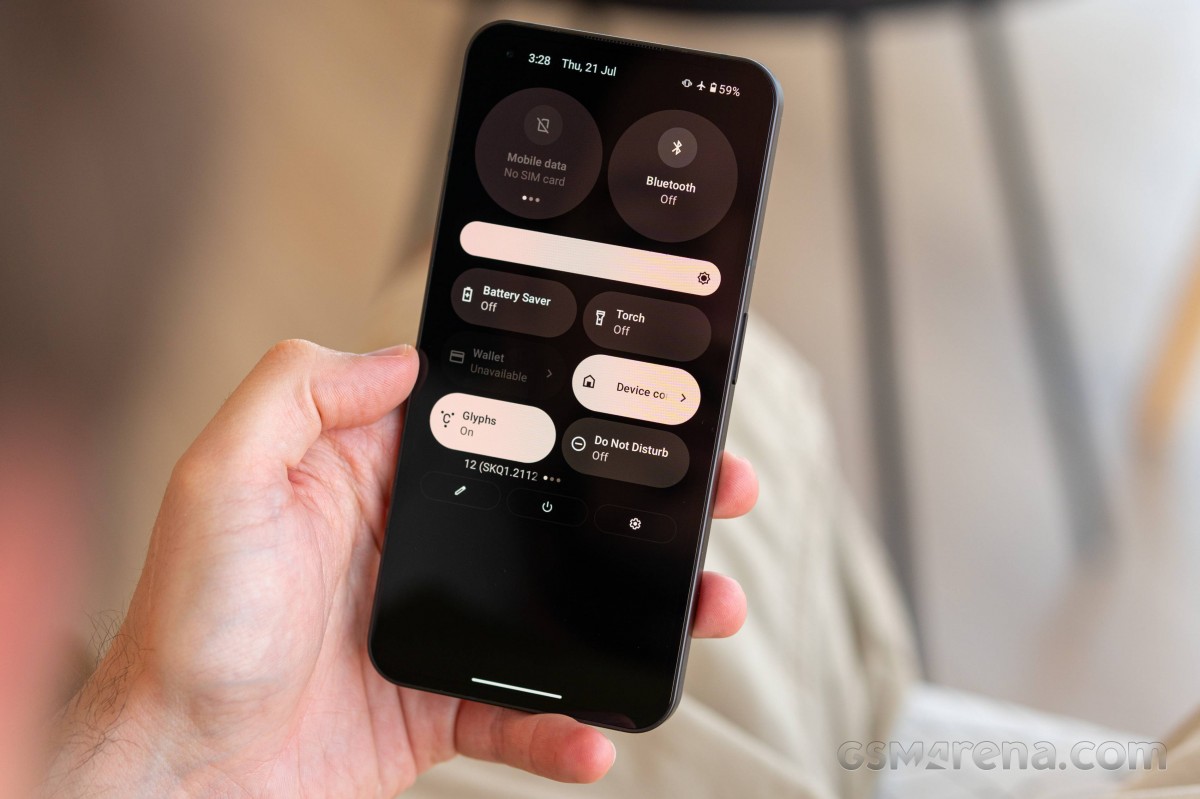 Overall, Nothing gets a lot right about the software experience on the Phone (1). Sticking to near-stock Android ensures a clean and consistent visual experience. The company's own design choices are measured and tasteful. There is little to no bloatware. More importantly, despite being in its infancy, the software was largely stable and reliable. This is a phone we would have no hesitation using on a daily basis or recommending to others looking for a similar clean, user-friendly experience.
Nothing has made a promise for a total of three years of major Android updates and four years of bi-monthly security patches.
Performance and benchmarks
One of the most interesting choices for the Nothing Phone (1) is the chipset - the Snapdragon 778G+ 5G by Qualcomm. It is one of the most powerful chipsets within the top midrange class, bested only by the ex-flagship Snapdragon 870.
We've witnessed a lot of flagships come with incredibly fast hardware that is simply ahead of its time (current gen Snapdragon), or even way ahead of its time (current gen Apple A). Such cutting-edge chipsets are often way overpowered, especially when running 1080 content mostly.
And we can get behind the idea of having a platform that can handle properly the content available today instead of aiming to be powerful after the end of software support. It makes sense for battery life and heat dissipation, for sure.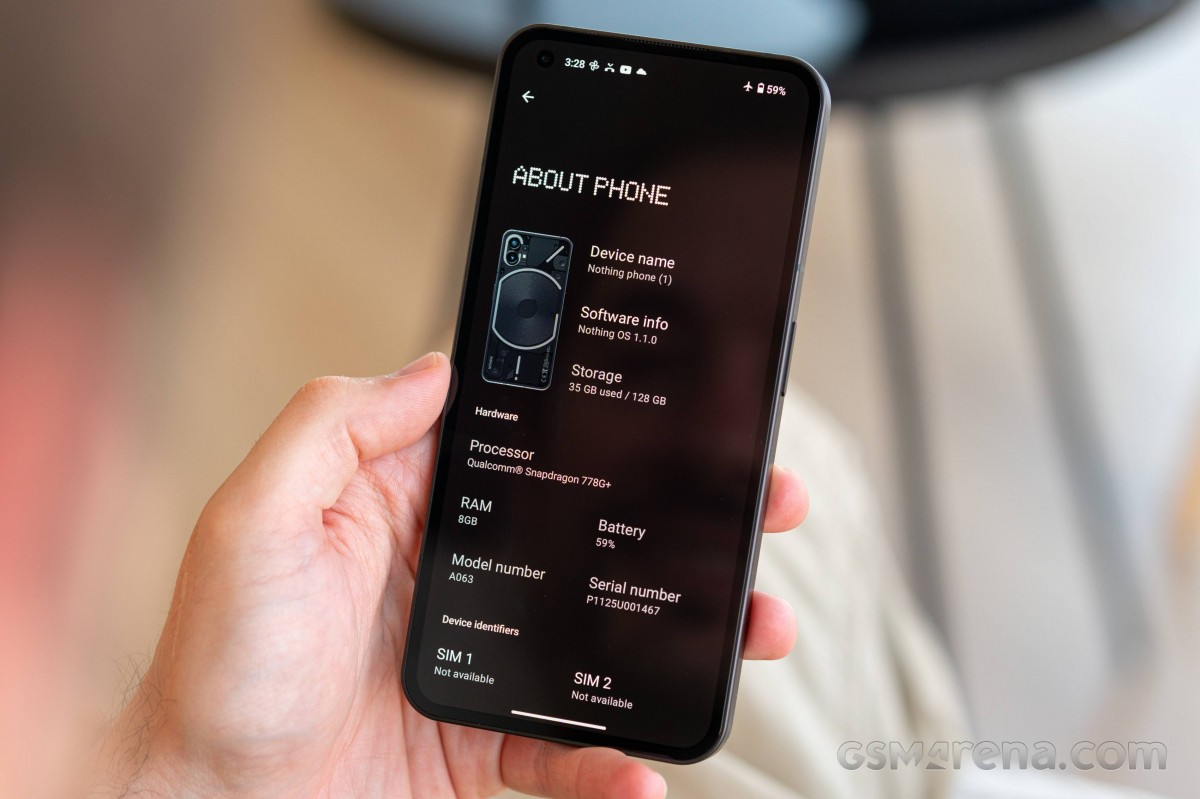 So, the Nothing Phone (1) is powered by the Snapdragon 778G+ 5G chipset. It offers an octa-core Kryo 670 CPU in a 1+3+4 configuration, with a Cortex-A78-based prime core (up to 2.5GHz), three more of those limited to 2.4GHz, and a quad-set of A55 derivatives ticking at up to 1.8GHz. The GPU is Adreno 642L. A built-in Snapdragon X53 5G modem is also part of the package.
The Nothing Phone (1) comes in one of three storage configurations, all with UFS3.1 storage and LPDDR5 RAM - 8/128, 8/256, and 12/256. We have the latter for review.
And now, let's run some tests!
The Nothing Phone (1) processor scored closely to the Snapdragon 870 CPU within the Realme GT Neo 3T and Poco F4 and is bested only by the flagship-grade Snapdragon 8 Gen 1 (Poco F4 GT) and the Dimensity 8100 (Poco X4 GT).
GeekBench 5 (multi-core)
Higher is better
Poco X4 GT
3719
Poco F4 GT
3637
Poco F4
3190
Realme GT Neo 3T
3180
Nothing Phone (1)
3024
Xiaomi 12 Lite
2943
Realme GT Master
2917
Samsung Galaxy A52s 5G
2801
OnePlus Nord 2
2792
OnePlus Nord 2T 5G
2694
Samsung Galaxy A53 5G
1891
GeekBench 5 (single-core)
Higher is better
Poco F4 GT
1244
Realme GT Neo 3T
1023
Poco F4
975
Poco X4 GT
917
Nothing Phone (1)
820
OnePlus Nord 2
814
Xiaomi 12 Lite
785
Realme GT Master
785
Samsung Galaxy A52s 5G
771
Samsung Galaxy A53 5G
743
OnePlus Nord 2T 5G
493
The GPU scores are adequate for the class even if they mot as impressive as the latest Snapdragon and Dimensity chipsets. We found the Phone (1) perfectly capable of playing all sorts of games with high-quality graphics. High refresh rate gaming is also possible and achievable.
GFX Aztek ES 3.1 High (onscreen)
Higher is better
Poco X4 GT
38
Realme GT Neo 3T
32
OnePlus Nord 2T 5G
31
OnePlus Nord 2
30
Nothing Phone (1)
23
Xiaomi 12 Lite
19
Samsung Galaxy A52s 5G
19
Realme GT Master
18
Samsung Galaxy A53 5G
15
GFX Aztek Vulkan High (onscreen)
Higher is better
Poco X4 GT
38
Realme GT Neo 3T
34
OnePlus Nord 2T 5G
30
OnePlus Nord 2
26
Nothing Phone (1)
23
Samsung Galaxy A52s 5G
20
Xiaomi 12 Lite
19
Realme GT Master
19
Samsung Galaxy A53 5G
15
GFX Car Chase ES 3.1 (onscreen)
Higher is better
Poco F4
49
Realme GT Neo 3T
49
Poco X4 GT
46
OnePlus Nord 2T 5G
42
OnePlus Nord 2
38
Nothing Phone (1)
33
Xiaomi 12 Lite
29
Samsung Galaxy A52s 5G
28
Realme GT Master
27
Samsung Galaxy A53 5G
19
GFX Manhattan ES 3.1 (onscreen)
Higher is better
Realme GT Neo 3T
85
Poco F4
84
Nothing Phone (1)
58
OnePlus Nord 2
57
OnePlus Nord 2T 5G
55
Poco X4 GT
54
Xiaomi 12 Lite
50
Samsung Galaxy A52s 5G
49
Realme GT Master
46
Samsung Galaxy A53 5G
35
3DMark SSE Vulkan 1.0 (offscreen 1440p)
Higher is better
Xiaomi 12 Lite
4610
Nothing Phone (1)
4336
Samsung Galaxy A52s 5G
4231
Realme GT Master
4020
Samsung Galaxy A53 5G
3570
The AnTuTu tests put the Nothing Phone (1) next to its SD778G peers and not that far behind the SD870-powered phones. The flagship hardware is out of reach, obviously.
AnTuTu 9
Higher is better
Poco F4 GT
952124
Poco X4 GT
747871
Realme GT Neo 3T
726007
Poco F4
698586
OnePlus Nord 2T 5G
619610
OnePlus Nord 2
598022
Nothing Phone (1)
592789
Realme GT Master
529263
Xiaomi 12 Lite
528905
Samsung Galaxy A52s 5G
506432
Samsung Galaxy A53 5G
379313
The Snapdragon 778G+ chipset also provides excellent stability during long periods of peak CPU and GPU usage. The phone scored 74% of CPU and 90% of GPU stability. It never overheated and even better, its panels and frame, while warm, never got hot.
The Nothing Phone (1) offers excellent performance for its class and price, and there is nothing it cannot do at its launch. Games run smoothly, and we are happy with the quality, performance and stability and multitasking is breezy, too. Even if not powered by top-of-the-line hardware, it will satisfy even picky users with its snappiness and stability.
Improve camera quality and calling function bugs
FOYEZ PATWARY
02 Oct 2023
7}P
Nothing phone 1 front camera very bad quality pic shoot
Overheat in the sun and enabling flight mode emergency alert, nothing can be operated until the phone get cooler..