NVIDIA announces GeForce 10-Series notebook GPUs
Prasad, 16 August, 2016
After a rapidfire desktop GPU launch, first with the 1080 and 1070, then the 1060, and then the Titan X, all within a span of a few months, NVIDIA has now dropped three new notebook GPU all at the same time.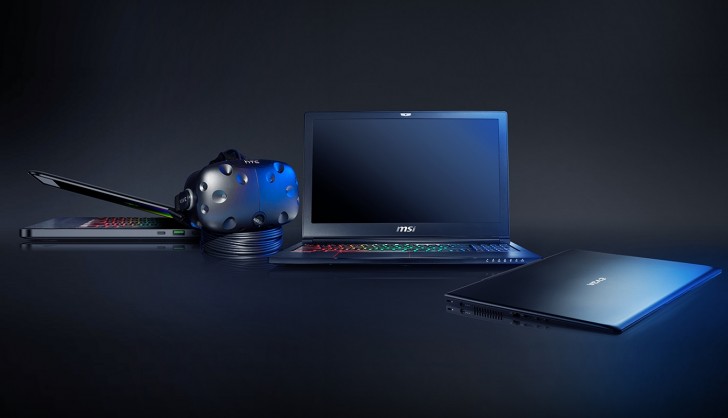 Today's announcement brings the GeForce 10-series based on the company's latest Pascal architecture to the notebook. We now have the GTX 1080, 1070, and the 1060 running inside notebooks. Notice the lack of the M suffix here, as NVIDIA thinks the notebook GPU are nearly on par with its desktop variation. In fact, NVIDIA claims only around 10% drop in performance compared to their respective desktop parts.
All three notebook parts have roughly the same specs as the desktop ones. The notebook 1060 has 1280 CUDA cores with 1506MHz base clock and 1708MHz boost clock and 192-bit 6GB GDDR5 memory. The notebook 1070 actually has more CUDA cores, 2048 vs 1920 on the desktop 1070, but is clocked lower with a 1442MHz base clock and 1646 boost clock. There's also 256-bit 8GB GDDR5 memory. The 1080 gets the full fat 2560 CUDA cores with 1556MHz base clock and 1733MHz boost clock and the faster 256-bit 8GB GDDR5X memory. All three have factory overclock support.
Based on Pascal, all three support the new NVIDIA features such as Ansel and simultaneous multi-projection. NVIDIA has improved the G-Sync capabilities, making it support up to 2560x1440 monitors at 120Hz. BatteryBoost has also been updated with a smoother frame rate cap and more control over individual games through GeForce Experience software to help extend battery life.
OEMs have already announced products based on the new processors and more will be coming shortly. Expect to see big improvements over the previous generation processors in terms of performance and efficiency.
Related
AnonD-367917
18 Aug 2016
H3G
Nvidia have mastered not optimising specific drivers somthey can reveal really nice statistics. Even have the consumers caught up in the whole mess with gameworx (allowing controlled crippling of competitors products even if it harms their own u...
Alessandro Volta
17 Aug 2016
HjB
Yeah we enjoyed it on the go. Desktop PC is for my S to sit at home. This is for mobility purpose. Got money? Buy everything fancy on the market. Simple life.
Anonymous
17 Aug 2016
PxV
Dumb, look at the review on notebookcheck, for example on 1060 get 42fps, while on laptop get 38fps, 1070 is much better than 980m, while 1060 is a little better than 980m
Popular articles
Popular devices
Electric Vehicles