Nvidia announces new RTX 3090, 3080, and 3070 graphics cards
Prasad, 01 September 2020
Nvidia today announced its next generation RTX 30 series of graphics cards. Based on the new Ampere architecture, the three new cards being announced today — the RTX 3090, RTX 3080, and the RTX 3070 — claim big improvements in rasterized and ray traced 3D rendering.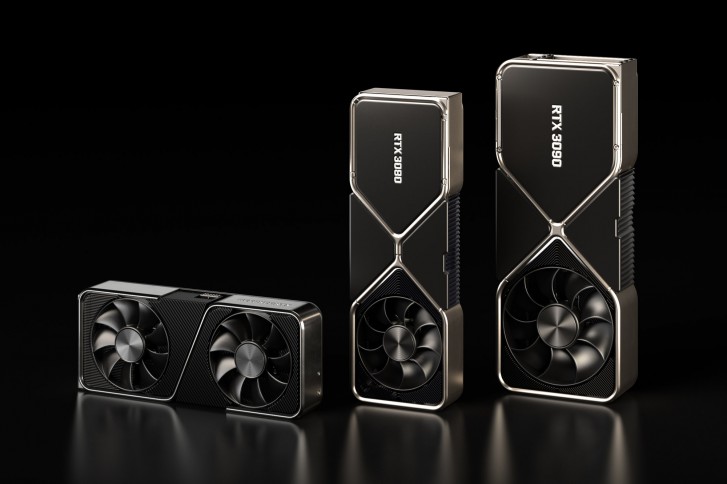 The RTX 3090 is the new flagship graphics card in this lineup, which will be taking over the mantle from the Titan RTX. The RTX 3090 boasts 50% improved performance over the Titan RTX and even claims to do 8K at 60fps "across many top games".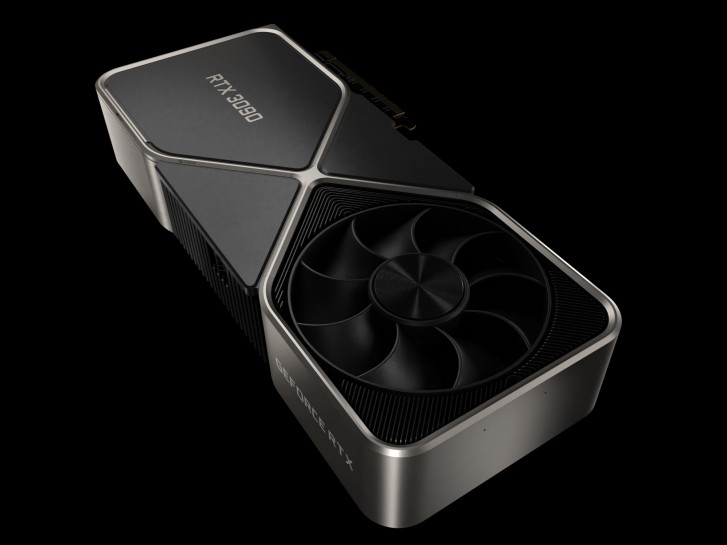 The RTX 3090 has 24GB of GDDR6X memory, same capacity as the Titan RTX but faster. It also has a new triple slot design with dual axial fans that claims to be 10x quieter and runs 30 degrees cooler than the Titan RTX.
The RTX 3090 is priced at an eye-watering $1499, which is more expensive than the launch price of the $1299 RTX 2080 Ti. However, it is cheaper than the $2499 launch price of the Titan RTX. It will be available starting September 24.
Next is the RTX 3080 a.k.a the practical flagship for most people. With this card, Nvidia is promising up to 2x performance improvement over the RTX 2080 (the regular one, not the Super). It features 10GB of the new and improved GDDR6X memory running at 19Gbps and Nvidia claims this card can do 4K 60fps consistently.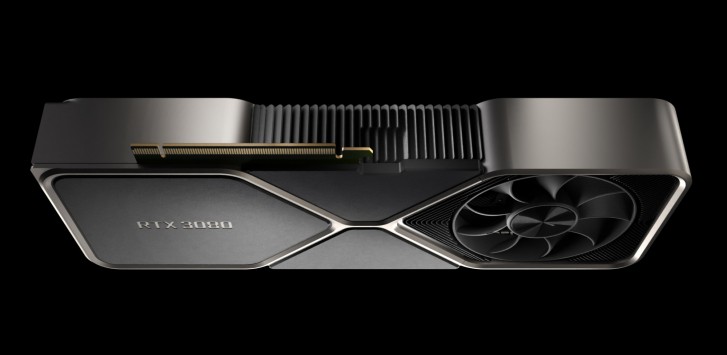 The RTX 3080 is priced $699, which is the same as the RTX 2080 Super launch price. The RTX 3080 will be available starting September 17.
Finally, there is the RTX 3070. This one is the most interesting; Nvidia claims that the RTX 3070 is faster than the RTX 2080 Ti, which if true is a pretty bold claim. The RTX 3070 is also on average 60% faster than the original RTX 2070. It comes with 8GB of GDDR6 memory and Nvidia says this card is suitable for 4K and 1440p gaming, which from what we know of the 2080 Ti, is a reasonable claim to make.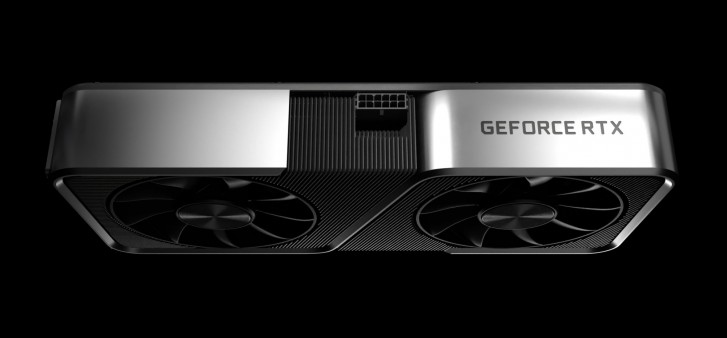 The RTX 3070 is priced at $499, same as the launch price for the RTX 2070 Super, and will be available in October.
Regarding the new RTX 30 series and the Ampere architecture, Nvidia is making several improvements and also introducing few new key features. The CUDA cores, which form the bulk of the processing hardware on these new GPU, claim to deliver 2x the FP32 throughput over Turing and 30 shader-TFLOPS of processing power. The new, second generation RT Cores deliver 2x the throughput over Turing, plus concurrent ray tracing, shading, and compute, with 58 RT-TFLOPs of power. Finally, the third generation Tensor Cores also have 2x the throughput of Turing, with 238 Tensor-TFLOPs of processing power.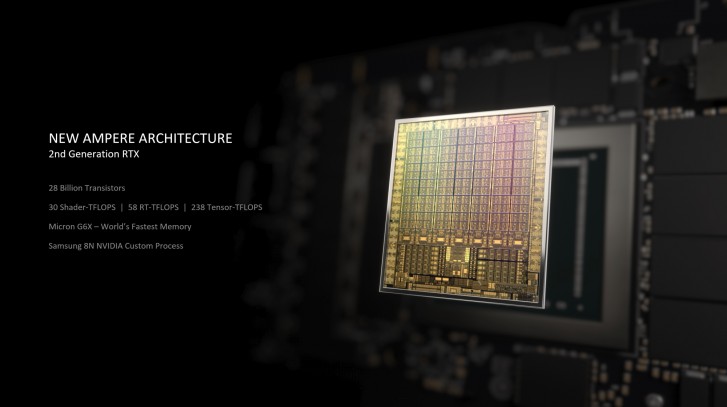 As mentioned before, two of the three new cards are using faster GDDR6X memory, which Nvidia worked with Micron to create. The new Ampere cards also use a new 8N Nvidia custom process manufactured by Samsung.
The new cards will also feature RTX IO. This enables rapid GPU-based loading and game asset decompression, accelerating I/O performance by up to 100x compared with hard drives and traditional storage APIs. RTX IO also works alongside Microsoft DirectStorage for Windows API to offload CPU tasks over to the GPU.
The cards from Nvidia will feature a unibody design with dual-axial fan design that claims to offer 2x the cooling performance. The cards will also feature the new 12-pin power connector that Nvidia recently revealed and is compatible with existing 8-pin connectors on power supplies using adapters.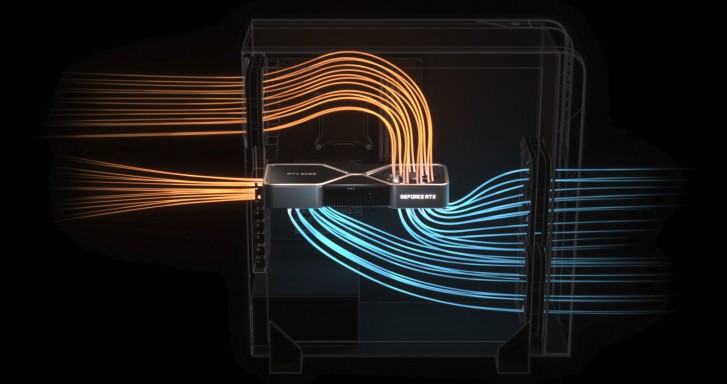 For 8K 60Hz and 4K 120Hz TV owners, the new RTX 30 series cards will also have the much requested HDMI 2.1 connector, which will allow passing through 8K 60Hz or 4K 144Hz signals through a single HDMI cable. Finally, the new Ampere cards will also become the first discrete GPUs to have full support for the AV1 codec. AV1 is the open source alternative to HEVC/VVC and is backed by multiple companies but so far there was no dedicated hardware to hardware accelerate it, which slowed down adoption.
Nvidia also announced three new software features: Reflex, Broadcast, and Omniverse Machinima.
Nvidia Reflex is a suite of features designed to optimize and measure latency. Among these are Nvidia Reflex Low-Latency Mode (included in Apex Legends, Call of Duty: Warzone, Fortnite, and Valorant) that reduces latency by up to 50 percent, and Nvidia Reflex Latency Analyzer, which detects input coming from the mouse and then measures the time it takes for the resulting pixels to change on screen. Reflex Latency Analyzer will be included in all the upcoming 360Hz G-Sync monitors from Acer, Alienware, ASUS, and MSI.
Nvidia Broadcast is a plugin that enhances the quality of microphones and webcams using RTX-accelerated AI effects, such as audio noise removal, virtual background effects, and webcam auto frame. We have already seen this feature partially in action in beta.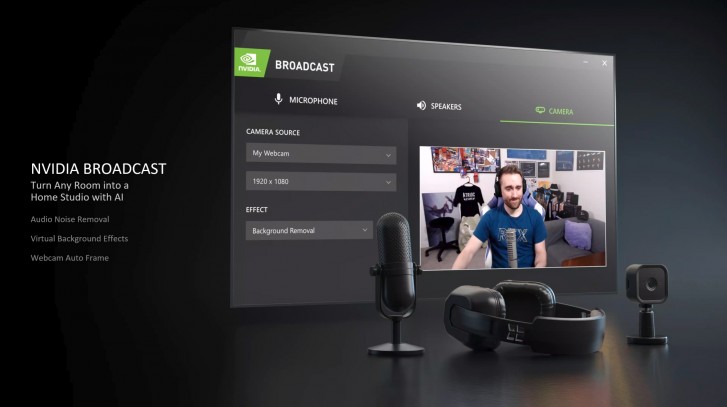 Nvidia Omniverse Machinima lets users create their own cinematic videos using game assets. Users will be able to take assets from supported games and using their webcam and AI create characters, add high-fidelity physics and face and voice animation, and publish film-quality cinematics. Omniverse Machinima features a path-traced viewer tool and engine designed for physical accuracy, simulating light, physics, materials and AI.
Nvidia also provided an update on new titles that will be supporting RTX features. New titles to support ray tracing include Fortnite and Call of Duty: Black Ops Cold War. Fortnite will feature ray traced reflections, shadows, global illumination, and ambient occlusion. Among titles getting DLSS are Boundary, Bright Memory Infinite, Call of Duty: Black Ops Cold War, Cyberpunk 2077, Fortnite, Ready or Not, Scavengers, and Watch Dogs: Legion.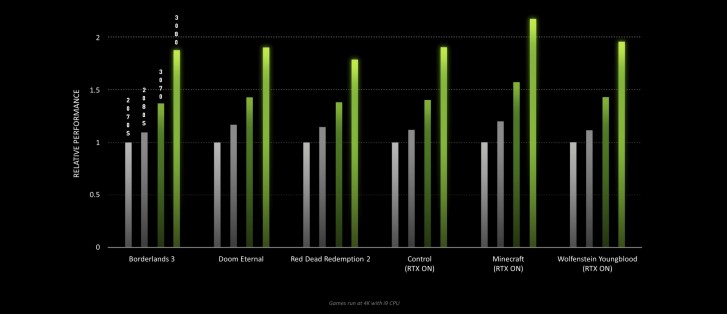 RTX 30 series cards will be available in stock and factory-overclocked variants from OEMs such as ASUS, Colorful, EVGA, Gainward, Galaxy, Gigabyte, Innovision 3D, MSI, Palit, PNY, and Zotac. Nvidia itself will also be selling the Founders Edition models on its website. The cards will also feature in pre-built systems from companies such as CyberPower PC, Digital Storm, Falcon NW, IBUYPOWER, Maingear, Origin, NZXT, Puget and more.
Related
Anonymous
12 May 2021
XSt
No use of announcing cards if you cant fulfil the supply
Anonymous
17 Sep 2020
T4J
ayy 1070 OC .. I thought I was alone
Popular articles
Popular devices
Electric Vehicles