Nvidia GeForce RTX 3080 Ti and 3070 Ti GPUs announced
Michail, 01 June 2021
Nvidia kicked off the new month by unveiling its latest desktop GPUs - the RTX 3080 Ti and 3070 Ti. As with past Ti iterations, the new cards represent an upgrade over the regular RTX 3080 and 3070 with more VRAM and improved performance to keep up with the latest Triple-A games. Both new graphics cards offer Nvidia staples like ray-tracing, DLSS, and Reflex technologies.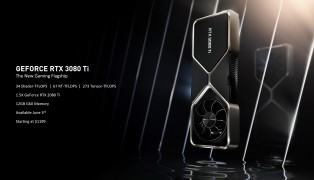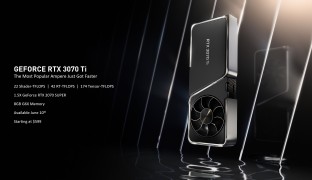 Nvidia GeForce RTX 3080 Ti and 3070 Ti key specs
The RTX 3080 Ti clocks at up to 1.67GHz and brings 10,240 CUDA cores and 80 GPU clusters. RTX 3070 Ti has a boost clock speed of 1.77Ghz with 6,144 CUDA cores and 48 RT core. Both graphics cards come with second-generation RT cores and third-gen Tensor cores. RTX 3080 Ti gets 12GB GDDR6X VRAM with a 384-bit interface while the 3070 Ti comes with 8GB at 256-bits instead. Both draw up to 350W of power.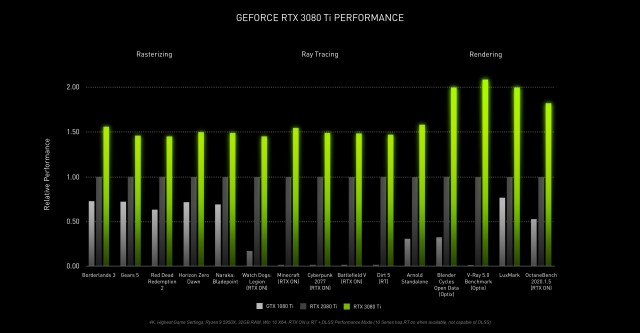 Nvidia GeForce RTX 3080 Ti performance
Nvidia claims up to 1.5x better performance on both new cards compared to their previous-gen counterparts. RTX 3080 Ti costs $1,199 and should be available worldwide from June 3. RTX 3070 Ti will retail for $599 starting from June 10. As usual with GPUs in the past few years availability will likely be limited.
Related
The whole US Government, real, actual people are backing the US Dollar as opposed to Bitcoin. I hope I was specific. And secondly, let's not go in for fictional situations like everyone withdrawing their cash together, why should such a wid...
And what exactly is backing up the Dollar, mister Economist. You know, the currency that gets printed unlimited times and loses value every second. Or how about everyone withdraws their Dollars at the same time from the bank, you will be in for a big...
What saddens me is that to show a world of illegally overcharging retailers, ordering systems using bots and greedy mining consumers, all this site has to say is-> "As usual with GPUs in the past few years availability will likely be limite...
Popular articles
Popular devices