OnePlus 3T vs. Google Pixel XL: Bargain bin
Bargain bin
GSMArena team, 27 December 2016.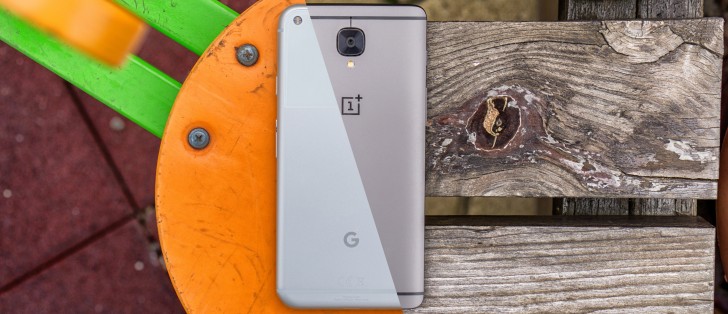 Software
You'd expect nothing else from a Google phone than vanilla Android, but the Pixel XL actually comes with a customized Google Now launcher. The Pixels are the only phones at this point to support the Google Assistant. There's a long-press action to evoke contextual menus 3D Touch-style, and the app drawer is just that - a drawer you pull up from the app dock.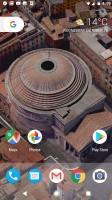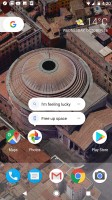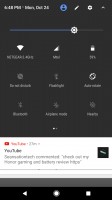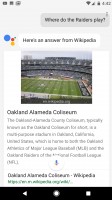 Pixel XL interface: Homescreen • Long-press shortcuts • Quick toggles • App drawer • Assistant
There's also the matter of having software support straight from Google itself with major Android releases promised for two years and another one on top of that for security patches. Additionally, with the Pixels you're getting unlimited lifetime original quality photo and video cloud storage (4K too) - it's hard to do the math.
On the OnePlus 3T you're treated to a stock-looking but in fact pretty extensively tweaked Android Marshmallow. The custom ROM goes by Oxygen OS, now in its 3.5.3 version, and offers gestures, a Shelf feature to keep the most used apps, contacts and widgets a swipe away, and a deep clear option for keeping pesky background services from eating at your resources.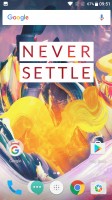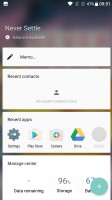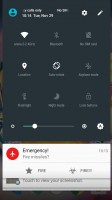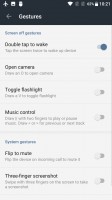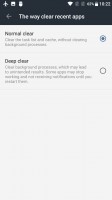 OnePlus 3T interface: Homescreen • Shelf • Quick toggles • Gestures • Deep clear
Half the price, just as good: No. We tend to take a pretty firm stance on the subject of flagships running the latest Android version. The OnePlus 3T doesn't, unlike the Pixel XL. The Phone by Google also carries a promise for timely updates and comes with unlimited photo and video storage. That said, the myriad of added features and the community behind the Oxygen OS do offset some of those Pixel advantages, to some users at least.
Performance
Both the Pixel XL and the OnePlus 3T are powered by the Snapdragon 821 chipset, only the 3T has the version with the higher-clocked CPU - 2.35GHz vs. the Pixel XL's 2.15GHz. It also enters this comparison with the upper hand that a lower-res display gives - fewer pixels to render.
Unsurprisingly, the higher clock rate gives the OnePlus 3T a significant advantage in CPU benchmarks - in single-gore GeekBench in particular the difference is substantial. The gap between the two is smaller in multi-core, but it is still there.
GeekBench 4 (single-core)
Higher is better
OnePlus 3T
1890
Google Pixel XL
1507
GeekBench 4 (multi-core)
Higher is better
OnePlus 3T
4364
Google Pixel XL
4152
Same GPU, different display resolution - that's a recipe for similar framerates in offscreen tests in GFXBench and vastly different results in the onscreen tests. Indeed, that's the case - the OnePlus 3T even manages to edge ahead of the Pixel XL by the odd frame in the offscreen tests. In the onscreen tests rendered at the devices' respective resolutions there's really no contest - the 3T's framerates are virtually double the Pixel's.
GFX 3.1 Manhattan (1080p offscreen)
Higher is better
OnePlus 3T
33
Google Pixel XL
32
GFX 3.1 Manhattan (onscreen)
Higher is better
OnePlus 3T
33
Google Pixel XL
17
GFX 3.1 Car scene (offscreen)
Higher is better
OnePlus 3T
20
Google Pixel XL
19
GFX 3.1 Car scene (onscreen)
Higher is better
OnePlus 3T
20
Google Pixel XL
11
In compound benchmarks the Pixel XL can't match the OnePlus' scores either. Interestingly enough, both in Basemark OS II 2.0 and Antutu 6 the 3T's numbers are 17% higher. That's to be expected really - CPU and GPU performance do have a significant contribution in these tests and the OnePlus flagship aces those.
Basemark OS 2.0
Higher is better
OnePlus 3T
2678
Google Pixel XL
2281
AnTuTu 6
Higher is better
OnePlus 3T
165097
Google Pixel XL
141186
Half the price, just as good: Actually better - the 3T consistently outperforms the Pixel XL in all benchmarks. The lower resolution gives it a marked advantage in graphics benchmarks too.
Loudspeaker & audio quality
OnePlus 1 and 2 used to score Excellent marks in our loudspeaker test, but not the 3 and 3T. The latest OnePlus only managed a Good rating. The Google Pixel XL, on the other hand, aced this test and earned our highest rating - Excellent like the OnePluses of old.
| | | | | |
| --- | --- | --- | --- | --- |
| Speakerphone test | Voice, dB | Pink noise/ Music, dB | Ringing phone, dB | Overall score |
| OnePlus 3T | 61.0 | 69.3 | 78.3 | Good |
| Google Pixel XL | 73.4 | 72.1 | 84.1 | Excellent |
As for audio output quality through the 3.5mm jack, both phones are excellent performers when plugged to an external amp - clean and loud. Then again neither one impresses when it needs to drive a pair of headphones - volume levels drops, distortion creeps in and stereo crosstalk gets a hike.
| | | | | | | |
| --- | --- | --- | --- | --- | --- | --- |
| Test | Frequency response | Noise level | Dynamic range | THD | IMD + Noise | Stereo crosstalk |
| OnePlus 3T | +0.03, -0.01 | -94.3 | 94.3 | 0.0034 | 0.0063 | -93.4 |
| OnePlus 3T (headphones attached) | +0.53, -0.30 | -92.9 | 93.0 | 0.017 | 0.434 | -49.7 |
| Google Pixel XL | +0.01, -0.03 | -94.0 | 94.0 | 0.0033 | 0.0066 | -92.9 |
| Google Pixel XL (headphones attached) | +0.17, -0.04 | -92.0 | 92.7 | 0.0067 | 0.125 | -62.0 |
Half the price, just as good: Not really. The OnePlus 3T's loudspeaker is quieter, and while the Pixel XL is no benchmark for headphone audio quality, it's still a tiny bit better than the 3T.
the One plus 3t is a fantastic phone. insanely fast ,insanely smooth and gorgeous to use. battery life lasts me an entire day of heavy use, after owning it since release, ive had older, cheaper phones last longer even when showing solid signs of agin...
I'm still using my 3 year old HTC One M8. I will change it to a 3T or LG V20, I guess.
Regarding the availability, in Romania I can't order Pixel.