OnePlus 6 review
GSMArena team, 08 June 2018.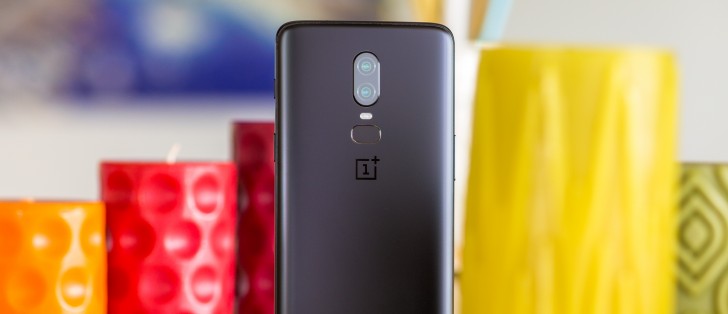 OreOxygen
It's Android 8.1 Oreo that's underneath the custom Oxygen OS on the OnePlus 6. As far as proprietary launchers go, OnePlus' has always managed to offer a lot of functionality, while maintaining a stock look. That hasn't changed on the OP6.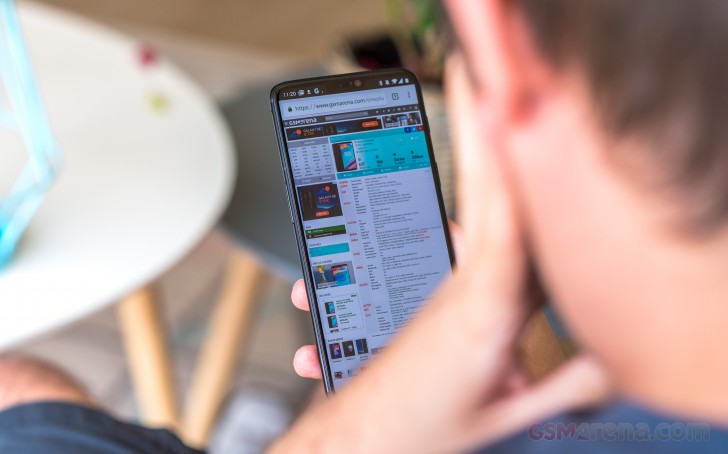 For this model, OnePlus finally developed an Always on Display feature, only it killed it in software just before release, not happy about its effect on battery life. AoD will always take a toll on battery, and it's better for us to have the option, no? Yes, and it'll be revived in a future update, OnePlus promised. As it is now, screen can only turn on when you lift the phone.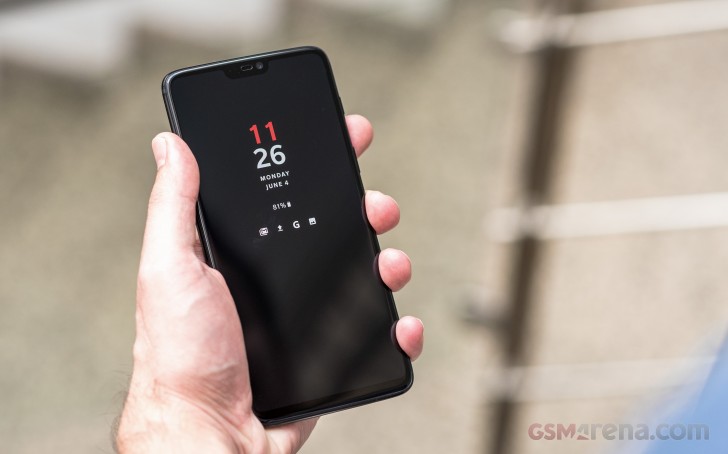 While we're at it, let's also mention that you can customize the colors of the notification LED, both for battery state and per app. In a world of ever disappearing LEDs, how awesome is that?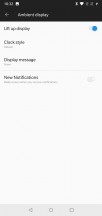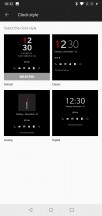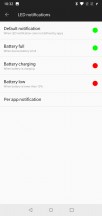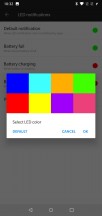 Ambient display • it's settings • Notification LED setup
For biometric security you can choose between fingerprint and face recognition, or even both. The facial scan is a lot less secure, but it loses no points for speed. Then again, neither does fingerprint recognition, once you've gone through the lengthier than usual enrollment process. To reiterate, the senor is a bit tough to locate by feel so you might scramble to find it until you've developed the muscle memory.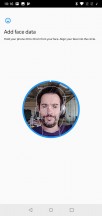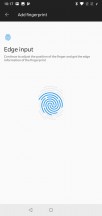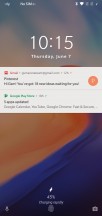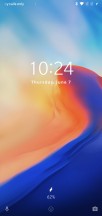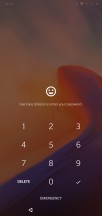 Face enrollment • fingerprint enrollment • Lockscreen
If you're one to enjoy gestures, the 6 has them. While the screen is still off you can draw letters or symbols on the screen to do stuff. For instance, draw < or > for previous/next track, || (two finger swipe) to pause, or assign an app to the letters O, V, S, M, and W. Beyond that, there is also flip to mute and a three-finger swipe down gesture to capture a screenshot. Double tap to wake and send back to standby are also present.
New for this generation is the option to do away with the navigation bar on the bottom and replace it with gestures. That is, new out of the box - it was introduced on the 5T with a firmware update earlier this year, and comes on the 6 as well. Swipe up from the bottom center to go to the homescreen, swipe and hold for recent tasks, or swipe up from either side to go back. You'll either love this gesture navigation or hate it, but it's there for you to try at least.
There's also the Shelf, which is in place of your leftmost homescreen, and it shows the weather, your most used apps, and frequent contacts. You can also add widgets and change the header image.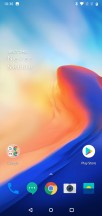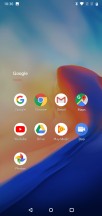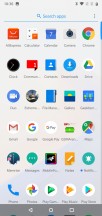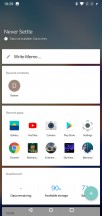 Homescreen • Folder view • App drawer • Shelf
You can tinker with the icon size or select a different icon pack. And more importantly (at least to some of us) with the display notch comes the option to hide it.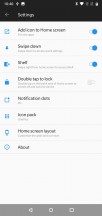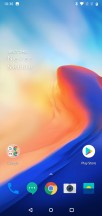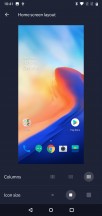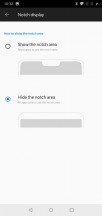 Homescreen options • Icon sets • Icon columns/size • Hide the notch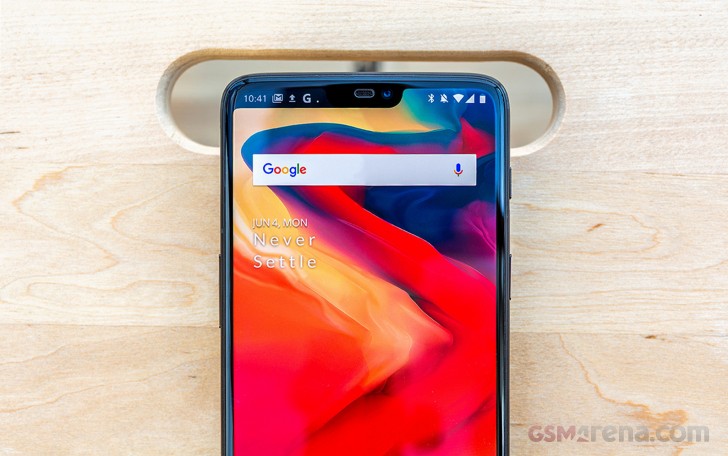 To notch or not to notch?
The notification shade can be lowered with a single swipe from anywhere in the UI (that's a setting though, and it's off by default) and an additional swipe will reveal the entire list of quick toggles. You can also use two fingers to bring down the whole thing in a single motion. The brightness slider is complemented by an Auto switch, something Google keeps refusing to build into stock Android. You can also hand pick the icons that show up in the status bar.
The app switcher is a no-nonsense rolodex - we'll see what OnePlus does here once Android P brings the new style switcher. There's the option for split-screen multi-window, naturally.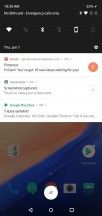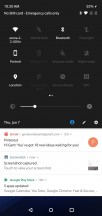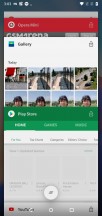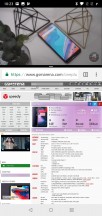 Notification shade • Quick settings • Task switcher • Multi-window
The battery menu in settings lets you choose how the OnePlus 6 handles background processes - deep clear is the more aggressive option.
The Alert slider may have been moved to the other (wrong?) side, but its functionality remains unchanged, and you can tweak some basic options for each mode. For Ring, there is currently only a vibration toggle, but if you go under Do Not Disturb, you can really fine-tune who and what can and can't get to you. You can also select the pattern of your vibration.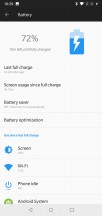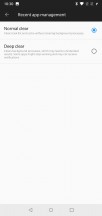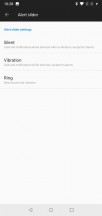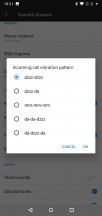 Battery management • Normal/Deep clear • Alert slider settings • Still no ZB-BZ :/
Synthetic benchmarks
OnePlus has always strived to offer the best possible performance and part of that has been using the latest Qualcomm flagship chipset. The same holds true for the OP6 and it's the Snapdragon 845 that you'll find inside. There are two versions when it comes to RAM, but we feel the 6GB variant would be more than enough. That said, you may be forced to go for the 8 gigs because that's the only way to get more than 64GB of storage.
Our testing was done using a 8GB/128GB OnePlus 6 variant.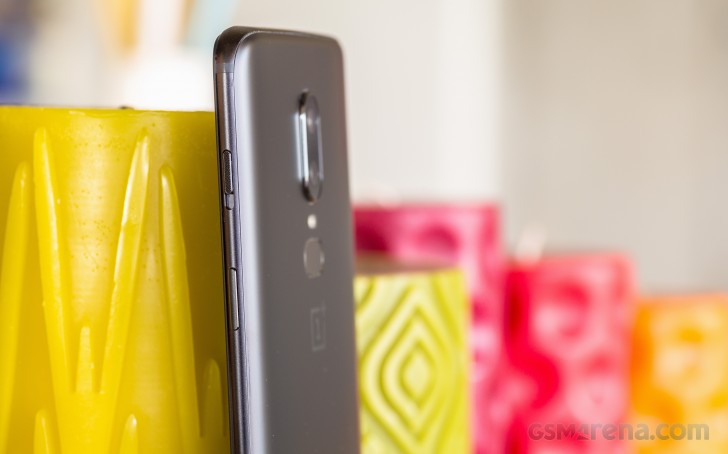 Antutu is mighty popular as a single tell-all number to use in promo material, and in our testing the Xiaomi Mi Mix 2 inches ahead of the OnePlus 6 - boo, OP! Not really, though - the OnePlus 6 is among the leaders in this chart, a (meaningless) handful of points ahead of the Galaxy S9+ in Snapdragon trim. The Xperia XZ2 is a step behind, the Exynos Galaxy is further down, and the Kirin-packing P20 Pro is on par with phones using last year's Snapdragon.
AnTuTu 7
Higher is better
Xiaomi Mi MIx 2S
270814
OnePlus 6
264200
Samsung Galaxy S9+ (Snapdragon)
264044
Sony Xperia XZ2
259244
Samsung Galaxy S9+
246660
Huawei P20 Pro
209884
Nokia 8 Sirocco
209577
OnePlus 5T (Oreo)
207072
Google Pixel 2 XL
203119
LG V30
182374
The Mongoose cores have more oomph per unit as evidenced by the Exynos Galaxy S9+'s results in single-core GeekBench. Here, the OnePlus 6 posts numbers virtually identical to the other Snapdragon 845 phones we've tested, except the Snapdragon Galaxy S9 which underdelivers a bit.
GeekBench 4.1 (single-core)
Higher is better
Samsung Galaxy S9+
3771
Xiaomi Mi MIx 2S
2468
Sony Xperia XZ2
2454
OnePlus 6
2450
Samsung Galaxy S9+ (Snapdragon)
2199
OnePlus 5T (Oreo)
1974
HTC U11+ (EU)
1952
Nokia 8 Sirocco
1934
Google Pixel 2 XL
1915
Huawei P20 Pro
1907
LG V30
1901
In the multi-core test, the OnePlus 6 snatches a narrow win against the Exynos S9+, but the top spot escapes again - once more, Xiaomi has squeezed the most out of the S845, for benchmarking purposes at least.
GeekBench 4.1 (multi-core)
Higher is better
Xiaomi Mi MIx 2S
9158
OnePlus 6
9011
Samsung Galaxy S9+
8883
Sony Xperia XZ2
8466
Samsung Galaxy S9+ (Snapdragon)
8349
OnePlus 5T (Oreo)
6759
HTC U11+ (EU)
6740
Nokia 8 Sirocco
6725
Huawei P20 Pro
6679
Google Pixel 2 XL
6428
LG V30
6365
The Adreno 630 in the S845 is a proven performer and in the OnePlus 6 it pumps out similar frame rates to the Galaxy S9+ and the Mi Mix 2S. The 3fps advantage of these two over the OP6 in the offscreen test fade in the onscreen one, where OnePlus is tied with Xiaomi. The QHD resolution screen inevitably leads to a much lower score for the Galaxy S9+.
GFX 3.1 Manhattan (1080p offscreen)
Higher is better
Xiaomi Mi MIx 2S
61
Samsung Galaxy S9+ (Snapdragon)
61
OnePlus 6
58
Sony Xperia XZ2
55
Samsung Galaxy S9+
47
Google Pixel 2 XL
42
LG V30
41
Huawei P20 Pro
40
OnePlus 5T (Oreo)
40
HTC U11+ (EU)
39
Nokia 8 Sirocco
34
GFX 3.1 Manhattan (onscreen)
Higher is better
Xiaomi Mi MIx 2S
55
OnePlus 6
55
Sony Xperia XZ2
51
OnePlus 5T (Oreo)
37
Huawei P20 Pro
37
Samsung Galaxy S9+ (Snapdragon)
34
Samsung Galaxy S9+
24
Google Pixel 2 XL
21
HTC U11+ (EU)
20
LG V30
19
Nokia 8 Sirocco
18
A potential issue with the OnePlus 6 is overheating. Consecutive benchmark runs lead to considerable throttling and lower scores. And, indeed, the phone does get plenty hot in the process. On the other hand, as we've come to expect from OnePlus, the user experience is super smooth and the phone is always very responsive.
I have now used this phone for the past 3 years. Of all the phones I have used till now, this one has seldom become slow when the new version comes out. I have used several I-Phones and Androids. The one issue common among all of them are when the ne...
I've used OP6 for almost 3 years now, and honestly I'm quite satisfied and would recommend to people. It is of course not perfect, has its issues sometimes but not too often. My biggest complaint is on the cameras. But I think if you just n...
Similar problems with battery, noted it drains quite faster after going down 30% and once passing in the red (below 15), it will die soon. Otherwise I like its productivity and durability. Ah, the the back protection with the raised angles is very ...