OnePlus 6 long-term review
GSMArena team, 18 Sept 2018.
Display
The notch is everywhere this year, so it's also on the OnePlus 6. Smaller than others, but still distinctively there. It's paired with a tiny but not invisible chin at the other end of the display, and almost nonexistent side bezels.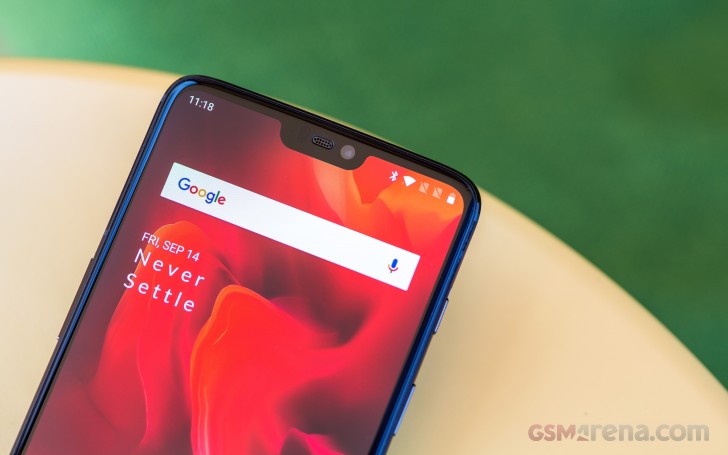 If you hate screen cutouts, the good news here is that you can 'hide' the OnePlus 6's notch in software. That works very well since the phone has an AMOLED display panel, so the deep black background for the notification area on either side of the notch fools your eyes into thinking there is no cutout, to begin with. Of course, if you like the look of the 'ears' or 'horns' as some call them, you can keep them, no one's going to judge you (hopefully).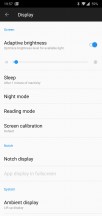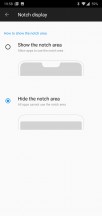 Hiding the notch in Display settings
This phone continues the OnePlus tradition of not choosing the highest-res panel possible. So it has to make do with 1080x2280 resolution, but that's very much a non-issue in day to day use. The screen looks very good and sharp, and unless you have really amazing eyesight, it's unlikely you'll be able to see individual pixels.
Not opting for 1440 horizontal pixels was clearly a cost-cutting move on OnePlus' part, though it also probably helps a tad with battery life. And don't forget that we live in a day and age in which Samsung's flagships have 1440x2960 screens but by default, they're set at to run at 1080x2220.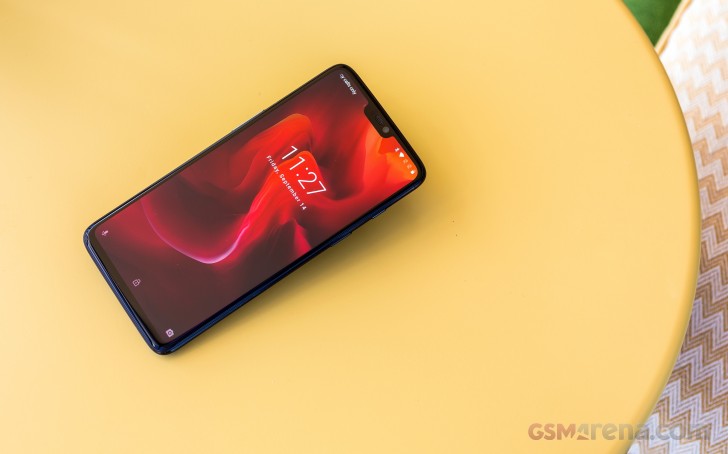 When it comes to color accuracy, the default profile isn't your friend, though it does have a vivid look with its bluish whites and saturated colors. Thankfully, you can opt for sRGB or DCI-P3 calibration modes, which are very accurate to their respective targets.
It's good to see that the display panel supports the DCI-P3 color gamut even at such an affordable price point. If you want a personalized color temperature, the Custom color preset in Screen calibration settings gives you a Cold-to-Warm slider which you can move to your heart's desire, in order to find what best works for you.
In bright sunlight, the OnePlus 6's screen remains visible, even if it's not the champion in this regard. Its predecessor, the OnePlus 5T, fared better. It's strange to see a newer model being outperformed by an older one in any metric, but to be fair the OnePlus 6 isn't substantially worse. When the sun directly hits the screen, the experience of using the phone won't be a very comfortable one, but at least it is workable.
Auto-brightness does its thing well for the most part, but we wish it would learn from your manual adjustments like Samsung's and Google's do. There's also no boost or overdrive when in auto mode - the brightness maxes out at the rightmost end of the slider and that's it. This is an area that future OnePlus devices should bring improvements to.
Anyway, the OnePlus 6 does have a good top brightness level, even if it doesn't feel as bright as some of its more expensive competitors. Make sure to check out our lab test results in the OnePlus 6 review to get a better picture of how its maximum brightness compares to other handsets'.
Design, build
The OnePlus 6 sure looks modern, in that it adopts the still very trendy sandwich design, with a metal frame and glass both on the front as well as the rear. Its 83.8% screen-to-body ratio adds to that perception, even though it isn't class-leading.
Midnight Black is the color of our review unit, and it comes with an understated yet elegant matte-like finish on the back. One that you can easily mistake for metal and not glass. Still, some fingerprints and smudges are still visible, but it should be the best of all the color options from this point of view. At the other end of the spectrum, the Mirror Black variant has a very descriptive name - it will act as a mirror of sorts.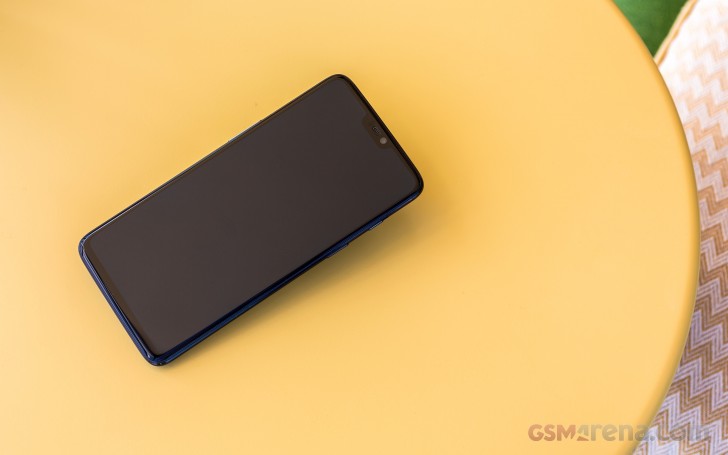 The rear-mounted fingerprint sensor is fast and accurate, and its position is very good, even if it could have been physically taller. The dual rear camera island protrudes a little bit, but thanks to its centered position there's only minimal wobble when you place the phone on a table and try using on it. The worst you'll encounter is when typing letters that are at the far lateral ends of the keyboard.
We're not fans of the redundant "Designed by OnePlus" message on the back. All of BBK Electronics' brands (Oppo and vivo alongside OnePlus) have started plastering such inscriptions on their phones this year, and we don't get it. Has anyone ever assumed that a OnePlus phone (or vivo, or Oppo for that matter) wasn't designed by that company? Is this really an issue people had, that needed to be clarified? The inspiration is clear - "Designed by Apple in California but manufactured in China". So why has OnePlus shied away from adding "in China" to its message.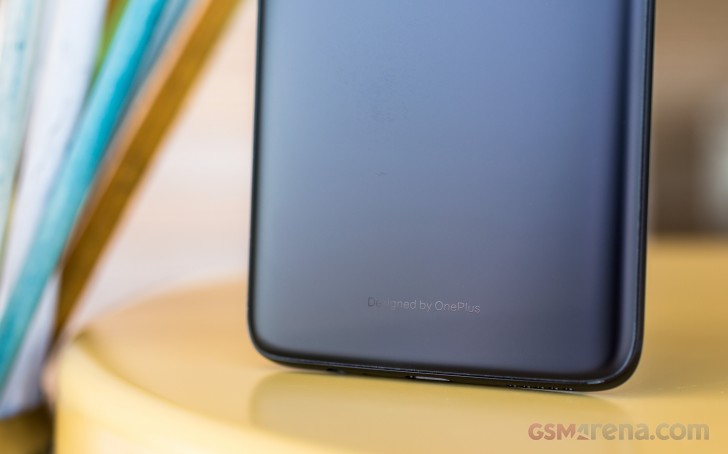 Build quality is exquisite, the OnePlus 6 feels solid, there are no creaks whatsoever. It is a bit top-heavy though, but you can easily alleviate that if you hold it closer to its middle. Both the rear and front glass nicely curve into the metal frame, while the buttons are clicky and feel great to use.
The earpiece is smaller than usual, which will take some getting used to when you're in a phone call - some small adjustments in how you hold it to your ear may be necessary in order to better hear the person at the other end of the line.
The alert slider on OnePlus phones is still unique in the Android world, and it allows you to quickly silence the phone (or turn it to Vibrate mode), without needing to even look at it or unlock it. The slider is somewhat configurable, as you'll see if you go through the Software section of this review, but it may not be as customizable as you'd expect.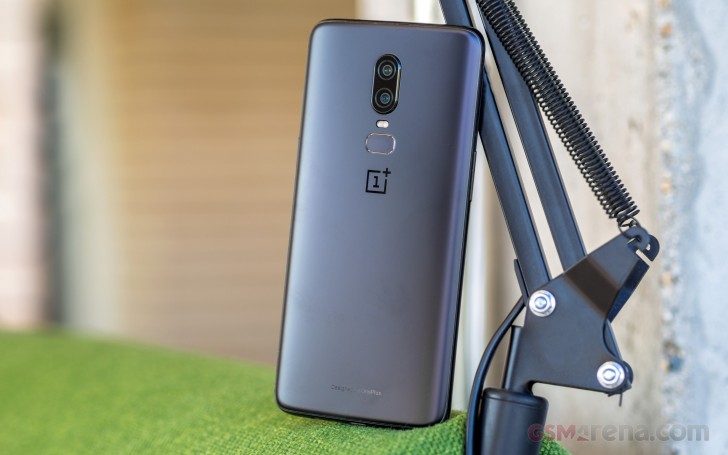 The phone ships with a clear case in the box, but OnePlus offers a selection of much nicer ones if you're willing to spend a bit extra. Wood, nylon, and 'Karbon' bumper cases are options, along with the company's trademark Sandstone finish, and some colorful silicone cases too.
The OnePlus 6 is a joy to handle. It feels premium, as it's got the necessary mix of materials to accomplish that in 2018, and while its design may not be hugely innovative, it works. It's modern enough, but also understated enough to go well with any fashion attire.
I purchased the phone in Aug 2018, still the phone is running smoothly, long battery backup, fast charging, superp camera, fast working, latest os android 11 update, everything is up to date to the compare of new phone. Salute to makers
No issues with the phone but a concern is 11 update It still runs smoothly
OnePlus 6 is an Amezing device. I purchased on the very first day of its launch. And still i m using without a problem. In 3 n half years i dint have a single issue.