OnePlus 6T vs. 5T vs. 3T
The camera evolution of T
GSMArena team, 30 November 2018.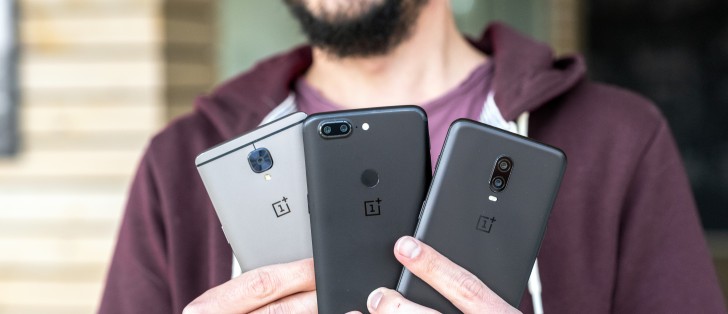 Camera architecture
The fundamentals are the same on all three phones - a 16MP primary cam and a 16MP selfie shooter. Some say the devil's in the details, so here's a handy cheat sheet with some details.
| | OnePlus 3T | OnePlus 5T | OnePlus 6T |
| --- | --- | --- | --- |
| Main camera | 16MP, 4640 x 3480px | 16MP, 4608 x 3456px | 16MP, 4608 x 3456px |
| Sensor | 4:3 aspect, 1/2.8" sensor size, 1.12µm pixel size | 4:3 aspect, 1/2.8" sensor size, 1.12µm pixel size | 4:3 aspect, 1/2.6" sensor size, 1.22µm pixel size |
| Lens | f/2.0, 28mm, OIS | f/1.7, 27mm | f/1.7, 25mm, OIS |
| Focus | PDAF | PDAF | PDAF |
| Secondary camera | N/A | 20MP, 4:3, 1/2.8", 1.0µm; f/1.7, 27mm | 20MP, 4:3, 1/2.8", 1.0µm; f/1.7, 25mm |
| Flash | Single LED | Dual LED | Dual LED |
| Video recording | 2160p@30fps, 1080p@60/30fps | 2160p@30fps, 1080p@60/30fps | 2160p@60/30fps, 1080p@60/30fps |
| Video IS | OIS+EIS(1080p only) | EIS | OIS+EIS(up to 2160p@30fps) |
| Audio | Stereo, 96kbps | Stereo, 96kbps | Stereo, 156kbps |
| Front camera | 16MP, 4:3, 1/3.1", 1.0µm; f/2.0, 29mm; 1080p@30fps | 16MP, 4:3, 1/3.1", 1.0µm; f/2.0, 29mm; 1080p@30fps | 16MP, 4:3, 1/3.1", 1.0µm; f/2.0, 29mm; 1080p@30fps |
You'll notice the 3T's lens is the dimmest with its f/2.0 aperture compared to the others' f/1.7. Then again, that lens is stabilized, which OP dropped for the 5T only to return it in the latest generation.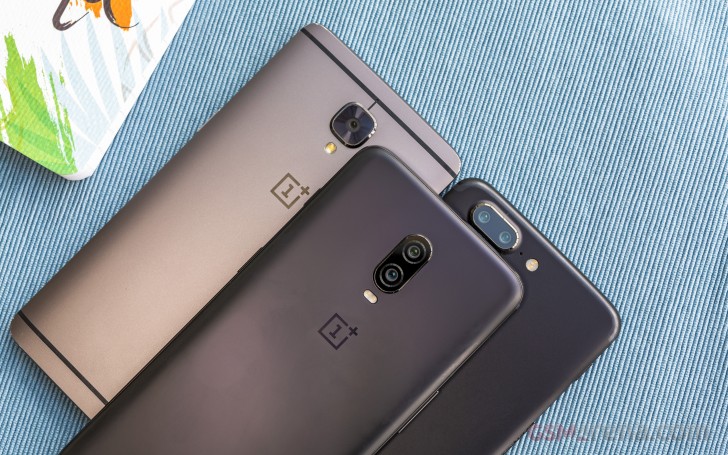 Equivalent focal lengths are a bit of a mess - between EXIF data, official specs (where at all available) and real life impressions, the numbers don't always add up. Let's just say that the 3T and 6T's coverage matches almost exactly, while the 5T's FoV is a tad narrower.
For the 3T and 5T OnePlus went with a 1/2.8" sensor size and 1.12µm individual pixels, while that's grown to 1/2.6" and 1.22µm on the 6T, so that's a clear advantage to the newest model.
Now, the 3T was the last OnePlus model to come with a single rear cam. The OnePlus 5 that replaced it had an additional 20MP shooter that came with a 1.5x longer lens and could produce sort of 2x zoomed-in shots without much quality loss.
That, however, changed on the 5T we have here, where the telephoto of sorts was replaced with a module that has the same focal length as the main one, still has a 20MP resolution, supposedly assists in low-light situations and can't be used on its own.
That flawed (in our minds, at least) concept then spread to other models in the sister company Oppo's lineup and was replicated on the OnePlus 6, and then the 6T. Only it made even less sense on the 6 and 6T with their larger primary sensors that work pretty good in low light already. So depth detection in portrait mode remained the secondary camera's sole purpose.
There hasn't been as much turbulence on the front - the 16MP 1/3.1" sensor with 1.0µm pixels has remained a permanent fixture. The lens appears to have been kept the same as well, contrary to what the EXIF data wants to convince you - it says 24mm on the 3T and 20mm on the 5T and 6T, but the coverage is identical and it's definitely not as wide as 20mm. This whole thing got us thinking so we pulled a DSLR out of a bag and matched the selfie cam's coverage - 29mm actual focal length. So there you have it.
Camera apps
The OnePlus 3T has a dated-looking camera app, with no swipe action for changing modes - Apple's influence on this one couldn't change every other maker's app overnight. It did happen eventually.
Anyway, you have the most important toggles close at hand - flash, HDR and Oxygen OS's HQ mode in stills and only the LED control under video. The quick setting button next to the shutter release holds a few extra things, like aspect or video resolution control, the self-timer and the grid.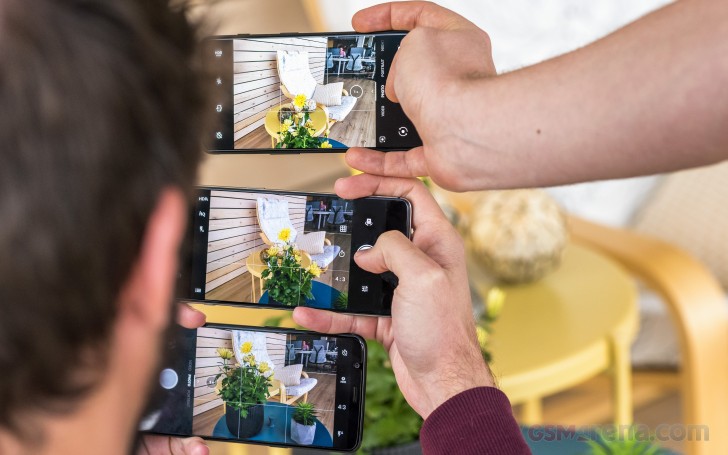 Other more obscure settings such as geotagging, preferred storage and the shutter sound are all hidden away in the settings menu. There is even RAW support that saves files alongside the compressed ones, so the camera is undoubtedly full-featured, even if it does appear barebones.
Then there is the powerful Manual mode. It offers granular control over ISO, contrast, shutter speed and focus and it works really well. There's no manual white balance though, which is a bit odd.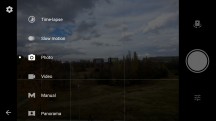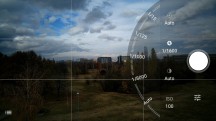 3T camera interface: Viewfinder • Modes • Manual mode
The 5T's camera app is the same as on the 6T, but it was marginally different (in an entirely cosmetic way) when the phone came out - it's just that the modes didn't have text labels and it was icons instead.
The swipes for mode changes were introduced on the OnePlus 5 and made their way to the 5T - swipe to the right (or up in landscape) will bring up the video viewfinder, while a swipe to the left (or, obviously, down) evokes the Portrait mode. In the stills viewfinder you also have quick toggles for flash mode, aspect ratio, HDR, and self-timer.
The tiny arrow next to the 1x/2x button brings up the mode selector where you have access to Panorama, Pro mode (not Manual anymore), Slow motion, and Timelapse. The very existence and positioning of the arrow is a bit unorthodox and takes some getting used to, but it is easily accessible if you're holding the phone with one hand only - that we definitely appreciate.
The Pro mode allows manual tweaking of shooting parameters, including ISO (100-3200), white balance (by light temperature), shutter speed (1/8000s to 30s), focus, and exposure compensation. You can save 2 sets of custom parameters too, if you happen to do the same thing over and over again. A live histogram is also provided, which is a nice touch as it's quite a rare feature. RAW capture is available too.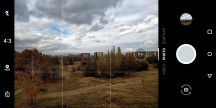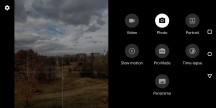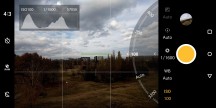 5T camera interface: Viewfinder • Modes • Pro mode
The 6T's app is almost completely identical to the one above - OnePlus added a Night mode, which you access by swiping right once more when in Portrait mode. Pro mode is mostly the same too, with a nice extra touch - the icons for shutter speed, white balance and ISO now have the selected values for the respected parameter displayed below them even when they're in the auto position.
Leeingrove
01 Jun 2021
mE0
I installed Gcam and find it hard to see any difference. I'm using a Xiamio A3 and I didn't need to search for my model, thought by your remarks the close up might be better but also not to be (there is a phone out there which has a close u...
The Oneplus line of phones have always been ahead of the rest when it comes to hardware specs. The 3T had 6gb of RAM and 128gb of storage along with an Snapdragon 821 processor, and an Amoled display. Those specs alone were as good as gets in 2016. T...