OnePlus 7 review
GSMArena team, 09 July 2019.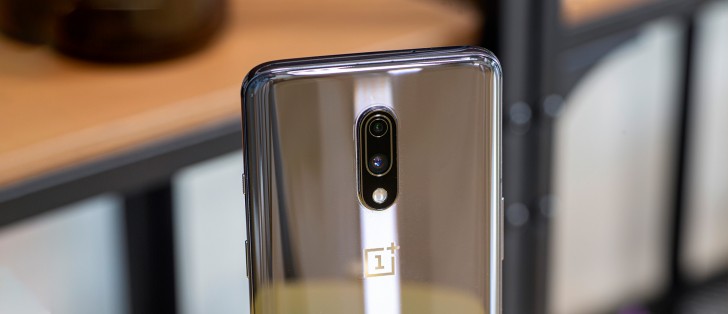 OxygenOS based on Android 9.0 Pie
The OxygenOS is designed to look like stock Android distribution with just a couple of custom features to add to the overall experience. OnePlus has made a couple of other under-the-hood changes over the years and has made this one of the better performing platforms on the market, even if in typical Chinese maker fashion it's a bit more aggressive with handling background tasks.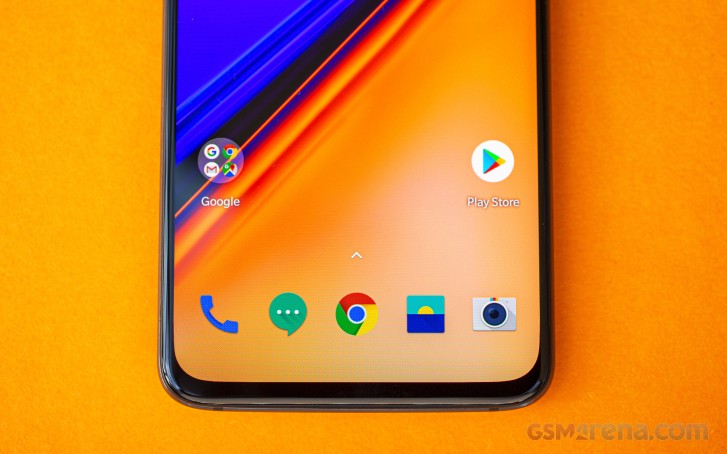 A large part of what makes OxygenOS feel so fast is the absence of certain animations that you otherwise have to wait for while navigating the UI.
Another big advantage of OnePlus phones over the rest is the especially strong modding community, if we can call it that. There are tons of supported third-party ROMs and mods for OnePlus handsets and the best part is that the OEM doesn't care if your phone is rooted or with a different ROM. This won't void your warranty and thus attracts plenty of Android enthusiasts year after year.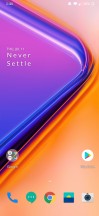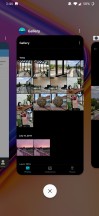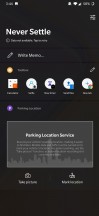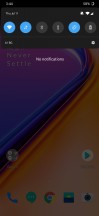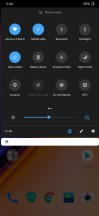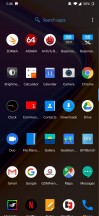 Home screen, notification shade, recent apps menu, app drawer, etc.
But when it comes to features, the OxygenOS is closer to stock Android than other OEM's iterations like One UI from Samsung or Huawei's EMUI. Some may call it "barebones" and they might be right.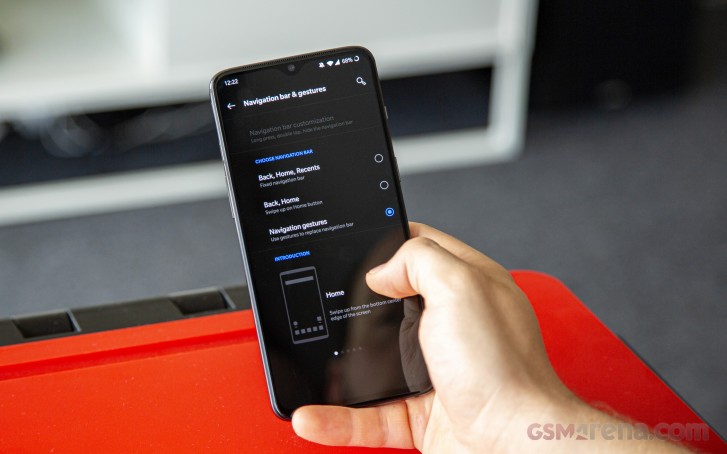 The added features include screen-off gestures like launching the flashlight or the camera by drawing a letter on a locked screen, OnePlus' unique gesture-based navigation and the alert slider, but little else.
We found that the gesture for the flashlight works a lot better than on the last year's OnePlus 6T. There were no accidental triggers and the gesture worked almost every time. The alert slider options haven't changed, however. There are two modes - Vibration and Silent. The names of the modes are pretty much self-explanatory.
Kudos to OnePlus for offering three navigation options. You can either go with the good old software buttons or choose the new gestures from Google or OnePlus.
The first of the gesture options is the well-known pill navigation that you find on almost all stock Android phones. Then there's OnePlus' take, where swipe from the center-bottom brings you back to the home screen, swiping from the bottom near the left or right edge works as a back button while swipe and hold opens up the recent apps. A quick side-swipe from the bottom-center to the right will quickly switch between your previous and current app. It takes a little time getting used to but also works very well.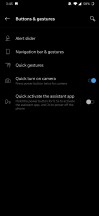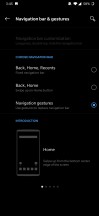 Navigation gestures and buttons
For another year, OnePlus refuses to introduce a proper always-on screen feature. In its place, the OnePlus 7 offers Ambient display. It will light up when you receive a notification, tap it once or twice or when you move it ever so slightly. Either of those will trigger the ambient display showing the clock, notifications and the fingerprint reader area.
And while we are on the fingerprint scanner topic, we must say that the upgrade is more than welcome. OnePlus says the 7 and the 7 Pro are equipped with the latest generation optic in-display fingerprint readers, which are bigger in size too and you can tell.
The scanner works incredibly fast in all conditions and it's hands-down one of the fastest under-screen implementations we've ever tried. It may struggle with dusty or sweaty fingers, but the face unlock is particularly fast alternative and can serve as a reliable backup. Perhaps the fact that there's no unlocking animation adds to the overall sense of speediness.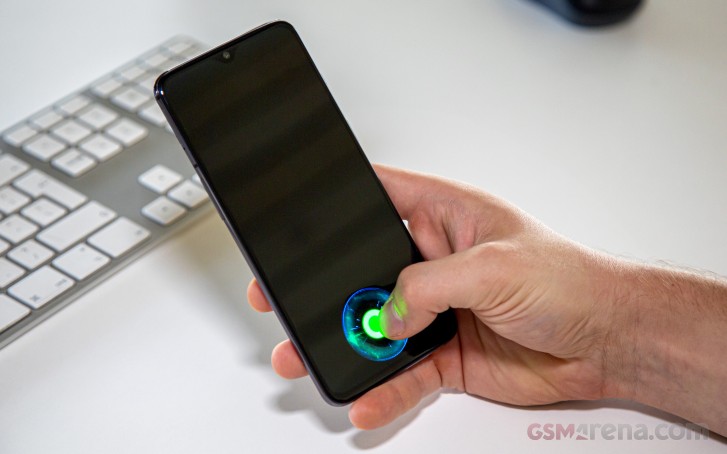 There's also this thing called Quick Launch. You can launch an app or an action of your choice by just holding down the fingerprint area once the phone unlocks and a couple of shortcuts pop up.
Going through the general settings menu shows the usual options. The Display sub-menu offers the usual settings like night mode, reading mode (black and white scheme for more comfortable reading), hiding the notch option and customization of the status bar.
The Battery section offers all the usual Android Pie settings like Battery optimization and the Adaptive battery feature. And, of course, all the information regarding battery usage you'd want.
The Utilities sub-menu is where you will find some useful features that may apply to your use case, including gaming mode. It's been a growing trend these days with gaming modes that aim to improve the phone's performance during gameplay and also let in fewer distractions while gaming. You can set up how your notifications appear and how to answer the phone - via the loudspeakers or the earpiece.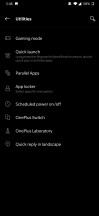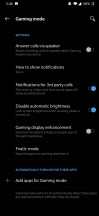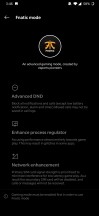 Utilities, additional features and Gaming Mode
OnePlus has been marketing one particular gaming feature called Fnatic mode. It takes the DND mode to another level allowing notifications only for low battery, alarms and timers. Calls and other notifications won't go through and interestingly, missed calls may not be recorded in the call logs.
The system also prioritizes the game over other apps running in the background to improve performance while the Network enhancement will disable your second SIM slot to minimize interference and latency, which are essential for competitive online gaming.
The cool thing about the Gaming mode is that you can set it to run automatically on other apps as well, like in YouTube or Netflix so you can watch your shows and videos uninterrupted.
Performance
The OnePlus 7 packs the top of the line Snapdragon 855 chipset - the latest and greatest from Qualcomm. We've seen how the SoC performs in other phones as the OnePlus 7 wasn't the first one to get it. The 7nm chip holds an octa-core CPU with a 1+3+4 core configuration - 1x2.84 GHz Kryo 485, 3x2.42 GHz Kryo 485 and 4x1.80 GHz Kryo 485. And an Adreno 640 GPU to take care of graphically-intensive tasks.
The handset ships with either 6GB or 8GB of LPDDR4X RAM paired with 128GB or 256GB internal storage, respectively. What's interesting here is that just like its Pro sibling, the OnePlus 7 boasts the newest UFS 3.0 flash storage. Loading times are significantly reduced, read and write speeds are twice as fast compared to the previous generation UFS 2.1.
Anyway, here are the usual synthetic benchmark tests that we've ran.
GeekBench 4.1 (multi-core)
Higher is better
Black Shark 2
11192
Xiaomi Mi 9
11181
OnePlus 7
11075
OnePlus 7 Pro
10943
Asus Zenfone 6
10721
Samsung Galaxy S10
10174
Huawei P30 (perf. mode)
10114
Huawei P30
9789
GeekBench 4.1 (single-core)
Higher is better
Samsung Galaxy S10
4543
Black Shark 2
3515
Asus Zenfone 6
3505
Xiaomi Mi 9
3503
OnePlus 7
3461
OnePlus 7 Pro
3402
Huawei P30 (perf. mode)
3351
Huawei P30
3295
AnTuTu 7
Higher is better
Xiaomi Mi 9
372006
OnePlus 7
367812
OnePlus 7 Pro
364025
Asus Zenfone 6
361679
Black Shark 2
343460
Samsung Galaxy S10
328366
Huawei P30 (perf. mode)
314595
Huawei P30
287960
GFX 3.1 Manhattan (1080p offscreen)
Higher is better
OnePlus 7
71
Black Shark 2
71
Asus Zenfone 6
71
Xiaomi Mi 9
70
OnePlus 7 Pro
68
Samsung Galaxy S10
68
Huawei P30 (perf. mode)
56
Huawei P30
54
GFX 3.1 Manhattan (onscreen)
Higher is better
OnePlus 7
57
Black Shark 2
57
Asus Zenfone 6
57
Xiaomi Mi 9
56
Huawei P30
48
Huawei P30 (perf. mode)
48
Samsung Galaxy S10
37
OnePlus 7 Pro
33
GFX 3.1 Car scene (1080p offscreen)
Higher is better
Samsung Galaxy S10
43
OnePlus 7
42
Xiaomi Mi 9
42
Black Shark 2
42
Asus Zenfone 6
42
OnePlus 7 Pro
41
Huawei P30 (perf. mode)
33
Huawei P30
29
GFX 3.1 Car scene (onscreen)
Higher is better
OnePlus 7
36
Black Shark 2
36
Asus Zenfone 6
36
Xiaomi Mi 9
35
Huawei P30 (perf. mode)
28
Huawei P30
26
Samsung Galaxy S10
23
OnePlus 7 Pro
19
Results are exactly what you'd expect - in line with other Snapdragon 855 phones. Samsung's latest Exynos does a little better when it comes to single-core perofmrance, but at the expense of lower multi-core result. Huawei's Kirin 980 has very similar CPU performance to the Snapdragon 855, but can't match its GPU prowess.
Great phone.. High performance. High battery backup. Great sound . Superb camera.. overall very nice.
Very nice phone. Running without any issue from past 3 years.