OnePlus 7 Pro review
GSMArena team, 14 May 2019.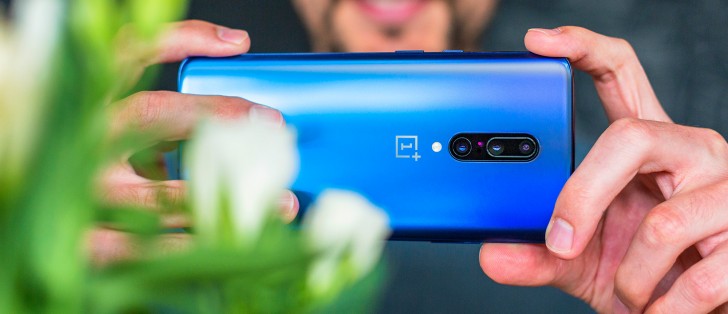 Synthetic benchmarks and performance
The OnePlus 7 Pro, like many other flagships this year, is running the latest Snapdragon 855 CPU from Qualcomm. We are already acquainted with the 7nm chipset in several other smartphones we've tested, and although impressive, OnePlus isn't the first to cram 12GB of RAM into a phone.
Just as important as the processor speed is the speed of the storage itself. The OnePlus 7 Pro uses 2-lane UFS 3.0 storage which offers significantly faster storage speeds compared to the OnePlus 6T's UFS 2.1. Do you see why OnePlus didn't include an SD card slot?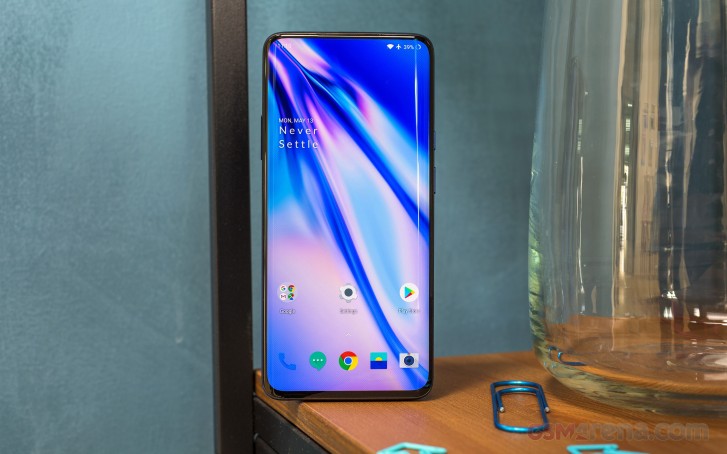 Sequential read speeds are very impressive and almost double that of the 6T's, 1441 MB/s vs the 6T's 728 MB/s. Sequential writes are clocked at 381 MB/s vs 193 MB/s on the 6T. Meanwhile, Random read speeds are 177 MB/s vs the 6T's 133 MB/s and random write speeds are 29 MB/s vs 22 MB/s.
The OnePlus 7 Pro's 2-lane UFS 3.0 storage performance is neck-and-neck with the Galaxy Fold, which is the first smartphone to use the same UFS 3.0 standard. The OnePlus 7 Pro gives the Galaxy Fold a run for its money since it even uses LPDDR4X RAM like the Fold.
Although it isn't the first phone to be announced with UFS 3.0 storage, the Galaxy Fold's new release date is yet to be confirmed. Thus, the OnePlus 7 Pro and OnePlus 7 non-Pro will be the world's first smartphones to launch with the new storage.
We ran the usual bunch of benchmark apps and found the 7 Pro to be well in line with other Snapdragon 855 devices. The 7 Pro even managed to surpass the Samsung Galaxy Fold in some of the tests.
Qualcomm's Snapdragon 855 is among the top-performing mobile chips on the market. It performs as well as the latest Exynos CPU, just short of Apple's A12 Bionic, and Huawei's latest Kirin 980 is at the bottom of the pack, but still very capable.
GeekBench 4.1 (multi-core)
Higher is better
Apple iPhone XS Max
11432
Xiaomi Mi 9
11181
Samsung Galaxy Fold
11028
OnePlus 7 Pro
10943
LG G8 ThinQ
10735
Samsung Galaxy S10+
10387
Huawei P30 Pro (perf. mode)
10014
GeekBench 4.1 (single-core)
Higher is better
Apple iPhone XS Max
4777
Samsung Galaxy S10+
4522
Samsung Galaxy Fold
3512
Xiaomi Mi 9
3503
LG G8 ThinQ
3419
OnePlus 7 Pro
3402
Huawei P30 Pro (perf. mode)
3323
The OnePlus 7 Pro's GPU is well-equipped to handle any mobile game. With the 90Hz display, we anticipate more games will support higher frame rates for new and updated titles.
GFX 3.1 Manhattan (1080p offscreen)
Higher is better
Apple iPhone XS Max
99
Samsung Galaxy Fold
71
Xiaomi Mi 9
70
Samsung Galaxy S10+
69
OnePlus 7 Pro
68
LG G8 ThinQ
65
Huawei P30 Pro (perf. mode)
56
GFX 3.1 Manhattan (onscreen)
Higher is better
Apple iPhone XS Max
60
Xiaomi Mi 9
56
Samsung Galaxy Fold
52
Huawei P30 Pro (perf. mode)
50
Samsung Galaxy S10+
37
LG G8 ThinQ
33
OnePlus 7 Pro
33
GFX 3.1 Car scene (1080p offscreen)
Higher is better
Apple iPhone XS Max
60
Samsung Galaxy Fold
42
Samsung Galaxy S10+
42
Xiaomi Mi 9
42
OnePlus 7 Pro
41
LG G8 ThinQ
40
Huawei P30 Pro (perf. mode)
33
GFX 3.1 Car scene (onscreen)
Higher is better
Apple iPhone XS Max
47
Xiaomi Mi 9
35
Samsung Galaxy Fold
32
Huawei P30 Pro (perf. mode)
29
Samsung Galaxy S10+
23
LG G8 ThinQ
20
OnePlus 7 Pro
19
3DMark SSE 3.1 Unlimited
Higher is better
Samsung Galaxy Fold
6135
OnePlus 7 Pro
6093
LG G8 ThinQ
6017
Xiaomi Mi 9
5816
Samsung Galaxy S10+
4632
Huawei P30 Pro (perf. mode)
4315
Finally, the compound AnTuTu test confirms the OnePlus7 Pro is a force to be reckoned with, meeting just above the Galaxy Fold's s score. It still falls short of Apple's chipset, but over the years the competition has been creeping close behind them.
AnTuTu 7
Higher is better
Xiaomi Mi 9
372006
OnePlus 7 Pro
364025
Samsung Galaxy Fold
363016
Apple iPhone XS Max
353210
Samsung Galaxy S10+
333736
LG G8 ThinQ
331537
Huawei P30 Pro (perf. mode)
316156
As much as we can say that the 90Hz display is great for gaming, the reality is that not all games will support frame rates beyond 60fps. There is, however, a lengthy list of titles that could take advantage of the 90Hz display and it is certainly growing.
While some titles compatible with the Razer Phone 2's 120Hz display, they don't all work right away with this display. It appears that many titles require their developers to update them to support this specific hardware.
When you launch a game, a window pops up, offering you to enable the game optimizer called "Fnatic Mode". This mode optimizes all the phone's resources to give you the best possible game performance. It will also drop apps that were suspended in the RAM, so do keep this in mind so you don't accidentally lose an unfinished post.
Fnatic mode also offers options to limit or completely disable alerts and notifications and various other options.
Overall, the OnePlus 7 performs admirably and in the UI and web browser, this impression is fortified by the high refresh rate, which takes buttery smootness to a whole new level compared to regular 60Hz phones. Gaming is covered really well, but we do wish more titles support the new 90Hz refresh rate as it would really make a difference. Overall, we think the battery life hit from using the 90Hz mode is negligible (around 15% of Screen-On time) and the tradeoff is well worth it.
Usedtoloveoneplus
07 Jan 2023
61K
That time when Oxygen OS was Oxygen OS...
A great phone but with an update my Bluetooth has completely gone.One plus offered to do a flash through my pc which could take up to an hour so I refused.It doesn't give the option to play MP3's going from my phone to my sound system which...
BrandyLee
29 Jul 2022
Ibx
I've had my one plus 7 pro for almost 3 years.... i am totally in love with this phone. I have never had a phone work so well, its better than my computer most of the time. The only complaint is the glass back makes it slide on smoother surface...