OnePlus 8 review
GSMArena team, 25 April 2020.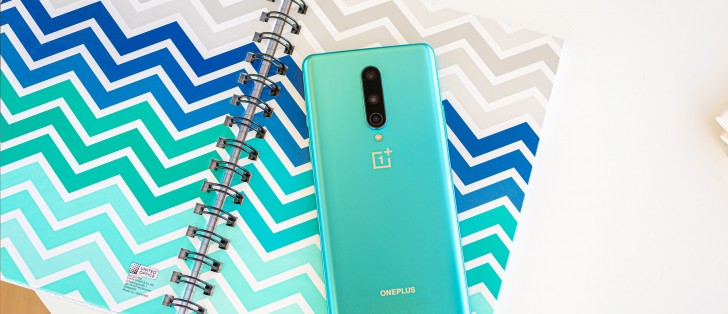 Fluid AMOLED panel with 90Hz refresh rate
The vanilla OnePlus 8's display might lack some of the features the Pro offers, but that doesn't make the display any less impressive. In fact, this could very well be one of the best screens we've seen in this class. It has an adequate 1080 x 2400px resolution adding up to a tall 20:9 aspect ratio, and it's an OLED panel. OnePlus calls it Fluid AMOLED because it has curves to the sides and because it supports 90Hz refresh rate. The latter has become a standard nowadays, but the panel itself isn't very different compared to the 7 Pro and 7T Pro. The curves look identical. Except for the punch-hole camera and the resolution, of course.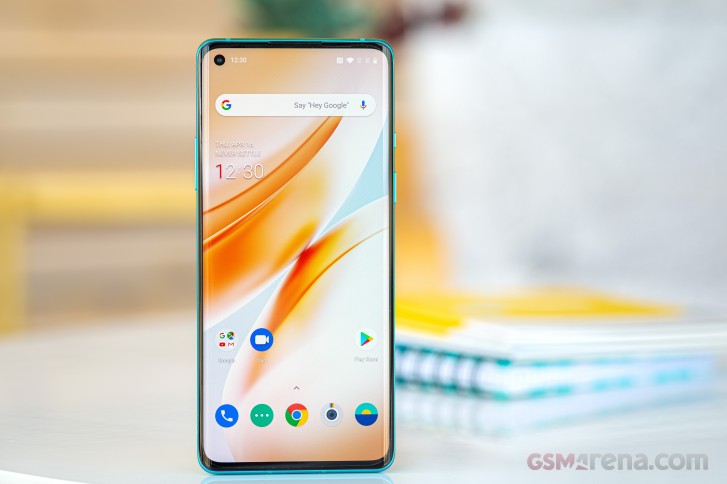 So what makes this display inferior to the one in the 8 Pro? For once, it caps at 90Hz instead of 120Hz, it doesn't have the MEMC (Motion Estimation, Motion Compensation) feature, has 8-bit color depth instead of 10-bit and has no adaptive display tone with the help of an RGB sensor. The 8 Pro's display is also said to be considerably brighter too.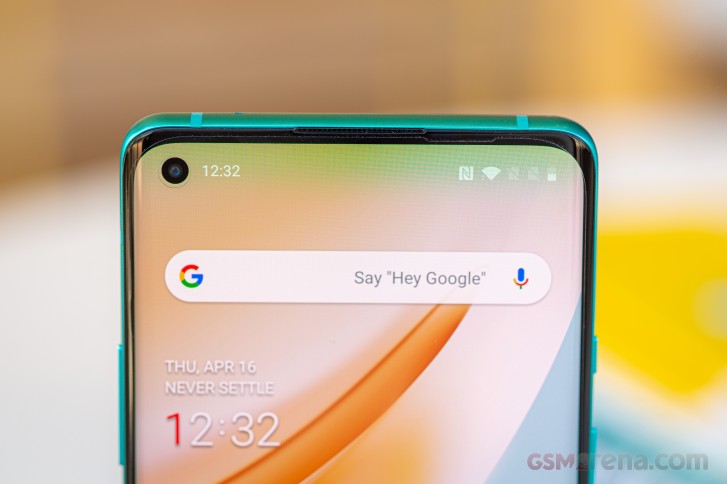 To be honest, though, you shouldn't feel bad about not having MEMC as it's a notorious gimmick used by TV manufactures. You will only be getting fuzzy visuals when watching 30fps video adapted to 90 or 120Hz display. However, the other advantages of the 8 Pro do seem pretty compelling.
Display test
100% brightness
Black,cd/m2
White,cd/m2
Contrast ratio
OnePlus 8 Pro
0
538
∞
OnePlus 8 Pro (Max Auto)
0
888
∞
OnePlus 8
0
496
∞
OnePlus 8 (Max Auto)
0
803
∞
OnePlus 7T
0
525
∞
OnePlus 7T (Max Auto)
0
743
∞
OnePlus 7T Pro
0
429
∞
OnePlus 7T Pro (Max Auto)
0
596
∞
Huawei P40
0
440
∞
Huawei P40 (Max Auto)
0
589
∞
Samsung Galaxy S20+
0
379
∞
Samsung Galaxy S20+ (Max Auto)
0
797
∞
Apple iPhone 11 Pro Max
0
820
∞
Apple iPhone 11
0.428
644
1505:1
Xiaomi Mi 10 Pro
0
510
∞
Xiaomi Mi 10 Pro (Max Auto)
0
858
∞
In any case, our tests show exceptional peak brightness at 802 nits and 496 nits in manual mode. As far as color accuracy goes, the Display settings menu offers a couple of modes and a customizable preset as well. With the default Vivid mode, you get a rather good 3.6 average dE2000 with blue-ish whites and punchy reds, greens, and yellows. But color accuracy is your thing, you can use the natural mode, which achieves an impressively low 1.2 average dE2000 and 1.8 maximum dE2000.
Battery life
The battery life on the OnePlus 8 is surprisingly good. We say surprisingly because even with the external Snapdragon X55 4G+5G modem, the phone managed to score excellent standby runtimes. The on-screen results were also quite impressive, and what we found more interesting is that there was virtually no difference between the 90Hz and 60Hz screen modes. The discrepancy ranged between several minutes and its due to statistical error more than anything. So the jump to a 4,300 mAh battery is more than welcome and has improved the overall endurance by a lot.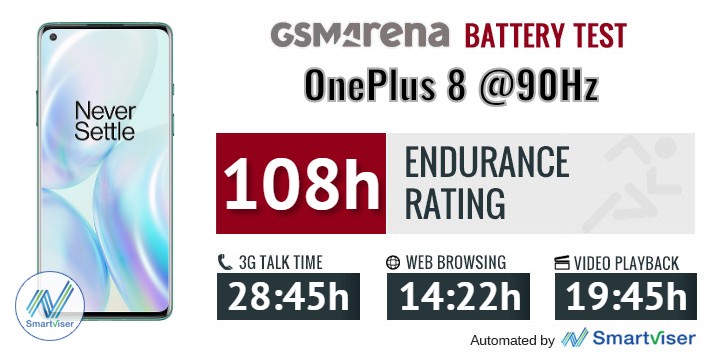 The charging speed has also been largely improved as it tops up faster than the 7 Pro and 7T Pro with the same 30W charger while holding a bigger battery. For the first 30 minutes, you can expect the battery to reach 69%, and leaving it for another 23 minutes will top off the battery completely. We suspect that OnePlus has messed with the charging curve a little. And we noticed that it gets a bit warm if you leave the phone on the charger for long. Then again, this shouldn't be an issue in most cases as the idea of fast charging is to leave the phone on the charger for 20 or so minutes to replenish some juice.
Speaker test
The OnePlus 8 is equipped with stereo loudspeakers - one of them is bottom-facing while the other doubles as an earpiece sitting behind the tiny bezel on the top. They both get really loud, even a little louder than the 7 Pro, but more importantly, the vanilla 8 shows some improvement in the quality aspect as well. Vocals don't sound muffled, while the bass is quite impressive for speakers of this size. The music sounds lively overall, and the highs are punchy. The balance between the two speakers is also good. You can take a look at the graph below - it shows excellent performance across almost all frequencies.
Use the Playback controls to listen to the phone sample recordings (best use headphones). We measure the average loudness of the speakers in LUFS. A lower absolute value means a louder sound. A look at the frequency response chart will tell you how far off the ideal "0db" flat line is the reproduction of the bass, treble, and mid frequencies. You can add more phones to compare how they differ. The scores and ratings are not comparable with our older loudspeaker test. Learn more about how we test here.
Anonymous
20 Apr 2023
Iwc
I have been using a OnePlus 8 for well over a year now and the battery lasts at least a day but sometimes 2. I use my phone about 3 hours a day for games like clash of clans or fallout shelter, watching YouTube, and using Snapchat, and searching the ...
for sure, i am in my 3rd year and the device has never let me down.... only downside I feel is the OS now little away from stock android, but it is nit-picking as even the new OS is very smooth and yes colorful... i have been using Oneplus phones sin...
Anonymous
05 Mar 2023
Trp
I am starting to think that all reviews are bs. The ultra wide camera on the OP8 is way superior to 2022 phones and on par with the S23 Ultra.. I have tested it next to the iPhone 14 and the S23 Ultra. The iPhone's wide camera photos were a...