OnePlus Nord 2T review
GSMArena Team, 09 August 2022.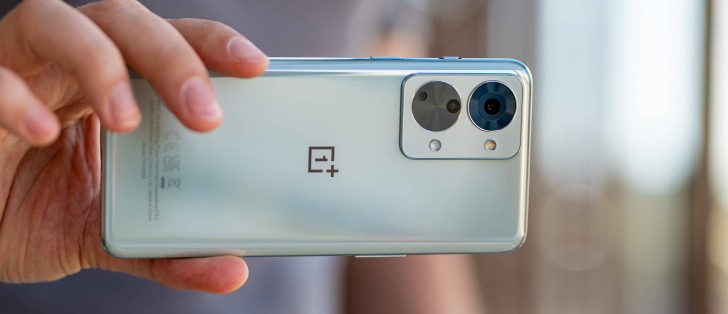 A Fluid 90Hz AMOLED
The OnePlus Nord 2T features a 6.43-inch Fluid AMOLED screen, which on paper looks identical to the one on the Nord 2. It's a panel with an extended 1080p resolution, 90Hz refresh rate, and HDR10+ support. There is a flat Gorilla Glass 5 on top of the screen.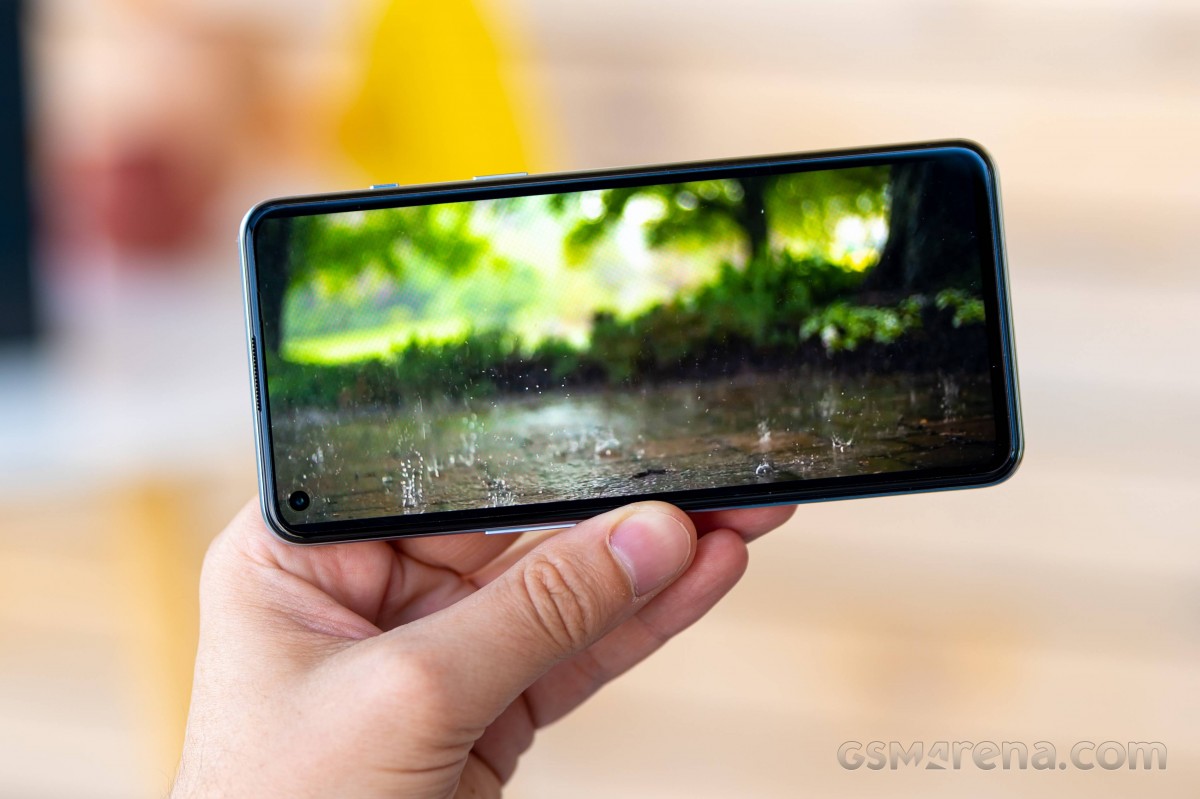 The screen has a standard resolution of 2,400 x 1,080 pixels, which makes for 409ppi density and 20:9 aspect ratio.
Our display measurements confirm the Nord 2T indeed packs the same OLED panel as the Nord 2. The screen has a maximum manual brightness of 449 nits. When using the Auto Brightness and the faced the screen a bright light - we captured a maximum brightness of 636 nits.
The minimum brightness we measured at point white was 2 nits.
Display test
100% brightness
Black,cd/m2
White,cd/m2
Contrast ratio
OnePlus Nord 2T
0
449
∞
OnePlus Nord 2T (Max Auto)
0
636
∞
OnePlus Nord 2 5G
0
438
∞
OnePlus Nord 2 5G (Max Auto)
0
633
∞
OnePlus Nord N20 5G
0
461
∞
OnePlus Nord N20 5G (Max Auto)
0
647
∞
Realme GT Neo 3T
0
516
∞
Realme GT Neo 3T (Max Auto)
0
803
∞
Samsung Galaxy A52s 5G
0
383
∞
Samsung Galaxy A52s 5G (Max Auto)
0
800
∞
Samsung Galaxy A53 5G
0
427
∞
Samsung Galaxy A53 5G (Max Auto)
0
830
∞
Xiaomi 12 Lite
0
507
∞
Xiaomi 12 Lite (Max Auto)
0
824
∞
Xiaomi Redmi Note 11 Pro+ 5G
0
479
∞
Xiaomi Redmi Note 11 Pro+ 5G (Max Auto)
0
760
∞
Poco X4 GT
0.395
470
1190:1
Poco X4 GT (Max Auto)
0.496
600
1210:1
Poco F4 GT
0
468
∞
Poco F4 GT (Max Auto)
0
761
∞
Nothing phone (1)
0
466
∞
Nothing phone (1) (Max Auto)
0
663
∞
Color accuracy
The screen settings offer two color modes - Vivid mode (corresponding to DCI-P3 color space) and Natural (sRGB color space). The accuracy is very good for both - the profiles are not too saturated, but the white and gray hues are a bit bluish. You can get a superb accuracy for both modes (average deltaE of 2.2) by using the Warmest setting of the Color Temperature bar.
Refresh rate
You can choose between Standard (60Hz) and High (90Hz) refresh rate options. There is Auto mode, but the High setting acts like Auto anyway - it runs all compatible apps in 90Hz and reverts back to 60Hz for static images and video playback/streaming.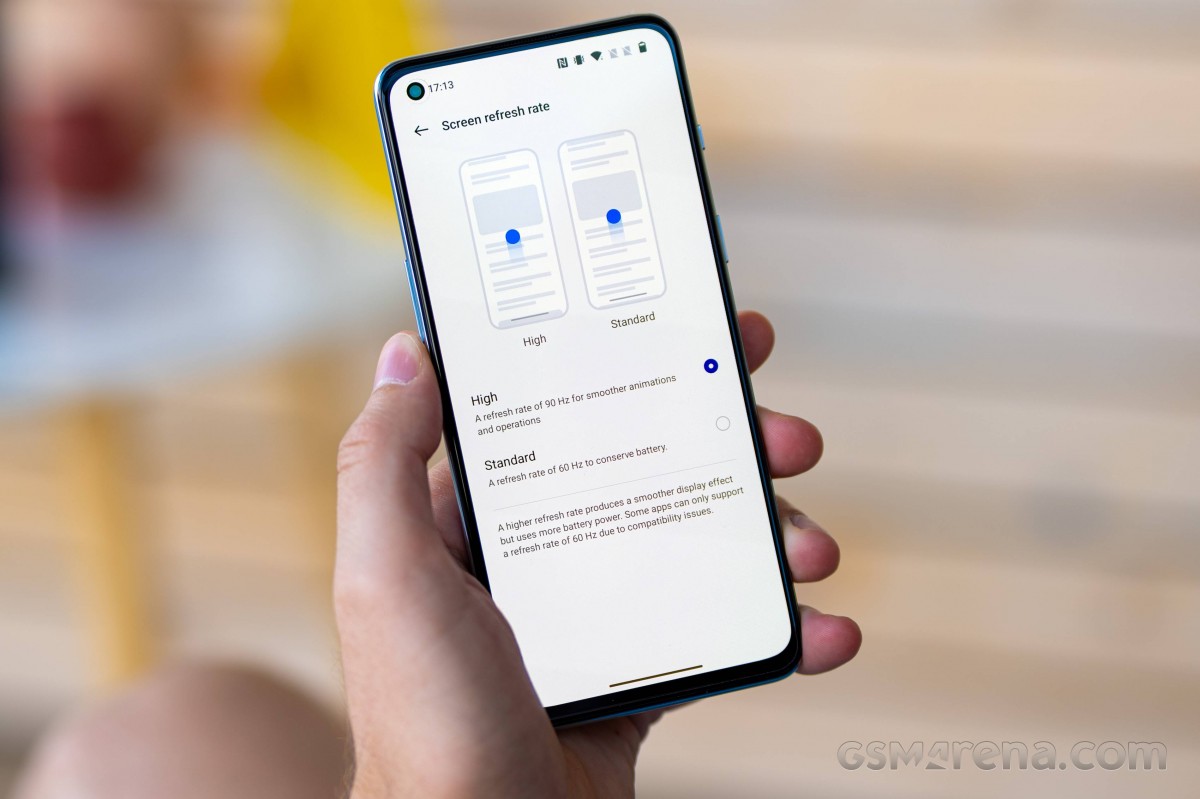 We saw games using 90Hz refresh rate, but we are not sure if they are indeed drawn at 90fps or not. HFR gaming has been a forbidden fruit for BBK phones for years unless a deal has been struck with a specific game developer. Nothing has been announced for the OnePlus Nord 2T so far, though.
HDR and streaming
The OnePlus Nord 2T display has been officially certified for HDR10 and HDR10+ compliance. The phone also comes with Widevine L1 DRM support, so it should be able to stream 1080p HDR10 content. It can do it on YouTube, but Netflix and Prime Video are yet to enable HDR10 streaming.
Display enhancements
OnePlus offers one video enhancement on the Nord 2T - Video Color boost - it does exactly what the name suggests - it tries to boost the colors of your videos in select video apps.
Battery life
The OnePlus Nord 2T battery capacity is the same as on the Nord 2 - 4,500mAh. It has the same display and almost identical chipset, it just runs on a newer Android version, so we expected similar battery performance.
The OnePlus Nord 2T scored a 100h endurance rating (vs. 102h for the Nord 2) with strong performance across all three main tests - calling, web browsing, and looped video playback.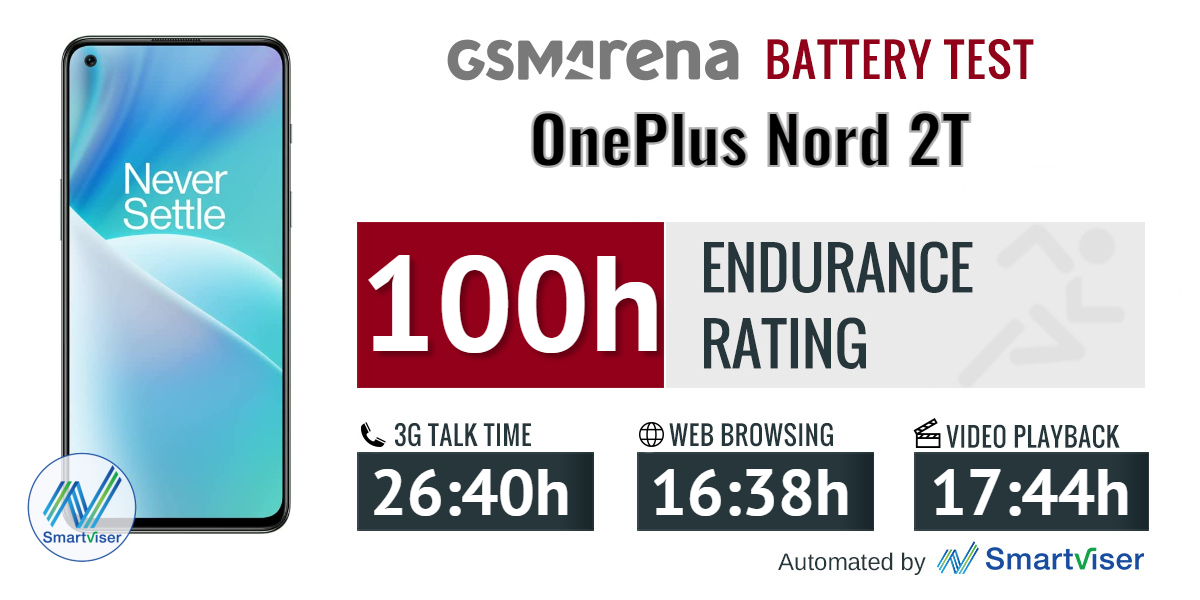 Our battery tests were automated thanks to SmartViser, using its viSerDevice app. The endurance rating denotes how long the battery charge will last you if you use the device for an hour of telephony, web browsing, and video playback daily. More details can be found here.
The standby performance is average, a tad worse than the Nord 2, and that's the reason for the slightly lower total endurance rating.
Video test carried out in 60Hz refresh rate mode. Web browsing test is done at the display's highest refresh rate whenever possible. Refer to the respective reviews for specifics. To adjust the endurance rating formula to match your own usage patterns, check out our all-time battery test results chart where you can also find all phones we've tested.
Charging speed
One of the most notable Nord 2T brings is the faster 80W SuperVOOC charging, up from 65W on the Nord 2. There are numerous sensors monitoring the temperature, so don't you worry about overheating.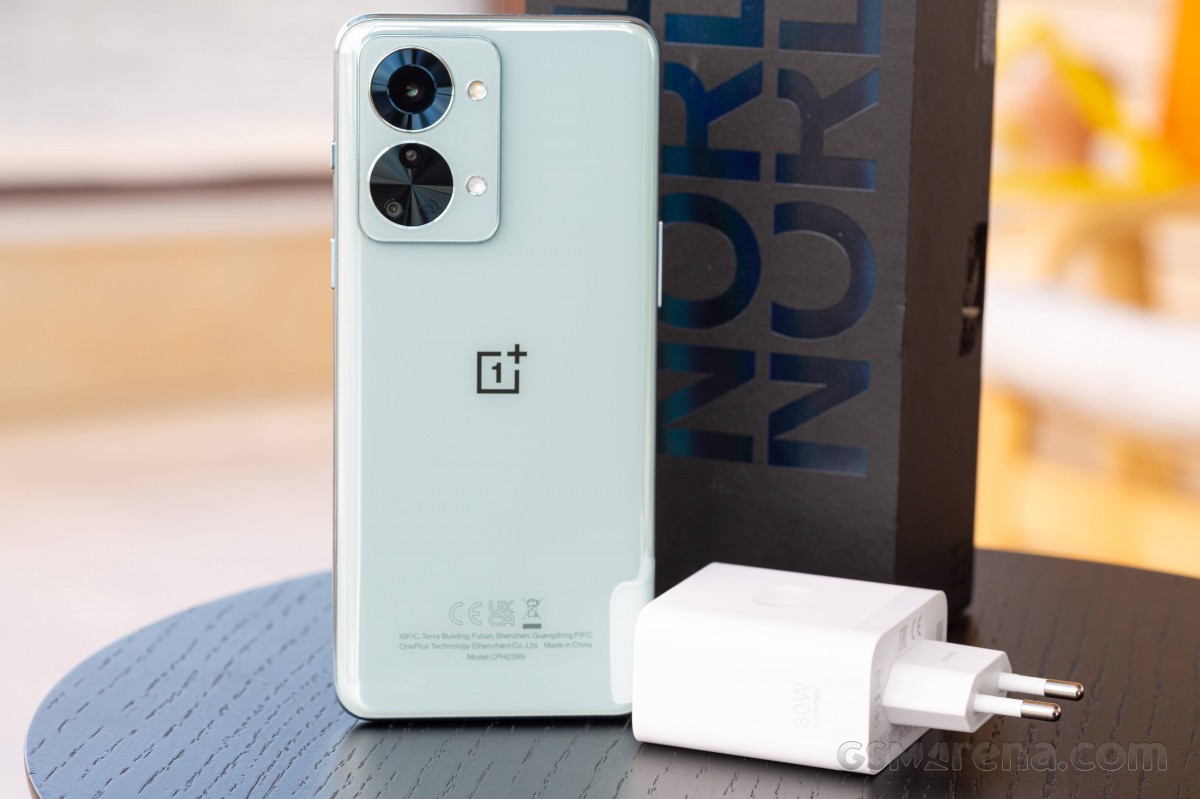 The Nord 2T ships with the 80W brick and a 10A-rated charging cable, so you don't need to buy anything extra to achieve the top charging speed.
15 minutes on the 80W charger refilled the battery from 0% to 60%. Then, 30 minutes gave us 99% charge.
30min charging test (from 0%)
Higher is better
Xiaomi Redmi Note 11 Pro+ 5G
100%
Poco F4 GT
100%
OnePlus Nord 2T
99%
OnePlus Nord 2
98%
Realme GT Neo3T
95%
Poco F4
92%
Xiaomi 12 Lite
84%
Poco X4 GT
75%
Nothing phone (1)
48%
Two minutes later and the OnePlus Nord 2T was charged to 100%.
Time to full charge (from 0%)
Lower is better
Xiaomi Redmi Note 11 Pro+ 5G
0:16h
Poco F4 GT
0:17h
OnePlus Nord 2
0:31h
OnePlus Nord 2T
0:32h
Poco F4
0:38h
Realme GT Neo3T
0:40h
Xiaomi 12 Lite
0:50h
Poco X4 GT
0:57h
Nothing phone (1)
1:31h
Note that after reaching 100%, it usually takes between 3mins and 6mins for the Nord 2T to show Charged on the screen, which marks the actual full charge of the battery.
So even with a faster charger, the Nord 2T appears to have no advantage in actual top-up times over the Nord 2. The Nord 2T gets an advantage within the first 10-15 minutes - the Nord 2T will get an extra 8-10%, but then it will slow down considerably more to keep temperatures in check and match the Nord 2 charging speed over the entire. So, unless you charge your phone for 10 minutes or less each day, you won't notice any difference.
Speakers
The OnePlus Nord 2T features two speakers in a hybrid setup - the earpiece acting as one, while the other one is next to the charging port at the bottom of the phone.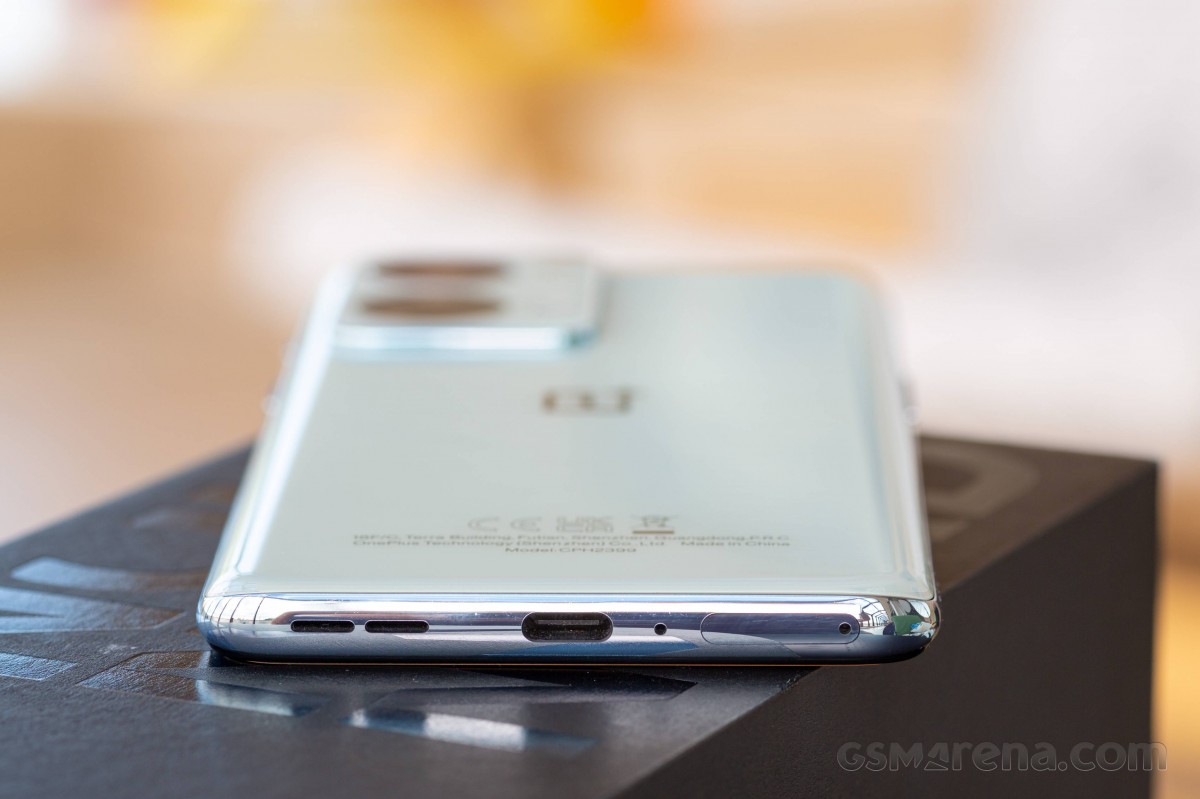 Naturally with this hybrid setup, the bottom speaker is slightly louder and has more bass. But when playing music or videos, we experienced good sound balance.
The OnePlus Nord 2T speakers scored a Very Good mark in our loudness test and we can confirm music sounds pretty loud on this phone. The bass is barely there, the mids are so-so, but the speakers are excellent in the high frequencies. Even the audio seems shallow at times, we are happy with the overall speaker quality of the Nord 2T speakers.
Use the Playback controls to listen to the phone sample recordings (best use headphones). We measure the average loudness of the speakers in LUFS. A lower absolute value means a louder sound. A look at the frequency response chart will tell you how far off the ideal "0db" flat line is the reproduction of the bass, treble, and mid frequencies. You can add more phones to compare how they differ. The scores and ratings are not comparable with our older loudspeaker test. Learn more about how we test here.
Photographer
27 Sep 2023
iAE
Absolutely waste of money on this junk rediculous phone up unfortunately by reading reviews like this one! Pro cannot shoot in 50 mp!! For Gods sake. You shoot pro mode and get back 16 mp!! There are no pro options in 50 mo mode. And on top of that ...
Anonymous
26 Aug 2023
pd%
this onneplus 2T or samsung A54 ? for web, chat (selfie), battery life (maps) I don't game, don't mind IP resistant (I-ve never dropped phone in toilets or heavey rain) i love oneplus for design and OS (smooth, lot less spying c...
I'm literally crying for my husband now and he just bought this phone 😆the camera is shitty af🤣🤣🤣🤣🤣