OnePlus Nord CE 2 5G hands-on review
GSMArena Team, 17 February 2022.
Software
The OnePlus Nord CE 2 5G runs on OxygenOS 11.3 running on top of Android 11. It's disappointing that four months after the public release and ten months after the initial beta release of Android 12, OnePlus is still launching new phones with Android 11.
As much as we prefer facts over conspiracy theories here, it's easy to see why the company would choose to launch phones this way. The Nord CE 2 5G will be getting two major Android updates over its lifetime. This means it will be getting Android 12 and eventually Android 13. You can see how launching with Android 11 means the company now has to bother with one less Android version in the future. Had it launched with Android 12, OnePlus would be forced to commit to providing Android 13 and then Android 14 as part of its two update promise.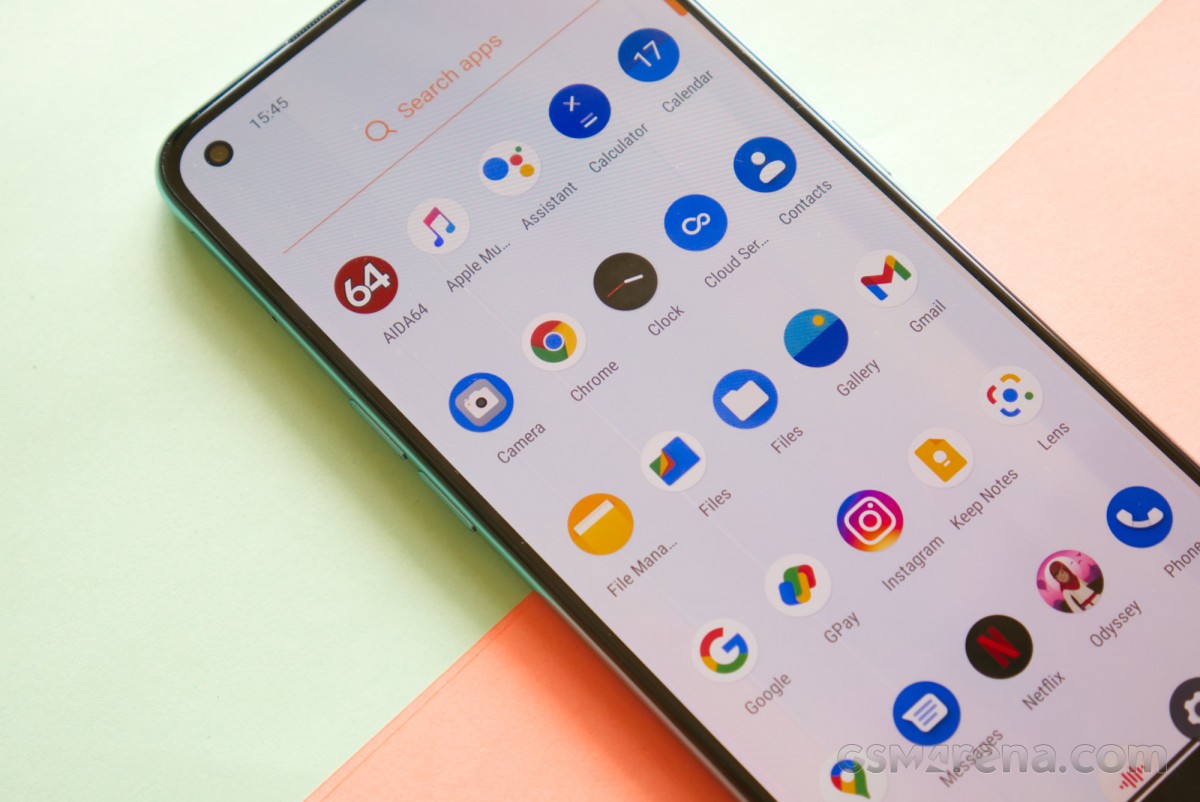 Of course, OnePlus is far from the only company who does this and it's a systematic problem with the Android ecosystem.
Moving on, the version of OxygenOS on the Nord CE 2 5G is identical to the one found on the Nord 2 and the OnePlus 9RT. It is a stop-gap solution between the OnePlus developed OxygenOS 11 and the Oppo-fied OxygenOS 12. OxygenOS 11.3 has ColorOS codebase underneath but visually still looks a lot like OxygenOS 11.
Most of this applies to aspects such as the launcher, which is still the same as the one found in older versions of OxygenOS 11. It should be familiar to anyone used to OnePlus phones and is simply designed with a good number of features, including applying custom icon packs.
Other aspects of the UI, such as the notifications, shortcut toggles, multitasking UI, always-on display modes, and some of the custom apps are also from older versions of OxygenOS. They all look reasonably clean and simple but are starting to get long in the tooth.
The places where you'd notice the ColorOS influence is in things like the Settings app, which is a mishmash of old OxygenOS UI and ColorOS elements. Then things like the Camera app are taken straight out of Oppo phones. For the most part, the combination is not jarring and it still mostly feels like using a OnePlus phone, unlike OxygenOS 12, which feels entirely like ColorOS.
Our review unit had a smörgåsbord of pre-installed apps, most from Google but with some from OnePlus and then a few third-party apps such as Netflix and Spotify. The good thing is that OnePlus allows uninstalling almost all of these. We just wish there was an option to delete multiple apps at once like in MIUI, instead of just one at a time.
Not everything can be uninstalled, however. The OnePlus Red Cable Club takes up a prime spot inside the settings app and inundates you with offers every time you open the app. OnePlus also think you need three file managers for some reason and doesn't let you uninstall any of them.
Other features like the company's cloud backup service, international roaming service, Nearby Charging Stations service, etc. can also not be removed and will occasionally bother you with notifications. The Oppo-fied version of OxygenOS also has a lot more system-level notifications than before and constantly keeps bothering you with tips and suggestions.
OnePlus' gesture navigation continues to be awful. While on other Android phones you need to do a deliberate swipe gesture from the right edge to go back, on OnePlus phones any sort of movement around the right edge is considered as a signal to go back. It is so frustrating when all you're doing is scrolling through a webpage or your Instagram feed with your right thumb and the phone just launches you back to the previous page or the homescreen because it is too dumb to tell the difference between a side swipe gesture and vertical scrolling. Every other manufacturer seems to have figured this out but OnePlus continues to make our life difficult.
There were minor bugs here and there on our review unit running the A.09 build but nothing particularly notable. We expect most of them to be ironed out in the day one update.
We did find one peculiarity with media playback, and that was with the AV1 decoding. Running a MediaTek Dimensity 900 chipset, the Nord CE 2 5G is capable of decoding AV1 in hardware. Yet, neither YouTube nor the Netflix app were able to detect the AV1 codec. Even when we checked through the DRM Info app, we couldn't see any mention of AV1 decoding. Yet, when we played an AV1 file in the Gallery, it played just fine. We are not sure if this is intentional or a bug.
Interestingly, the phone does support LHDC Bluetooth codec, even though OnePlus had previously said that Nord phones won't be supporting it. The company does not advertise it for some reason but we were able to verify its presence during our testing.
Performance
The OnePlus Nord CE 2 5G runs on a MediaTek Dimensity 900 chipset. It features an octa-core CPU design with 2x Cortex-A78 cores clocked at 2.4GHz and 6x Cortex-A55 cores clocked at 2.0GHz, along with Mali-G68 GPU. On the memory side, OnePlus has opted for the slower LPDDR4X with a choice of 6GB or 8GB and UFS 2.2 storage with just 128GB as standard. You can expand the storage further using microSD cards.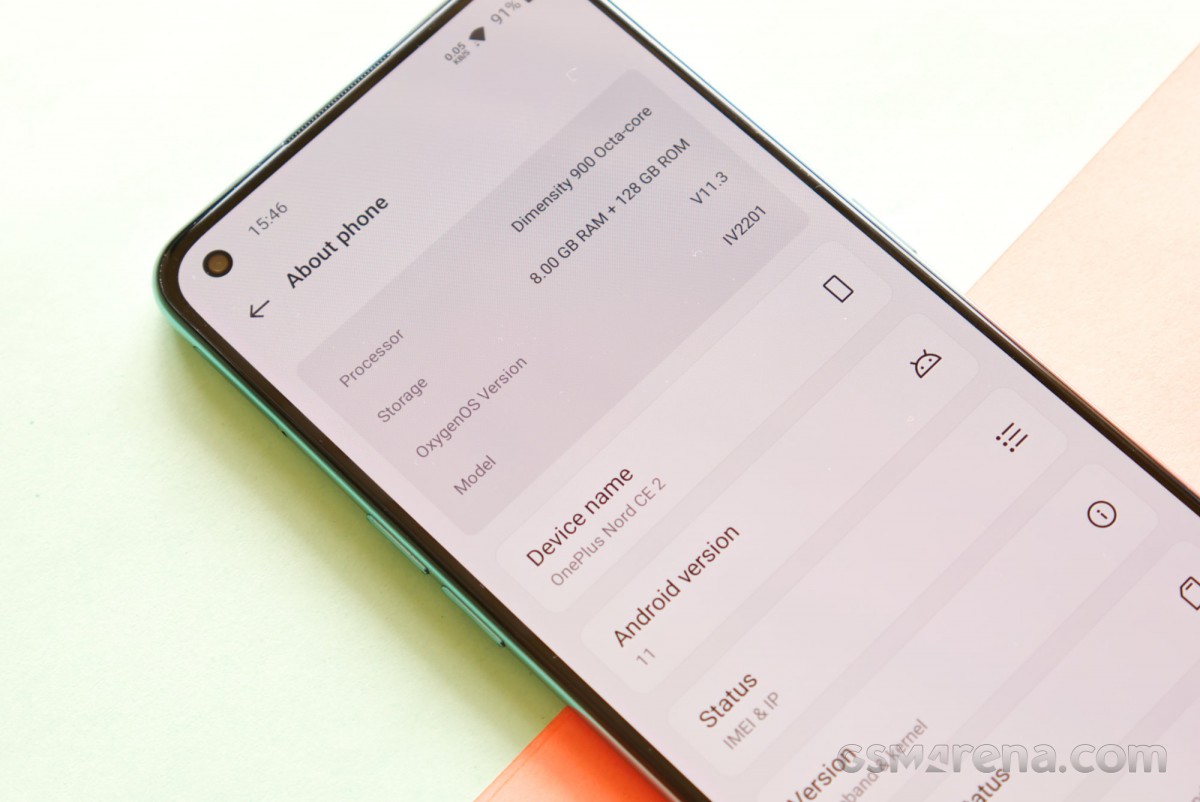 The Dimensity 900 offers respectable performance in every day usage. Opening and scrolling through apps was mostly a fast and smooth experience. Multi-tasking was also not a problem, as even the base model comes with a decent amount of system memory.
Like the other Oppo-fied OnePlus phones, the Nord CE 2 5G includes a performance mode in the battery settings. This sets the A55 cores to their maximum 2.0GHz clock speed and the A78 cores can swing between their maximum clock speed of 2.4GHz to a new minimum of 1.8GHz. Preventing the cores from clocking down during downtime can help improve responsiveness in some cases as the time to ramp up to full clock speed is essentially zero since the cores are always operating at max or high speed.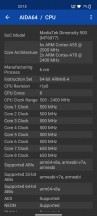 High performance mode off • High performance mode on
However, while we didn't feel any real improvement to real world performance from this feature, there is a very real impact on battery life from having the cores running at high clocks all the time. As such, we think it's mostly a pointless feature as any good CPU scheduler should already have the CPU clocks where they need to be without significant delay without destroying your battery life. However, OnePlus is known to have a very conservative CPU scheduler to save battery, so maybe in some fringe cases there could be an advantage to having this feature enabled.
Moving on to GPU performance and gaming, the Mali-G68 does okay here. Most of the popular titles do have good performance and outside of more demanding games like Genshin Impact, we weren't really left wanting for additional GPU performance.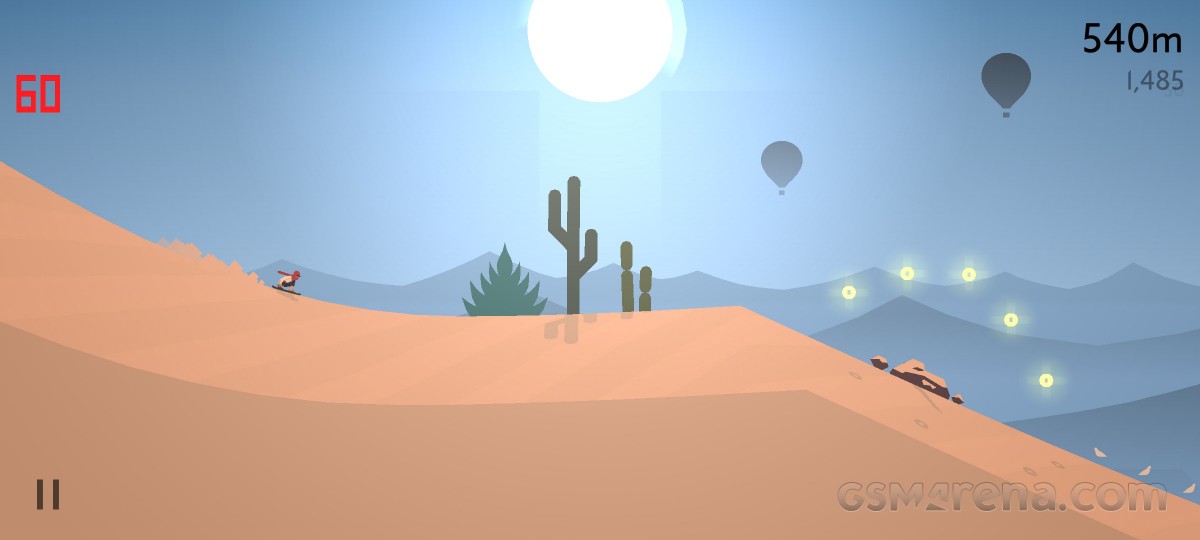 As is usual for all OnePlus phones, the Nord CE 2 5G is incapable of running most games above 60Hz. Except for a handful of whitelisted titles, almost every popular game you'd be running on the Nord CE 2 5G can only run up to 60Hz, and not the 90Hz limit of the display. We have brought this up many times with the company in the past and they simply have no interest in changing this aspect of their phones.
GeekBench 5 (multi-core)
Higher is better
OnePlus Nord 2
2792
Oppo Reno6 Pro 5G
2621
Poco X3 Pro
2574
Realme 9 Pro+
2335
OnePlus Nord CE 2 5G
2157
Realme 9 Pro
2020
OnePlus Nord N10 5G
1848
Realme 8s 5G
1842
OnePlus Nord CE 5G
1812
Poco M4 Pro 5G
1797
Realme 8 5G
1784
Xiaomi Redmi Note 10 Pro
1780
Motorola Moto G51 5G
1696
Realme 8 Pro
1678
Samsung Galaxy A32 5G
1673
Samsung Galaxy A32
1277
GeekBench 5 (single-core)
Higher is better
OnePlus Nord 2
814
Realme 9 Pro+
814
Oppo Reno6 Pro 5G
813
Poco X3 Pro
735
OnePlus Nord CE 2 5G
728
Realme 9 Pro
694
OnePlus Nord CE 5G
641
Realme 8s 5G
616
OnePlus Nord N10 5G
608
Poco M4 Pro 5G
597
Realme 8 5G
569
Xiaomi Redmi Note 10 Pro
569
Realme 8 Pro
566
Motorola Moto G51 5G
543
Samsung Galaxy A32 5G
505
Samsung Galaxy A32
361
AnTuTu 9
Higher is better
OnePlus Nord 2
598022
OnePlus Nord CE 2 5G
436640
Realme 9 Pro+
416031
Realme 9 Pro
401894
OnePlus Nord CE 5G
391770
Realme 8s 5G
383409
Realme 8 5G
361505
Poco M4 Pro 5G
353663
Motorola Moto G51 5G
302859
Samsung Galaxy A32 5G
222125
GFX Aztek ES 3.1 High (onscreen)
Higher is better
OnePlus Nord 2
30
Poco X3 Pro
26
Realme 9 Pro+
17
OnePlus Nord CE 2 5G
15
OnePlus Nord CE 5G
11
Realme 9 Pro
11
Realme 8 Pro
11
Realme 8s 5G
9.7
Motorola Moto G51 5G
9.7
OnePlus Nord N10 5G
5.7
Samsung Galaxy A32
5
GFX Aztek ES 3.1 High (offscreen 1440p)
Higher is better
OnePlus Nord 2
21
Poco X3 Pro
17
Realme 9 Pro+
11
OnePlus Nord CE 2 5G
10
Realme 9 Pro
7.8
OnePlus Nord CE 5G
7.5
Realme 8 Pro
7
Motorola Moto G51 5G
6.4
Realme 8s 5G
6.2
OnePlus Nord N10 5G
5.8
Samsung Galaxy A32
3.3
GFX Aztek Vulkan High (onscreen)
Higher is better
Poco X3 Pro
27
OnePlus Nord 2
26
Realme 9 Pro+
16
OnePlus Nord CE 2 5G
14
OnePlus Nord CE 5G
13
Realme 9 Pro
12
Realme 8 Pro
11
Motorola Moto G51 5G
10
Realme 8s 5G
8.9
OnePlus Nord N10 5G
8.7
Samsung Galaxy A32
4.4
GFX Aztek Vulkan High (offscreen 1440p)
Higher is better
OnePlus Nord 2
20
Poco X3 Pro
18
Realme 9 Pro+
10
OnePlus Nord CE 2 5G
9.4
OnePlus Nord N10 5G
8.8
Realme 9 Pro
8.2
OnePlus Nord CE 5G
7.6
Realme 8 Pro
7.2
Motorola Moto G51 5G
6.7
Realme 8s 5G
5.8
Samsung Galaxy A32
2.9
GFX Car Chase ES 3.1 (onscreen)
Higher is better
Oppo Reno6 Pro 5G
42
OnePlus Nord 2
38
Poco X3 Pro
38
Realme 9 Pro+
27
OnePlus Nord CE 2 5G
19
OnePlus Nord CE 5G
17
Realme 9 Pro
16
Xiaomi Redmi Note 10 Pro
16
Realme 8 Pro
16
Motorola Moto G51 5G
15
Realme 8s 5G
14
OnePlus Nord N10 5G
13
Poco M4 Pro 5G
13
Realme 8 5G
13
Samsung Galaxy A32
8.1
GFX Car Chase ES 3.1 (offscreen 1080p)
Higher is better
Oppo Reno6 Pro 5G
48
OnePlus Nord 2
46
Poco X3 Pro
45
OnePlus Nord CE 2 5G
24
Realme 9 Pro+
23
OnePlus Nord CE 5G
19
Realme 9 Pro
19
Xiaomi Redmi Note 10 Pro
19
Realme 8 Pro
18
Realme 8s 5G
16
Poco M4 Pro 5G
16
Motorola Moto G51 5G
16
Realme 8 5G
15
OnePlus Nord N10 5G
14
Samsung Galaxy A32
9.3
GFX Manhattan ES 3.1 (onscreen)
Higher is better
Poco X3 Pro
67
Oppo Reno6 Pro 5G
61
OnePlus Nord 2
57
Realme 9 Pro+
41
OnePlus Nord CE 2 5G
35
Realme 8 Pro
31
OnePlus Nord CE 5G
30
Realme 9 Pro
29
Motorola Moto G51 5G
26
Realme 8s 5G
24
OnePlus Nord N10 5G
23
Poco M4 Pro 5G
23
Realme 8 5G
22
Samsung Galaxy A32
13
GFX Manhattan ES 3.1 (offscreen 1080p)
Higher is better
Oppo Reno6 Pro 5G
81
OnePlus Nord 2
75
Poco X3 Pro
75
Realme 9 Pro+
45
OnePlus Nord CE 2 5G
40
Realme 9 Pro
35
OnePlus Nord CE 5G
34
Motorola Moto G51 5G
29
Realme 8 Pro
28
Realme 8s 5G
27
OnePlus Nord N10 5G
26
Poco M4 Pro 5G
26
Realme 8 5G
25
Samsung Galaxy A32
15
3DMark SSE ES 3.1 (offscreen 1440p)
Higher is better
OnePlus Nord CE 2 5G
3722
Realme 9 Pro
2946
OnePlus Nord CE 5G
2801
Samsung Galaxy A32 5G
2638
Realme 8s 5G
2567
Motorola Moto G51 5G
2453
OnePlus Nord N10 5G
2166
Samsung Galaxy A32
1323
3DMark SSE Vulkan 1.0 (offscreen 1440p)
Higher is better
OnePlus Nord CE 2 5G
3661
Realme 9 Pro
2773
OnePlus Nord CE 5G
2617
Samsung Galaxy A32 5G
2509
Realme 8s 5G
2439
Motorola Moto G51 5G
2290
OnePlus Nord N10 5G
2012
Samsung Galaxy A32
1371
3DMark Wild Life Vulkan 1.1 (offscreen 1440p)
Higher is better
Oppo Reno6 Pro 5G
4236
OnePlus Nord 2
4224
Poco X3 Pro
3401
Realme 9 Pro+
2296
OnePlus Nord CE 2 5G
2036
Poco M4 Pro 5G
1232
Realme 8s 5G
1231
Realme 9 Pro
1211
Samsung Galaxy A32 5G
1185
Realme 8 5G
1104
OnePlus Nord CE 5G
1103
Realme 8 Pro
1051
Motorola Moto G51 5G
970
OnePlus Nord N10 5G
811
Samsung Galaxy A32
686
The Dimensity 900 has somewhat weak media playback abilities. The chip is capable of encoding and decoding 4K video but only up to 30fps. Even then, some 30fps 4K clips did stutter on playback. 60fps 4K YouTube clips were out of the question and the best you can do is 1440p.
Since we are on the topic of media playback, the Nord CE 2 5G does have a headphone jack, which is a convenient thing to have, especially for some of us who still buy and prefer wired IEMs and headphones.
However, what the phone gains in terms of headphone audio, it loses in terms of speakers. The Nord CE 2 5G has just a single loudspeaker on the bottom of the phone, which, after getting used to so many stereo speaker enabled phones on the market today, felt very lopsided and distracting. While there's no issue while watching TikTok or Instagram videos in portrait mode, watching YouTube videos in landscape just feels jarring now with the sound coming out from just one side of the phone. This is one of those areas where we think OnePlus should not have cut corners.
Battery Hevey Drain Gaming Free Fire With Full Bright Ness Lo Pedite Only 6Hours lo 90%decreasing DCharging Down Under 10% Below. Plz Improve OnePlus NORD CE 2 Battery's Power.
I cathed Android 13 on my OnePlus Nord CE2 5g mobile.
I can't find the software update time All have received the andriloid 13 update