Oppo Find 5 review: Oppo-lent screen
Oppo-lent screen
GSMArena team, 6 February 2013.
Display
Oppo is using a 5" IPS LCD screen for the Find 5, protected by Gorilla Glass 2. The defining feature is the 441ppi pixel density, which is the highest we've seen on a mobile device yet (by some distance too). To achieve this density, the screen has 1080p resolution - 1920 x 1080. Yes that's the same number of pixels most HDTVs have, except this time they fit on a surface about 100 times smaller in size.



Oppo Find 5 has a 5" 1080p screen with 441ppi pixel density
The image on the screen appears very close to the glass, which always looks good and combined with the very high pixel density it gives the impression of high-quality print rather than a screen. Individual pixels meld together and even very tiny text remains smooth. Here's what the screen looks like under a microscope (just about the only way to see pixels).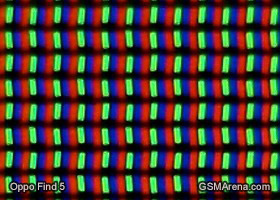 The difference between the 441ppi screen and a 300+ ppi screens can be seen, though it's not nearly as big as when phones broke the 300ppi barrier.
The IPS tech does its intended job well and gives the screen excellent viewing angles - there's color shift only at extreme angles and contrast loss is only observed when looking from the side and from a 45 degree angle - the IPS screens' typical Achilles heel. Since no one is going to look at their screen from that angle though, the viewing angles are perfect for all purposes practical. The screen has vibrant colors too and very good contrast, with pretty good levels of black.
Display test
50% brightness
100% brightness
Black, cd/m2
White, cd/m2
Contrast ratio
Black, cd/m2
White, cd/m2
Contrast ratio
Samsung Galaxy S II Plus
0
206
∞
0
358
∞
Oppo Find 5
0.17
176
1123
0.51
565
1107
Samsung I9300 Galaxy S III
0
174
∞
0
330
∞
HTC One X
0.15
200
1375
0.39
550
1410
Nokia Lumia 920
-
-
-
0.48
513
1065
Nexus 4
0.22
314
1447
0.45
608
1341
LG Optimus G
0.14
197
1445
0.33
417
1438
Apple iPhone 5
0.13
200
1490
0.48
640
1320
The screen has fairly low reflectivity, which helps the sunlight legibility.
Contrast ratio
Nokia 808 PureView
4.698
Samsung I9300 Galaxy S III
3.419
Samsung Omnia W
3.301
Samsung Galaxy S
3.155
Nokia N9
3.069
Samsung Galaxy Note
2.970
HTC One S
2.901
Samsung Galaxy S II
2.832
Samsung Galaxy S II Plus
2.801
Huawei Ascend P1
2.655
Nokia Lumia 900
2.562
Samsung Galaxy S III mini
2.422
Motorola RAZR i
2.366
Apple iPhone 4S
2.269
HTC One X
2.158
Nokia N8
2.144
Oppo Find 5
2.088
Apple iPhone 4
2.016
Sony Ericsson Xperia ray
1.955
Samsung Galaxy Camera
1.938
Sony Xperia V
1.792
Sony Xperia U
1.758
LG Optimus 4X HD
1.691
HTC One V
1.685
LG Optimus Vu
1.680
HTC Desire V
1.646
LG Optimus 3D
1.542
Nokia Asha 302
1.537
Nokia Lumia 610
1.432
Gigabyte GSmart G1355
1.361
HTC Desire C
1.300
LG Optimus L7
1.269
LG Optimus L9
1.227
Meizu MX
1.221
Samsung Galaxy Pocket
1.180
Sony Xperia tipo
1.166
Samsung Galaxy mini 2
1.114
One last thing - we got a unit from the first batch of Find 5's to be shipped and the screen had a dead pixel. It's almost too small to see, but if you know where to look you'll see a tiny black speck. There are reports of other Find 5's with dead pixels, so we thought a warning is due.
Oppo Reno 5pro is bed mobile Google dailar is very bed sarvice Call Recoding announcement disgusting
Totally hang mobile phone plz take it home
Anant Pradhan
14 Jun 2015
vGc
Find 5 Mini bcz its have advanced function.......