Oppo Find 5 review: Oppo-lent screen
Oppo-lent screen
GSMArena team, 6 February 2013.
Phonebook and dialer
The phonebook uses a tabbed interface, not unlike the stock phonebook. The first tab is the dialer, then there's the contact list, groups and favorites.
The dialer does smart dial (looking up both names and phone numbers). The button at the bottom left lets you quickly save the number you've typed in to a new or existing contact.
From the call settings you can tweak a number of things. One is Notify on connect - the phone can vibrate or ring (or both) when a call connects. You can also build a list of texts to send when you decline a call. Flip to mute calls is also enabled.
The loudspeaker of the Oppo Find 5 scored a good mark - combined with a strong vibration, you shouldn't miss any calls. You can read more about the loudspeaker test here.
| | | | | |
| --- | --- | --- | --- | --- |
| Speakerphone test | Voice, dB | Pink noise/ Music, dB | Ringing phone, dB | Overal score |
| Apple iPhone 5 | 66.8 | 66.1 | 67.7 | Below Average |
| Nokia Lumia 920 | 61.6 | 64.8 | 65.8 | Below Average |
| Sony Xperia V xLOUD | 65.5 | 61.1 | 66.2 | Below Average |
| Apple iPhone 4S | 65.8 | 64.5 | 74.6 | Average |
| HTC One X+ | 64.6 | 65.8 | 74.6 | Average |
| Nokia Lumia 820 | 67.2 | 66.6 | 70.7 | Average |
| Oppo Find 5 | 70.7 | 67.7 | 73.0 | Good |
| Google Nexus 4 | 71.1 | 66.6 | 78.8 | Good |
| Samsung Galaxy S III | 75.1 | 66.5 | 75.0 | Good |
| Motorola RAZR XT910 | 74.7 | 66.6 | 82.1 | Very Good |
| LG Optimus G | 74.6 | 71.3 | 82.7 | Excellent |
The phonebook itself is pretty standard, save for the custom paintjob. It shows an alphabetized list of visible contacts with an alphabet index on the right if you want to jump to a specific letter (regular search is available too).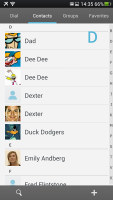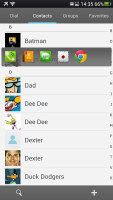 The phonebook is pretty standard
A tap on a contact's photo brings out Quick contacts - shortcuts for calling, texting, emailing a contact and a bit more (e.g. a Chrome shortcut to visit their web site).
Contact info is displayed as a list of all available details. A star next to the contact's photo and name can be used to mark them as favorite and there are call and text shortcuts at the bottom. Custom ringtones can be selected for each contact and duplicate contacts can be merged into a single entry.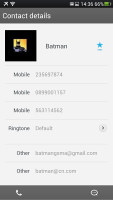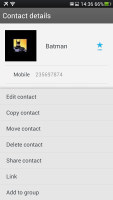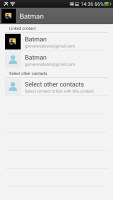 Contact info • linking contacts
Earlier, we said visible contacts because you can hide contacts with no phone numbers or contacts from specific groups (e.g. ones that were synced from a specific email service).
Contact syncing tools are very powerful - contacts can be moved or copied between phone storage and a Google account, they can be synced with an Exchange server or Facebook, and you can send / import contacts over Bluetooth.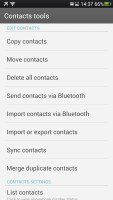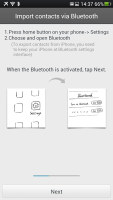 Powerful contact managing features
Messaging and email
The messaging department is pretty standard - there's a list of all conversations organized into threads, with two buttons at the bottom (Search and Compose).
Each conversation consists of messages displayed in speech bubbles, similar to a chat program. It's a bit annoying that the compose box starts off as a single line, but it will grow to up to twelve as you type in more text. A character/message counter shows up when you're 10 letters away from the 140 limit.
Attaching multimedia to a message will turn it into an MMS. You can add everything from photos, videos, audio to general files. There's even a full blown slide editor if you want to make full use of the MMS standard. The Attach location option is pretty nice too.
Individual messages can be locked to prevent accidental deletion. Delivery reports can be activated and you can backup and import messages.
Numbers can be added to a black list. Scheduled messages are also an option - you enter the recipient, message text and pick a date in the future. Messages can even be sent daily or only on select days (good if you need to message an automated service every day, e.g. for parking).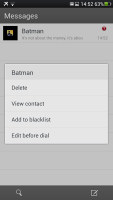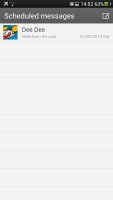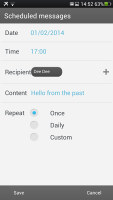 Blacklisting a number • scheduling a message
Moving on to email, the Gmail app has handy shortcuts at the bottom of the screen and supports batch operations, which allow multiple emails to be archived, labeled or deleted. The default app supports multiple Gmail accounts, but there's no unified inbox.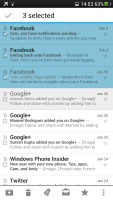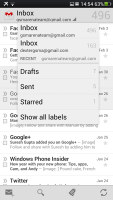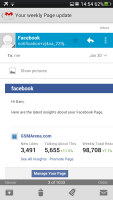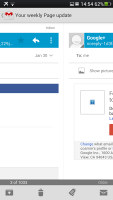 Gmail app supports batch operations and multiple (Gmail) accounts
A cool feature in Gmail is that you can swipe left or right to move between messages in your inbox.
There is also a generic email app for all your other email accounts and it can handle multiple POP or IMAP inboxes. You have access to the messages in the original folders that are created online, side by side with the standard local ones such as inbox, drafts and sent items.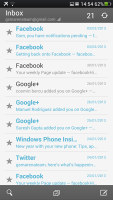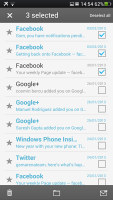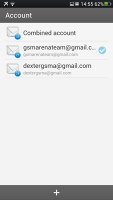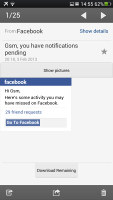 The generic email client doubles a lot of the functionality of the Gmail app but has combined inbox
Unlike its Gmail counterpart, this app supports a combined inbox view. Unfortunately, that part kept crashing on us, so we couldn't test it properly. There's no moving between messages with sideways swipes here, but there are two arrow buttons for that.
Google Talk handles the Instant Messaging department. The GTalk network is compatible with a variety of popular clients like Pidgin, Kopete, iChat and Ovi Contacts.
Text input
The big 5" screen offers a big on-screen keyboard and there's still plenty left over for the app. Keys on the keyboard get even bigger when you switch to landscape mode - the wide screen is remarkably comfortable for two-thumb typing.
You can use offline voice typing as an alternative too, one of the perks of using 4.1 Jelly Bean.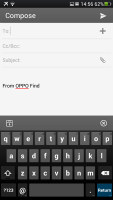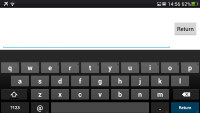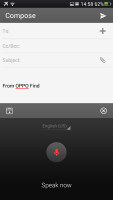 The regular keyboard • Voice typing works offline too
A tap on the text area will reveal a "handle" attached to the text cursor - it's easy and more accurate, which makes correcting mistakes easier. A double tap will bring up the select options - select word and select all - with two handles to adjust the start and end of the selection.
In case of a typo, it will be underlined in red and when you tap it, the phone will offer a number of suggested corrections along with options to add the word to the phone's dictionary or just delete the word. The auto-suggest system will offer up the names of your contacts too.
Oppo Reno 5pro is bed mobile Google dailar is very bed sarvice Call Recoding announcement disgusting
Totally hang mobile phone plz take it home
Anant Pradhan
14 Jun 2015
vGc
Find 5 Mini bcz its have advanced function.......