Oppo Find 7 review: Dark horse
Dark horse
GSMArena team, 02 July 2014.
Display
Like we touched on earlier, when it comes to the Find 7, the killer feature is obviously the display. It's a 5.5-inch IPS panel of 1440 x 2560px, resulting in around 534ppi. Viewing angles are great, and you can also use the screen with gloves if you turn on the respective setting in the settings menu.
The pixel arrangement is standard RGB with an equal amount of green, red and blue pixels in a line. It's the same pattern that you'll see on the QHD toting LG G3 as well.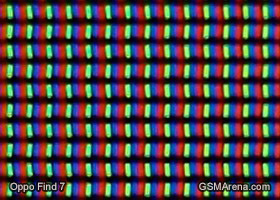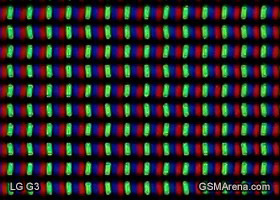 The screen contrast is very good - better than what we saw on the G3 - and not too far behind the majority of 1080p flagships like the HTC One (M8) and Sony Xperia Z2.
Display test
50% brightness
100% brightness
Black, cd/m2
White, cd/m2
Contrast ratio
Black, cd/m2
White, cd/m2
Contrast ratio
Oppo Find 7
0.22
248
1135
0.40
448
1123
LG G3
0.14
109
763
0.72
570
789
Sony Xperia Z2
-
-
-
0.41
488
1195
Sony Xperia Z1
-
-
-
0.38
580
1513
Sony Xperia Z
-
-
-
0.70
492
705
Oppo Find 7a
0.33
280
842
0.68
580
852
Samsung Galaxy S5
0
274
∞
0
529
∞
Samsung Galaxy S4
0
201
∞
0
404
∞
HTC One (M8)
0.20
245
1219
0.46
577
1256
LG G2
0.10
149
1522
0.45
667
1495
HTC Butterfly S
0.15
165
1117
0.43
451
1044
Apple iPhone 5
0.13
200
1490
0.48
640
1320
Sunlight legibility is another story, unfortunately. We saw even worse numbers here than on the Find 7a, and 1.691 rating is poorer than the G3 was able to muster - which were already low to begin with. The factory-installed screen protector may have played a role here, as it's quite the finger-print magnet and reduces sunlight legibility due to its reflectivity. We didn't try to remove it on our review unit, but we would have without a doubt done so if it was a personally purchased device. The Gorilla Glass 3 layer on top should be enough to keep the screen in top shape even without a screen protector film.
Sunlight contrast ratio
Nokia 808 PureView
4.698
Apple iPhone 5
3.997
Samsung Galaxy Note 3
3.997
Samsung Galaxy S5
3.549
Samsung I9300 Galaxy S III
3.419
Nokia Lumia 925
3.402
Samsung I9505 Galaxy S4
3.352
Samsung Omnia W
3.301
Samsung Galaxy S
3.155
Samsung Galaxy S4 mini
3.127
Samsung Galaxy S4 zoom
3.118
Nokia N9
3.069
Samsung Galaxy Note
2.970
Sony Xperia Z1
2.950
HTC One S
2.901
BlackBerry Q10
2.856
Samsung Galaxy S II
2.832
Samsung Galaxy S II Plus
2.801
BlackBerry Z30
2.790
Huawei Ascend P1
2.655
Sony Xperia ZR
2.672
Nokia Lumia 900
2.562
HTC One Max
2.537
Nokia Lumia 720
2.512
HTC One
2.504
Sony Xperia Z
2.462
Samsung Galaxy S III mini
2.422
HTC One (M8)
2.371
Motorola RAZR i
2.366
Samsung Galaxy Note II
2.307
Oppo Find 7a
2.279
Apple iPhone 4S
2.269
HTC Desire 600 dual sim
2.262
LG Nexus 5
2.228
HTC One X
2.158
Nokia N8
2.144
Oppo Find 5
2.088
BlackBerry Z10
2.051
Apple iPhone 4
2.016
HTC One mini
2.003
LG G2
1.976
Sony Ericsson Xperia ray
1.955
Sony Xperia Z2
1.944
Samsung Galaxy Camera
1.938
LG G Pro 2
1.922
HTC Butterfly
1.873
Huawei Ascend P6
1.865
LG G3
1.820
Sony Xperia V
1.792
Sony Xperia U
1.758
Meizu MX3
1.754
Sony Xperia T2 Ultra
1.740
Oppo Find 7
1.691
LG Optimus 4X HD
1.691
HTC One V
1.685
BlackBerry Q5
1.682
LG Optimus Vu
1.680
LG Optimus GJ
1.666
HTC Desire V
1.646
Samsung Galaxy Ace 3
1.622
Sony Xperia Z Ultra
1.578
Samsung Galaxy Core
1.563
LG Optimus G Pro
1.552
LG Optimus 3D
1.542
Samsung Galaxy Core LTE
1.542
Nokia Asha 302
1.537
Sony Xperia M
1.473
Nokia Lumia 610
1.432
Samsung Galaxy Grand Neo
1.393
Gigabyte GSmart G1355
1.361
Samsung Galaxy Grand
1.321
HTC Desire C
1.300
Nokia Asha 501
1.270
LG Optimus L7
1.269
LG Optimus L9
1.227
Meizu MX
1.221
Sony Xperia E dual
1.203
Samsung Galaxy Pocket
1.180
Sony Xperia tipo
1.166
Samsung Galaxy mini 2
1.114
Battery life
Oppo has bumped the battery on the Find 7 to 3,000mAh, which is a step above the 2,800mAh unit found on the Find 7a. It's a logical step as it's expected that the higher-res screen will need more juice - an expectation that proved to be all too true.
Like the on the LG G3, QHD screens apparently take a lot of power to run, and activities performed with the screen on - like web browsing and watching videos - took a serious toll. 3G talk time and an ample ultimately salvaged the score to be a somewhat acceptable 44 hours, but that's only with one hour of talking, surfing, and watching videos per day.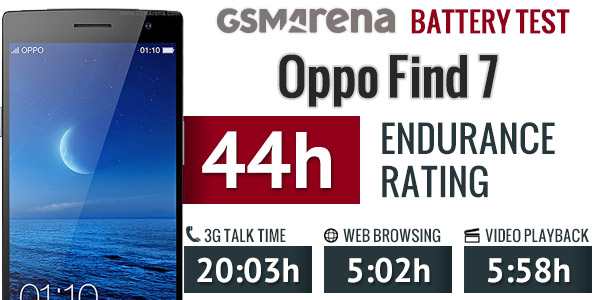 The Find 7's 4.5Amp charger can fully charge the battery in about an hour, which is a plus. If in a hurry, a few minutes on the charger will give the Find 7 enough juice to last a couple of hours, and a 30 minute charge is enough bring it to 75%. These are officially supplied numbers from Oppo but we found them to hold true in our own testing as well.
For a more detailed breakdown of the Oppo Find 7 battery performance check out our blogpost.
Our proprietary score also includes a standby battery draw test, which is not featured in our battery test scorecard but is calculated in the total endurance rating.
Our battery testing procedure is described in detail in case you want to learn more about it.
Complete connectivity package
The Oppo Find 7 comes jam-packed with connectivity features. It has quad-band GSM, penta-band HSPA and quad-band LTE Cat.4. There's dual-band Wi-Fi b/g/n, DLNA and Wi-Fi Direct, Bluetooth 4.0, NFC, microUSB 2.0 with USB On-the-go support.
One useful app here is the System update app, which helps you update the phone's software over the air or from a local file (a ZIP saved in the internal memory). The latter is one of the easiest software upgrade utilities we've seen.
There's a Data monitor app preloaded on the Oppo Find 7, which keeps track of data used over Wi-Fi and the carrier network. The app can set limits and also break down the used data by apps.
Not everyone uses same amount of apps as you.
Anonymous
20 Jul 2016
uCm
This phone support Wi-Fi AC too, 1. Fast charging, ops, none of these 2 have it.. 2. 2K screen, these phone don't has it. 3. Double tap to wake and lock, sorry, so called flagship phone don't need it. For everything you want to compare,...
Noob. I have 20 gb of apps. Not enough? If not, find a 64gb or 128gb phone.