LG G3 vs Oppo Find 7: Resolution wars
Resolution wars
GSMArena team, 15 July 2014.
Introduction
The LG G3 and Oppo Find 7 are the most recent embodiment of the latest and greatest that smartphones can offer, being the first (and still only) two devices that sport QHD screens. Whether or not a resolution of 2560 x 1440px on a 5.5-inch display is overkill or even necessary is beyond the scope of this shootout.
If you're looking at either of these devices it's because you want the latest cutting edge technology that can be found in a smartphone. Whether or not that technology is capable of providing a robust smartphone experience, however, is a different question altogether.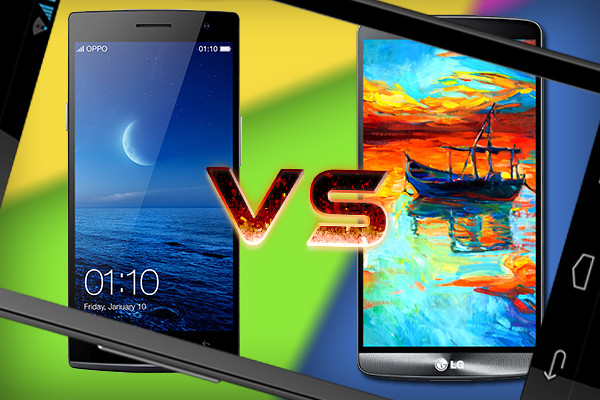 Smartphones continue to represent the crest of each coming modern technological wave, garnering the best out of companies seeking to be rewarded through market share and huge profit margins.
In both of our comprehensive reviews of these devices, it became obvious that having to power additional pixels takes quite a bit of extra juice. Even though both devices sport hefty 3,000mAh batteries, each reflected relatively poor battery life while the screen was on. But battery life isn't everything - let's take a look at how the two devices fare against one another.
G3 over Oppo Find 7
Updated Snapdragon 801 chipset - MSM8975AC vs. MSM8974AC
Improved low-light laser-assisted auto focusing, optical image stabilization
FM radio (D855 model only)
IR-Port
More compact, lighter
Newer Android version - 4.4.2 KitKat vs. 4.3 Jelly Bean
Built-in wireless charging
Oppo Find 7 over G3
Screen has better contrast and sunlight legibility
5MP front-facing camera vs. 2.1MP
Considerably Cheaper retail price (vs. 32GB G3 model)
While the race to higher screen fidelity required its fair share of sacrifices, the LG G3 and Oppo Find 7 don't just have a pretty picture going for them. The G3 is one of the more refined designs we've seen in a while, with LG being able to fit in a 5.5-inch diagonal in the almost same footprint as many rival 5-inchers, and with a low weight to boot. Oppo has loaded the Find 7 with enough firepower under the hood to top out our benchmark charts, beating out the likes Samsung and Sony in many of our tests.
Ultimately, both devices offer compelling packages, each boosted by the addition of the QHD display. Both give current flagships a run for their money in different ways, and not just when it comes to screen fidelity. The only question is, which is the better of the two? Let's find out!
Feride LG G3
24 Apr 2016
SHp
LG G3 forever and ever! I love it.
To me an impressive multi-function with low battery life is just a doll phone
Anonymous
08 Aug 2014
5Er
What is the point of having a 2K resolution on a 5.5 inch display which is a ppi of 534? For a display of that size a ppi of 400 is more than enough. You will need higher resolution as the display scales up. For normal eyesight, there is no differenc...