Oppo Find N long-term review
GSMArena Team, 2 May 2022.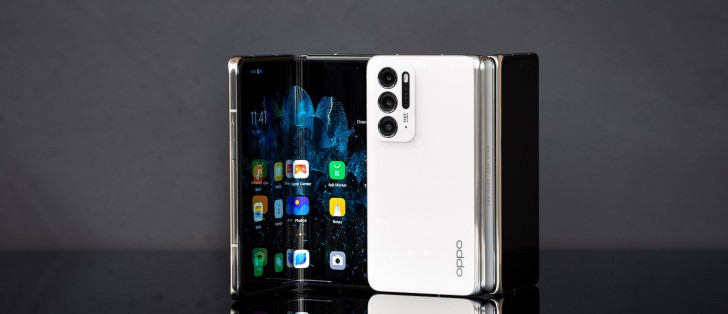 Design, handling
The Oppo Find N folds, and that's very obvious from the first time you look at it. If you've been living under a rock for the past few years and don't know that foldable smartphones are a thing now, you may think that the Find N is two phones stacked on top of each other, because there is a lot of symmetry to the two "sides". But then the hinge makes it very clear that something else is going on here.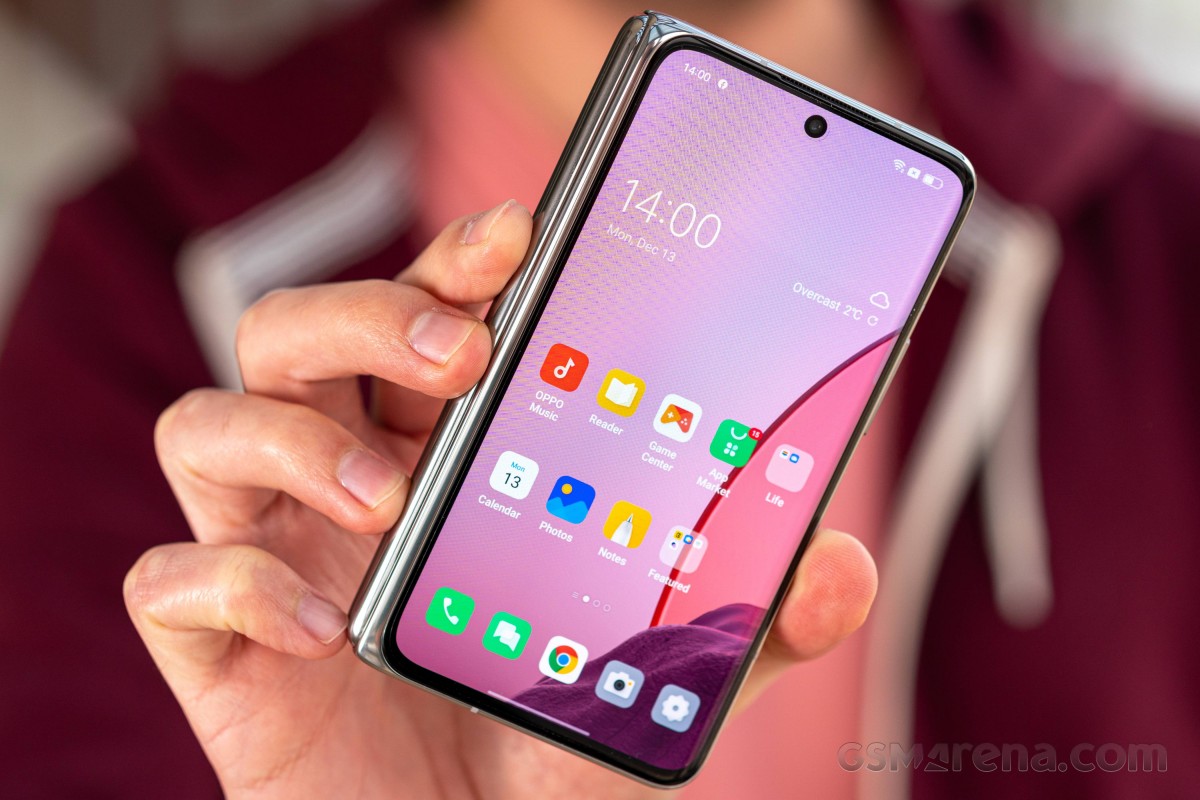 If you're familiar with Samsung's Fold and Flip lines of foldables, the Find N will be intriguing to you because it can't be compared in size to either of those. It sits neatly in between, smaller than the Fold but bigger than the Flip. It folds like the Fold too, so perhaps that's the more adequate comparison, although its external screen has a much more traditional aspect ratio. It isn't overly tall, in fact, it's wider than most normal smartphones these days, thanks to the 18:9 aspect ratio, which used to be all the rage a while ago but isn't anymore.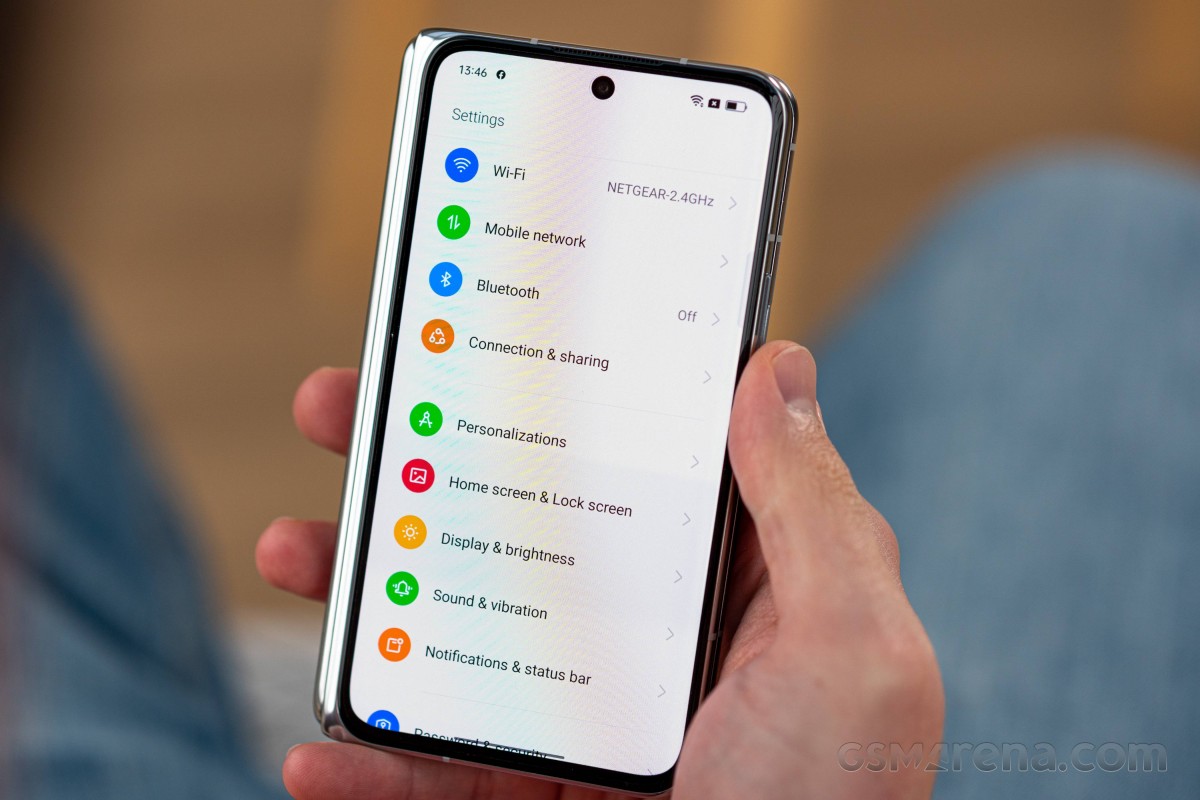 If you ignore the thickness from the front when looking at the outer screen, the Find N seems rather vintage - except the tiny bezels make it clear that this isn't a device from 2014 either. So that's definitely interesting.
Once you open it up, the foldable screen is rather square - not quite, but almost, and it opens up in 'landscape' mode, unlike the Fold, which opens up in 'portrait' mode. Oppo made a huge deal out of this at the unveiling event, but honestly, we wouldn't care either way. That aspect ratio is so close to square that the difference between 'landscape' and 'portrait' is academic at best - although not so when it comes to software (we'll get to that in the appropriate section).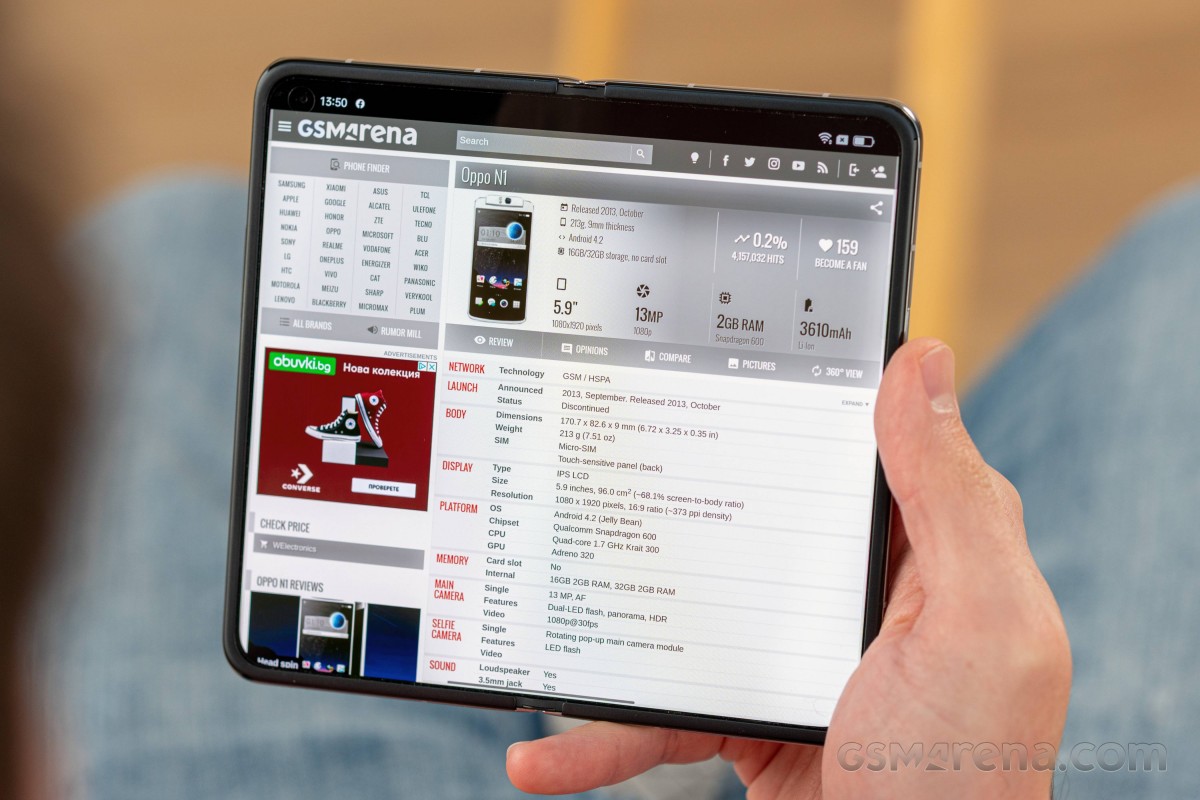 The Find N is heavy, as you'd expect from a foldable device that has such a big internal display and a lot of metal around the sides and inside the hinge. And yet, because of the outer screen's aspect ratio and size, it's very easy to use one-handed while closed. Probably more so than most modern smartphones when it comes to reaching for the notification area, for example. That said, the weight is something you definitely need to get used to, and will always feel when you're using it closed.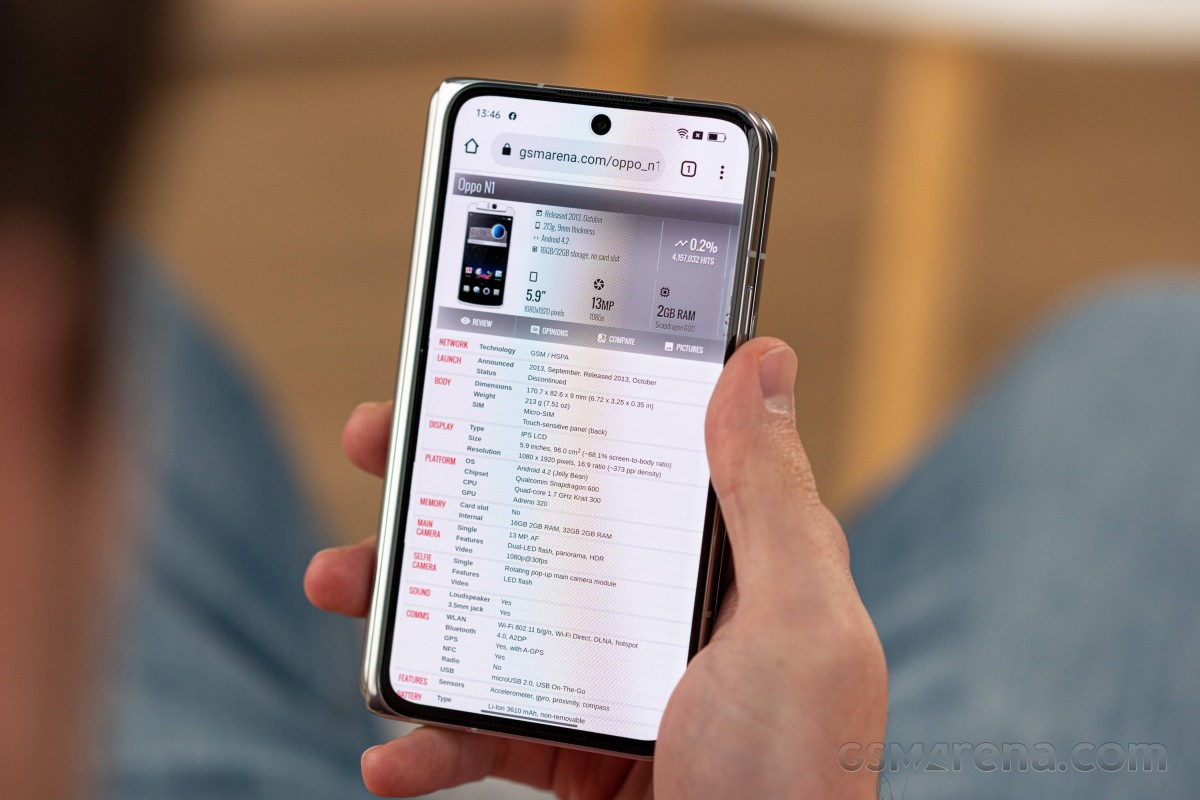 Open it up, and things change because now there's the feeling of more surface area to spread the weight across. As a very small tablet, it really doesn't seem too heavy in any way, and the weight is balanced pretty well. The main handling problem with the Find N is how slippery it is. Seriously, there's no way around this: it's probably the most slippery phone we've handled in a long time.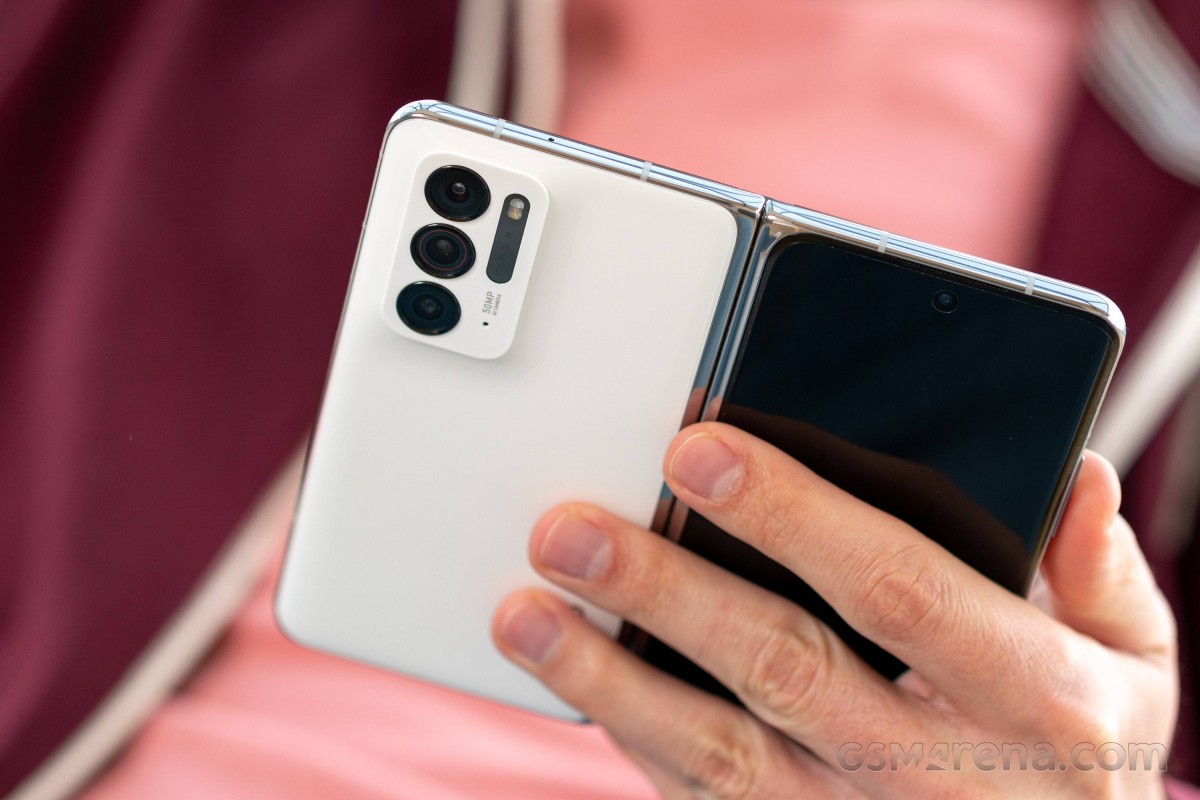 The upside of that is that the back looks wonderful, at least in our white version, and it doesn't show any fingerprints at all. The 'pearl' effect on the back glass goes nicely with the ceramic plate that's adorning the camera island, and the glass gently curves upwards toward that, in a way that's reminiscent of the Find X3 Pro - but the effect isn't as extreme here, as it's not all glass and that ceramic plate 'sits' on top, so to speak.
Anyway, it's a neatly executed design that manages to look nice and stand out subtly. Of course, the Find N doesn't really need a lot of pizzazz on its back to look the part since the fact that it's a foldable phone simply does that automatically - it's not what most people expect when you pull out a phone, with its weird size and chunky look.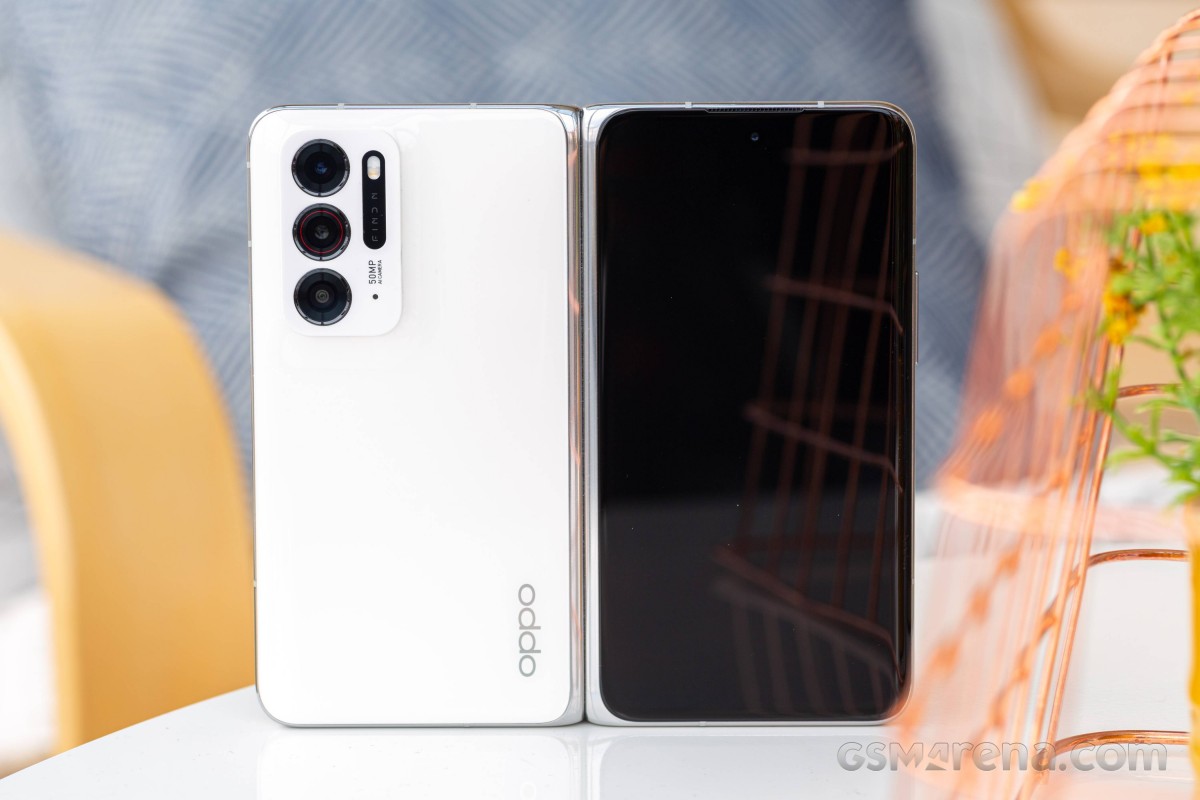 Because of how slippery the Find N is all-round (including the frame), it's rather hard to open, as your fingers keep wanting to slip over the frame. And it's impossible to open with one hand, that's for sure. You'll always need a bit of patience and attention when attempting this in order not to drop it. A case of some sort in the box may have helped had it been less slippery on the sides, but, alas, there is no bundled case. Perhaps this was meant to keep the price lower, but it's a glaring omission in our view, because it's unlikely that a lot of third-party case makers would invest in making products for such a niche device.
So, handling is, when closed: better than the Fold3, worse than the Flip3, better than a normal slab phone in that the outer screen's size and aspect ratio make it easier to reach all of its extremities but also worse than a normal slab phone because of the thickness and the weight.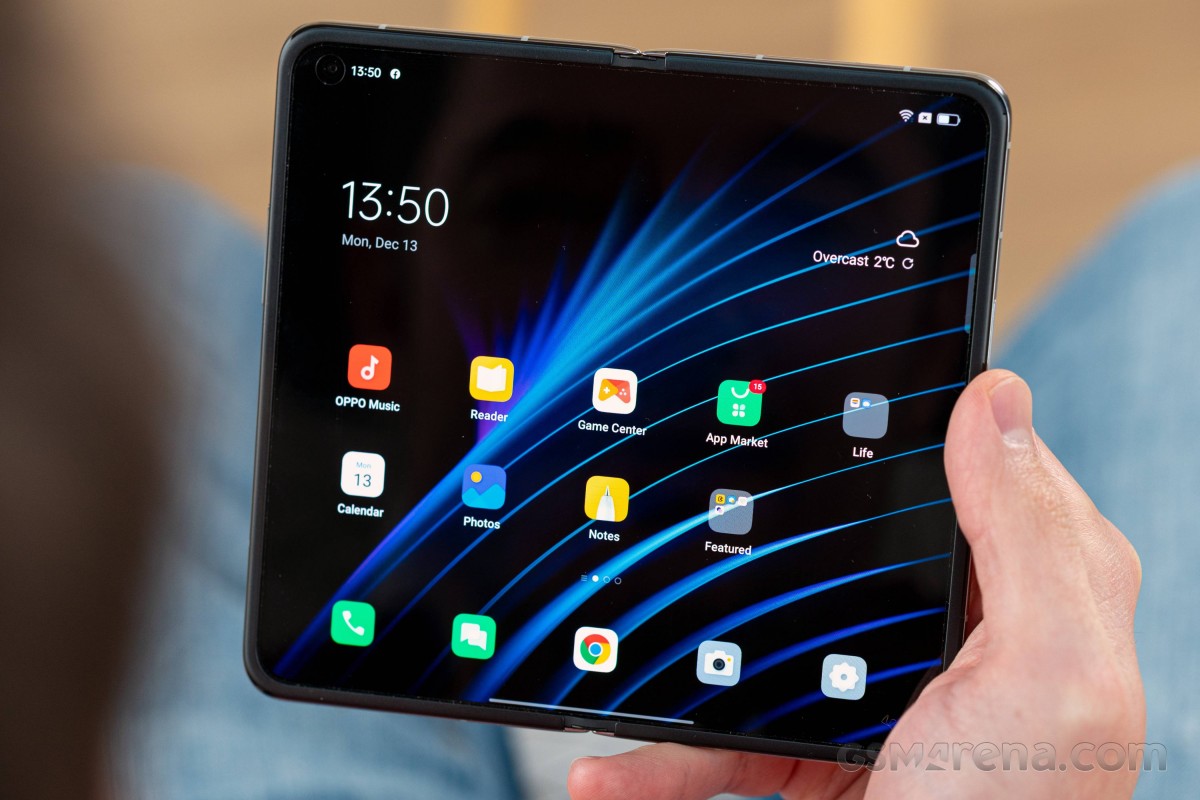 When opened, the Find N turns into a small tablet, and that's obviously amazing to see to this day, even if there are a bunch of foldables around now.
Because of the size, handling when opened is perfectly doable with one hand, although the back's slipperiness will fight you on that. We found that actually rotating to 'portrait' works better because then you can prop one of your fingers against the hinge on the rear and that helps alleviate most of the phone's slippery tendencies.
In terms of design, there's not really much to say: the back is nice and premium looking and feeling, and otherwise, the Find N is basically all just screens and metal (in the frame and the hinge). The only thing we don't get is the "Designed for Find" etching on the hinge, which is visible when the phone is closed. This "designed + something" trend really needs to die off, dear Chinese device makers. It's pointless and transparent in how it wants to emulate Apple's "Designed in California", without actually going all the way to "Designed in China" or "Designed in Guangdong" or something like that.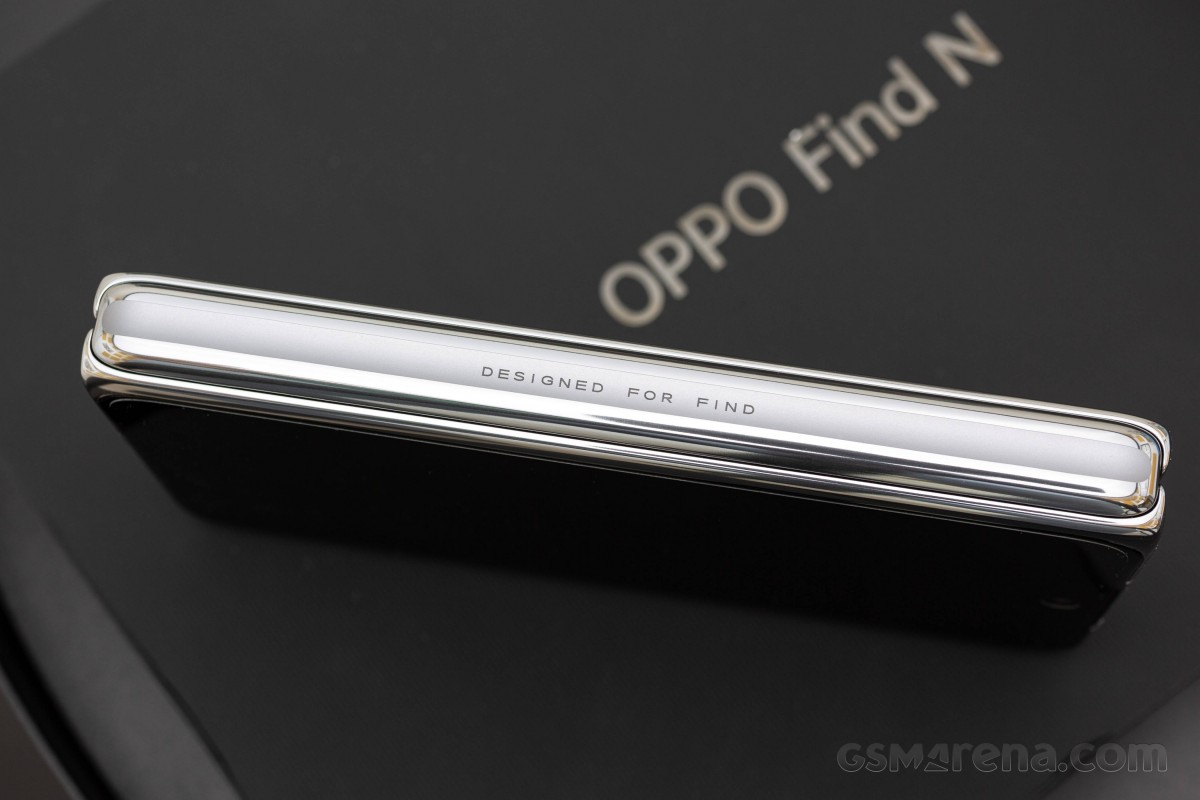 Build quality is outstanding, and the magic of there being zero hinge gap when folded is something we're still excited about. It just feels right. And looks right. Although technically there is the smallest of gaps still there, with the raised bezels around the internal screen hide this 99%, unless you really go peeping you won't notice and the most important thing here is that the two 'sides' are parallel to each other when the phone is closed. Take note, Samsung.
Speakers
On the other hand, there's no water ingress protection here whatsoever, and the placement of the speakers is less than ideal since when the phone is closed, they're basically on top of each other at the bottom and act more as one big speaker than two stereo ones. <бp>
Things improve when the phone is opened, where there's more separation between them, but perhaps the Find N would have required two additional speakers on the top sides for proper surround sound action.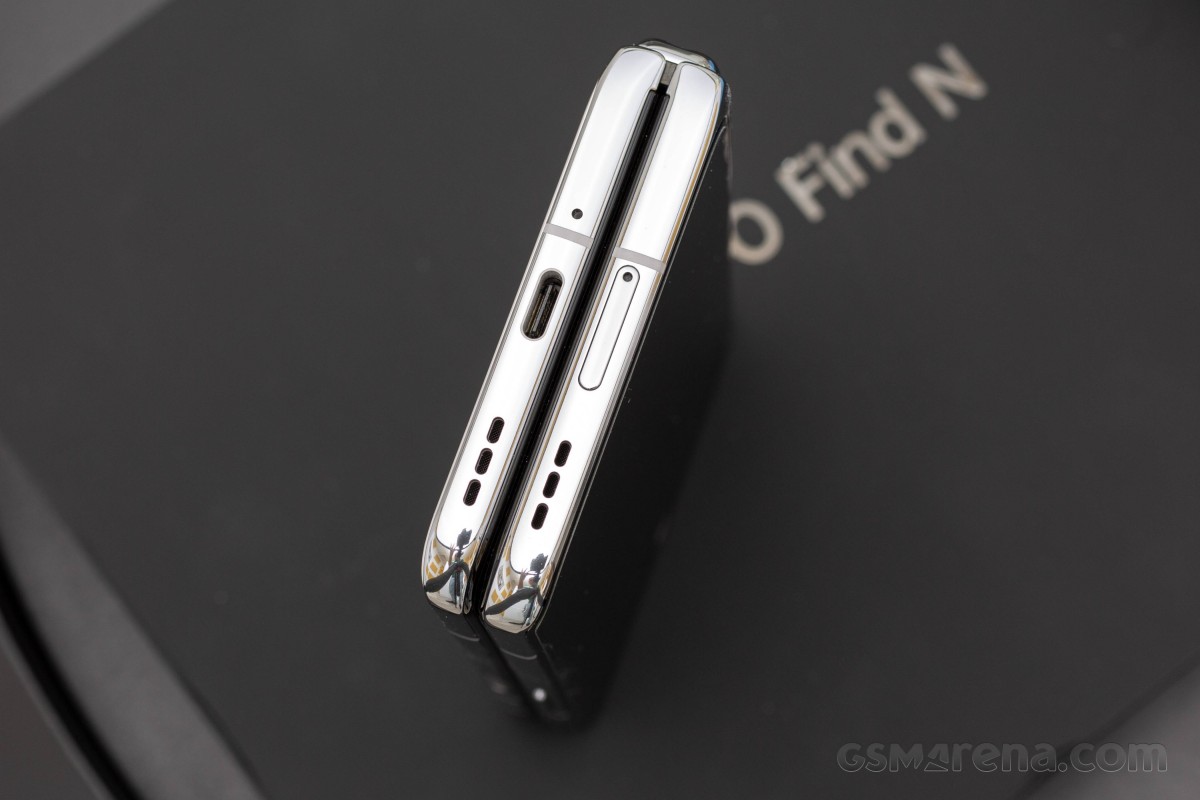 As it is, the dual speakers are very loud and very good sounding - louder, in fact, than those on any slab-type phone we've ever long-term reviewed and on par with the best of them in terms of quality. If these were on opposite sides of the phone at all times, we'd rate them among the best out there, plain and simple. And technically, they still are exquisite; it's just that the placement hinders their enjoyment somewhat.
Buttons, biometrics, vibration motor
Oppo is one of the rare companies that like to place the volume rocker (or even separate volume buttons) on the left side of a normal, non-folding smartphone, while the power button is on the right. This makes for some neat symmetry (because the middles of the buttons on both sides are usually aligned vertically). And Oppo is being Oppo about this on the Find N too, except there's a folding twist: while the volume rocker is on the left if you open up the phone when it's closed, the volume rocker sits awkwardly above the power button. And they're not in any way aligned either, which for OCD sufferers won't be a great sight to behold.
All of this is to say that, while the phone is closed, you may struggle to locate the power button by touch alone, as you'd first need to touch the volume rocker and then go digging under it. It's not a huge deal, obviously, but we still found we had to do it even months after we started to use the Find N.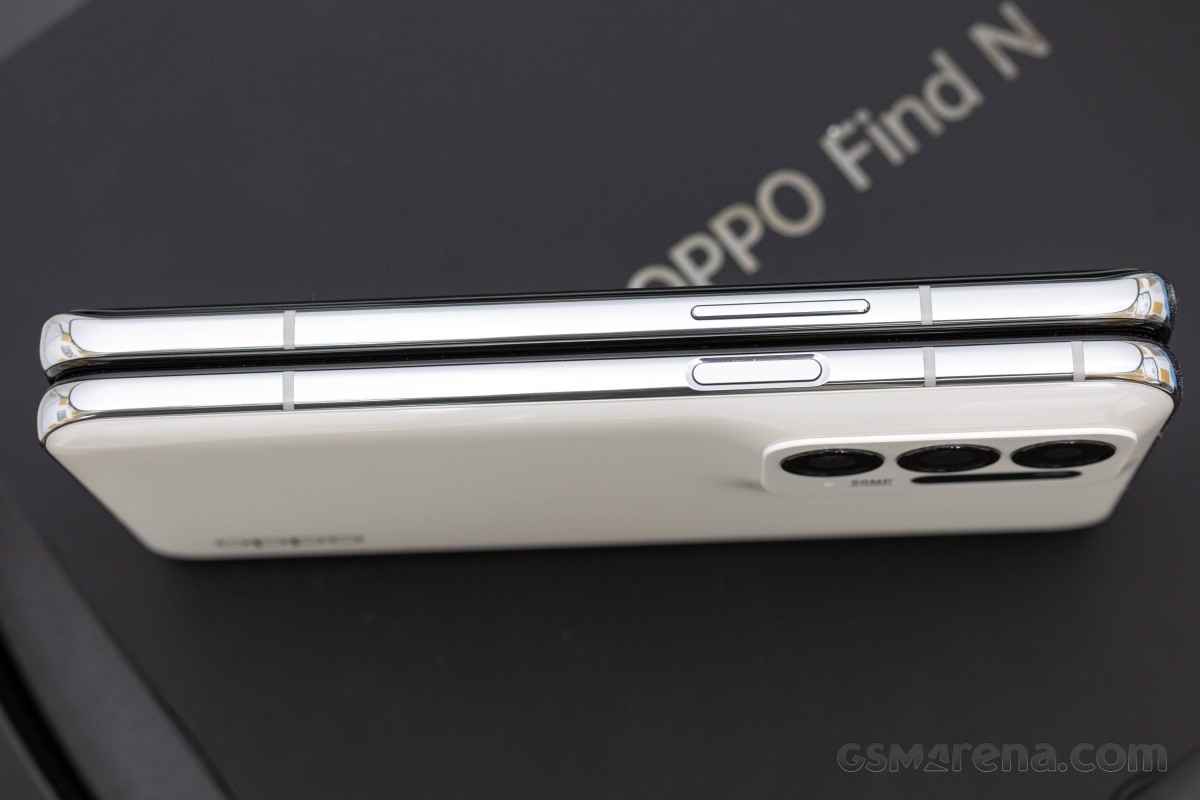 The fingerprint sensor is embedded in the power button, and as far as accuracy from the first try goes, this isn't among the best out there. It's basically on par with Xiaomi's mid-rangers and 'flagship killers' from a while back (those have gotten much better in the latter part of last year). If we were to give an estimate, we'd say the fingerprint sensor unlocked the phone on the first try about 85% of the time for us, and that's not worth celebrating.
These side-mounted sensors do all have the same physical issue, in that they're narrow, so they can't possibly take in all of your fingerprint at once. We did take extra care when enrolling to make sure all of the surface area of the fingerprint was covered, but even so, we found the accuracy here lacking. Speed of unlocking was good, but also not among the best we've seen, although the delta, in this case, is much smaller than when we were talking accuracy.
If this state of things gets annoying for you, there's also face unlocking, of course, and that is extremely fast, accurate and reliable. Still, the downside is it's only using the front-facing cameras, so it is much less secure than the fingerprint scanner. You get to pick your poison, then.
The vibration motor is very good, but that was expected of such a premium device. We'd still call Apple's better, and the ones Samsung used to use for the Ultras too, but this isn't a bad one in any way.
The issue we had with it has nothing to do with the hardware motor but with the fact that ColorOS 12 doesn't really use it that much while you're navigating the UI - definitely not as much as the latest iterations of MIUI do, and we feel like that's a lost opportunity of sorts to make the user experience more physical. There is a Haptic intensity slider and a way to pick "how touches feel", but that's about it.
Truly appreciate you taking
You can buy this on AliExpress and pay an extra $24 for fast DHL shipping. It's a great phone, helped my friend order one. I fooled round with it and it's gorgeous. The software is great, and the phone performs so well. A near invisible ...