Oppo Find X2 review
GSMArena team, 6 May 2020.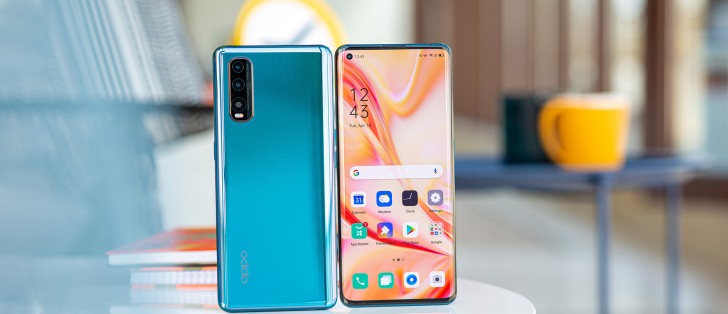 6.7-inch AMOLED is among the leaders of the pack
The Oppo Find X2 is equipped with the same display as the X2 Pro - a 6.7-inch AMOLED with a 1440x3168px resolution in a 19.8:9 aspect ratio. It's also capable of a 120Hz refresh rate and unlike the Galaxies of the day you can set both the resolution and the refresh rate at the highest settings at the same time.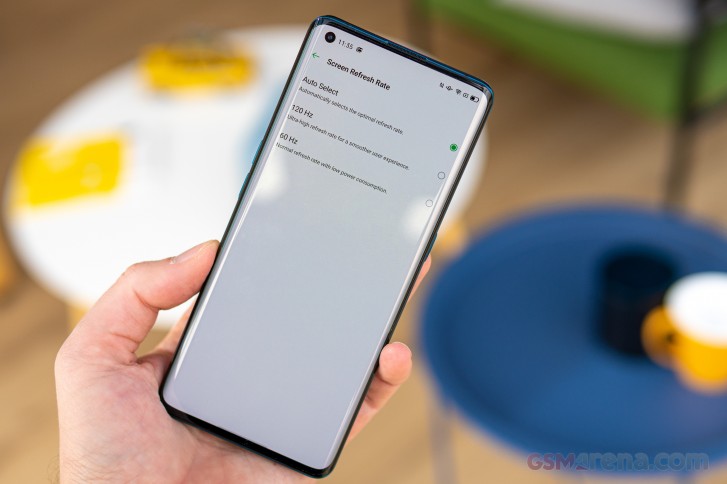 We measured a maximum brightness of 850nits in bright ambient light conditions in auto mode and a value of 518nits when adjusting the slider manually. Both of these are slightly lower than what we measured on the Find X2 Pro, but still properly excellent numbers well worthy of a modern-day high-end device. As we've seen on other handsets, the Find X2 Pro included, the Find X2 will give its display a boost in particularly bright outdoor conditions even if the auto toggle is disengaged, which we do appreciate.
Display test
100% brightness
Black,cd/m2
White,cd/m2
Contrast ratio
Oppo Find X2
0
518
∞
Oppo Find X2 (Max Auto)
0
850
∞
Oppo Find X2 Pro
0
536
∞
Oppo Find X2 Pro (Max Auto)
0
871
∞
Samsung Galaxy S20+
0
379
∞
Samsung Galaxy S20+ (Max Auto)
0
797
∞
Xiaomi Mi 10 Pro
0
510
∞
Xiaomi Mi 10 Pro (Max Auto)
0
858
∞
Huawei P40 Pro
0
425
∞
Huawei P40 Pro (Max Auto)
0
531
∞
OnePlus 8 Pro
0
538
∞
OnePlus 8 Pro (Max Auto)
0
888
∞
LG V60 ThinQ 5G
0
511
∞
LG V60 ThinQ 5G (Max Auto)
0
622
∞
The Find X2's color settings can have you a little confused at first with both the Vivid and Cinematic options mentioning the DCI-P3 color space. Oppo promises the display covers 100% of it and does so with near impeccable accuracy.
In Vivid mode we measured an average deltaE of 4.4 and a maximum of 9.1 for DCI-P3 targets with the white point being noticeably shifted towards blue (deltaE around 8).
Cinematic got us an average of 2.2 and a maximum of 3.7 when examining DCI-P3 test swatches, a bit off from the super accurate 0.7/1.3 values we got on the Find X2 Pro in this mode. This got us thinking and we retested the X2 Pro, now getting very similar results as the ones from the Find X2. Our best guess is a software update changed things up a bit. Still, an average deltaE of 2.2 is a relatively well calibrated display. Mind you, the 3 primary colors (RGB) and the midpoints between them (CMY) are still within a 0.5 deltaE on both phones - essentially spot-on.
Gentle mode is tuned for sRGB reproduction and we measured an average deltaE of 2.2 for the respective test swatches. Naturally, it comes with a subjectively dull rendition.
The display on the Oppo Find X2 is a HDR10+ compliant, meaning it has more than a little to do with Samsung, the company behind the standard. Finding HDR10+ content on mainstream channels isn't the easiest task, with only Amazon Prime Video offering it. HDR10, on the other hand is widely available and the Find X2 plays such videos from YouTube.
We had a very weird experience with Netflix, however. It lists HDR shows as HDR, but in the playback specification page of the app it says the phone has no HDR capability and is limited to standard definition. The Netflix website lists the Find X2 as a supported device (three versions of it, ours included), yet that isn't the case with our review unit. DRM info specifies a Widevine Security level L3, while Netflix requires the highest L1, and it's a prime suspect for what's the cause of the issue, but we have no explanation as to why our unit isn't L1, which it should be. We had no such trouble with our Find X2 Pro review unit.
Oppo Find X2 battery life
The Oppo Find X2 is powered by a 4,200mAh battery - an insignificant downgrade when compared to the Pro. Competitors like the Galaxy S20+ and the Xiaomi Mi 10 Pro have 4,500mAh each while the Huawei P40 Pro has the same capacity power pack as the Oppo.
In our testing, with the display options set at the maximum values (120Hz refresh rate, 1440p resolution), the Find X2 posted an underwhelming result in web browsing (8:49), but an excellent video playback endurance (16:07). The talk time was an okay but not great 23 hours and coupled with a similarly meh standby result, the Find X2 arrived at overall Endurance rating of 80h.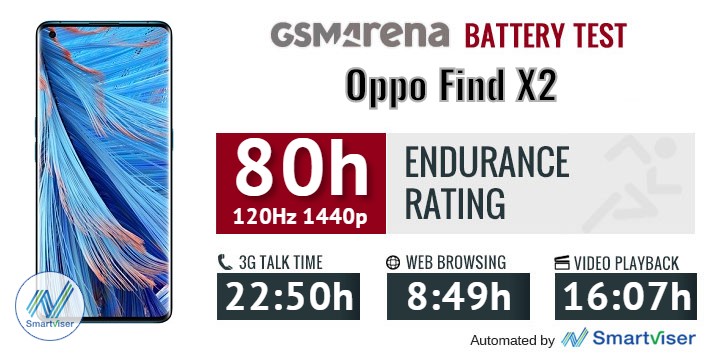 Our battery tests were automated thanks to SmartViser, using its viSer App. The endurance rating above denotes how long a single battery charge will last you if you use the Oppo Find X2 for an hour each of telephony, web browsing, and video playback daily. We've established this usage pattern so that our battery results are comparable across devices in the most common day-to-day tasks. The battery testing procedure is described in detail in case you're interested in the nitty-gritty. You can check out our complete battery test table, where you can see how all of the smartphones we've tested will compare under your own typical use.
We happened to have a couple of extra days in our review schedule to test all four possible combos of resolution and display refresh rate (don't get used to it) and we've arranged the results in this here table. Since talk time and standby longevity isn't affected by those, we've omitted them for clarity.
| | | | |
| --- | --- | --- | --- |
| Mode | Endurance Rating [h] | Web browsing [hh:mm] | Video playback [hh:mm] |
| 120Hz 1440p | 80 | 8:49 | 16:07 |
| 120Hz 1080p | 82 | 9:04 | 17:23 |
| 60Hz 1440p | 86 | 10:35 | 16:13 |
| 60Hz 1080p | 89 | 11:04 | 18:22 |
As you can see, dropping the frame rate to 60Hz while keeping the 1440p resolution brings a significant improvement in web browsing (though the 10:35h isn't a great result still) and has little to no effect on video playback. Conversely, keeping the 120Hz but dropping the resolution to 1080p barely nudges the web browsing time (just shy of 3% improvement) and has a slightly more pronounced positive impact on video playback (which was already great). Predictably, the 60Hz/1080p mode is the least taxing on the battery.
Comparing the Find X2's result in the 120Hz/1080p mode to the Galaxy S20+ with the same settings, the Oppo delivers a good 4 hours more of looping videos, though the S20+ outlasts it by 2 hours in Wi-Fi web browsing. With both set to 60Hz/1440p, the Galaxy takes a marginal lead in video and retains an advantage in web browsing.
It has been our experience that 90Hz displays put little to no strain on batteries when compared to 60Hz, or at least 90Hz-capable panels don't benefit immensely from being run at 60Hz. In any case, both the Huawei P40 Pro and the Xiaomi Mi 10 Pro 5G boast better longevity than the Find X2, pretty much regardless of what display mode you set on the Oppo.
The Find X2's bundled charger does help mitigate those unimpressive browser times. The 65W brick tops up the phone's battery in 38 minutes, just as Oppo promises. 30 minutes into the process you'd be looking at 94%. To achieve these speeds, you need both the proprietary charger and cable - with standard QuickCharge or USB PowerDelivery peripherals you can expect up to 18W charging.
Speaker test
The Oppo Find X2 has a stereo speaker system with the main driver firing out the bottom and the earpiece doubling as a second channel - left in portrait orientation but switching if need be to match the right direction in landscape.
The Find X2 earned a 'Very Good' score for loudness in our testing, a notch higher than the Huawei P40 Pro and same as the Galaxy S20+ and Mi 10 Pro. It can't quite match the Galaxy for sound quality, though it's close, while our newly established loudspeaker reference in the Mi 10 Pro is in a class of its own.
Use the Playback controls to listen to the phone sample recordings (best use headphones). We measure the average loudness of the speakers in LUFS. A lower absolute value means a louder sound. A look at the frequency response chart will tell you how far off the ideal "0db" flat line is the reproduction of the bass, treble, and mid frequencies. You can add more phones to compare how they differ. The scores and ratings are not comparable with our older loudspeaker test. Learn more about how we test here.
Anonymous
14 Sep 2020
D0b
In that case iphone 11 pro max should be around 550$
Anonymous
29 Jun 2020
pK0
It is in china
Anyone Have Call Issue This Device