Oppo Find X2 Pro review
GSMArena team, 18 Mar 2020.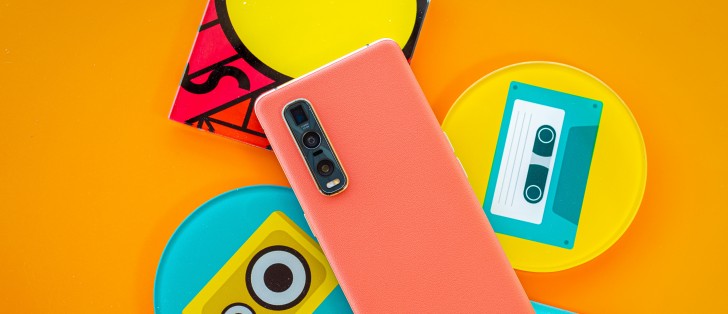 Yet another triple camera like no other
The Oppo Find X2 Pro has a camera system that you won't find on another phone - we seem to be saying this quite often recently. Its uniqueness is in the details, of course - on the surface, it's a fairly classic trio of cameras with an ultra-wide, regular wide and telephoto lenses.
Let's start top to bottom on the photo above. The Find X2 Pro builds on the Reno 10x zoom (that's just its name) and comes with a periscope lens on its telephoto camera. This one has an equivalent focal length of 129mm in 35mm camera terms and since the main cam is around 25mm, you can say the periscope gives you a 5x optical zoom.
The periscope lens has an f/3.0 aperture and is stabilized. Behind it, there's a relatively small-ish 1/3.44" 13MP sensor - compare that to the Galaxy S20 Ultra's 1/2.0" 48MP imager on its telephoto.
There are big sensors on the Find X2 Pro, though. The ultra-wide angle cam uses a sensor other phones employ for primary cams - a 48MP Type 1/2.0" imager with 0.8µm pixels and a Quad Bayer color filter array. In front of it is a 16.5mm equivalent lens with an f/2.2 aperture. Oppo's specsheets say it covers a 120-degree field of view, but we reckon that's not the case after comparing with rival phones, plus we got the 16.5mm number after asking specifically. It's probably some sort of miscommunication from engineering to marketing department. What's a key feature of this module, particularly in comparison to high-profile rivals, is the autofocusing capability - the Galaxies and the iPhones have fixed-focus ultra wides.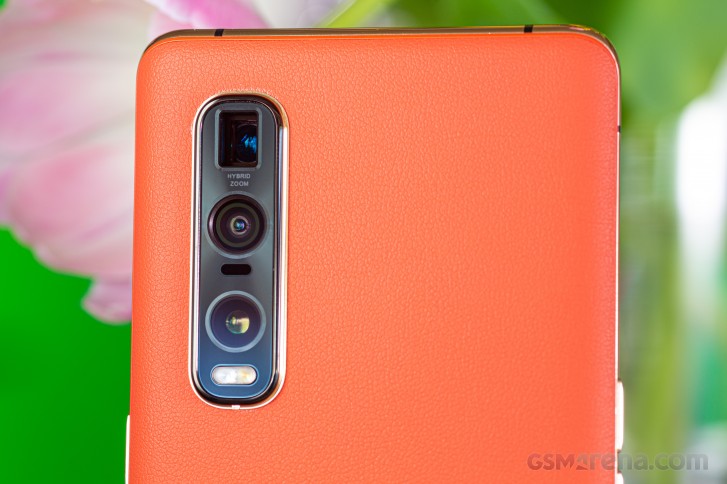 The main camera is next on the list, and it uses a custom Sony IMX 689 imager which is a Type 1/1.43" or 11.2mm in physical diagonal. It's got 48MP of resolution and each of these pixels is 1.12µm big. Thanks to the Quad Bayer filter array on top, that makes for 12 million 2.24µm pixels, sort of. For reference, the majority of 48MP cams on the market have 0.8µm pixels or 1.6µm when you group four of them together, while the S20 Ultra's 9-to-1 binning makes for 2.4µm pixels, 12 million of them.
The sensor has dual native ISO, meaning it applies different gain and has different processing paths for low ISO images shot in bright light and high ISO photos captured in low light offering better performance in each scenario. It also has what Oppo calls 'All Pixel Omni-directional PDAF', which uses all pixels for phase difference detection. However, unlike dual pixel which can't detect changes in the horizontal direction, Oppo's sensor is superior in that it's sensitive to detail and pattern changes in both the horizontal and vertical directions - hence the 'omni'.
The lens on this main camera has a 25.46mm equivalent focal length, Oppo told us, which we'll be treating as 25mm - it's plenty precise enough. It's got an f/1.7 aperture and is stabilized as well.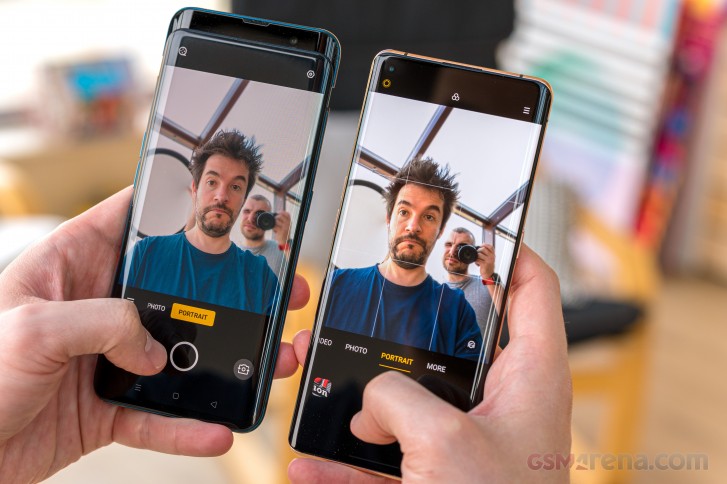 The Find X2 Pro has laser autofocusing as well - perhaps a bit overkill when there's the all pixel omni directional PDAF thing, but they know better.
As for selfies, there's a 32MP cam on the front. It too has a Quad Bayer filter in front, but Oppo's chosen not to offer an 8MP mode and demosaics to 32MP only. More importantly, the camera doesn't have autofocus which is a bummer.
Camera interface
The Find X2 Pro's camera app is similar to what you'd find on other Oppos, though the iconography has been tweaked and there's a few other touches here and there. You can change modes with swipes to the side, but you can't flick up or down to switch to selfies like Samsungs let you - there's a toggle for that. There are more modes than the ones listed and those can be found in the 'More' tab. There is no way to rearrange the modes or add or remove ones.
There are numerous ways for operating the zoom controls. Tapping on the current zoom level cycles between them all - 1x-2x-5x-10x-UW. Tap and slide in either direction and you get a zoom wheel that offers 0.1x steps and can get you all the way to 60x. Alternatively, you can tap on the dots for direct access to the respective magnifications. Pinch to zoom works too.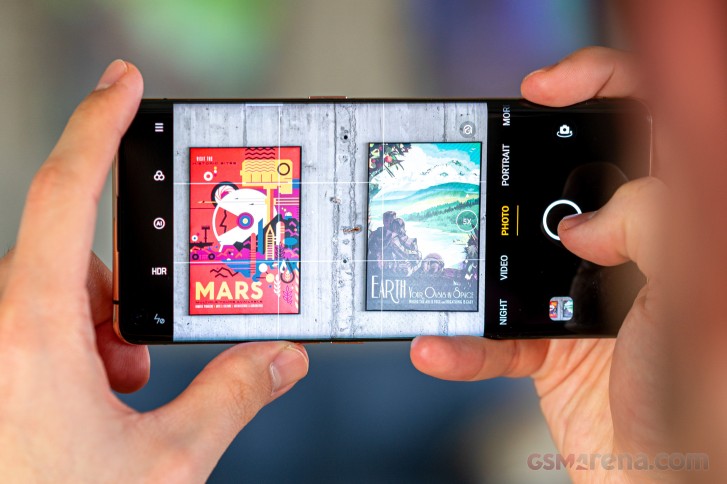 We have a bit of an issue with the zoom handling, however. The phone will switch cameras based on focus distance with little visual feedback other than the abrupt change in framing that results from the cameras' different position relative to the subject. For example, if you're at 5x and try to focus on something that's too close for that module to focus on, the phone will switch to the main cam. We're trying to decide for ourselves whether that behavior has an advantage over simply refusing to focus.
Similarly, if you're at 1x and try to focus on a subject closer that about 12cm, it'll switch to the ultra wide angle cam - admittedly, in this instance it'll display a 'Macro mode' bubble in the viewfinder.
The Pro/Expert mode that can be found under the 'More' gives you more photographic control. You get to tweak exposure (ISO in the 100-6400 range and shutter speed in the 1/8000s-32s range), white balance (by light temperature, but no presets), manual focus (in arbitrary 0 to 1 units with 0 being close focus and 1 being infinity) and exposure compensation (-2EV to +2EV in 1/6EV increments).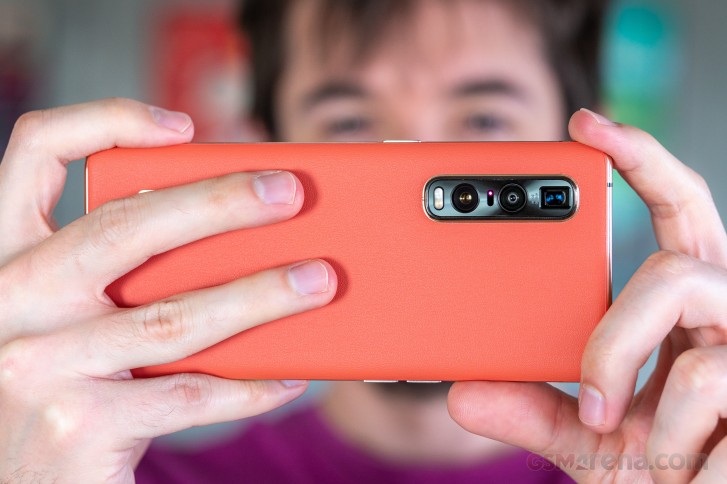 You do get to shoot on all three cams in this Expert mode, but switching them is handled in a truly bizarre way. You get the familiar 1x-2x-5x selector, but that doesn't operate the actual cameras - it's digital zoom from whichever camera you've picked from the tree selector on the opposite end of the viewfinder. Indeed, the trees switch cameras and once you select a module from there, no focusing distance considerations will auto-switch it - that's good.
One notable omission on the Find X2 Pro is the ability to launch the camera without touch input - like a double press on the power button, the way Samsung and Google do it, or Motorola's double twist of the wrist.
Hi all, I appreciate if anyone could confirm about DLNA Miracast (wireless screen sharing) system in the phone? It doesn't showing in the features gsm arena Thanks
turn out the find x3 pro is plagued by the overheat snapdragon 888 and they downgraded the camera with gimmicky 10bit photo capture and microscope lens, the display also smaller than the find x2 pro. The only thing find x3 pro does make it righ...
The square camera is periscope zoom which does 5x optical to 10x hybrid and 60x digital. Get your information right