Oppo Find X5 review
GSMArena Team, 11 April 2022.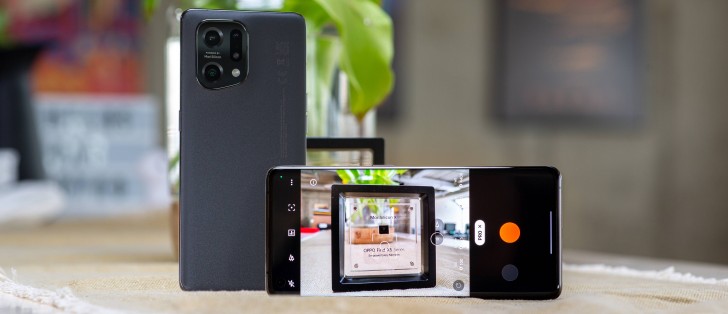 ColorOS 12.1 on top of Android 12
Technically, this is the first time we get to see Oppo's new ColorOS 12 running on top of Android 12. The Oppo Find N got really close, but it had the Android 11 underlying the custom OS. We still know what to expect, and everything looks familiar.
And by familiar we mean nearly identical not only to the ColorOS 12 that came with the Find N but also to the recently introduced Realme UI 3.0. We are talking looks, iconography, quick toggles - pretty much everything. Most of the features are also translated into ColorOS 12.1. It's maybe part of BBK Electronic's approach to software development in an effort to make support and development much easier to handle for multiple devices. It's important to note that Oppo has pledged three major software updates for all of its flagship Find X series released from 2019 onward.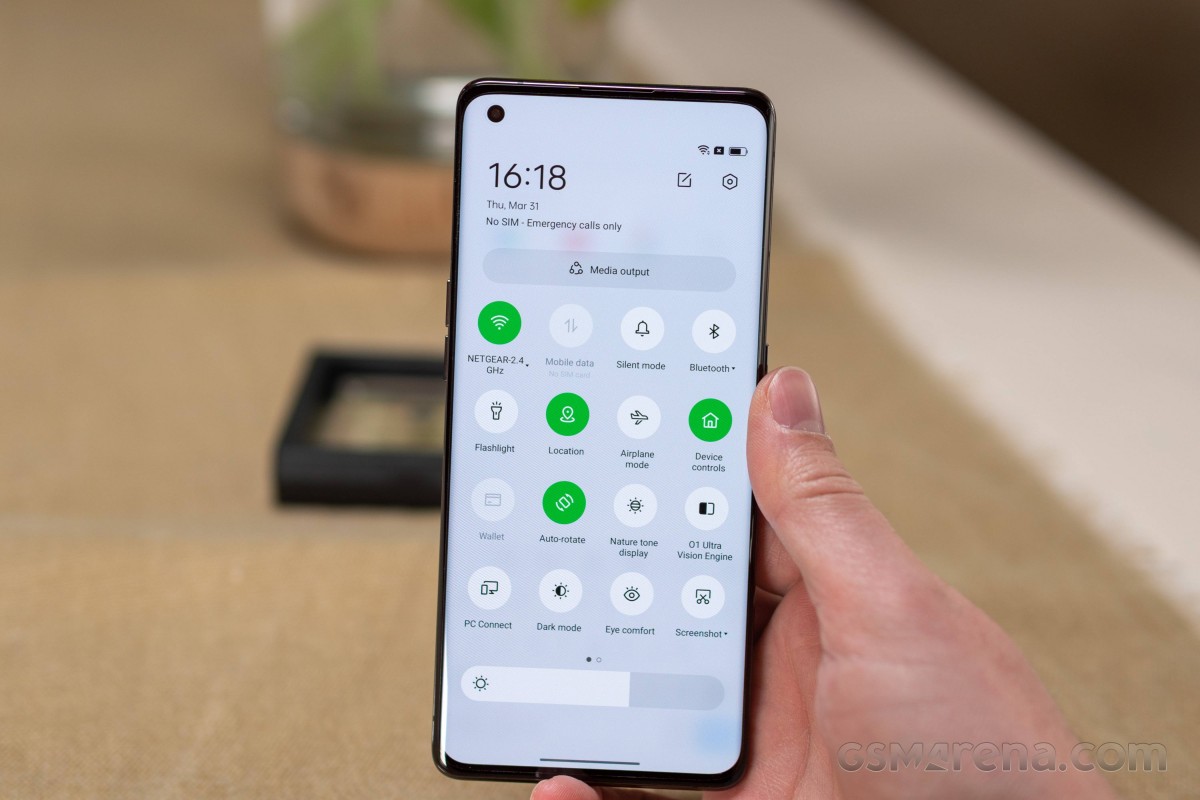 Anyway, if you've used ColorOS before, or Realme UI for that matter, you will feel right at home. The app drawer is enabled by default, the notification shade is in the usual order and the recent apps menu too. The main Settings menu features Oppo's colorful icons for easier navigation. The only difference we noticed compared to the Realme UI is the absence of an Auto brightness toggle in the notification shade. It's kind of annoying to look for the toggle deep in the settings menus instead of having one right next to the brightness slider.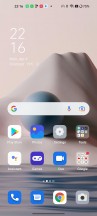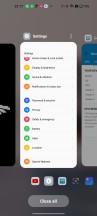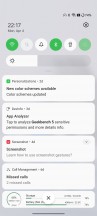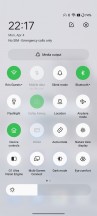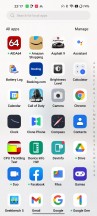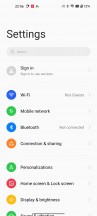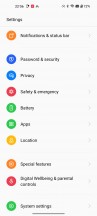 Home screen, recent apps, notification shade, app drawer
The Icon pull-down gesture is still here, and it makes it way easier to operate with one hand on an overcrowded home screen with plenty of app icons. Just swipe down alongside the edge of the display to bring down the icons close to your thumb and select an app to launch. The gesture is consistent and useful.
Android 12's new privacy features are implemented. You get a summary of all the apps that use your data, location, camera, microphone, etc., all in one place. It's called Privacy Dashboard and is something like Digital Wellbeing but privacy-focused. And in case you don't want certain apps to have your exact location, you might want to give them approximate location instead.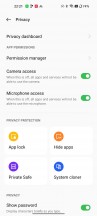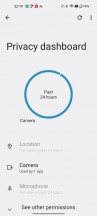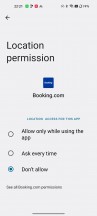 Privacy dashboard and other privacy features
For a more in-depth look at Android 12, we suggest reading our full Android 12 review as we will try to focus on the ColorOS itself in the following paragraphs.
Most of the UI elements on ColorOS can be customized. We are talking deep customization of app icons, accent colors, quick toggles and their shape, font, fingerprint reader animation, Edge lighting for incoming notifications0, of course, the Always-on display. Oppo offers quite a bit of Always-on presets, all of which are the same ones we saw in Realme UI.
We also liked the granular notification customization. The system allows for advanced notification handling in the drop-down menu such as instant replies or other suggested actions. Incoming notifications when the phone is in use will arrive with quieter sound and more milder vibration. Notification snoozing is another neat feature that lets you attend conversations or other apps later without having to keep them in the notification shade and clutter up.
For enhanced privacy, the system will hide the contents of the notification once the front-facing camera detects someone other than you. This requires the facial unlocking feature to be enabled and uses that data to match with your face.
We can't miss mentioning the excellent haptic feedback. Oppo uses an X-axis linear motor and calls the whole experience O-Haptics. You can set the vibration intensity as well as the touch feedback style - it can either be Crisp or Gentle. And that's just for the UI interactions and touches. The O-Haptics support customized vibration patterns for different people in your contact list - particularly useful for people relying solely on vibration instead of ringtones.
The Special features tabs hold the familiar Smart Sidebar and Flexible windows functions. They are both tailored towards better multitasking. When turned on, the sidebar offers quick access to some of your favorite apps. The system allows you to adjust the position of the sidebar, which is crucial because it might interfere with the back gesture if you are using the standard Android gestures. Anyway, tap and hold on an app icon enters split-screen mode while a single tap opens up the app in a floating window or, as Realme likes to call it, "Flexible window". The supported apps can be opened in small, draggable and size-adjustable windows.
The Quick launch function has been around on OnePlus' OxygenOS-powered phones for a while now, and it's nice to see it making its way to other brands under the BBK Electronics umbrella. Once enabled, you can set up to three apps that can launch as soon as the display is unlocked. Tap and hold on the fingerprint reader from a locked screen to open up the Quick launch menu.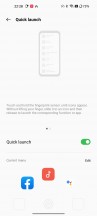 The good old screen-off gestures that allow you to launch certain apps or the flashlight by drawing letters on a locked screen are here to stay.
The experimental features that Realme offers are nowhere to be found here. The fingerprint can't measure heart rate, nor can you stream sound to connected Bluetooth and wired headsets simultaneously. Those are hardly features to miss but are worth mentioning.
Synthetic and sustained performance
Oppo's decision to put last year's Snapdragon 888 makes sense if they are looking to cut cost without sacrificing performance. After all, the Snapdragon 888 SoC is a powerful one that handles pretty much everything you throw at it. It's also manufactured on a modern 5nm node. The CPU consists of eight cores clustered in the following manner: 1x2.84 GHz Kryo 680 (ARM Cortex-X1) & 3x2.42 GHz Kryo 680 (ARM Cortex-A78) & 4x1.80 GHz Kryo 680 (ARM Cortex-A55). The powerful Adreno 660 GPU clocked at 840 MHz is winging the octa-core CPU.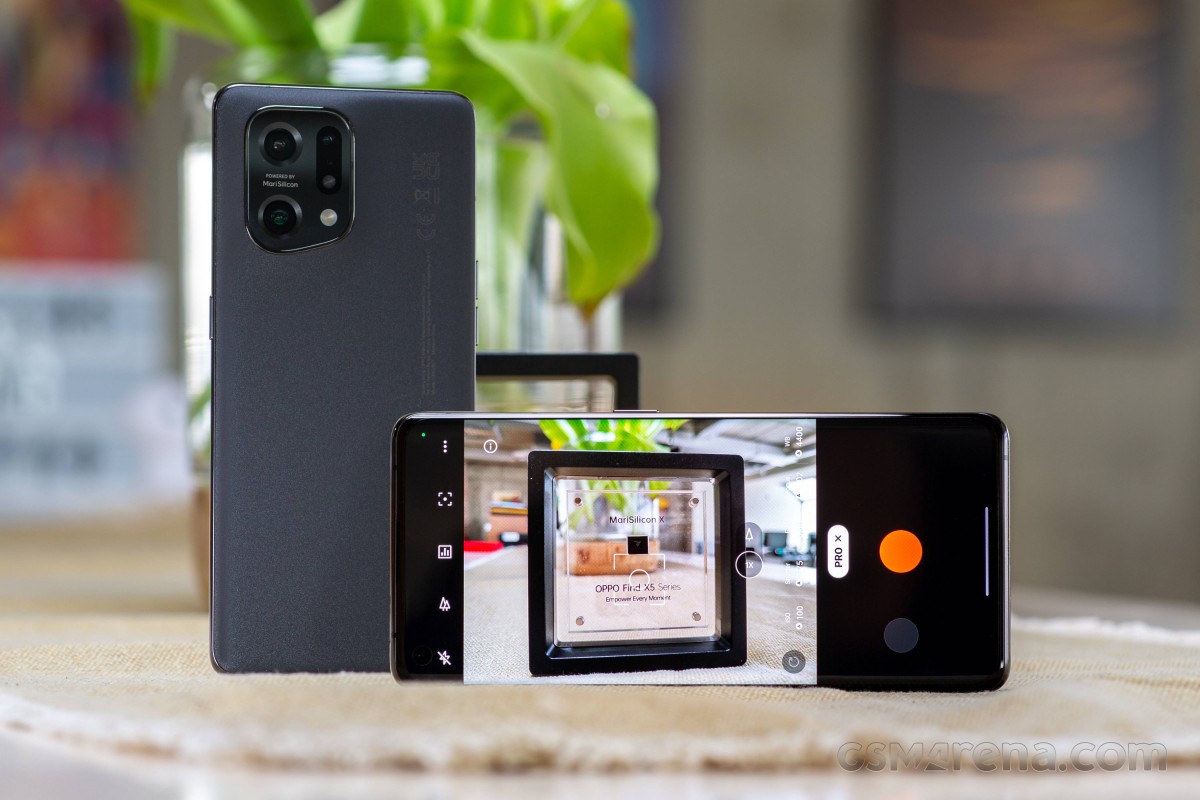 The Find X5 comes in various storage options, and its base one is 8GB/128GB for the Chinese market, while Europe gets the 8GB/256GB as an entry-level option. This artificially inflates the price even further, and other competing Snapdragon 8 Gen 1 solutions at the same price might be more lucrative for some.
Here are the usual set of benchmark tests.
GeekBench 5 (multi-core)
Higher is better
Apple iPhone 13 Pro
4687
Xiaomi 12 Pro
3682
Samsung Galaxy S22+
3528
Realme GT2 Pro
3501
Realme GT2
3487
Samsung Galaxy S21+ 5G
3476
Oppo Find X5 Pro
3433
Oppo Find X5
3331
Google Pixel 6 Pro
2831
GeekBench 5 (single-core)
Higher is better
Apple iPhone 13 Pro
1709
Realme GT2 Pro
1238
Xiaomi 12 Pro
1169
Samsung Galaxy S22+
1165
Realme GT2
1131
Oppo Find X5
1110
Samsung Galaxy S21+ 5G
1091
Google Pixel 6 Pro
1042
Oppo Find X5 Pro
1002
AnTuTu 9
Higher is better
Oppo Find X5 Pro
1012896
Xiaomi 12 Pro
985226
Realme GT2 Pro
966251
Samsung Galaxy S22+
886916
Oppo Find X5
810715
Realme GT2
810512
Apple iPhone 13 Pro
794348
Google Pixel 6 Pro
719815
3DMark Wild Life Vulkan 1.1 (offscreen 1440p)
Higher is better
Oppo Find X5 Pro
9758
Xiaomi 12 Pro
9664
Realme GT2 Pro
9487
Samsung Galaxy S22+
7405
Google Pixel 6 Pro
6602
Realme GT2
5879
Oppo Find X5
5851
Samsung Galaxy S21+ 5G
5757
GFX Car Chase ES 3.1 (offscreen 1080p)
Higher is better
Apple iPhone 13 Pro
119
Xiaomi 12 Pro
96
Realme GT2 Pro
95
Oppo Find X5 Pro
94
Samsung Galaxy S22+
76
Google Pixel 6 Pro
70
Oppo Find X5
69
Realme GT2
68
Samsung Galaxy S21+ 5G
66
GFX Car Chase ES 3.1 (onscreen)
Higher is better
Samsung Galaxy S22+
68
Apple iPhone 13 Pro
60
Realme GT2
56
Oppo Find X5
55
Samsung Galaxy S21+ 5G
54
Realme GT2 Pro
48
Xiaomi 12 Pro
46
Oppo Find X5 Pro
44
Google Pixel 6 Pro
39
GFX Aztek Vulkan High (onscreen)
Higher is better
Apple iPhone 13 Pro
60
Samsung Galaxy S22+
51
Realme GT2 Pro
39
Oppo Find X5
38
Realme GT2
38
Samsung Galaxy S21+ 5G
37
Xiaomi 12 Pro
37
Oppo Find X5 Pro
36
Google Pixel 6 Pro
26
GFX Aztek Vulkan High (offscreen 1440p)
Higher is better
Apple iPhone 13 Pro
50
Realme GT2 Pro
46
Xiaomi 12 Pro
45
Oppo Find X5 Pro
44
Samsung Galaxy S22+
34
Oppo Find X5
30
Realme GT2
30
Google Pixel 6 Pro
30
Samsung Galaxy S21+ 5G
26
GFX Aztek ES 3.1 High (offscreen 1440p)
Higher is better
Realme GT2 Pro
42
Xiaomi 12 Pro
41
Oppo Find X5 Pro
40
Samsung Galaxy S22+
31
Google Pixel 6 Pro
31
Samsung Galaxy S21+ 5G
28
Oppo Find X5
27
Realme GT2
27
GFX Aztek ES 3.1 High (onscreen)
Higher is better
Samsung Galaxy S22+
50
Samsung Galaxy S21+ 5G
43
Oppo Find X5
40
Realme GT2
40
Realme GT2 Pro
36
Xiaomi 12 Pro
36
Oppo Find X5 Pro
35
Google Pixel 6 Pro
28
The benchmarks show that the Oppo Find X5 utilizes the Snapdragon 888 to its fullest with no significant deviation from the expected results. Naturally, the chipset falls short only to the Snapdragon 8 Gen 1 and the Exynos 2200 from this year and trades blows with last year's Exynos 2100, depending on the nature of the test.
You may notice that in some cases, the Find X5 is showing better performance in GPU-heavy and combined workloads, and that's because of the screen resolution. Other flagship phones with Snapdragon 8 Gen 1 and 1440p displays show lower results due to the bigger resolution. That's usually a thing only in AnTuTu (being a combined test) and other on-screen GPU tests (GFXBench, for example).
Sustained performance
Oppo is particularly proud of its passive cooling solution on its Find X5 series. The company doesn't go into much detail, but it says that it uses a huge vapor chamber and thin 3D graphene films. That last bit could be crucial as graphene has excellent heat dissipation properties. Now let's put that to the test.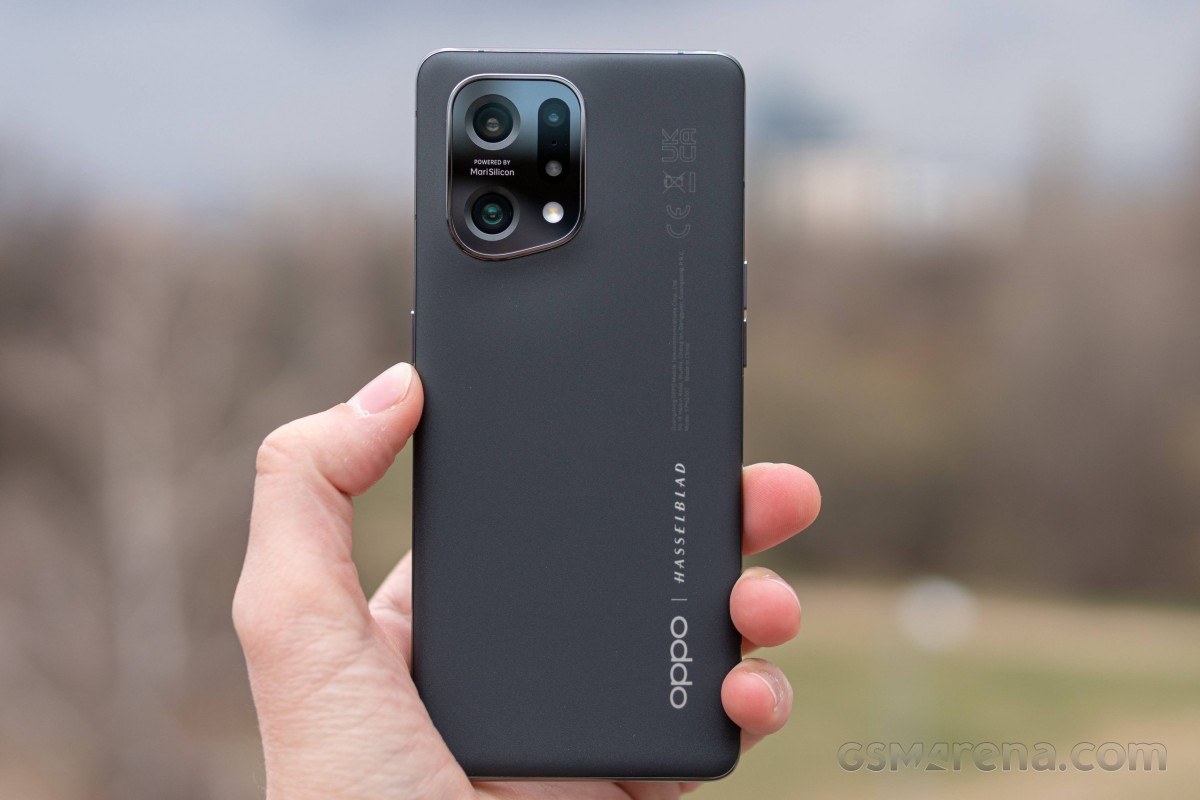 We started off with a 60-minute long CPU stress test at 100% load. The phone maintained about 90 to 100% of the chip's maximum performance fora short while before falling at about 90%. A couple of minutes before the 30-minute mark, the CPU throttled to around 80% and remained there for a while. After 30 minutes, the system went back and forth from 90% to 80%. The curve might look a bit wavy, but we believe that those sudden performance drops are quite limited and somewhat normal for a flagship phone.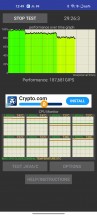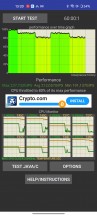 CPU throttle test: 30 minutes • 60 minutes
Outer temperatures weren't that extreme either. The glass back and the metal side frame exude some heat, but they are definitely okay to hold. In short, the Find X5 showed excellent sustained performance, and that appears to be a theme among BBK Electronics-made phones. The Realme GT2, GT2 Pro and the OnePlus 10 Pro all seem to handle their powerful chipsets quite well.
We also ran the 3DMark Wild Life stress test as well. After all the loops that lasted about 20 minutes, the system received a 63.7% stability score, which is pretty good and was just as warm as during the CPU stress test.
Just got one of these on contract from EE, very happy with it so far. Feels a lot like my old P30 Pro in the hand and the official flip case is pretty similar to Huawei's too. Doesn't hurt it was a good deal either, I like it. A Great...
Anonymous
13 Jul 2022
mx}
I've just traded my pixel 6 pro for the X5 (with the matte black back). So glad I did, got it for basically (£30 after trade in) and such a more enjoyable device to use and hold. Honestly camera is a bit better on the pixel overall but that'...
I own the oppo find x5 and the x5 pro. After last year's X3 pro .I find both of these fantastic refreshingly great feeling phones. The x5 although lacking in some areas could quite easily be a flagship. In a vacuum it's 100% top tier. H...