Oppo R15 Pro review
GSMArena team, 15 April 2018.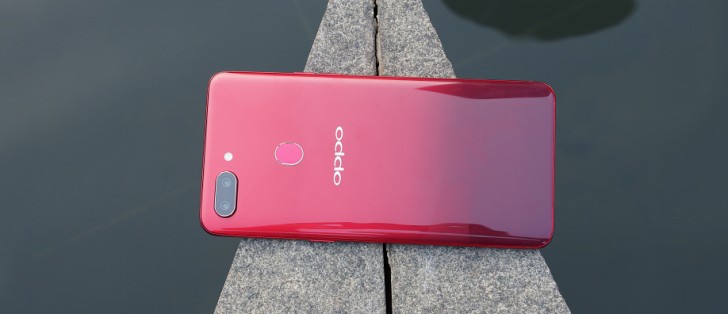 Android Oreo and ColorOS 5
The Oppo R15 and R15 Pro run on ColorOS 5, based on Android 8.1 Oreo. The new v5.0 launcher introduces a better AI engine with real-time translation, faster Face Unlock, new navigation gestures, even better gallery, enhanced split-screen multi-tasking. There are also new app shortcuts (long tap), redesigned icons and themes, improved call history, new security features including safe, and better gaming mode with WeChat integration.
ColorOS customizations run deep, making it far off from the standard Google-developed mobile experience. Units sold outside of China still come with the full Google suite, which has resulted in having a few apps with similar functionality - one by Oppo, and another one by Google.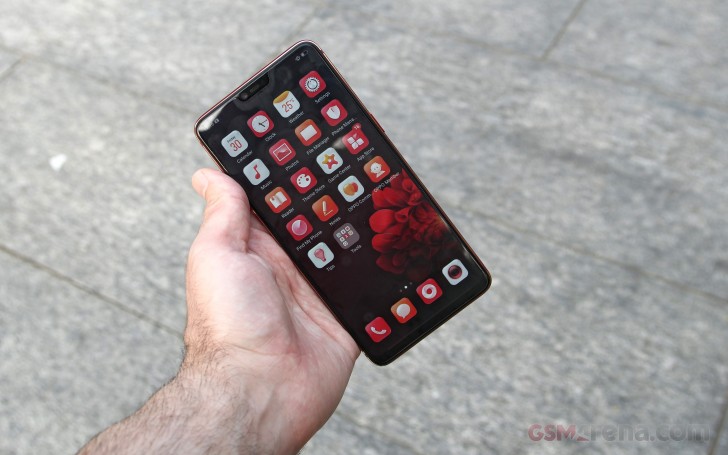 ColorOS isn't that bloated, but it's not "pure Android" either. It comes pre-loaded with social networking apps, a document editor, and few minor-footprint apps.
The so-called AI builds on-device user behavior models for faster app startups and better resource management. It also uses this behavior to show relevant information on the left-most homescreen pane - calendar appointments, quick shortcuts, weather, world clock, package tracking, flight info, among others. You can configure those, or just leave them to the "AI."
The user interface is very familiar. There's no app drawer on the default launcher. Instead, every app you install gets dumped onto the homescreen.
The Lockscreen features a continually changing slideshow of images. You can subscribe to several different channels (e.g., photos of nature or cars or others) or provide your own imagery.
The fingerprint sensor is always-on, and it's fast and accurate. You can also set up face unlock in addition to fingerprint security - it's equally fast as the R15 wakes up the moment you pick it up.
The face recognition is indeed blazing fast, faster than on the iPhone X. It relies on 120 recognition points and supposedly can't be fooled by a picture. Surely, this implementation is not as secure as Apple's Face ID, but it's there, and it's user-friendly.
The wallpaper on the homescreen doesn't change as the lockscreen wallpaper does, but you can still spruce up the place with Themes. The Theme Store features whole themes and just wallpapers, sorted into categories (including free and paid ones). Themes change the icon pack, the lockscreen wallpaper, and even the system font.
The notification shade features notifications, quick toggles, and a brightness scrubber.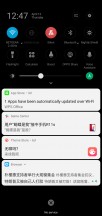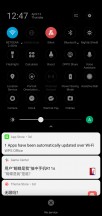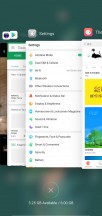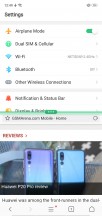 Notifications • Toggles • Task Switcher • Split screen
One of the most notable additions to Oppo's custom ROM has to be the Full-Screen Gesture model. Bigger display and diminishing bezels and chins tend to pose some ergonomic concerns beyond a certain point. Oppo's current design might not be exactly there yet, but the company is already trying its best to prepare for that.
When enabled, Full-Screen Gesture navigation positions three small lines at the bottom of the UI. Swiping up from the middle one acts like a home button but if you stop the gestures mid-way - you'll summon the task switcher (like on the iPhone X). Swiping on the left or right ones acts as Back. You can change one of those to open the recent apps manager if you like.
You can hide those lines since they are only visual aids. If you don't like these controls, there is a standard Android navigation bar to fall back to as well.
Clone apps and file safe functions are on board, as well as real-time translation thanks to an improved voice assistant.
There is a Phone Manager quite similar to what Huawei and Xiaomi have the same name. It handles memory cleaner functions, app permissions and encryption, and virus scan, among other things.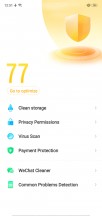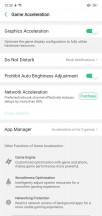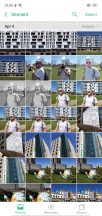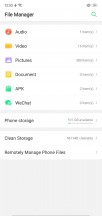 Phone Manager • Game Settings • Gallery • Files
An improved Game Center allows you to handpick which notifications to pass through when you are playing with friends. It now supports WeChat Voice integration, so no more switching to WeChat if you get a call.
Performance
As you can imagine, the MediaTek Helio P60 and the Qualcomm Snapdragon 660, inside the Oppo R15 and R15 Pro, respectively, aren't created quite equal. Still, they are both mid-range chips that combine more than enough power for fluid Android interaction, with battery efficient manufacturing processes - 12nm and 14nm, respectively.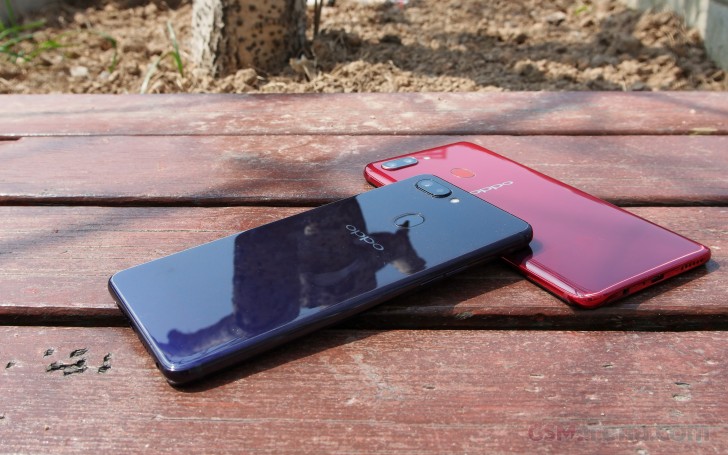 Oppo R15 (Purple) next to the R15 Pro (Red)
The Snapdragon 660 inside the R15 Pro has a powerful octa-core processor housing Qualcomm's custom Kryo 260 cores - four of those cores are ticking at 2.2GHz, and the other four are at 1.8GHz. There is the Adreno 512 GPU. The R15 Pro has 6 gigs of RAM.
MediaTek's Helio P60 on the Oppo R15 packs an octa-core processor of 4x Cortex-A73 @2.0GHz and 4x Cortex-A53 @2.0GHz. There is a tri-core Mali-G72 GPU to handle graphics. The R15 also comes with 6 gigs of RAM.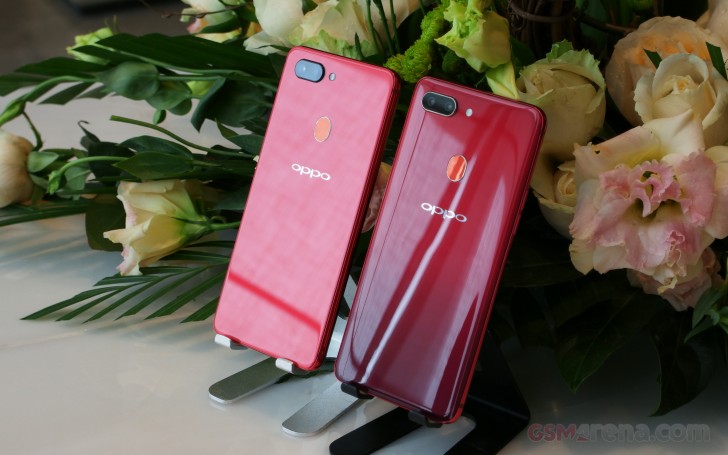 Oppo R15 (Red) next to the R15 Pro (Ruby Red)
The CPU tests show that the pair of chips is not that far apart. That's plenty of number-crunching power for most any everyday task. The pair can even kind of compete in with last year's top Snapdragon 835 chipset in this department, which is a pretty good testament to how far mid-rage silicon has come in the last few months. Then again, it is a bit of a disappointment that last year's Oppo R11 and R11s models are practically just as potent as their successors.
Things between the two R15 units look a bit different on the GPU side of things. The Mali G72MP3, just can't keep up with the Adreno 512 inside the R15 Pro, as well as the Oppo R11 and R11s. The new even taller screen ratio means a slight bump in on-screen resolution as well, which leaves the newer R15 Pro at a slight rendering disadvantage, compared to its predecessors. However, that's only the synthetic loads talking, in real life terms, there is no discernible difference.
GeekBench 4.1 (single-core)
Higher is better
Oppo R11s
1614
Oppo R15 Pro
1612
Oppo R11
1596
Oppo R15
1520
Xiaomi Redmi Note 5 Pro
1327
Huawei Mate 10 Lite
913
Xiaomi Redmi 5 Plus
874
Sony Xperia XA2
865
vivo V7+
767
GeekBench 4.1 (multi-core)
Higher is better
Oppo R11s
5907
Oppo R15 Pro
5809
Oppo R15
5806
Oppo R11
5777
Xiaomi Redmi Note 5 Pro
4696
Xiaomi Redmi 5 Plus
4309
Sony Xperia XA2
4215
vivo V7+
3912
Huawei Mate 10 Lite
3603
But as far as real-life gaming is concerned - we ran a few fan-favorite games side by side on both phones - and we found no difference in performance. So, no matter what the GPU numbers suggest, in real-world scenarios - both are excellent performers.
GFX 3.0 Manhattan (onscreen)
Higher is better
Oppo R11s
23
Oppo R11
22
Oppo R15 Pro
19
vivo V7+
17
Sony Xperia XA2
15
Oppo F5
11
Xiaomi Redmi 5 Plus
9.4
Huawei Mate 10 Lite
7.9
Basemark X
Higher is better
Oppo R11s
20914
Oppo R15 Pro
20693
Oppo R11
20350
Xiaomi Redmi Note 5 Pro
14897
Sony Xperia XA2
14312
Oppo R15
11993
Xiaomi Redmi 5 Plus
10484
vivo V7+
9955
Oppo F5
9205
Huawei Mate 10 Lite
8721
Running the compound AnTuTu and BaseMark tests we got some more, pretty solid numbers from the R15 pair.
AnTuTu 7
Higher is better
Oppo R15 Pro
146526
Oppo R15
140161
Xiaomi Redmi Note 5 Pro
107737
Basemark OS 2.0
Higher is better
Oppo R11s
2499
Oppo R15 Pro
2438
Oppo R11
2386
Xiaomi Redmi Note 5 Pro
2030
Oppo R15
1985
Sony Xperia XA2
1545
Huawei Mate 10 Lite
1408
vivo V7+
1290
Xiaomi Redmi 5 Plus
1226
Oppo F5
424
Obviously neither of the phones is a slouch in real-world terms. The Snapdragon 660 is one of the best choices for a mid-ranger, but also a beast when running on 1080p resolution. If raw performance is what you are after, then you can probably get more value for your money with the Pro model. But even if you end up with the R15's Helio chipset - you won't feel a difference in real-life performance, ever. And that's what matters.
The R15 and R15 Pro run cool even under peak load, and we didn't observe any throttling. And since the Snapdragon 660 is returning to power a third Oppo from the R-series, it's clear that it remains one of the smartest choices around.
I'm using this mobile since 1 year still it's working great without any problem
This use until now..almost 1 year..good for gaming..love it
I have used this phone for one year, the performance still the same. Some of my friends with latest smartphone surprised with the gaming performance of this oppo R15pro. Worth bought this phone.