Oppo Reno4 Pro review
GSMArena team, 31 July 2020.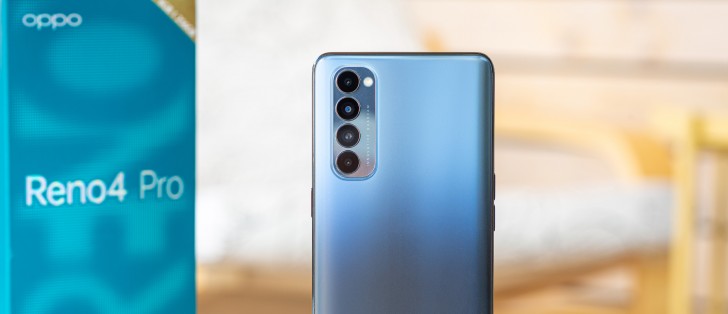 ColorOS is at 7.2 on the Reno4 Pro
The Reno4 Pro runs ColorOS 7.2, that's 0.1 more than what we've been getting from recent Oppos, and it comes with its set of (minor) changes. The custom overlay is on top of Android 10, the latest Google has for end users for the time being.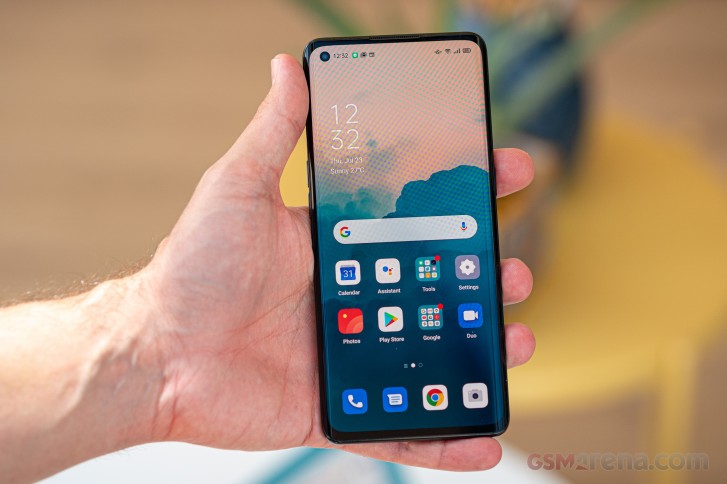 You get to choose between the simplified approach with all the apps arranged on the home screens (the out of the box state) or a standard app drawer. The UI basics are entirely ordinary.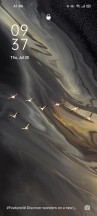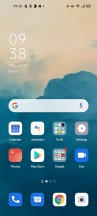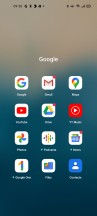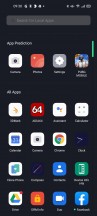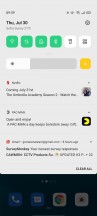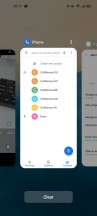 Lockscreen • Homescreen • Folder view • App Drawer • Quick toggles and notifications • Task switcher
The app icons themselves are super customizable. You can set up a custom shape and adjust the corner rounding. Of course, applying third-party icon packs is also possible.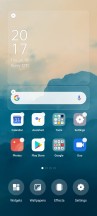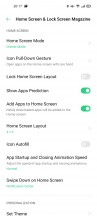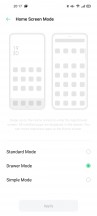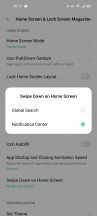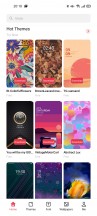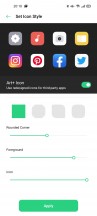 Homescreen settings • Homescreen mode • Swipe down options • Theme store • Icon settings
Navigation options are aplenty too. We've already grown used to and prefer the standard Android 10 navigation (Swipe Gestures from Both Sides it's called here), which employs the side edges for going Back while upward swipes from the bottom take you Home.
Color OS has a gesture for quick switch between the last two apps if you swipe in for Back, but hold for a brief instant. That's optional and it can work in addition to the default side swiping on the bottom of the screen.
A classic three-button navigation bar is available if you're old school like that, and it lets you choose between two layouts. There's also a More option, which will take you to the Swipe-up gestures alternative - the middle option between the nav bar and real gestures.
The Smart Sidebar feature we've seen on other ColorOS builds is here too. A swipe in from the side opens a toolbar with actions and shortcuts. You can customize them and also adjust the bat's position and opacity.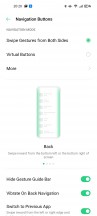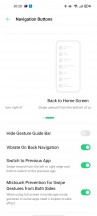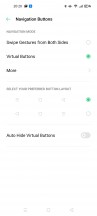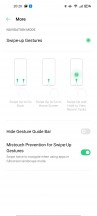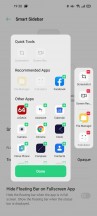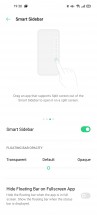 Navigation options • Smart sidebar
The Reno4 Pro display supports a 90Hz refresh rate, and you get a three-way setting between 90Hz, 60Hz, and Auto. As we detailed on the previous page, the refresh rate is only ever set in stone if you have it at the 60Hz position, with the other two modes adjusting it to optimize the experience.
There's a system-wide dark mode, and it can be engaged permanently or according to a schedule. It'll invoke supported apps' dark themes too, but you can also enforce dark mode on third-party apps which don't have it built-in.
Always-on Display is available too, and is now finally called that, instead of the "Screen-Off Clock" name on previous builds. It gives you a choice between different clock styles and can be set to be on all the time or according to a schedule (but not follow sunset and sunrise patterns). Edge lighting (formerly Screen Light Effect) is like the edge notification lighting on Samsung phones minus the high customizeability.
Picking up the phone lights up the fingerprint reader area for a quick while but doesn't work with a tap when the phone is lying flat on the table. You will have to gently push the phone because we noticed that the FP area is triggered by the accelerometer. A double-tap-to-wake is always an option but this will light up the whole screen. If you have AoD enabled, the fingerprint reader is effectively always on too.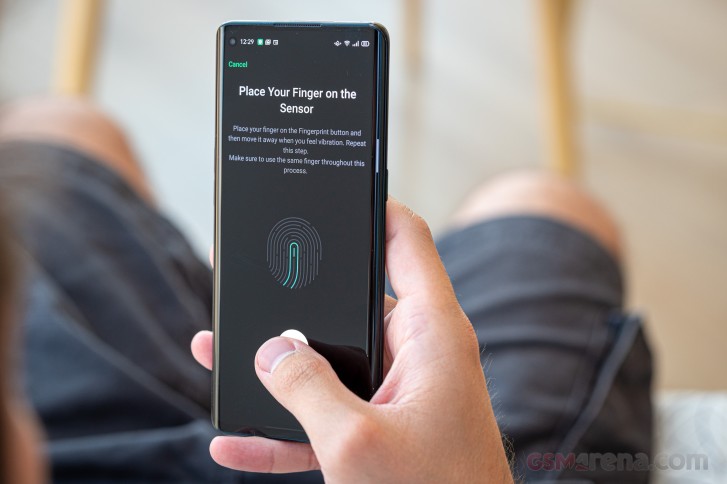 The overall fingerprint reader experience is hard to fault. Recognition is super fast, accurate and responsive. Also, the area is big enough so you don't have to be that precise when placing your finger on top.
Basic face recognition is available too. It uses just the selfie cam (so no fancy 3D scanning) and isn't as secure as the fingerprint reader, but it's fast and convenient. The phone can be set to require at least one open eye for added security.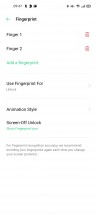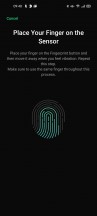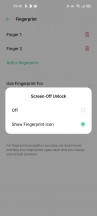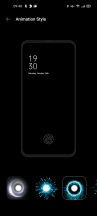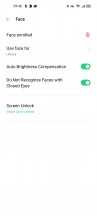 Fingerprint, Face & Password settings
Drawing letters on a turned off screen is still a feature with ColorOS 7.2 and you can launch a bunch of apps with the available letters. As usual, the torch and the camera app are probably the most useful assignments. The camera app can now be set to launch with a double press on either of the volume buttons though, and that seems a lot more useful.
The multimedia apps such as Gallery, Music, and Videos are provided by Oppo and a basic FM radio is also on board. There's a File Manager, a Phone Manager, and a few other tools pre-installed, including a custom calculator and a voice recorder. A recent development we saw on Realme phones, the replacement of the in-house Phone and Messages apps for Google's own, has made its way to the Oppo Reno4 Pro too.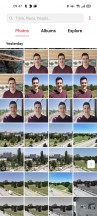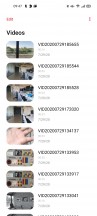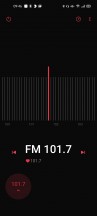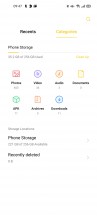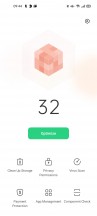 Gallery • Videos • FM Radio • File Manager • Phone Manager • Phone by Google
Synthetic benchmarks
The Reno4 Pro is powered by the Snapdragon 720G chipset, arguably the one area where it's trailing its competitors, a lot pf them adopting the Snapdragon 765G. The 720G is built on an 8nm process and features an octa-core CPU in a 2x2.3GHz Kryo 465 Gold & 6x1.8GHz Kryo 465 Silver configuration (customized 2xCortex-A76+6xCortex-A55). The 765G, in contrast, is manufactured on a 7nm process and has a 1x2.4GHz Kryo 475 Prime & 1x2.2GHz Kryo 475 Gold & 6x1.8GHz Kryo 475 Silver CPU setup (or a not-very-different A76+A76+6xA55 arrangement).
There's more of a difference between the two when it comes to GPU performance and the Adreno 620 in the 765G has been known to deliver tangibly better results than the ones expected from the 720G's Adreno 618.
The Reno4 Pro comes with 8GB of RAM and two storage options are available - 128GB and 256GB (our review unit).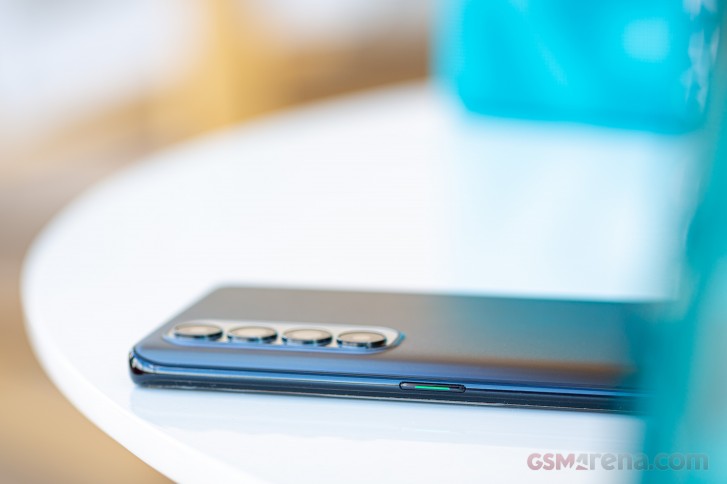 Here's some GeekBench scores to marvel at for starters. In single-core testing, the S765G bunch (OP Nord, Reno3 Pro 5G, Mi 10 Lite 5G) has a small advantage over the Reno4 Pro - to the tune of 7%. That grows to 9% in multi-core, if you compare the Reno4 Pro to the Nord and Mi 10 Lite 5G, though Oppo's own Reno3 Pro 5G doesn't perform as well. The Reno4 Pro is a step up from the global Reno3 Pro and its Helio P95 chip in CPU tasks - the Helio's 'big' cores are the A75s and it shows.
It's important to point out here that for less than Reno4 Pro money you can still get the Redmi K20 Pro (a.k.a. Mi 9T Pro) and that comes with last year's flagship Snapdragon 855 and that's a noticeably longer bar in the charts below.
GeekBench 5.1 (single-core)
Higher is better
Redmi K20 Pro/Mi 9T Pro
744
Xiaomi Mi 10 Lite 5G
616
Oppo Reno3 Pro 5G
609
OnePlus Nord
607
Oppo Reno4 Pro
569
vivo X50
552
Xiaomi Redmi K30
548
Samsung Galaxy A71
542
Motorola One Fusion+
542
Xiaomi Mi Note 10 Lite
521
Oppo Reno3 Pro
398
GeekBench 5.1 (multi-core)
Higher is better
Redmi K20 Pro/Mi 9T Pro
2732
OnePlus Nord
1953
Xiaomi Mi 10 Lite 5G
1927
vivo X50
1827
Oppo Reno3 Pro 5G
1815
Oppo Reno4 Pro
1781
Samsung Galaxy A71
1733
Motorola One Fusion+
1705
Xiaomi Mi Note 10 Lite
1694
Xiaomi Redmi K30
1692
Oppo Reno3 Pro
1517
The advantage of the Snapdragon 855 devices gets even more pronounced in Antutu, where the GPUs also come into play and we all know flagship chipsets (even last year's) have substantially more potent GPUs than midrange ones. The 765G-equipped Mi 10 Lite 5G and Reno3 Pro 5G too have a noticeable lead in front of the 720G Reno4 Pro with the minor CPU advantage and a more meaningful GPU performance difference adding up to about a 20% score gap.
AnTuTu 8
Higher is better
Realme X2 Pro
467653
Redmi K20 Pro/Mi 9T Pro
437823
Xiaomi Mi 10 Lite 5G
318117
Oppo Reno3 Pro 5G
308231
Xiaomi Redmi K30
272229
Motorola One Fusion+
267980
Samsung Galaxy A71
263396
Oppo Reno4 Pro
261359
Xiaomi Mi Note 10 Lite
253271
Oppo Reno3 Pro
227810
In GFXBench the Reno4 Pro does manifest the Snapdragon 720 GPU's deficiencies compared to the 765's. The framerate advantage ranges between some 35% in the lighter Manhattan 3.0 test to a less striking 20% in the more demanding Car scene 3.1.
GFX 3.0 Manhattan (1080p offscreen)
Higher is better
Realme X2 Pro
108
Redmi K20 Pro/Mi 9T Pro
101
OnePlus Nord
56
Oppo Reno3 Pro 5G
56
Xiaomi Mi 10 Lite 5G
55
Oppo Reno4 Pro
42
Xiaomi Mi Note 10 Lite
42
Samsung Galaxy A71
41
Xiaomi Redmi K30
41
vivo X50
38
Motorola One Fusion+
38
GFX 3.0 Manhattan (onscreen)
Higher is better
Redmi K20 Pro/Mi 9T Pro
60
Realme X2 Pro
60
OnePlus Nord
50
Oppo Reno3 Pro 5G
48
Xiaomi Mi 10 Lite 5G
48
Samsung Galaxy A71
37
Xiaomi Redmi K30
37
Oppo Reno4 Pro
36
Xiaomi Mi Note 10 Lite
36
vivo X50
35
Motorola One Fusion+
34
GFX 3.1 Manhattan (1080p offscreen)
Higher is better
Realme X2 Pro
78
Redmi K20 Pro/Mi 9T Pro
71
OnePlus Nord
38
Oppo Reno3 Pro 5G
38
Xiaomi Mi 10 Lite 5G
38
Oppo Reno4 Pro
31
Samsung Galaxy A71
30
Xiaomi Redmi K30
30
Xiaomi Mi Note 10 Lite
30
vivo X50
27
Motorola One Fusion+
27
Oppo Reno3 Pro
20
GFX 3.1 Manhattan (onscreen)
Higher is better
Redmi K20 Pro/Mi 9T Pro
57
Realme X2 Pro
57
OnePlus Nord
34
Oppo Reno3 Pro 5G
32
Xiaomi Mi 10 Lite 5G
32
Samsung Galaxy A71
27
Xiaomi Redmi K30
27
Oppo Reno4 Pro
26
Xiaomi Mi Note 10 Lite
26
Motorola One Fusion+
25
vivo X50
24
Oppo Reno3 Pro
17
GFX 3.1 Car scene (1080p offscreen)
Higher is better
Realme X2 Pro
47
Redmi K20 Pro/Mi 9T Pro
42
OnePlus Nord
21
Oppo Reno3 Pro 5G
21
Xiaomi Mi 10 Lite 5G
21
Oppo Reno4 Pro
18
Samsung Galaxy A71
17
Xiaomi Redmi K30
17
Xiaomi Mi Note 10 Lite
17
vivo X50
16
Motorola One Fusion+
16
Oppo Reno3 Pro
7.3
GFX 3.1 Car scene (onscreen)
Higher is better
Realme X2 Pro
37
Redmi K20 Pro/Mi 9T Pro
36
OnePlus Nord
19
Oppo Reno3 Pro 5G
18
Xiaomi Mi 10 Lite 5G
17
Samsung Galaxy A71
15
Oppo Reno4 Pro
15
Xiaomi Redmi K30
15
Xiaomi Mi Note 10 Lite
15
vivo X50
14
Motorola One Fusion+
14
Oppo Reno3 Pro
7.4
A 25-33% difference between S765G devices and S720G/S730 ones is observed in 3DMark as well - the Reno4 Pro's GPU is simply not on the same level as the one in the Nord, for example.
3DMark SSE OpenGL ES 3.1 1440p
Higher is better
Redmi K20 Pro/Mi 9T Pro
5733
Realme X2 Pro
4726
OnePlus Nord
3319
Xiaomi Mi 10 Lite 5G
3294
Oppo Reno3 Pro 5G
3214
Oppo Reno4 Pro
2512
Xiaomi Redmi K30
2467
Xiaomi Mi Note 10 Lite
2467
Samsung Galaxy A71
2464
vivo X50
2263
Oppo Reno3 Pro
1243
3DMark SSE Vulkan 1440p
Higher is better
Realme X2 Pro
5337
Redmi K20 Pro/Mi 9T Pro
5000
OnePlus Nord
3103
Xiaomi Mi 10 Lite 5G
3080
Oppo Reno3 Pro 5G
2995
Oppo Reno4 Pro
2377
Samsung Galaxy A71
2253
Xiaomi Mi Note 10 Lite
2248
Xiaomi Redmi K30
2244
vivo X50
2082
Oppo Reno3 Pro
1551
To sum up the Reno4 Pro's performance, we'll say that it's perfectly adequate but the phone can't do miracles with the hardware that it's got. The Snapdragon 720G is simply not as powerful as the S765G that you can find in some competing smartphones like the OnePlus Nord. On the other hand, another key rival, the Galaxy A71, delivers the exact same performance as the Reno.
An even bigger leap in numbers and a more significant improvement in real life can be obtained by going for a smartphone with last year's Snapdragon 855 - the Realme X2 Pro can be had for Reno4 Pro money in some regions, while the Redmi K20 Pro (Mi 9T Pro) is even cheaper.
Anonymous
13 Oct 2021
t@g
Actually 720G is not much difference with 732G, so logical that oppo bought many 720G also for realme for getting higher bulk discount price rather than buy similar 732G, that's why they can get margins higher than what you think, also it looks like ...