Oppo Reno3 Pro 5G / Find X2 Neo review
GSMArena team, 29 June 2020.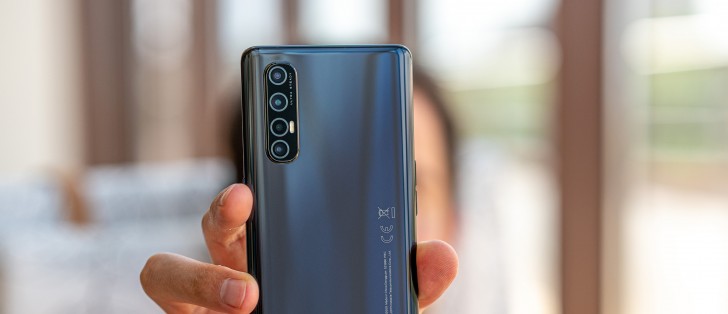 ColorOS 7 and Android 10
The Reno3 Pro 5G comes with the latest installment of Oppo's ColorOS - version 7 on top of Android 10 and comes with plenty of changes compared to the last iteration of the software. Now, the OS is looking a bit more stock-ish but it's still hard to compare it to Pixels, Motorolas and OnePlus phones.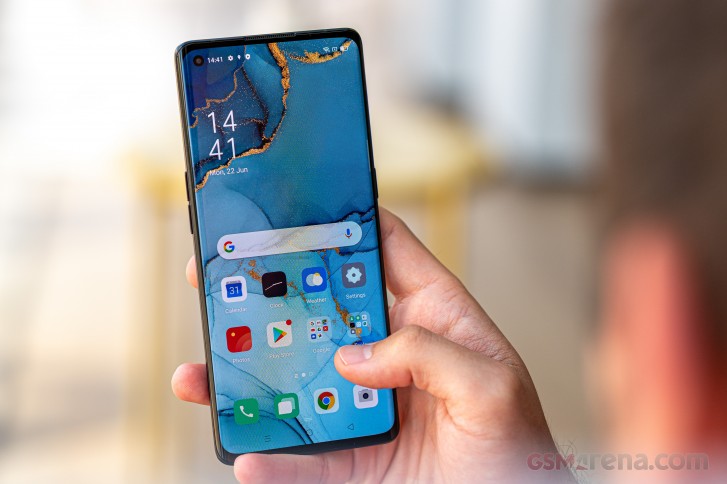 You can still choose between the standard app drawer and the simplified approach with all the apps scattered across the home screens, while the app icons themselves are super customizable. You can set up a custom shape, adjust the corner rounding. Of course, applying third-party icon packs is also possible.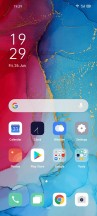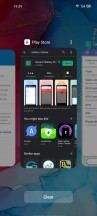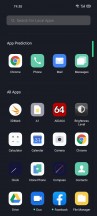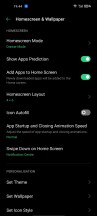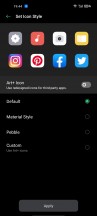 Home screen, recent apps, app drawer and home screen customizations
Navigation options are aplenty too. There's good old software button navigation as well as the gesture-based navigation option. The latter comes in two flavors - swipe from the bottom and swipe from the side bezels. The former is well-known by Oppo and OnePlus users - you just swipe upwards from the bottom to perform a back, home, and recent apps actions.
The side swipe behaves just like the stock Android gestures with a little extra on top. There's an option that lets you swipe and hold for a quick switch between the last used app but that can also be performed with a swipe and throw from the bottom of the screen. And if you have the navigation bar enabled (not the software button navigation bar) a horizontal swipe left or right will switch between apps too. This is probably the most versatile gesture-based navigation we've used so far, so kudos to Oppo for that.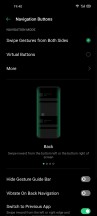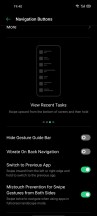 Navigation gestures and options
Speaking of gestures, you can finally set a swipe down gesture to open up the notification shade instead of opening global search. It was a much-needed option by a lot of users who are struggling to deal with the trendy tall aspect ratios.
The notification shade itself has also gone under some changes. The icons are no longer different colors - they are all gray when inactive and turn green when the said setting is turned on. Swiping down one more time brings down the quick toggles within thumb's reach. Clearing the notifications can only be done by swiping left or right and it's a setting. There's no way to dismiss the card with a swipe in both directions. The recent apps menu, on the other hand, is full on stock-looking.
The general settings menu comes with brand new icons and colors that help you get around easier. We found the Display and Brightness sub-menu to be quite extensive. You will find the system-wide dark mode there along with Eye Care mode that changes the color temperature of the screen for more comfortable reading at night. We almost missed the Always-on display option, which is under the name "Screen-Off Clock" and gives you a choice between different styles and how it behaves. The Screen Light Effect is like the edge notification lighting on Samsung phones and you can assign different styles to different notifications.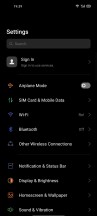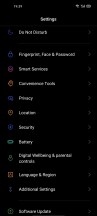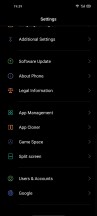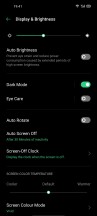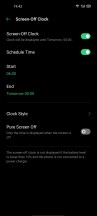 General settings menu and always-on display
Picking up the phone lights up the fingerprint reader area for a quick while but doesn't work with a tap when the phone is lying flat on the table. You will have to gently push the phone because we noticed that the FP area is triggered by the accelerometer. A double-tap-to-wake is always an option but this will light up the whole screen.
Fingerprint reader itself is flawless. We found it to be super fast, accurate and responsive. Also, the area is big enough so you don't have to be that precise when placing your finger on top. The scanner training takes a little while, though. You would have to place your finger and wait more than usual before doing it again during the training process. Maybe this adds to the overall accuracy of the scanner and the software needs a little bit more time to take a better picture of your fingertip. In any case, it's definitely worth it because we had absolutely no issues with it.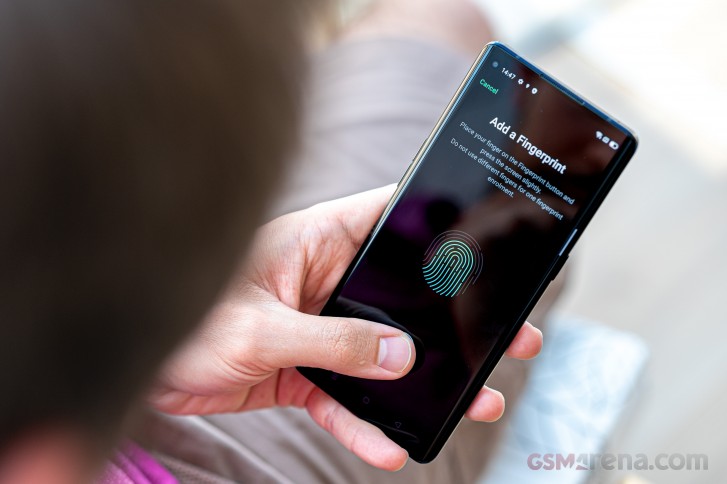 Drawing letters on a turned off screen is still a feature with ColorOS 7 and you can launch a bunch of apps with the available letters. As usual, the torch and the camera app are probably the most useful assignments.
Our overall opinion of the ColorOS 7 is mostly positive. It feels more mature than ever, has a bunch of useful features and it's snappy and fast even on non-flagship hardware. We didn't have any hiccups or hangs of any sorts.
Performance
We've already seen the Snapdragon 765G in action so we have a pretty good idea of what to expect from the handset's raw performance in synthetic benchmark tests. The SoC is based on the 7nm manufacturing process and is compiled of an octa-core CPU (1x2.4 GHz Kryo 475 Prime & 1x2.2 GHz Kryo 475 Gold & 6x1.8 GHz Kryo 475 Silver) and Adreno 620 GPU. One of the key features is that the 5G connectivity as it employs Qualcomm's budget 5G modem - the Snapdragon X52.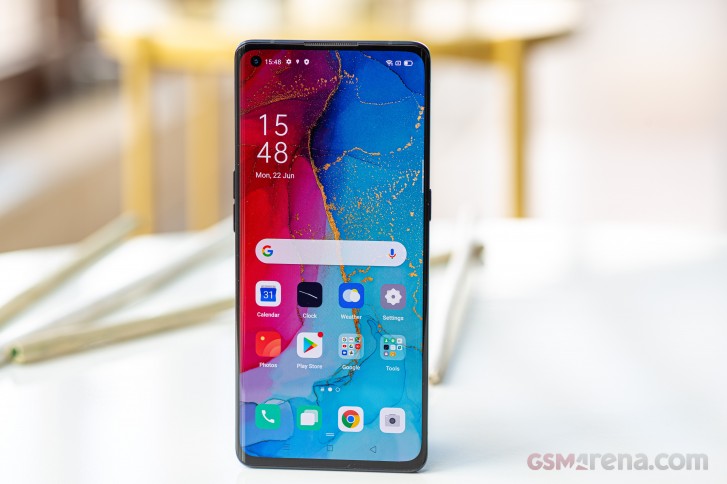 Additionally, the chipset is paired with 8GB or 12GB of RAM and either 128GB or 256GB of UFS 2.1 storage. We've tested the beefier 12GB/256GB model.
Anyway, the Snapdragon 765G is fairly similar in terms of performance compared to the non-G variant, the Snapdragon 765, and the Snapdragon 730. The difference is that the 765G is supposed to be more gaming-oriented having a higher clocked Adreno 620 GPU and supports a couple of Qualcomm's gaming-related features such as Game Network Latency Manager, Elite Gaming, Game Smoother and Game Fast Loader.
GeekBench 4.4 (multi-core)
Higher is better
Xiaomi Poco F2 Pro
13295
Samsung Galaxy S10 Lite
11151
Realme X3 SuperZoom
10115
LG Velvet
7660
Oppo Reno3 Pro 5G
7337
Xiaomi Mi Note 10 Lite
6639
GeekBench 4.4 (single-core)
Higher is better
Xiaomi Poco F2 Pro
4255
Realme X3 SuperZoom
3553
Samsung Galaxy S10 Lite
3524
Oppo Reno3 Pro 5G
2820
LG Velvet
2708
Xiaomi Mi Note 10 Lite
2429
GeekBench 5.1 (multi-core)
Higher is better
Xiaomi Poco F2 Pro
3332
Samsung Galaxy S10 Lite
2732
Realme X3 SuperZoom
2579
LG Velvet
1905
Motorola Edge
1862
Oppo Reno3 Pro 5G
1815
Xiaomi Mi Note 10 Lite
1694
GeekBench 5.1 (single-core)
Higher is better
Xiaomi Poco F2 Pro
916
Realme X3 SuperZoom
756
Samsung Galaxy S10 Lite
738
Oppo Reno3 Pro 5G
609
Motorola Edge
586
LG Velvet
586
Xiaomi Mi Note 10 Lite
521
AnTuTu 8
Higher is better
Xiaomi Poco F2 Pro
538221
Realme X3 SuperZoom
477905
Samsung Galaxy S10 Lite
459497
Oppo Reno3 Pro 5G
308231
Motorola Edge
305989
LG Velvet
297372
Xiaomi Mi Note 10 Lite
253271
GFX 3.1 Car scene (1080p offscreen)
Higher is better
Xiaomi Poco F2 Pro
51
Samsung Galaxy S10 Lite
43
Realme X3 SuperZoom
41
Oppo Reno3 Pro 5G
21
Motorola Edge
19
LG Velvet
19
Xiaomi Mi Note 10 Lite
17
GFX 3.1 Car scene (onscreen)
Higher is better
Xiaomi Poco F2 Pro
40
Realme X3 SuperZoom
35
Samsung Galaxy S10 Lite
34
Oppo Reno3 Pro 5G
18
Motorola Edge
18
LG Velvet
16
Xiaomi Mi Note 10 Lite
15
3DMark SSE Vulkan 1440p
Higher is better
Xiaomi Poco F2 Pro
6660
Realme X3 SuperZoom
5364
Samsung Galaxy S10 Lite
4892
Oppo Reno3 Pro 5G
2995
Motorola Edge
2801
LG Velvet
2758
Bought for 299£, at this price is a very nice phone, i agree with the build, the screen and the overall feeling like a flagship, sadly im not impressed by the front camera, imho it have problem with colours and lights adaptation of the sensor, also w...
ShalokShalom
26 Dec 2021
03w
No, my mistake. It's not
ShalokShalom
02 Dec 2021
iL9
Yep, mine is