Oppo Watch review
GSMArena team, 24 August 2020.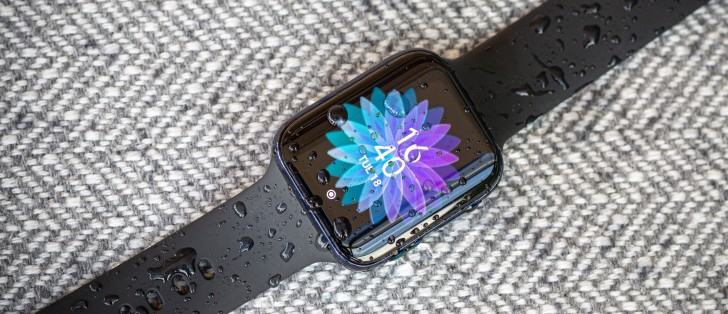 Introduction
The Oppo Watch is a premium looking smartwatch that sticks out amidst the growing wearable crowd and might just be the closest a non-Apple product has come to Apple Watch's levels of refinement and premium nature to date.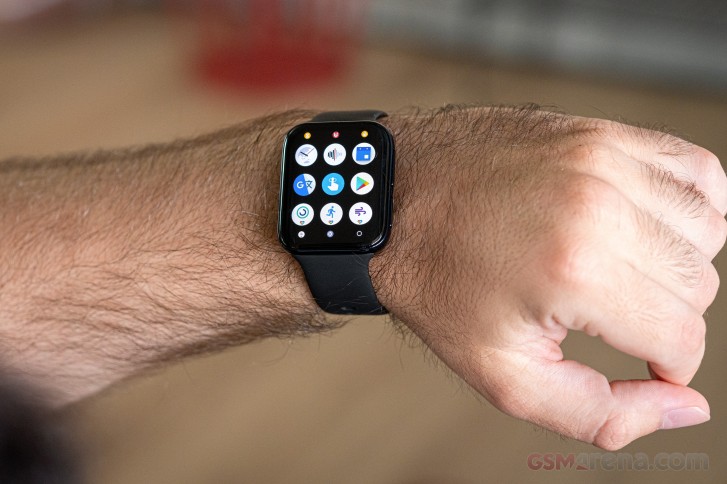 The Apple Watch is a hugely influential landmark device for the entire wearable niche. According to some sources, Cupertino's wearable line has shipped so many units that it is not only the most popular smartwatch on the market, but it is the most popular singular watch model. As in, wearable timepiece, in general.
We are not saying that the Oppo Watch can ever rival the Apple Watch in popularity. We are not even saying that it is equally good as a product. But it's as close as an Android smartwatch has gotten to Apple's wearable. And it's by no coincidence. Oppo has clearly targeted anyone who may be tempted by the Apple wacth by creating a device with the same overall design.
Oppo Watch
Body: 46.0x39.0x11.4mm, 40g (46mm model), 41.45x36.37x11.4mm, 30.1g (46mm model); Glass front, stainless steel frame or aluminum frame, ceramic/sapphire crystal back or plastic back; Fluororubber band; 5ATM water resistant (46mm model), 3ATM water resistant (41mm model); Colors: Black, Glossy Gold, Pink Gold, Silver Mist.
Display: 1.91" AMOLED flexible, 402x476px resolution, 10.66:9 aspect ratio, 326ppi, Schott Glass (46mm model); 1.6" AMOLED, 320x360px, 326 ppi, Corning Gorilla Glass (41mm model).
Chipset: Qualcomm Snapdragon Wear 3100 (28 nm) - International, Qualcomm MSM8909W Snapdragon Wear 2500 (28nm) - China: Quad-core 1.09 GHz Cortex-A7; Adreno 304; Secondary Ambiq Micro Apollo3 Wireless SoC
Memory: 8GB 1GB RAM; eMMC 4.5.
OS/Software: Android Wear OS - International
ColorOS Watch OS - China.
Battery: 430mAh (46mm model), 300mAh (41mm model); Watch VOOC Flash Charging (5v@1.5A).
Connectivity: Wi-Fi 2.4GHz, Bluetooth 4.1 (Snapdragon) + Bluetooth 5.0 LE (Apollo3 chipset); built-in GPS with A-GPS and GLONASS; LTE support (46mm LTE model only)
Misc: Speaker, Microphone, tri-axial accelerometer, gyro, optical heart rate, compass, barometer, geomagnetic sensor, capacitance sensor, ambient light sensor; NFC.
There is an obvious visual similarity between the Apple watch and the Oppo Watch. Sure, you could say that the Oppo Watch takes after the traditional, rectangular wrist watch form factor but anyone can do their own comparisons.
At the end of the day, it's the kind of argument best left to legal teams to quarrel over. The important and exciting bit us consumers should focus on is that we have a shiny new Wear OS smartwatch to enjoy. A standout device, occupying what is a shrinking niche of Google-powered wearables. One that not only looks and feels the part, but also has a major secret weapon in its arsenal - a whole second chipset and OS, to power an extremely efficient alternate, battery-saving mode of operation. One that Oppo claims can squeeze up to 21 days of operation from a single battery charge, while still delivering a core set of smart features - notification, heart rate monitoring, and step counting.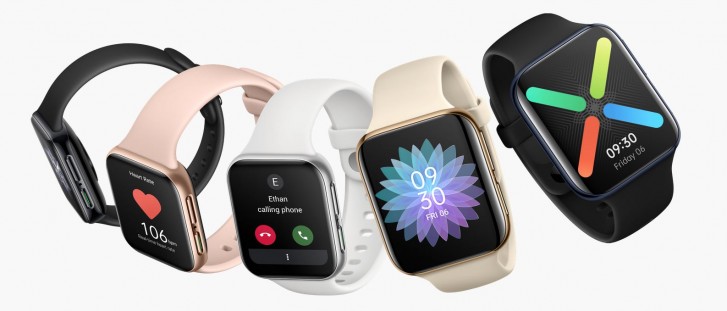 That's one hell of a party trick. Attempted before in the wearable realm, but never at quite this level. If everything works well and as promised, the Oppo Watch could deliver the flexibility of a true smartwatch, with the endurance of a smart wearable/fitness tracker. The best of both worlds. Quite a tall order to fill. Join us on the following pages to see whether the Oppo Watch truly gets to keep its cake and eat it too. But before that, let's see the box first.
Unboxing
The Oppo Watch offers a premium experience from the get-go arriving in a high-quality product box. It is a two-piece design, made from thick cardboard and complete with a soft, rubbery finish and embossed graphics and text. On the inside, you get secure plastic cradles, holding everything in place.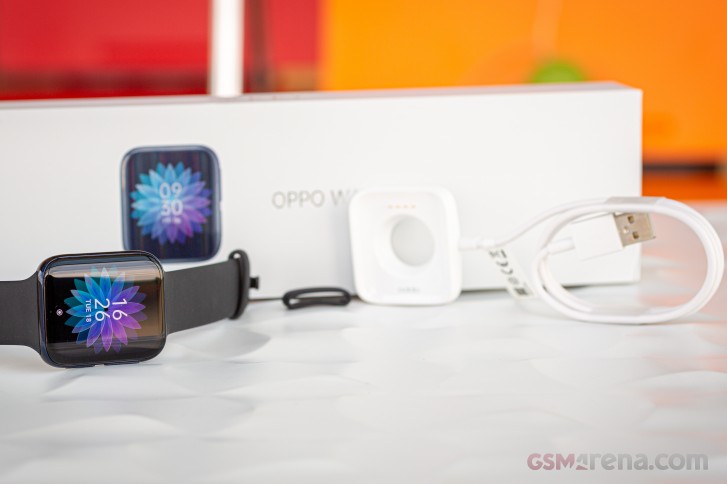 Surprisingly, though, not a lot in terms of accessories. There are no extra bands. Just a single spare ring for keeping the band tucked-in. The charger for the Oppo Watch uses a magnetic cradle design, with a fairly long and thick USB-A cable. It is rated for 5V@1.5A - nothing too fancy, but still a bit of extra current than the standard USB 500 mAh. Since charging is actually done via pogo pins, instead of wirelessly, the Oppo Watch hardly wastes any of this juice.
Anonymous
12 Feb 2022
XZA
Can we connect with apple ?
Can't connect to hey tap health
Just bought OPPO 41 mm today and feel so much disappointed with battery. Seller was cheating me by saying that the battery life is up to 14 days. But it's less than 6 hours, the battery almost fully drained. How can I say about it?