Palm Pre review: A pebble in your hand
A pebble in your hand
GSMArena team, 19 December 2009.
Let the Pre keep you organized
Palm's first webOS based device offers several time-management features and all of them are easily accessible.
The calendar offers daily, weekly, and monthly views. And if Synergy lets sync easily your contacts from various accounts here you can have multiple calendars synced with the same services. It is possible to see the entries from all calendars together or separately.
Adding a new appointment is lightning fast: you just have to tap on the certain hour and start typing. The final touches (setting the reminder, etc.) are added by tapping on the "i" sign displayed after selecting the entry.
Another option to have it all planned and set is Memos or Tasks. Both apps have nice colorful interface and are easy to use. Memos are displayed on a cork board full of post-it notes. Note background can be easily changed and there are 4 color options. In the Tasks app you can create plenty of task lists and change their order as you wish.
To go to the Universal Search feature just start typing on the homescreen (no matter if there are any cards open) to find the application or contact you're looking for. The Universal Search goes even further and offers Google, Wikipedia, Google Maps, and Twitter to help you find what you're looking for. But don't go looking for calendar items or emails. They are not search-supported.
Next up is the simple calculator. All the on-screen buttons are large enough to guarantee problem free typing. The calculator works only in portrait mode.
The last thing we're going to take a closer look at before we move on to the document viewer is the Clock. You can't get to it by tapping on the clock displayed on the homescreen. To reach it you have to go to the menu. You can set multiple alarms.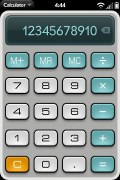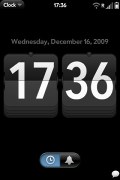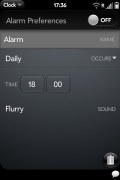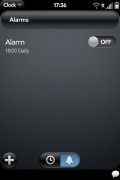 Calculator • Clock • Setting up an alarm
A document viewer is readily available
There aren't too many things that come preloaded on the Pre but document viewers are at hand. It's worth the mention given the amount of time it took Android devices to finally have them.
Well, there is no option to edit documents but the office and PDF viewer apps work fine and support multi-touch for zooming. Even if the CPU is quite zippy, you might have to wait for a moment or two at times for a file to be loaded. Afterwards everything works excellently.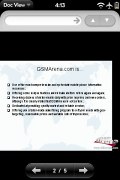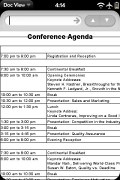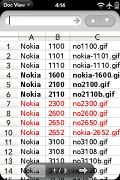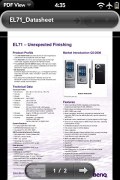 Office document viewer • PDF viewer
The App Catalog is far behind the competition
Palm Pre comes with only a few preloaded apps (there aren't any games among them, though) but luckily there is the App Catalog only a tap away. At least, this is what a person would think. The truth is the App Catalog has quite some to catch up with the competition.
At the moment, there are approximately 800 applications in the App Catalog. Although their number grows by the day that hardly compares to the variety offered by competitors (Apple and Android mainly).
Unfortunately, we didn't have access to the App Catalog for some reason. Some sources state that the reason is Palm have made the App Catalog available only in countries where the Pre is sold officially.
We really hope this isn't true. There must be enough SIM-free Palm Pre owners living outside Germany (or the UK, Ireland and Spain) who have spent plenty of money on their devices. And limited access to the store also means limited phone functionality.
Anyway, when it comes to the App Catalog itself, its structure is reminiscent of the competition. You can easily find what you are looking for. Well, if it is available at the store in the first place. And if it isn't, you may want to try some unofficial applications (like the Precorder).
AnonD-655782
25 Mar 2017
t}V
I want to repair my phone. Touch pad is not working so want to change it. please suggest where can I get a new touch pad for this phone? or suggest another suitable touch pad.
oky garis
15 Mar 2010
txx
i like the concept of palm..... its a fresh phone with fresh UI
PLIZ! can someone help me with this decision? which one do you think is better? -Palm pre plus -Nokia N900 -HTC Hero ok, i don't need a lot of settings, i love the keyboards but hate blackberry, and don't like nokia E72 interface, so my ...