Panasonic Toughbook FZ-T1 "handheld" costs $1,600, has warm-swappable battery
Peter, 22 June 2018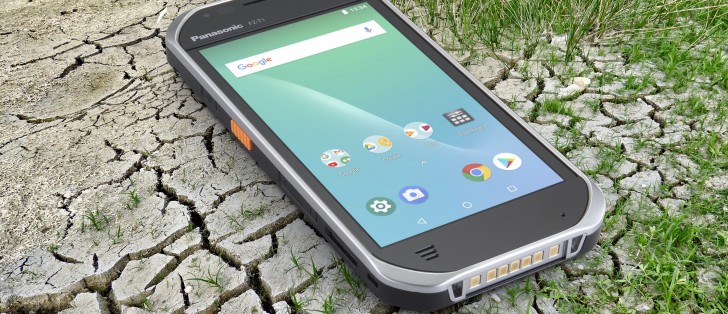 Panasonic's Toughbook computers look more like suitcases than laptops – they are not pretty, they are not cheap, but they are so rugged that they are advertised for military use. A few years ago the company unveiled Toughpad tablets and now there's a phone.
Well, the Panasonic Toughbook FZ-T1 isn't necessarily a phone, the press release calls it a "handheld". That's because there's a Wi-Fi only version as well as a Wi-Fi/4G vesrsion (with voice capabilities).
Either way it runs Android 8.1 Oreo with Panasonic's COMPASS 2.0 (Complete Android Security and Services), which enables flexible business management and security.
The handheld features a barcode scanner, which works at a short and long ranges (depending on whether you're scanning something in front of you or high up on a shelve). Next year there will be an auto-range barcode scanner accessory.
The Toughbook has the usual IP68 and MIL-STD-810G label. It has been tested with drops from 1.5m (5 ft) height and it has a working temperature range between -10 to 50°C (14-122°F). The 5" screen can work in the rain and can be operated with gloves or a passive stylus.
Yes, a 5" 720p screen. This is not a high-end device, it's powered by a rusty Snapdragon 210 chipset with 2 GB of RAM and 16 GB of storage. The 8 MP camera won't impress anyone either, but Panasonic says it's useful for scanning documents.
The battery allows for warm swapping – you can take out a depleted battery and put in a fresh one without needing to power down the phone. The capacity is unknown, it's just described as having 12-hour battery life.
Panasonic unironically calls the handheld "slim and lightweight". We don't know how "slim" it is, but the "under 240g" weight makes us think that this claim may be a bit of an exaggeration. But that's nothing, wait until you hear the price.
The Panasonic Toughbook FZ-T1 will be available across Europe. The Wi-Fi only model launches in August at £1,142 (plus VAT) and the 4G model will be out in September at £1,214 (€1,386/$1,615). Hey, at least you get three years of warranty.
Related
Anonymous
26 Jun 2018
I8m
No it's not ok. Just because you don't think you need more power doesn't mean other people don't. Especially with how low end that chip among other things are. And if you didn't need it then guess what. It doesn't make it ok for them to charge you ...
Now, I just wish that the warm-swappable battery feature comes to lg. slap this feature to midrange device and people will come and buy it. Though their mid range is kinda lousy
Anonymous
25 Jun 2018
xHb
$1600 is still cheaper than previous panasonic rugged handheld models, they were starting from $2000.. although the cpu is quite disappointing but as long as this handheld can get their things done, then its alright. What do you need from this handhe...
Popular articles
Popular devices
Electric Vehicles