Poco F3 long-term review
GSMArena Team, 16 November 2021.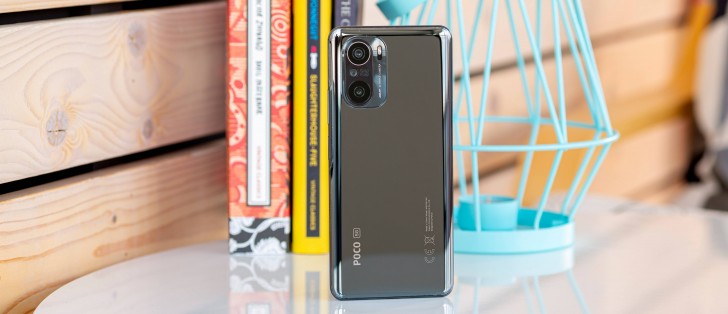 Design, handling
Unlike the Poco F2 Pro last year with its motorized pop-up selfie camera, the Poco F3's general design doesn't stand out in any way in a sea of slab phone lookalikes. That's both a bad thing and a good thing, depending on how you look at it. On one hand, there are no weird experiments going on, so no chance of them going wrong. On the other hand, if you're looking for an exciting departure from what basically every other mainstream phone looks like, well, then you're in for a disappointment. The only way to make this one stand out even remotely is to opt for the Deep Ocean Blue colorway, with its angled lines and huge Poco logo - if you're into that, of course.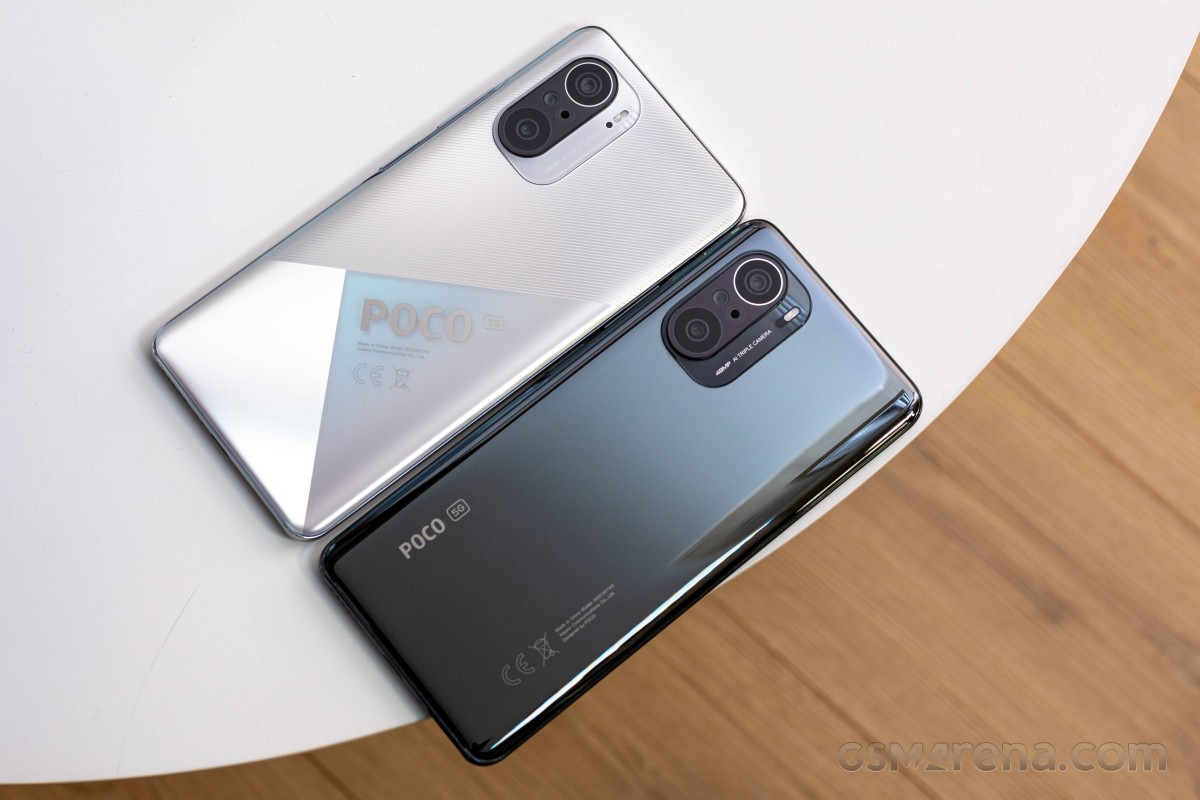 Poco F3 in Moonlight Silver and Night Black
Our review unit comes in the much more subdued Night Black hue, which is really a sort of gray and not black at all - so don't let the name fool you. The Poco F3 has all of the design features you'd expect in this day and age, without really going overboard with anything. There is a rather large camera island, and its design is vaguely reminiscent of other creations from the Xiaomi/Redmi/Poco stable. The back glass curves into the plastic frame very smoothly, and while the display element still looks like it sits on top of the frame, the transition is the smoothest we've seen from a Xiaomi/Poco/Redmi phone yet.
That's because the frame itself is slightly curved, and that curve is continued by the display edge somewhat. There's still a 'seam' you can feel where the flat display ends, but it's much less 'in your face' than other phones we've long-term reviewed, so this is definitely a plus in our book.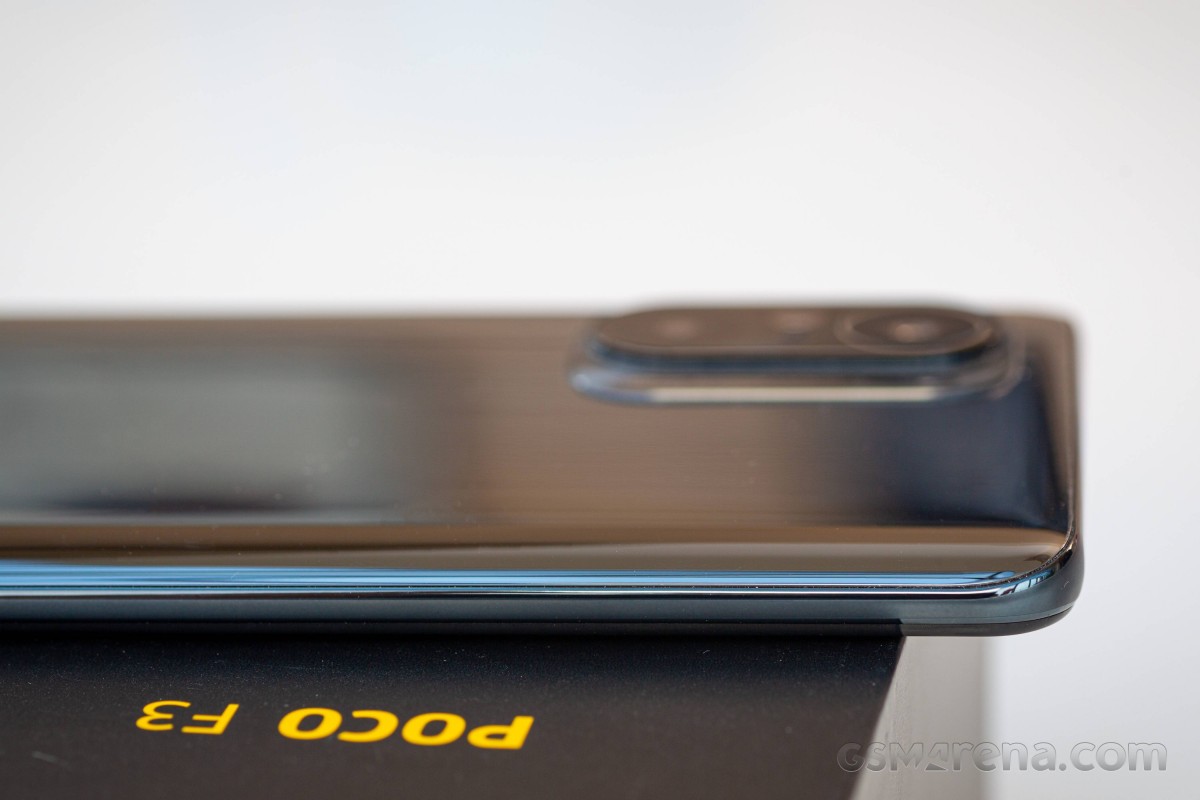 Overall, though, we'd call this design forgettable, for lack of a better word. And that's interesting because while it kind of looks like every other phone, the attention to detail is not lacking, as we've described above. It almost seems like all of the design team's attention went to that, and there was no room for anything even remotely out of the ordinary. But you know what? We'll take it. Boring as it may be, this design does simply 'just work', and that's probably what a lot of people are looking for.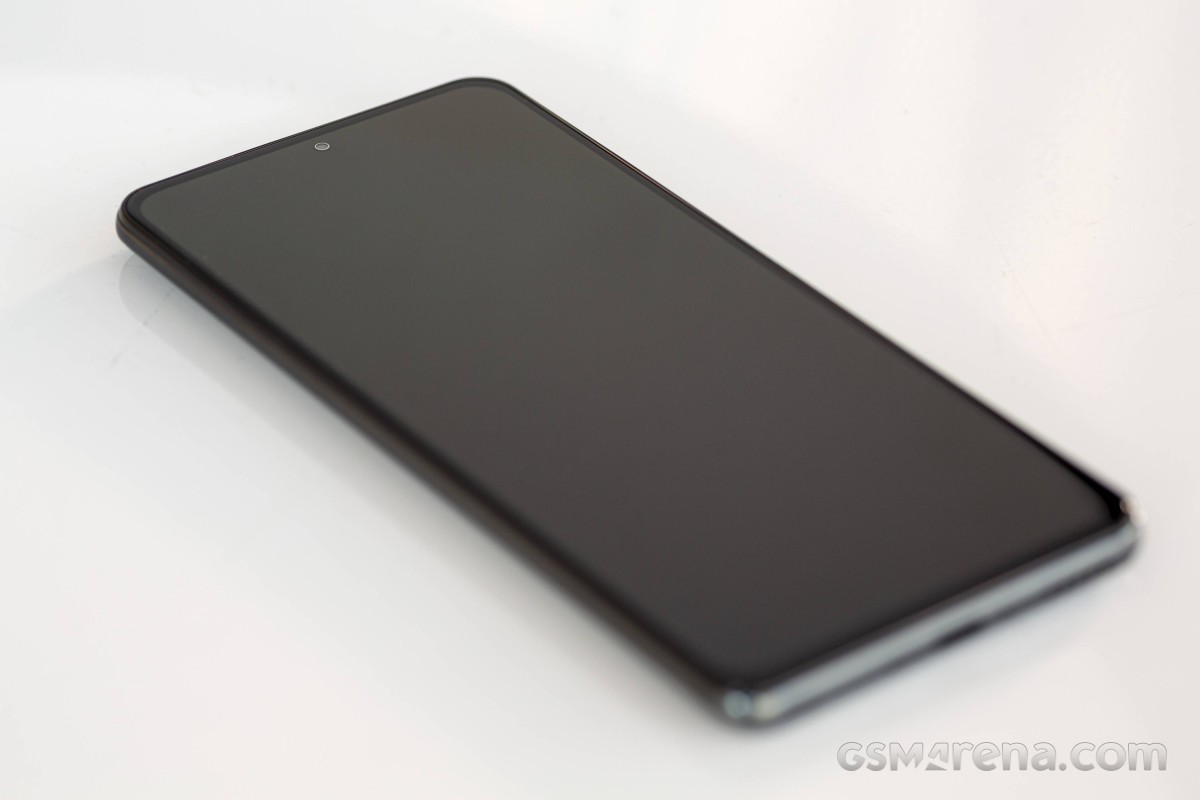 Owing to the Poco F3's under-200g weight, handling is perfectly fine for this reviewer with his big hands, but as usual with big phones, if your hands happen to be smaller, you may always find that you need to employ both of them to ensure the handset doesn't fall off. Speaking of that, the glass back is, of course, slippery, but on our unit, thanks to the glossy finish, it picks up fingerprints pretty fast, and those help make it ever so slightly less slippery. Because of this, matte glass backs (with very few notable exceptions) are generally much more consistently slippery than glossy ones. But the glossy ones always look worse once they get fingerprinty, so it's never a win-win here.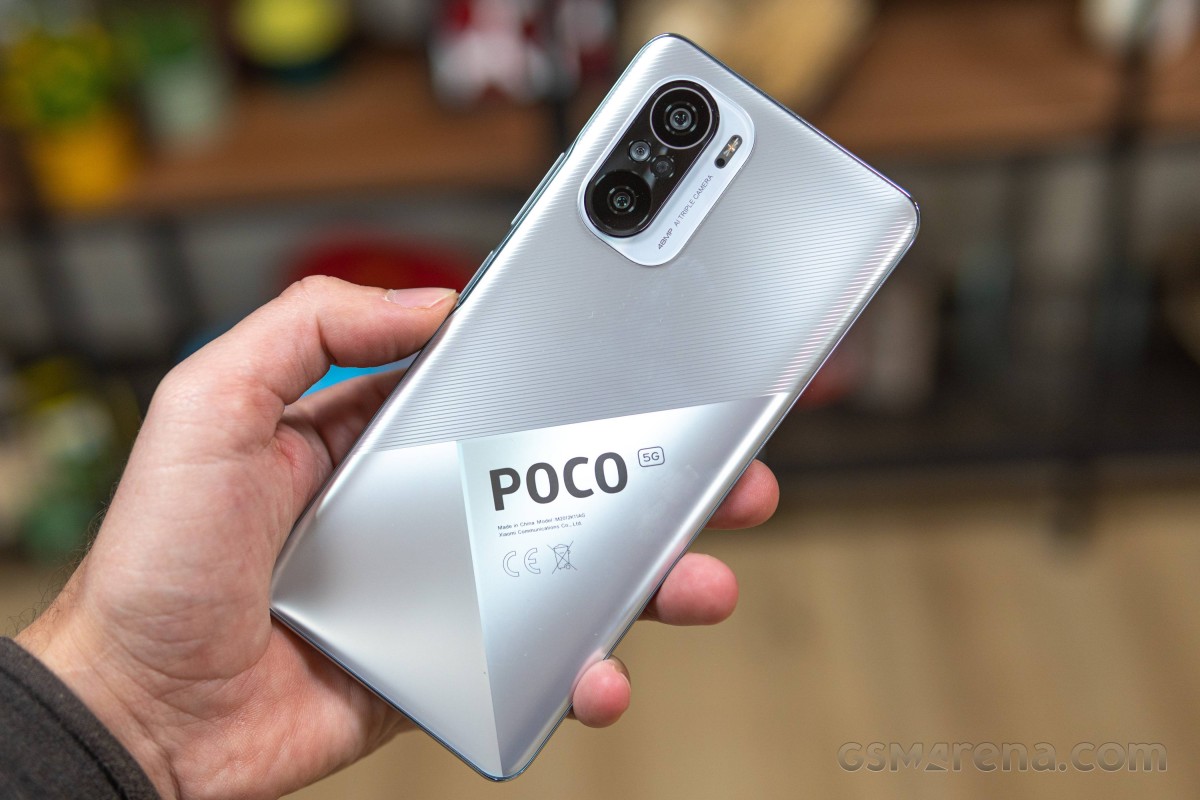 The back has a reasonably subdued Poco logo, but also a lot of regulatory information etched below it, and that is a bit much, honestly. It's also hilarious that while Poco insists it's a totally independent brand, "Xiaomi Communications Co., Ltd" is literally etched onto the back of this phone, right above "Designed by Poco". Not to mention that the charger in the box is Mi branded.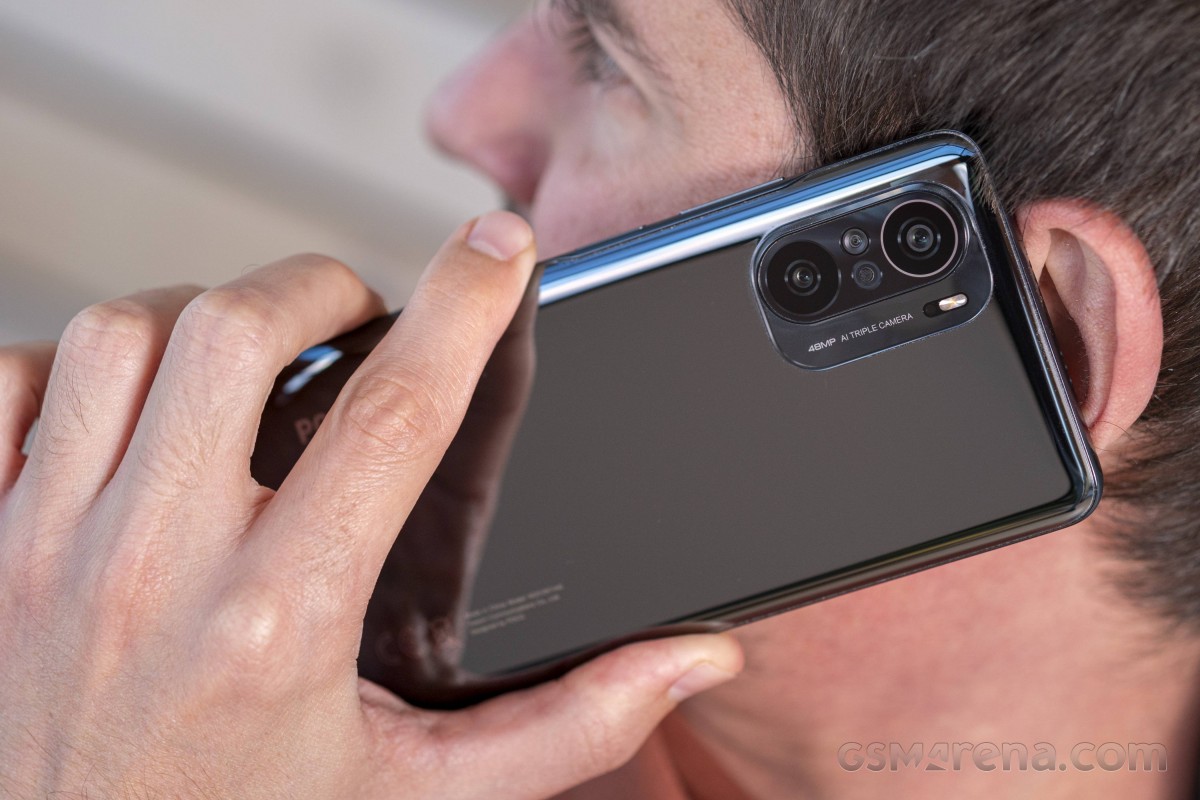 The camera island is a two-stage affair, with the lower part housing the LED flash and an inevitable inscription, this time, it's a "48 MP AI triple camera". That's completely unnecessary, of course, but it's also not the worst such etching we've seen next to a camera arrangement, so we mostly chose to ignore it.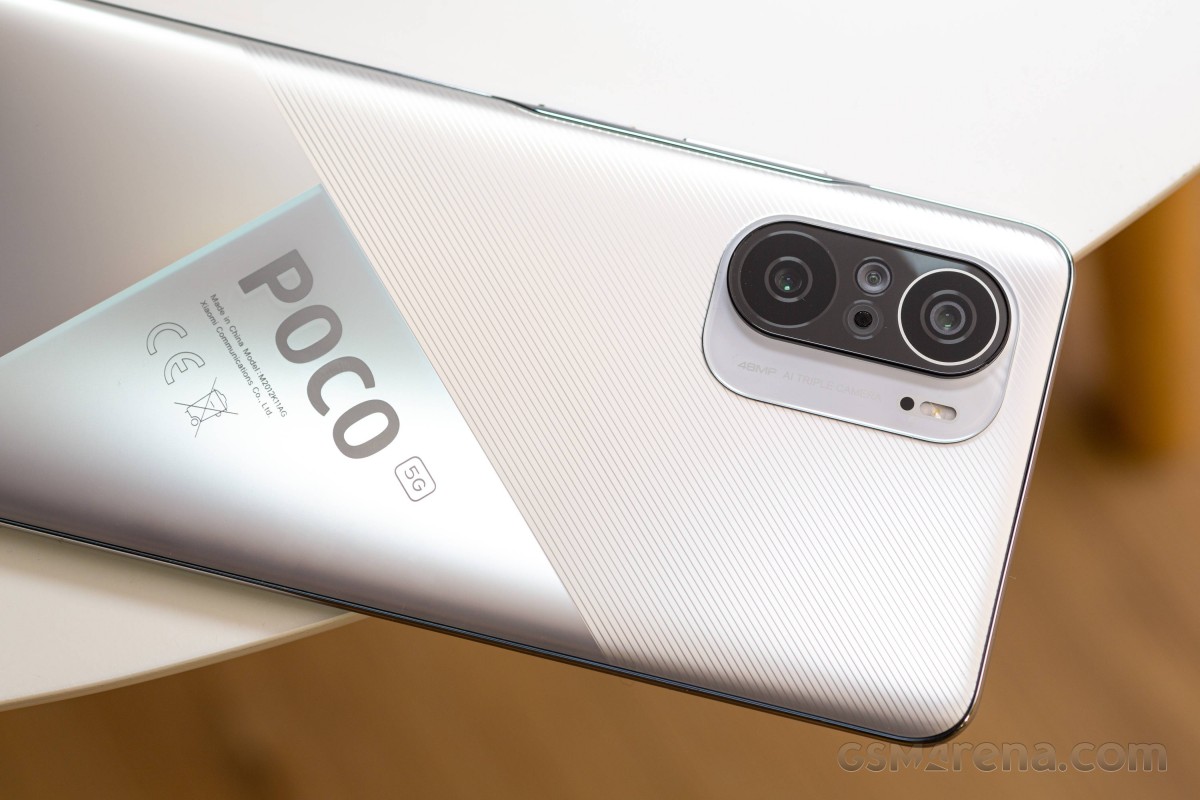 The upper level of the island is where the three sensors actually live, along with an ingeniously-placed microphone - that sits in a camera-like circle in the middle. It's a cool design element, and who knows, it may even fool people into thinking there are four cameras on this phone, if they look at it from far enough away. Does anyone actually do that, though? On the street, do you casually peek at how many cameras everyone's phones feature? Does it even matter? Would you rather take five bad cameras or one good one? So many questions, but we digress.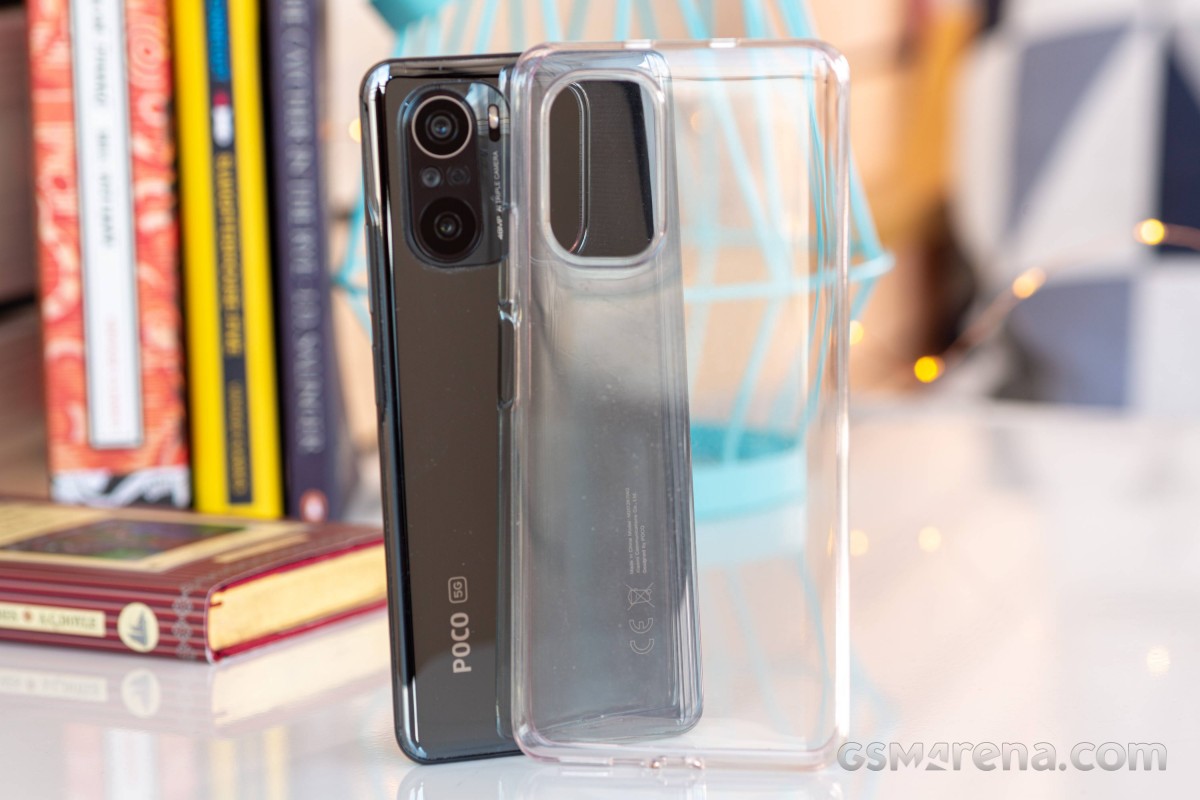 Unsurprisingly, there's a clear case in the box. It's not the sturdiest we've seen, but it should mostly do the job just fine. It does have one annoying aspect, which seems to have become a staple of bundled cases in Xiaomi/Poco/Redmi land, and that is the flap that covers the USB-C port for some reason. It's fiddly, it's flimsy, and it makes plugging-in the phone much more of a hassle than it needs to be, so honestly, we'd just cut it off if we were to purchase this phone and use the case that comes in the box with it.
Speakers
The 3.5 mm headphone jack is gone, by the way. It looks like this year, even flagship killers are joining this trend. The Poco F3 does have stereo speakers, employing Xiaomi's latest solution for the top one - there is one speaker at the top, but the sound comes out of both the earpiece and dedicated holes on the top part of the frame. This makes phone calls less private if the volume is all the way up, but it does mean a better media consumption experience is provided without the need to have two different speakers in close proximity. It's one of those cost-cutting (and space-saving) measures that actually makes perfect sense to us.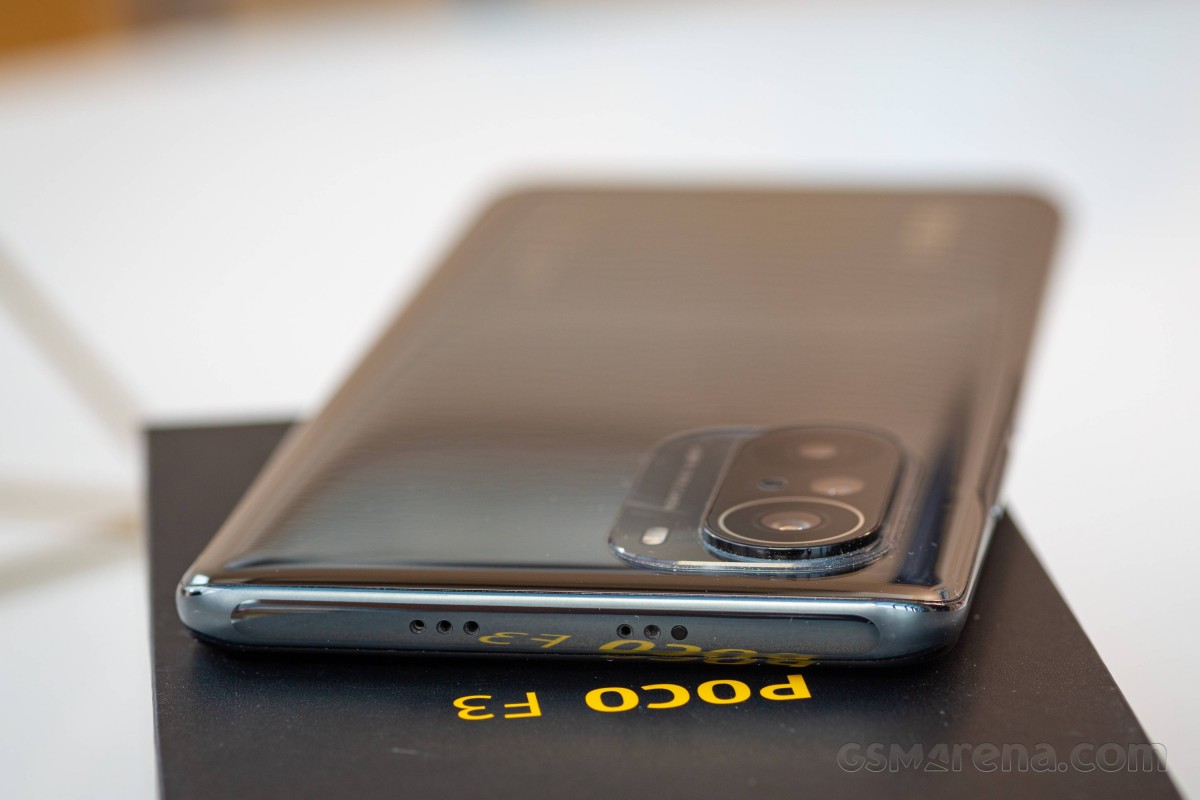 Speaking of the speakers, the sound they put out is by no means the best we've heard, nor is the volume the highest. But we've never really had an issue with either. Quality is about what you can expect from most phones today, and in terms of volume, you'll only feel the need for more of it when you're in a noisy environment. So while the speakers aren't record-breaking in any way, we feel like they are perfectly adequate for most people in most scenarios. We've never been left wanting more from them in our extended period spent with this phone.
Biometrics
The side-mounted fingerprint sensor sits flush with the plastic frame, which is a rather recent innovation, and it also happens to be by far the best side-mounted fingerprint sensor this reviewer has ever used. Before using the Poco F3, we assumed that it was the reviewer's fingers to blame for very lackluster previous experiences with side-mounted sensors, but those were just bad fingerprint scanners.
From a bunch of missed readings with other phones, we went to more than 99% accuracy with this one. It really is that good, but the usual caveat applies - take care when you enroll your fingers to cover as much surface area as possible, since the sensor isn't as wide as an under-display one would be.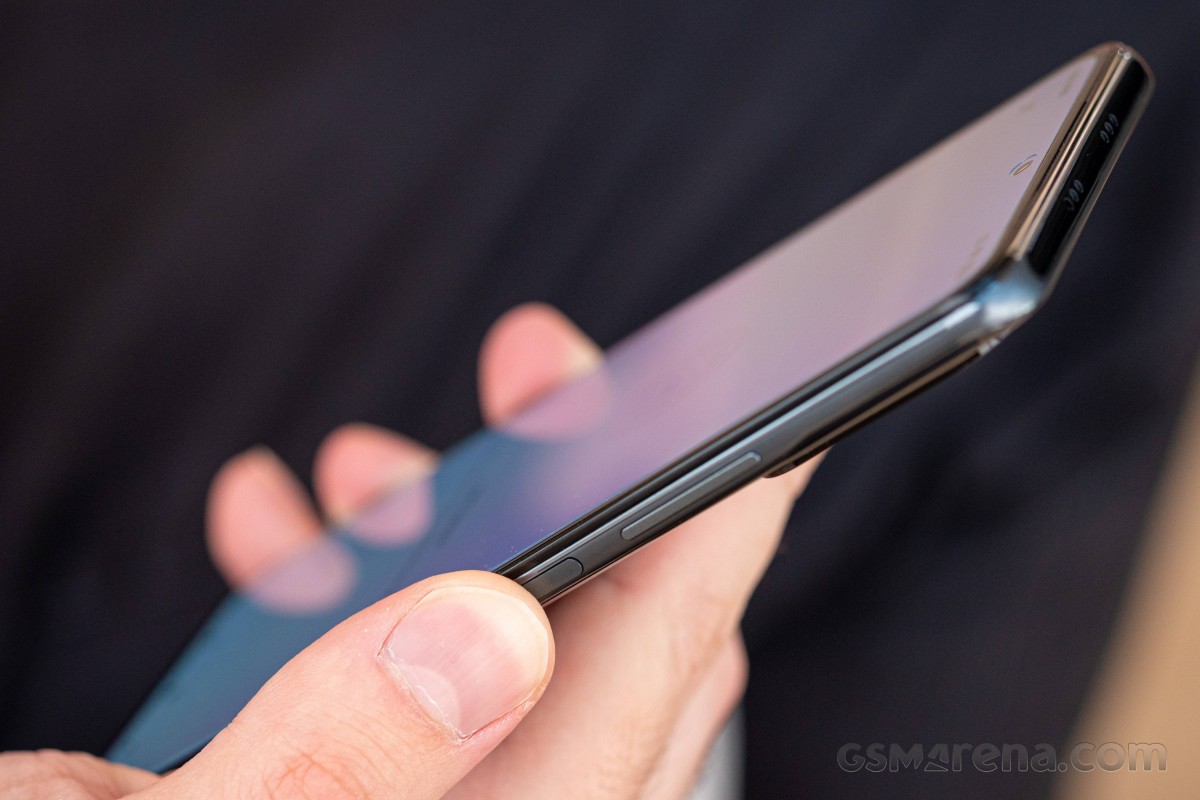 As usual with Xiaomi/Redmi/Poco phones running MIUI, you can set it to unlock when you touch it or when you press it. We always go with the latter option because, first of all, that ensures there are no accidental unlocks when we just handle the phone (especially when taking it out of a pocket or putting it back in), and also because it's just such a natural action to press the power button to wake up the screen. This fingerprint sensor is so good that honestly, after a while, you kind of forget that there even is a fingerprint scanner embedded in the power key; it's that seamless.
Face unlocking is also an option on the Poco F3, but with the fingerprint sensor being that good, we never really felt the need to use it. By the time it starts looking for your face, the fingerprint authentication is already complete, and the phone is unlocked anyway. But, if for some reason you can't or don't want to use the fingerprint scanner, know that face unlocking is there, and it also works pretty fast. It doesn't work with your eyes closed, but since it's camera-based, it's much less secure than fingerprint recognition, so we'd stick with that.
Proximity sensor
As much as we were impressed with the fingerprint sensor, we were disappointed by the proximity sensor. The recent trend where some companies stopped using actual physical sensors and relied on software and accelerometer reads to achieve the same purpose is definitely one of the more annoying trends we've seen in the mobile world. And the Poco F3 definitely seems to use such a software-based solution, and it's not good at all.
It's not the worst implementation we've had the displeasure of using, but it's actually very close. When you pick up the phone to put it to your ear, you need to make a very exaggerated movement in order for the "sensor" to realize what you're doing and turn the screen off. But what's most annoying here is that even small movements of the phone while it's on your ear and you're talking with someone will trigger the screen to wake up - and then your ear and face will randomly touch things on the screen, constantly. Not fun, this, not fun at all.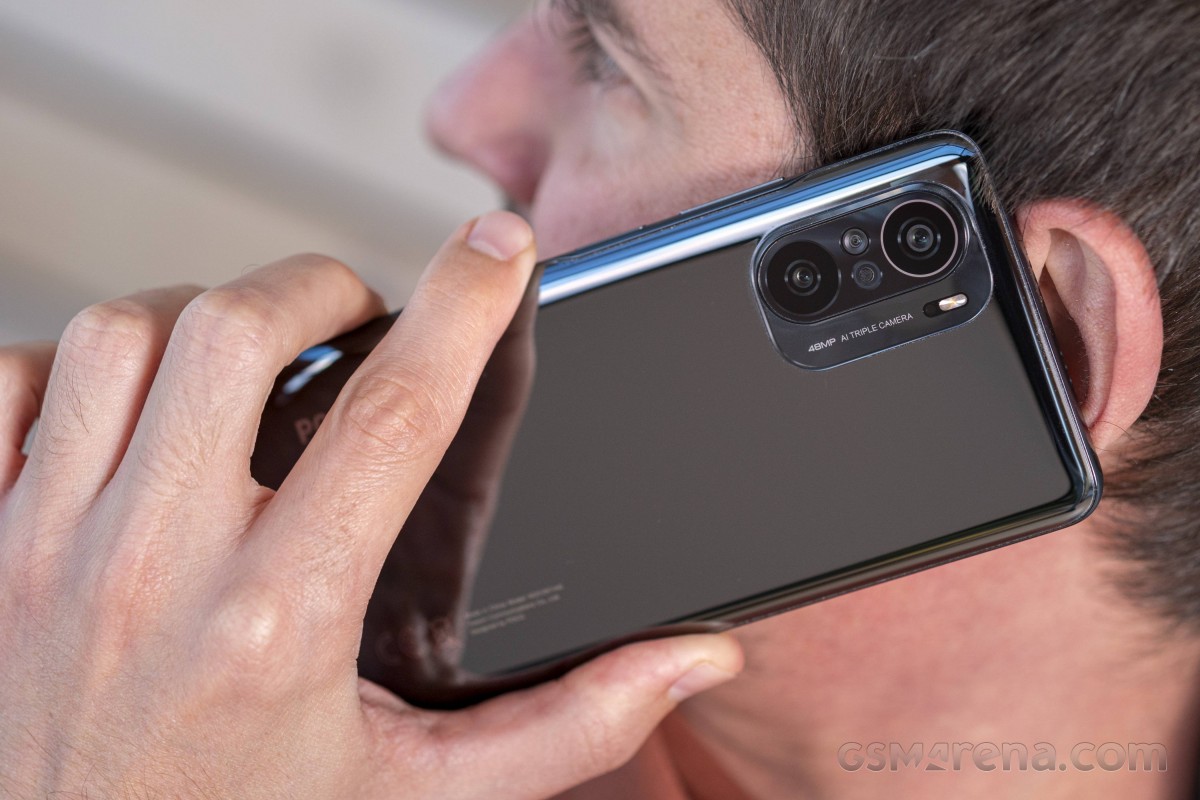 We assume that not using actual sensors is down to cost-cutting and space-saving, but some such cuts simply aren't worth it - and we're not talking huge sums here anyway. Hopefully, this trend will die a sudden death soon, for the sake of all the people out there who still use their smartphones for talking - and directly, not with headphones of any sort. We're assuming that those people still exist, but who knows, maybe it's just us.
Vibration motor
The Poco F3's vibration motor is not on the same level as the best out there (seen in flagships left and right), but it's also a step above entry-level ones featured on cheaper budget devices. It's very average, but that's not a bad thing per se, when you factor in the phone's current pricing, because you do get slightly more than what you're paying, so to speak. It's on par with what we see (or rather, feel) in more expensive handsets, but not with the most expensive ones.
Since MIUI makes a lot of use of it with gentle nudges here and there, the experience won't feel bad, but it does definitely feel much better on a Mi 11, for example. Then again, that phone is twice the price.
Are you sure about that ?
Do you have problems when making phonecalls due to the sensor ?
Does this problem exsist in xiaomi note 10 pro max ?