Poco F4 review
GSMArena Team, 27 June 2022.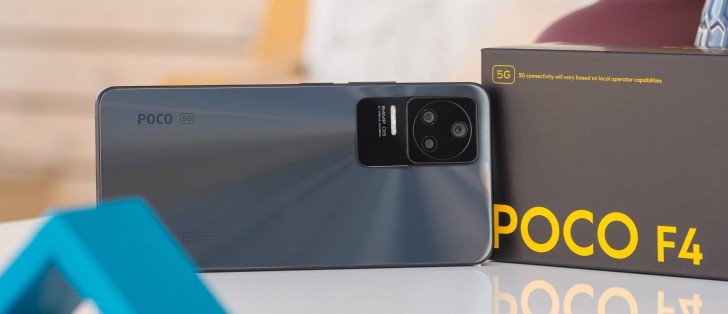 Updated AMOLED with Dolby Vision support
The Poco F4 features a similar 6.67-inch E4 AMOLED panel like the Poco F3's, but it's been updated with Dolby Vision support.
So, the screen offers 2,400 x 1,080 px resolution and has a tiny perforation to make way for the selfie camera. Poco likes to point out it is one of the smallest on the market, and that's definitely true. The panel is protected by a flat sheet of Gorilla Glass 5.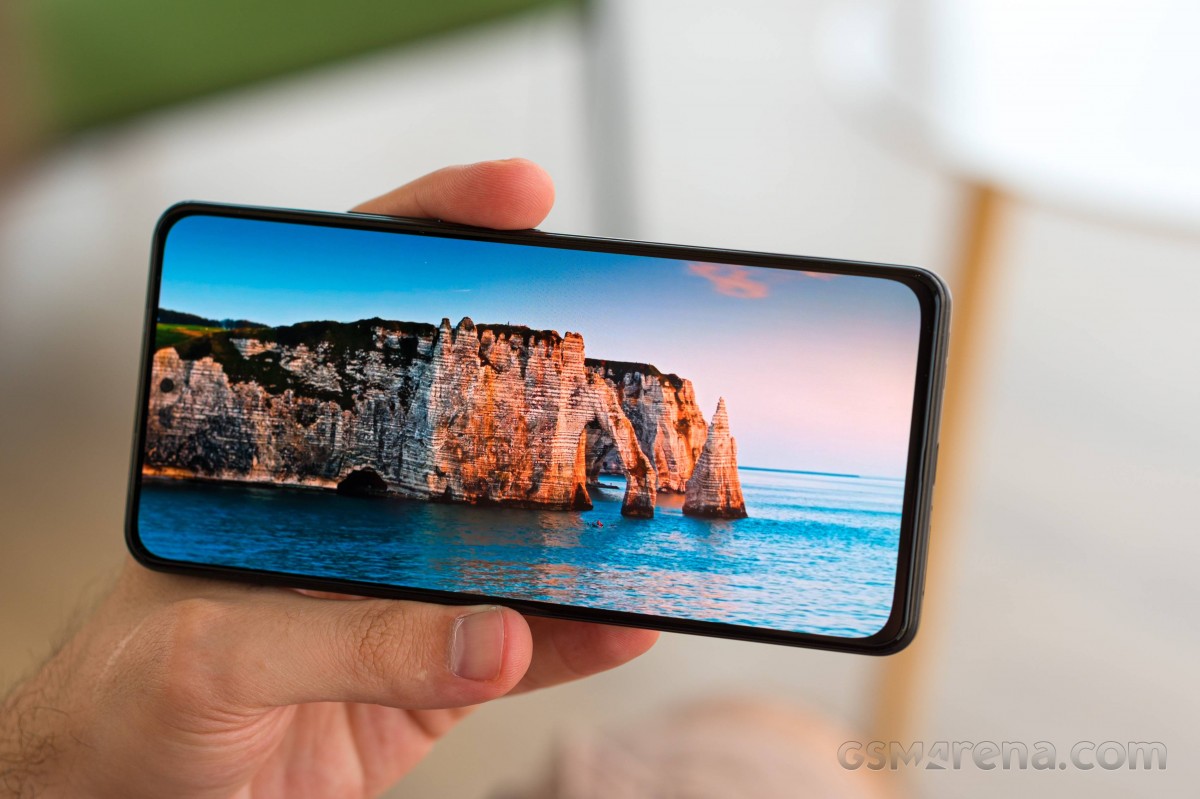 The screen supports a 120Hz refresh rate and 360Hz touch sensitivity. It is HDR-capable and is both HDR10+ and Dolby Vision certified.
The Poco F4 screen's official specs sheet mentions 900 nits of high maximum brightness and 1300 nits of peak brightness. Our display measurements captured 530 nits of typical brightness and 1000 nits of high maximum brightness (with the sunlight boost).
The minimum brightness at point white was 2.2nits - on par with most of the OLEDs these days and considered an excellent one.
Display test
100% brightness
Black,cd/m2
White,cd/m2
Contrast ratio
Poco F4
0
530
∞
Poco F4 (Max Auto)
0
1003
∞
Poco F3
0
511
∞
Poco F3 (Max Auto)
0
716
∞
Poco F4 GT
0
468
∞
Poco F4 GT (Max Auto)
0
761
∞
Poco X4 Pro
0
477
∞
Poco X4 Pro (Max Auto)
0
754
∞
Samsung Galaxy S21 FE 5G
0
792
∞
Samsung Galaxy S21 FE 5G (before second slide)
0
385
∞
Realme GT Neo 3T
0
516
∞
Realme GT Neo 3T (Max Auto)
0
803
∞
iQOO Neo 6
0
487
∞
iQOO Neo 6 (Max Auto)
0
772
∞
Samsung Galaxy A52s 5G
0
383
∞
Samsung Galaxy A52s 5G (Max Auto)
0
800
∞
Samsung Galaxy A53 5G
0
427
∞
Samsung Galaxy A53 5G (Max Auto)
0
830
∞
OnePlus Nord 2 5G
0
438
∞
OnePlus Nord 2 5G (Max Auto)
0
633
∞
Color accuracy
The Poco F4 supports DCI-P3 wide color gamut. The phone's settings offer three different color modes - Vivid (default, DCI-P3), Saturated (DCI-P3 with saturation boost), and Standard (sRGB). You can tweak the color temperature for each mode. There are also Advanced Settings, where you can specifically choose between DCI-P3 or sRGB.
The default setting is Vivid, and it is tuned to reproduce DCI-P3 faithfully - we found the screen to be fairly accurate to DCI-P3, excluding the slightly bluish-white and gray hues. Standard, on the other hand, has an outstanding accuracy to sRGB.
Refresh rate
You can choose between Default and Custom refresh rate options. The Custom button offers two fixed steps - 60Hz and 120Hz.
Both Default and 120Hz work sort of dynamically. The screen is always showing 120fps throughout the UI and all system apps, but it reverts to 60Hz when the picture is static for battery-saving reasons. 60Hz is also used for video playback/streaming and across apps that cannot support higher than 60Hz screens.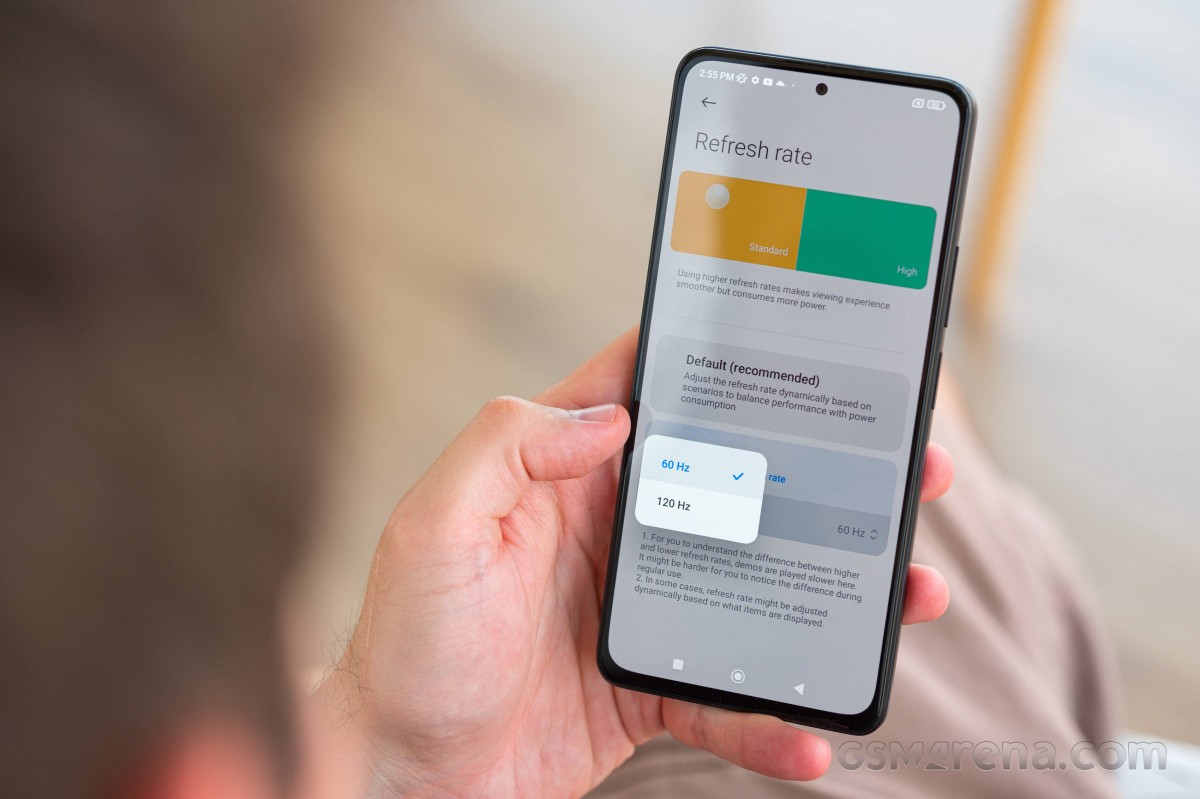 Hardware screening apps recognize the screen as capable of 30Hz, 60Hz, 90Hz, and 120Hz fixed refresh rate steps. The only occasion we found MIUI using 30Hz is for the Always-on Display. 90Hz is also possible for games that max out at 90Hz support.
High refresh rate gaming is possible on the Poco F4, and we saw quite a few games using the 120Hz refresh rate as native.
HDR and streaming
The Poco F4's display is HDR10, HDR10+ and Dolby Vision certified. The phone supports Widevine L1 DRM, which means it is ready to serve the highest streaming quality, in its case, 1080p Dolby Vision.
The Poco F4 is supported by popular streaming apps like Netflix and will serve the highest possible streaming quality.
Other enhancements
The Poco F4 offers two AI Image Engine features (both disabled by default). The first is AI HDR enhancement - it uses some sort of processing across SDR content to bring more detail to both lighter and darker areas.
The second one is MEMC - motion interpolation from low frame rate footage to high frame rate. The latter leads to a soap opera-like effect for some movies/TV shows, so if you feel something is wrong, say too fast or too real, just don't use MEMC.
Battery life
The Poco F4's battery capacity remains intact since the F3 - it is powered by a similar 4,500mAh battery. The only improvement in the battery department is the faster 67W wired charging.
The Poco F4 scored a very good 101h endurance rating on our battery life test. It did great across the on-screen tests, and it can last more than a day in calls. The only aspect it demonstrated an average behavior was the standby performance.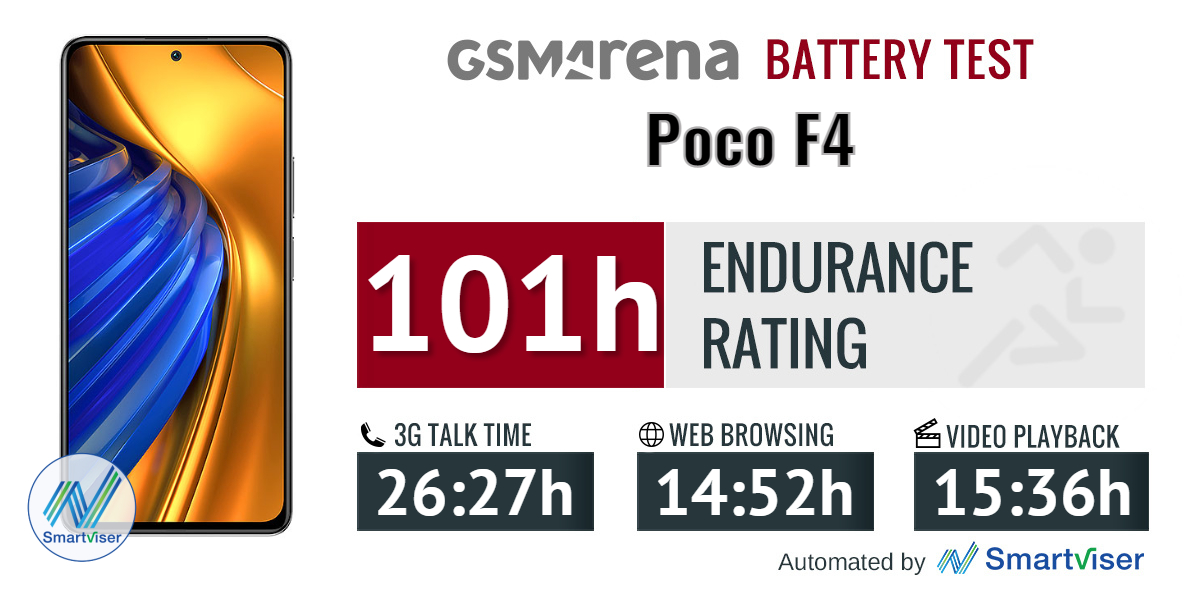 Our battery tests were automated thanks to SmartViser, using its viSerDevice app. The endurance rating denotes how long the battery charge will last you if you use the device for an hour of telephony, web browsing, and video playback daily. More details can be found here.
For some reason, the Poco F4 scored about 3 hours less on the video playback test than the Poco F3.
Video test carried out in 60Hz refresh rate mode. Web browsing test done at the display's highest refresh rate whenever possible. Refer to the respective reviews for specifics. To adjust the endurance rating formula to match your own usage - check out our all-time battery test results chart.
Charging speed
One of the most notable Poco F4 updates since the Poco F3 is the faster battery charging - now, the phone supports 67W Mi Fast Charging, up from 33W on the previous model. The Poco F4 ships with the 67W power adapter.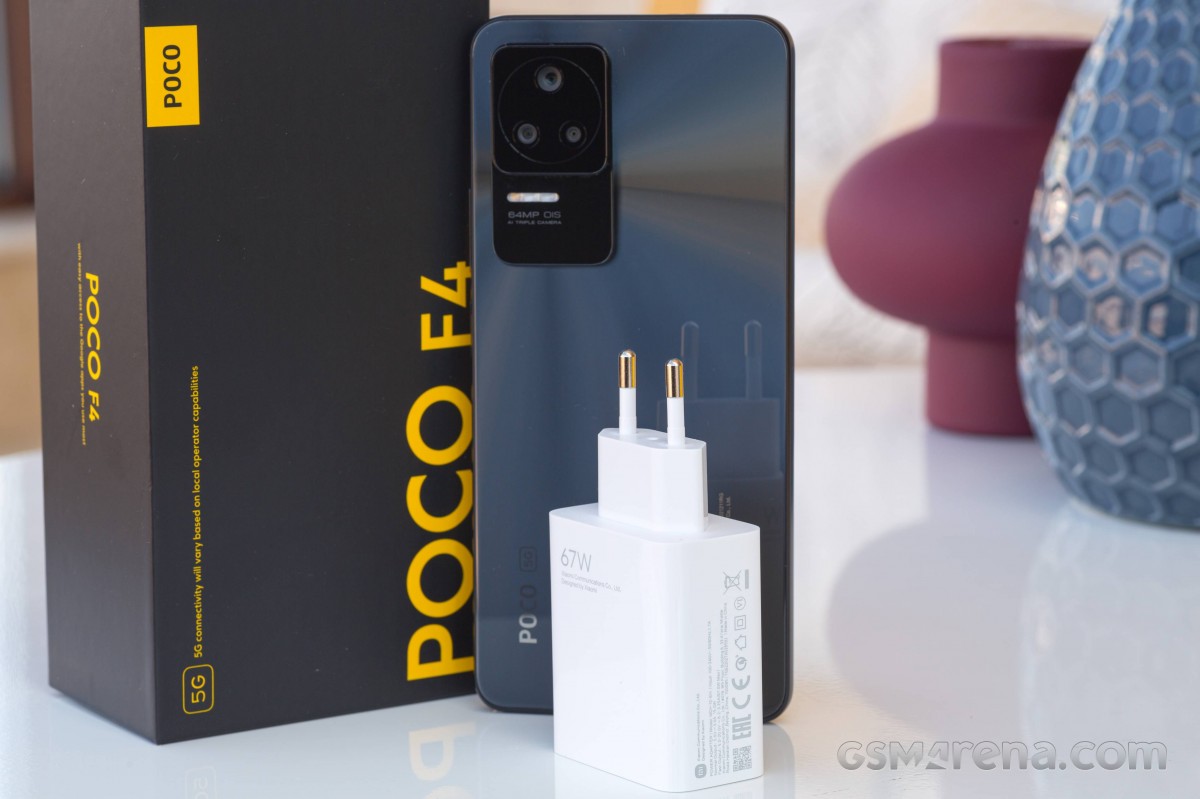 According to Poco, the F4 should fully recharge in 38 minutes, and we've put that to the test, of course.
The 67W charger took the battery from 0% to 55% in 15 minutes. Half an hour on this charger gave us 92% of the charge. Nice!
30min charging test (from 0%)
Higher is better
Xiaomi Redmi Note 11 Pro+ 5G
100%
Poco F4 GT
100%
iQOO Neo 6
98%
OnePlus Nord 2
98%
Realme GT Neo3T
95%
Poco F4
92%
Xiaomi 11T
86%
Poco F3
67%
Samsung Galaxy A52s 5G
53%
Samsung Galaxy A53 5G
45%
A full charge took 38 minutes sharp - exactly what Poco has promised!
Time to full charge (from 0%)
Lower is better
Xiaomi Redmi Note 11 Pro+ 5G
0:16h
Poco F4 GT
0:17h
OnePlus Nord 2
0:31h
iQOO Neo 6
0:32h
Poco F4
0:38h
Realme GT Neo3T
0:40h
Xiaomi 11T
0:41h
Poco F3
0:56h
Samsung Galaxy A53 5G
1:24h
Samsung Galaxy A52s 5G
1:28h
There is no wireless charging support on the Poco F4.
Speakers
The Poco F4 features stereo speakers on its top and bottom sides, and they support the Dolby Atmos enhancement.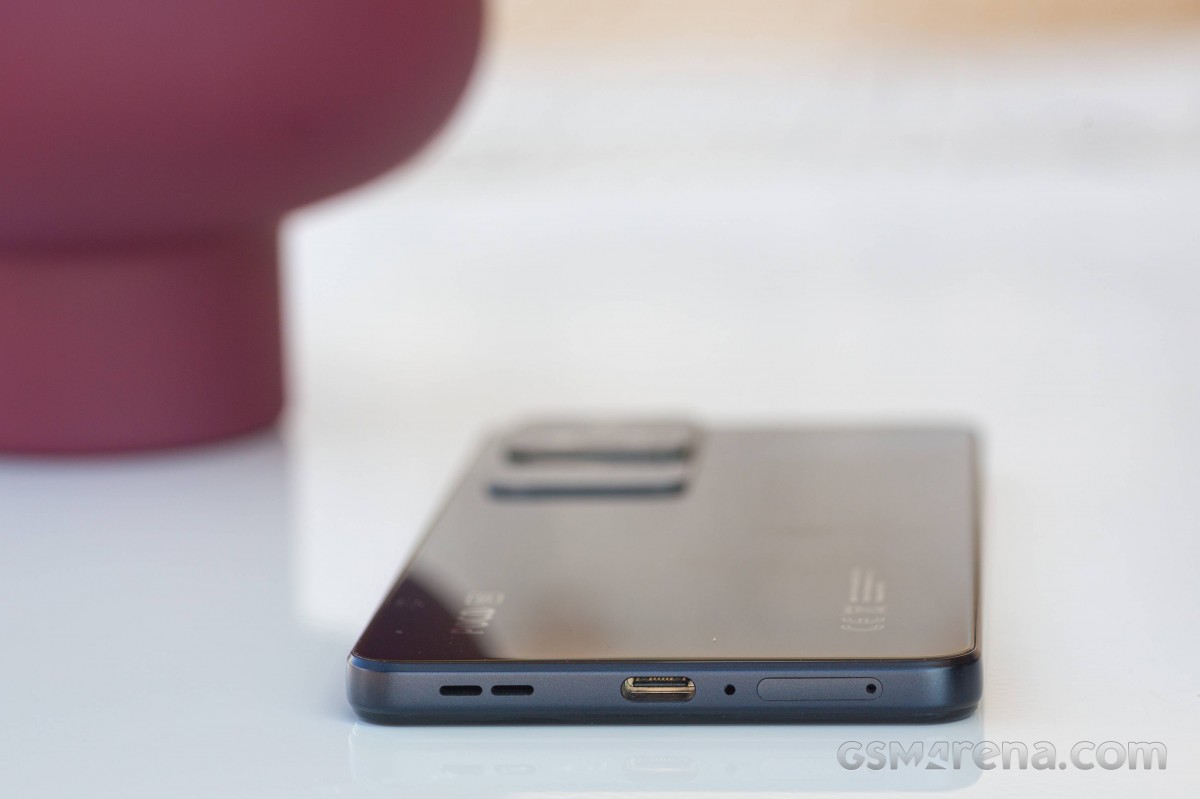 The top speaker has two outlets - one top and one front facing - and sound is coming from both. Muting either of them will hurt the audio quality, but not the loudness.
So, the Poco F4 scored a Good mark on our loudness test. We'd grade its audio quality as Good, too, as it's not particularly lacking in any range, but it's not impressive when compared to other competitors either.
Use the Playback controls to listen to the phone sample recordings (best use headphones). We measure the average loudness of the speakers in LUFS. A lower absolute value means a louder sound. A look at the frequency response chart will tell you how far off the ideal "0db" flat line is the reproduction of the bass, treble, and mid frequencies. You can add more phones to compare how they differ. The scores and ratings are not comparable with our older loudspeaker test. Learn more about how we test here.
Gotten on of this phone. It seem that I could not find a prenatally program to make use of the IR.
I wonder if they fixed the jumpy focus hunting of EIS fighting with OIS here, now that F5 is out.. even the Redmi Note 12 Pro+ had blurry video when panning perhaps due to the stabilization used.
It's a very good phone worth buying