Poco F4 GT review
GSMArena Team, 26 April 2022.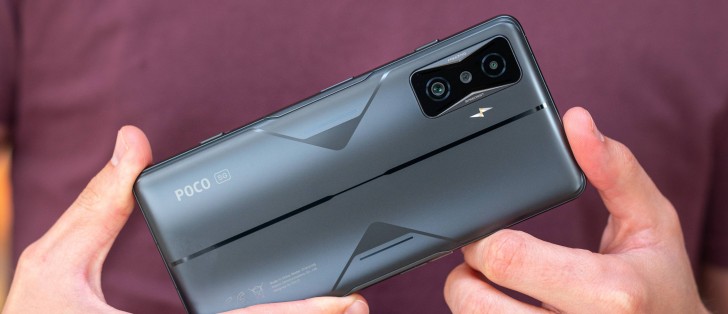 Thoroughly competent 6.67-inch OLED
The Poco F4 GT has a very well-specced display for the money only stopping short of offering more granularly adaptive refresh rate and QHD resolution. The 6.67-inch OLED has a 1080x2400px resolution in a 20:9 aspect (395ppi pixel density), refreshes at up to 120Hz with a touch sampling rate going all the way up to 480Hz, and it supports HDR10+. What else can you ask for at this price point?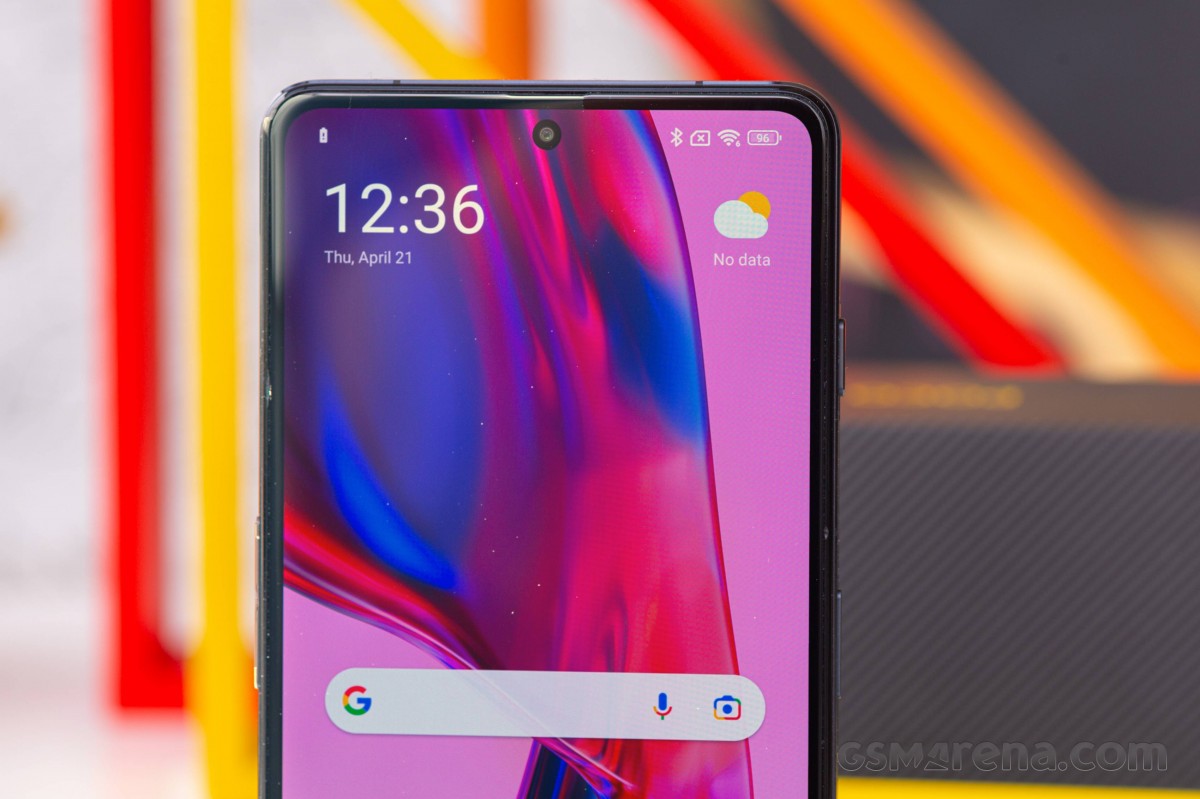 It does pretty well in terms of brightness too. We measured 761nits in our testing when the phone has automatic brightness enabled and is under direct light. The number when operating the slider manually is 468nits. Both results say 'high-quality display', a notch below the 'true flagship' level.
Display test
100% brightness
Black,cd/m2
White,cd/m2
Contrast ratio
Poco F4 GT (Max Auto)
0
761
∞
Poco F4 GT
0
468
∞
Poco X4 Pro (Max Auto)
0
754
∞
Poco X4 Pro
0
477
∞
Poco F3 (Max Auto)
0
716
∞
Poco F3
0
511
∞
ZTE nubia Red Magic 7 Pro
0
447
∞
Xiaomi Redmi Note 11 Pro+ 5G (Max Auto)
0
760
∞
Xiaomi Redmi Note 11 Pro+ 5G
0
479
∞
Motorola Edge 30 Pro (Max Auto)
0
685
∞
Motorola Edge 30 Pro
0
485
∞
Realme GT2 Pro
0
482
∞
Realme GT2 Pro (Max Auto)
0
778
∞
Realme GT2
0
517
∞
Realme GT2 (Max Auto)
0
846
∞
iQOO 9 Pro (Max Auto)
0
1000
∞
iQOO 9 Pro
0
438
∞
It may be capable of pushing more nits in HDR applications, though Poco makes no claims for it nor do normally test for that. In any case, the phone does support HDR and we got YouTube, Netflix, and Amazon Prime Video all sending HDR streams, at 1080p in the case of Netflix and Prime Video.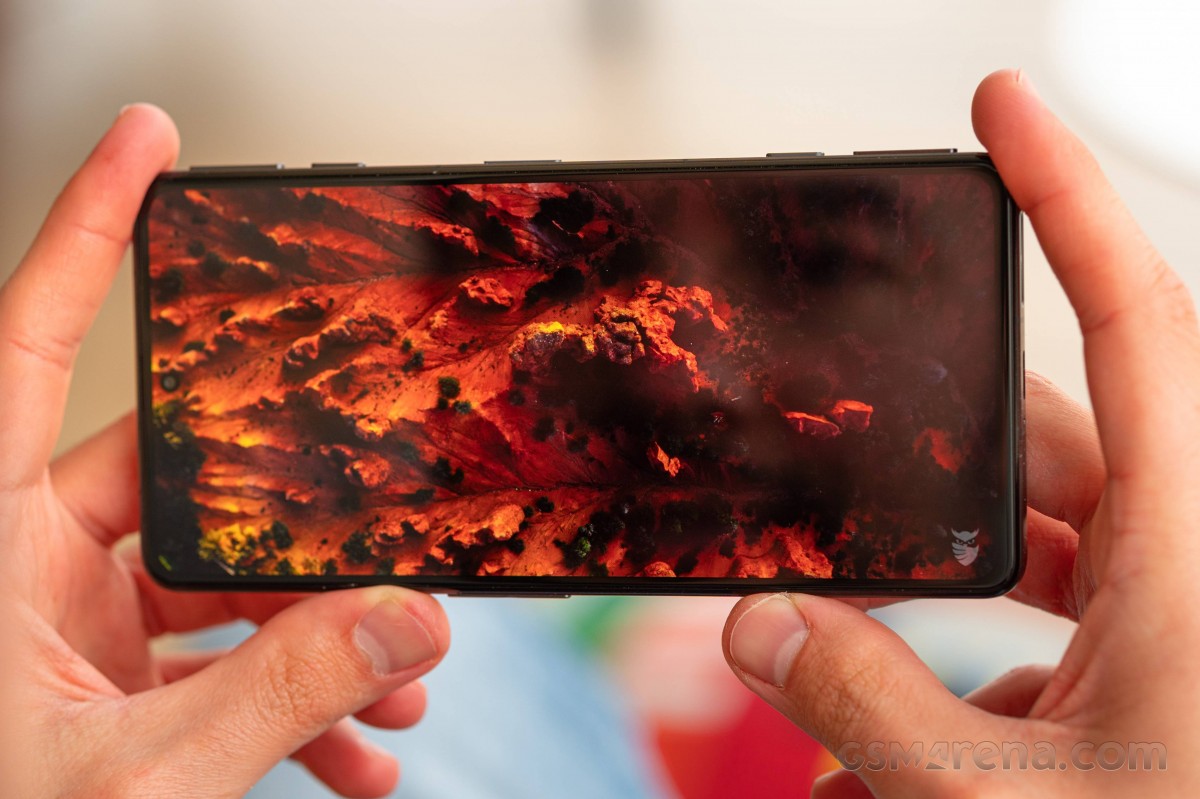 Color reproduction is operated in the customary (overly) feature-rich way Xiaomi likes to employ on higher-end models. You get three immediately available preset color modes (Vivid, Saturated, Original color), with a color wheel below for tweaking temperature on top of three factory presets (Default, Warm, Cool). Then there's an Advanced settings submenu where you have two further presets (P3, and sRGB), in addition to RGB sliders as well as sliders for hue, saturation, value, contrast, and gamma.
The default Vivid mode covers a wide color gamut but was a little off target for our DCI-P3 test swatches with the white and grays particularly skewed towards blue. Opting for the Warm preset helped a little, but it wasn't until we fiddled with the color wheel that we got an average dE2000 of 1.8 and nicely accurate grayscale reproduction.
No such thing was needed for the sRGB patterns - Original color mode was spot on with an average dE2000 of 0.9.
As has been our experience in the past, the dedicated P3 and sRGB modes in Advanced settings gave us inaccurate results for either set of test swatches.
If you'd like the phone to adjust its color temperature based on ambient conditions, there's the Adaptive color toggle for that.
The refresh rate menu offers a choice between a Default mode (what was wrong with Auto), and a Custom mode, where you can select 60Hz or 120Hz. Effectively, both Default and Custom 120Hz do the same thing and give you 120Hz when you're interacting with the phone which drops to 60Hz after you stop touching it for a couple of seconds. That's the behavior across most apps. Exceptions include video playback related apps (whether streaming or local) which get locked at 60Hz, as do Google Maps and the camera app. Games that support a high frame rate are treated to 120Hz, as they should be.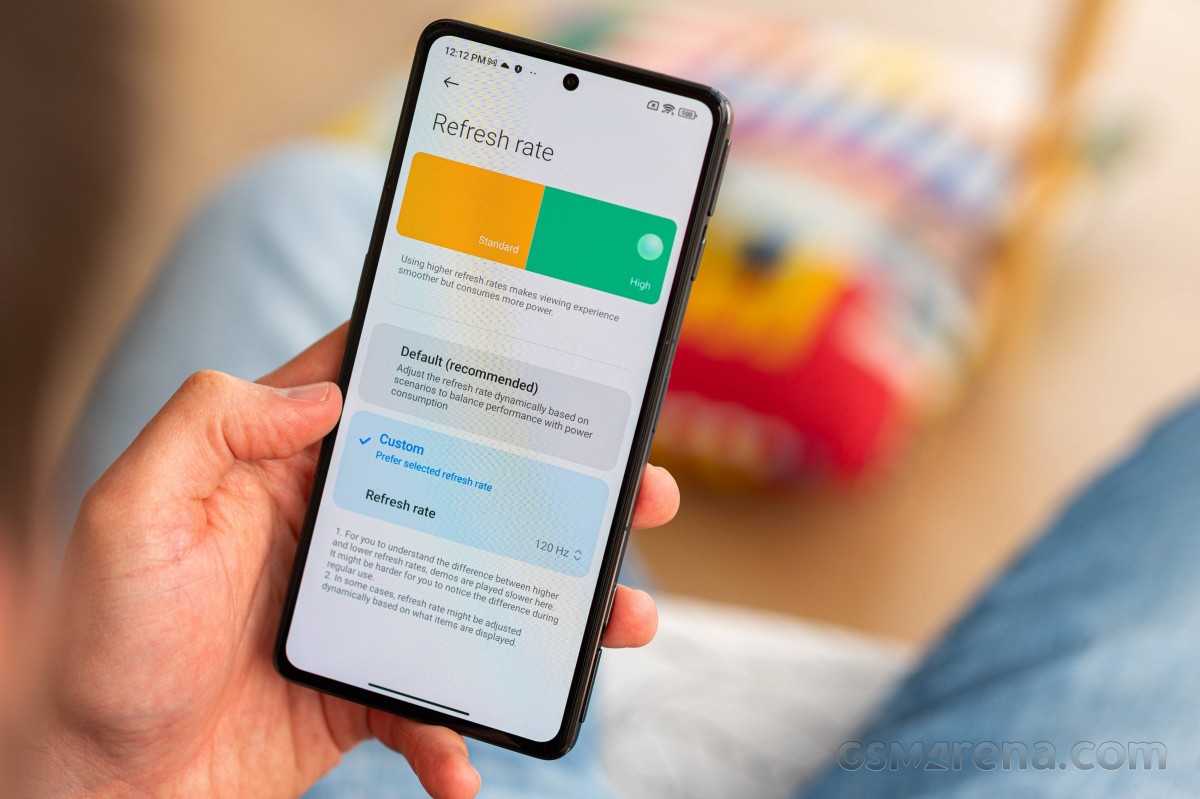 Poco F4 GT battery life
The Poco F4 GT is powered by a 4,700mAh battery that's split into two cells and each has its own charging circuitry. More on charging below, but here we should mention that the increased complexity of this arrangement means that some capacity has been sacrificed in favor of fitting the bits to get the charging speed.
While it's hardly delivering a class-leading performance and a bigger battery would have helped its case, the Poco is doing a decent job with what it's got. We clocked 18:36h of voice call longevity, 11:41h of Wi-Fi web browsing (at a constant 120Hz) and 13:30h of video playback (at 60Hz). Factoring in the standby time, the F4 GT posted an overall Endurance rating of 81h.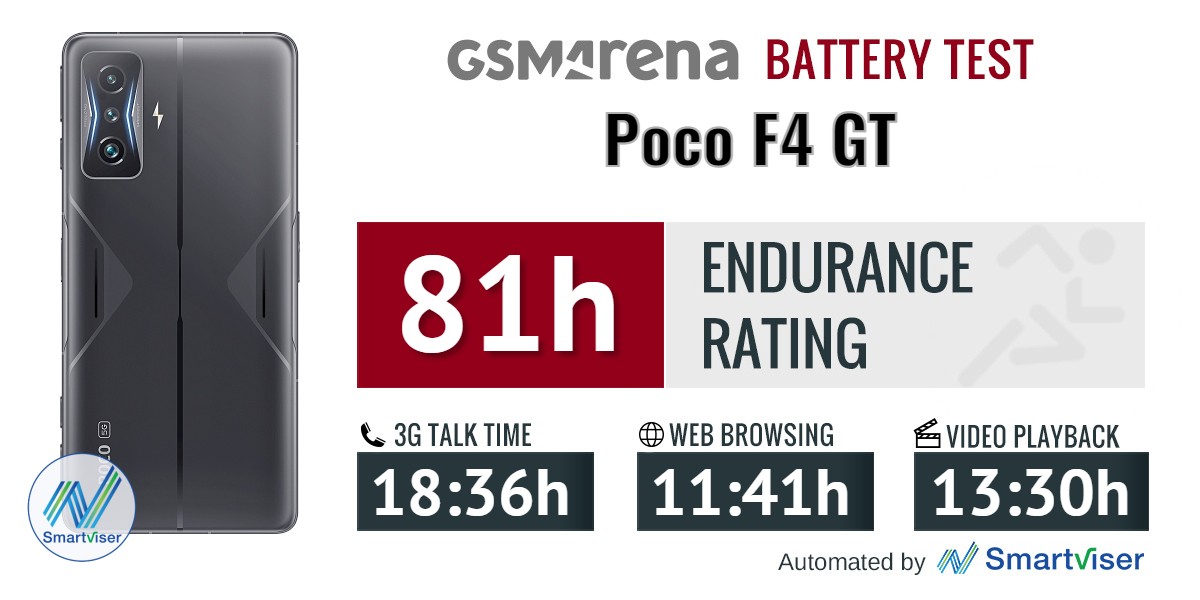 Our battery tests were automated thanks to SmartViser, using its viSerDevice app. The endurance rating denotes how long the battery charge will last you if you use the device for an hour of telephony, web browsing, and video playback daily. More details can be found here.
Video test carried out in 60Hz refresh rate mode. Web browsing test done at the display's highest refresh rate whenever possible. Refer to the respective reviews for specifics. To adjust the endurance rating formula to match your own usage - check out our all-time battery test results chart.
There's a bunch of variables that could affect the battery numbers one way or another, but we'd say there is a relative consistency between the results we got on the Poco here, and the latest Xiaomi 12 and 12 Pro flagships that feature the same Snapdragon 8 Gen 1 chipset and run Android 12 and MIUI 13. So while none of them is particularly great, that's just where Xiaomi is right now.
Charging speed
It may not be the longest lasting around, but the Poco F4 GT sure is among the fastest to charge. Bundled with it is Xiaomi's fastest charger, the 120W unit we've seen a few times already - with proper flagships and even higher-end Redmis too. The press materials promise that a full charge will take 17 minutes - their testing procedure is with the phone off and starting at 2%.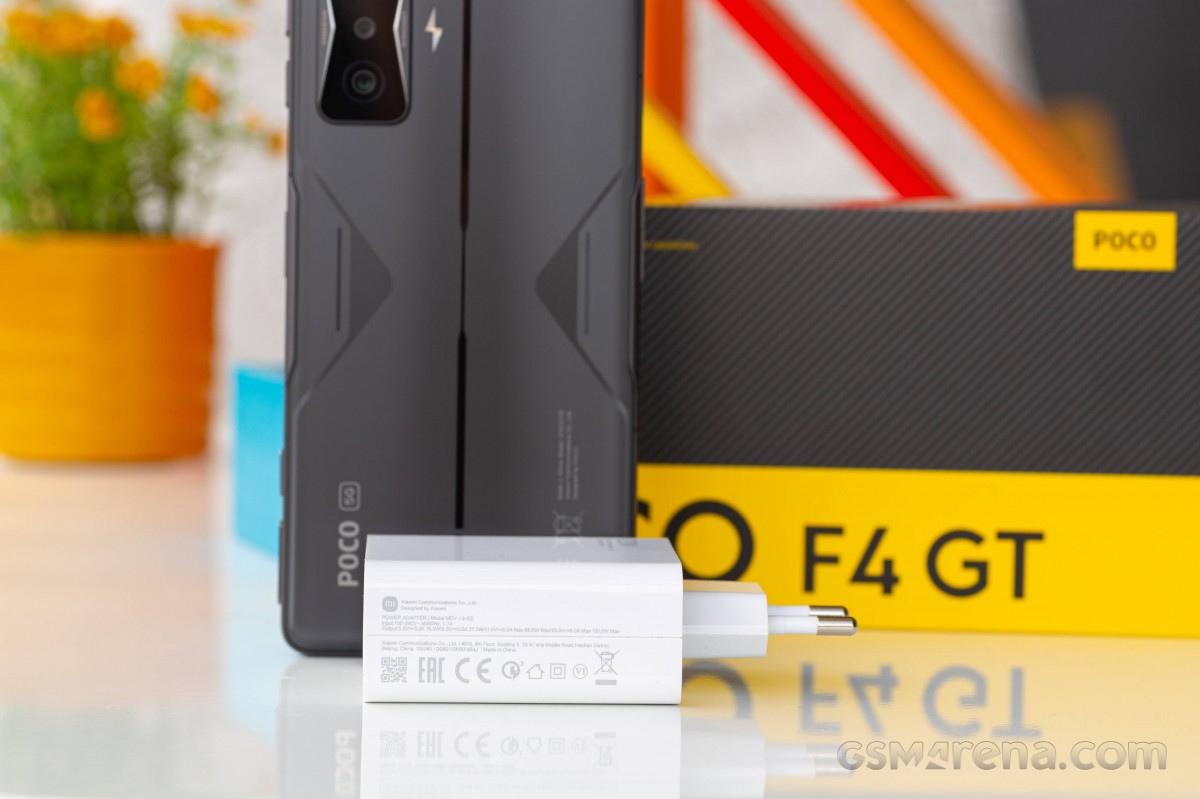 We did get similar results in our testing, which we carry out with the phone switched on, but we need to do some explaining. The lower the full charge number, the more caveats there are about how it's achieved, and since this is among the quickest results on record, we'll briefly mention them.
For one, you need to enable the Boost mode in the battery settings (it's off out of the box) in order to get the fastest charging - without it, you'd be looking at 20-ish minutes. Another footnote is that there's a difference between the 100% number in the battery indicator and the state in which the phone reports a 'full' charge and that in our experience was 5 minutes with Boost enabled and 8 minutes with the feature turned off.
That's not all - if you let the phone die completely before you start charging it, the initial time while it's still off doesn't count into the total charging time according to our methodology (apparently, theirs too) - that was 2 minutes in this case, during which it had picked up some 2-3% reported charge. Now, if you were to plug it in at 1%, just before it switches off, you'd be able to get the same precious 17 minutes to 100% - the initial percentage numbers change every 10s or so.
Naturally, the charging speed will also be affected by the ambient temperature to some... degree.
None of this is to take away from the Poco's charging speed efforts - it's still among the chart toppers and such fast charging can really be a habit-changing feature to have on your phone.
30min charging test (from 0%)
Higher is better
Poco F4 GT
100%
iQOO 9 Pro
100%
Xiaomi Redmi Note 11 Pro+ 5G
100%
Xiaomi 12 Pro (120W)
100%
ZTE nubia Red Magic 7 Pro
100%
ZTE nubia Red Magic 7
99%
Realme GT2
97%
Realme GT2 Pro
91%
Motorola Edge 30 Pro
85%
Poco X4 Pro 5G
75%
Poco X3 GT
75%
Poco F3
67%
Poco M4 Pro
51%
Time to full charge (from 0%)
Lower is better
Xiaomi Redmi Note 11 Pro+ 5G
0:16h
Poco F4 GT
0:17h
iQOO 9 Pro
0:21h
Xiaomi 12 Pro (120W)
0:21h
ZTE nubia Red Magic 7 Pro
0:28h
ZTE nubia Red Magic 7
0:38h
Realme GT2 Pro
0:40h
Realme GT2
0:40h
Poco X3 GT
0:48h
Poco X4 Pro 5G
0:49h
Motorola Edge 30 Pro
0:53h
Poco F3
0:56h
Poco M4 Pro
1:10h
There's no wireless charging on the Poco F4 GT.
Speaker test
The F4 GT has a stereo speaker system with four actual speakers - a 'woofer' and a tweeter at each end of the phone. The speakers fire out of the top and bottom of the phone and are placed in such a way so as to avoid your hands covering them when you're holding the phone in landscape with the shoulder buttons on top. They're 'symmetrical' too in that there are the same drivers top and bottom, even though the actual component arrangement is different at the two ends.
Even though the F4 GT has a 'correct' side up, it will still switch channels if you're holding it the other way around. The top speaker is also ported through a tiny opening above the display to serve as an earpiece.
The Poco posted a 'Good' rating for loudness in our test so it's not winning any awards for that. When it comes to our subjective assessment of sound quality, however, the F4 GT gets an excellent mark thanks to a full bodied reproduction with good bass, pleasing vocals and crispy treble.
Use the Playback controls to listen to the phone sample recordings (best use headphones). We measure the average loudness of the speakers in LUFS. A lower absolute value means a louder sound. A look at the frequency response chart will tell you how far off the ideal "0db" flat line is the reproduction of the bass, treble, and mid frequencies. You can add more phones to compare how they differ. The scores and ratings are not comparable with our older loudspeaker test. Learn more about how we test here.
Anonymous
24 May 2023
JWF
lol people in the comments talking bad about this phone because of "camera". The camera is not the point of this phone, this phone is great for everything else, except the camera. To game on your phone you don't use camera. If you ...
TheodorusDG
30 Apr 2023
yMH
did poco f4 gt support reverse charging?