Pocophone F1 long-term review
GSMArena team, 11 January 2019.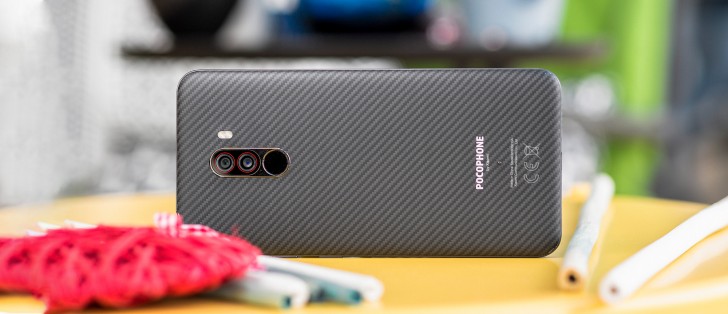 Design, build
Let's address the elephant in the room head-on. In this day and age, when you see top of the line specs you pretty much expect the phone that has them to employ the very trendy glass sandwich design - metal frame, glass on the front and the back. This seems to be the formula that every single flagship device has settled upon.
The Pocophone F1 is the exception. It's plastic all over, aside from the glass on top of the screen and, for a specific version, the Kevlar on the back. This is obviously a price cutting measure, but so what? How many people who have a glass sandwich phone use it without a case? We'd venture a guess and say "not many". So if you're putting a case on you device anyway, the materials the handset is made from only matter during the time between taking it out of the box and putting it in the case. Is that time really worth the price difference?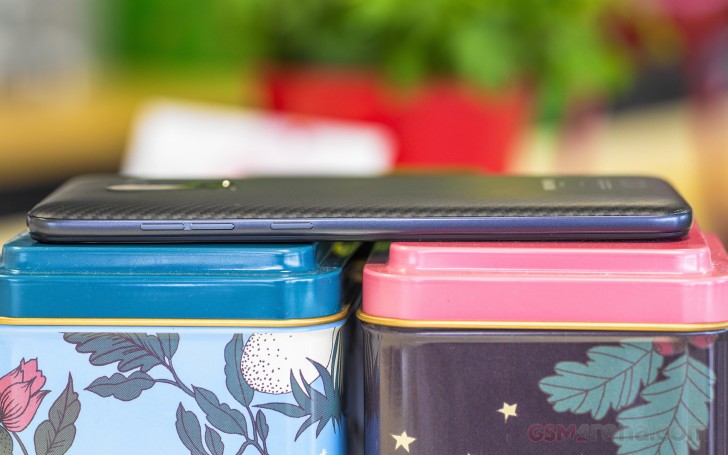 Maybe you're one of the few who can't stand cases and would rather risk breaking your phone's back glass than touching anything else. Is that feeling you get from touching glass really worth the added stress of knowing how likely it is to break when you drop the device? Wouldn't the peace of mind of having a handset that doesn't have two sheets of glass on it to break and just one be worth something?
Every one of you will of course have his or her own answer to these questions. The fact remains, the Pocophone F1 is unapologetically plastic. That means it will always feel warmer to the touch than the colder glass+metal combo that you may have been used to. This is important because since it is plastic many more of you may decide to use it without a case.
So yeah, it's different in that regard, and also obviously plastic has a different inherent feel to it than glass and metal. But when it comes to handling and build quality, the Pocophone F1 is up there with the best of the competition. There are no creaks, it's easy to hold for long periods of time, it's easy to use, and seems to be very solidly built. We've enjoyed our time with it and yes, decided to use it without a case - the one that comes in the box is a nice gesture, but it's so slim and flexible that we assume it adds only a minute amount of protection anyway.
Note that our review unit is the model that comes with Kevlar on the back, which is more grippy than the normal plastic rear of the phone, and that's certainly aided in this decision. It's also much more fingerprint resistant than any glass back we've ever seen on a phone, so there's that too. The buttons are obviously all plastic as well but they're easy to find and use, although the power button is pretty close to the volume down key, which might confuse you at times, especially since they feel the same. Some added texture on the power button would've helped with instant touch-based differentiation.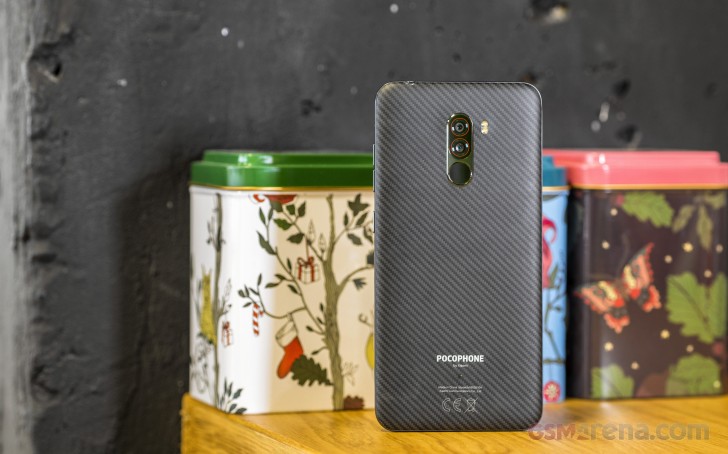 Although it has a big battery, the Pocophone F1 doesn't feel too heavy or thick. It's still thin enough to be very comfortable in day to day use, but the big cell gives it a heft that is reassuring. It has a notification LED on the lowest part of the bottom screen bezel, and interestingly enough you can even see this (if barely) through the USB-C port when the phone is placed face-down on a surface. We're not sure if this was intentional or not, but it's a nice touch nevertheless.
The Pocophone F1 has a dual speaker system that uses one downward-facing speaker and the earpiece as the second channel. It's not perfect but it works and the symmetry on the bottom side is nice - there are two grilles of which one only houses a mic. The 3.5mm headset jack is present up top and we feel like we have to make a note of this in a world in which even phones theoretically aimed at enthusiasts are starting to move on - yes, we're looking at you, OnePlus 6T.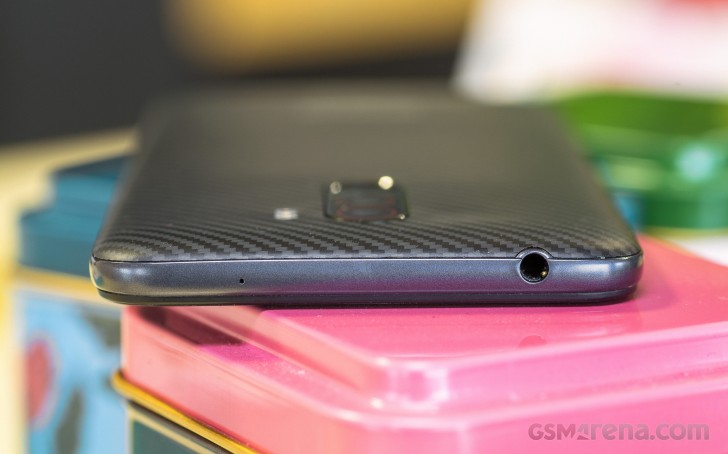 The device isn't small despite what its name might make you think, but it's also not too big to be unwieldy. One-handed operation is definitely possible and overall we found it very comfortable to use. It should be the same for most people, save for those with very small hands or those obsessed with having more screen real estate.
Display
The Pocophone F1's LCD panel is very nice in day to day use. Blacks obviously won't be truly black like on an AMOLED panel, but for an LCD this reaches very good levels of black. Contrast is good, sunlight legibility is decent, and the auto-brightness system works very well for most lighting conditions - we haven't found ourselves constantly having to manually tweak it.
This is far from a bezel-less screen - there's a chin at the bottom, but at least it houses the notification LED so it's not entirely useless from a user-facing perspective. The notch, on the other hand... is big. The 'ears' or 'horns' of the display are pretty similar to what you'd get from an iPhone, but Apple has the excuse of packing all the different bits and pieces of tech needed for Face ID into the notch.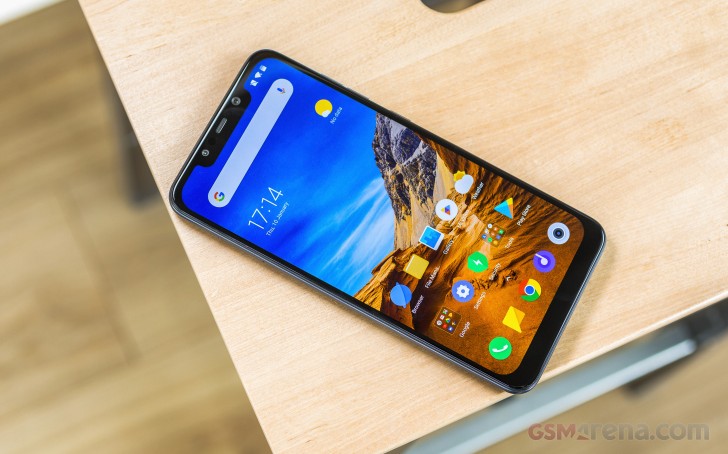 The Pocophone F1 has an IR sensor buried in there to enable face recognition to work at night, but... Face authentication still doesn't work in Europe to this day. When the device launched this was promised to come soon, but it's seen a few updates already, including going from MIUI 9 to MIUI 10 and the Android 9 Pie, and... still nothing.
So unless that does finally change at some point, the size of the notch here is just pointless, and it creates a few software usability issues that we'll discuss in the appropriate section. It's a shame that the Pocophone team hasn't been able to sort out the facial recognition yet, but perhaps the IR sensor there was better left out from this first generation device and the notch simply made narrower.
A final note about the display: as is sometimes the case with LCDs, the way it's polarized means you won't see anything on the screen if you're wearing polarized sunglasses and are holding the phone in portrait orientation. Turn it to landscape and you'll be fine, but we're still puzzled whenever we see this - we're willing to bet that 90% of the use phones get while you're out and about in the sun occurs in portrait.
Writing this from my poco f1. Bought it on 23rd Septembe
I read this through my poco f1. I have it for 1 year and 3 months. I bought it for 320 euro. Wow just wow. I would buy the same phone again if i turn the time back.
I have been using POCO F1 since last April19 and feeling good. Expecting eagerly for the next POCO F2 without changing F1. The features are pretty good in F1 except the cameras. Other basic features are all good which actually do not there in some bi...