Qualcomm announces X24 (2 Gbps) and X50 (5 Gbps) modems
Yordan, 14 February 2018
Last week a report from Qualcomm stated that nearly 50 phone manufacturers and carriers are working with the San Diego towards commercializing 5G mobile devices by 2019. Today a step towards this direction was made with the unveiling of Snapdragon X24 - the first 7 nm process chipset that can support up to 2 Gbps LTE speeds.
The promised speeds are nearly twice as high as the predecessor, the Snapdragon X20, embedded into the Snapdragon 845. Qualcomm confirms that the first phones with the new modem will arrive in H1 2019.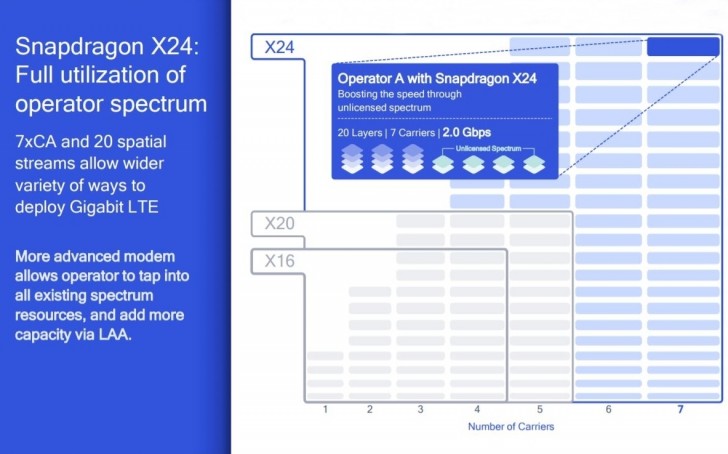 The X24 supports "up to 7x carrier aggregation on the downlink" as well as 4X4 MIMO on up to five aggregated carriers. Upload speeds go up to Cat.20, 3x20 MHz CA and up to 256-QAM. It is built on the 7-nanometer process, which will bring even more impressive power efficiency and smaller footprint.
Qualcomm also demoed the X50 chipset, which makes even the X24 seem slow. It will offer speeds up to 5 Gbps, initially working on the 28 GHz band (mmWave) and spanning 800 MHz of bandwidth (split into eight 100 MHz links via MIMO).
Multiple phone makers already got behind 5G connectivity, but Qualcomm also sees these chipset as replacement for fiber to the home.

The chips will be demonstrated at MWC 2018 in partnership with Ericsson, Netgear, and Telstra.
Related
Anonymous
15 Feb 2018
0wY
Thats nice and all but it takes 2 to tango. The phones are the easy part. Also the whole infrastructure of towers and masts will need an upgrade.
You mean, like Munna Bhai MBBS?
Popular articles
Popular devices
Electric Vehicles