Razer Hammerhead TWS Pro long-term review
Enrique, 26 July 2021
Introduction
Razer's Hammerhead earbuds have been around for years, and Razer's current TWS pair of Hammerheads are the company's second iteration of its TWS variant. The Razer Hammerhead True Wireless Pro launched back in December, and the TWS earbuds market has seen a lot of new competitors since. So how have the Hammerheads held up?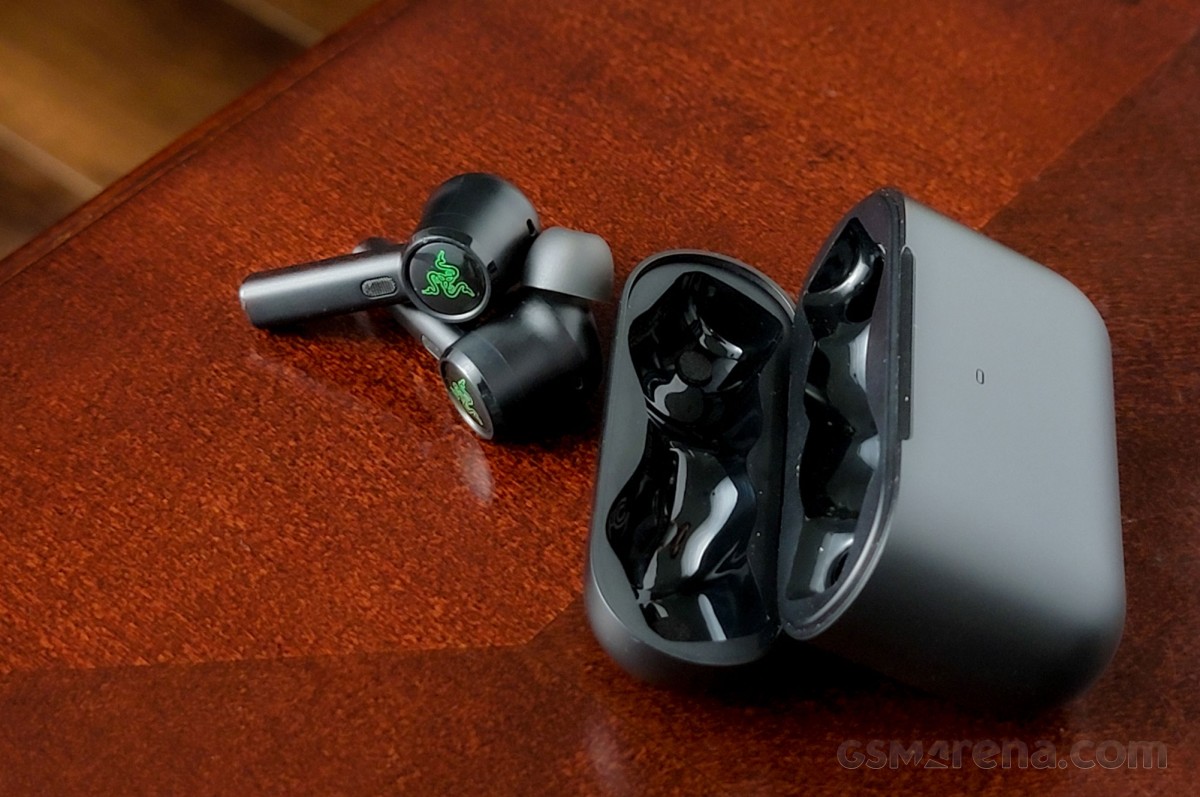 Let's go over some of the buds' features. The company boasts the Hybrid ANC, a redesigned case, updated microphone hardware, and superior battery life compared to the previous iteration. They have an in-ear fit, which will largely contribute to the noise-cancellation feature. In addition, Razer has included 7 pairs of ear tips so that everyone can have a proper fit. They also come with Comply-branded foam tips that we really enjoy so far.
Specs and features:
Materials: Plastic buds and charging case; comes only in Classic Black
Weight: 53g total; 5g per earbud; 43g charging case
Case dimensions: 64 x 50 x 25 mm
Audio: Frequency response 20Hz - 20KHz; Impedance 16 Ohm; 10mm drivers;
Microphones: 100Hz - 10Khz frequency response, 60dB signal-to-noise ratio, omnidirectional pickup, -42 dBFS sensitivity @ 1KHz
Battery life: up to 20 hours with the charging case, 4 hours per charge; 10 minute charge yields 1 hour of listening time
Features: programmable touch controls per bud, Google Assistant/Siri, SBC and AAC codec support, low-latency gaming mode, app available for iOS or Android, quick-attention mode, in-ear detection (auto play/pause)
Misc: IPX4 water resistance, in-ear detection (auto play/pause), Preset and custom EQ settings via app, Hybrid active noise cancellation w/ two microphones in each bud.
As appropriate from a company like Razer, the earbuds have a low-latency mode that's intended for gaming. There's also a companion app that controls the buds settings and features. The app itself has been simplified and refined since the buds launched.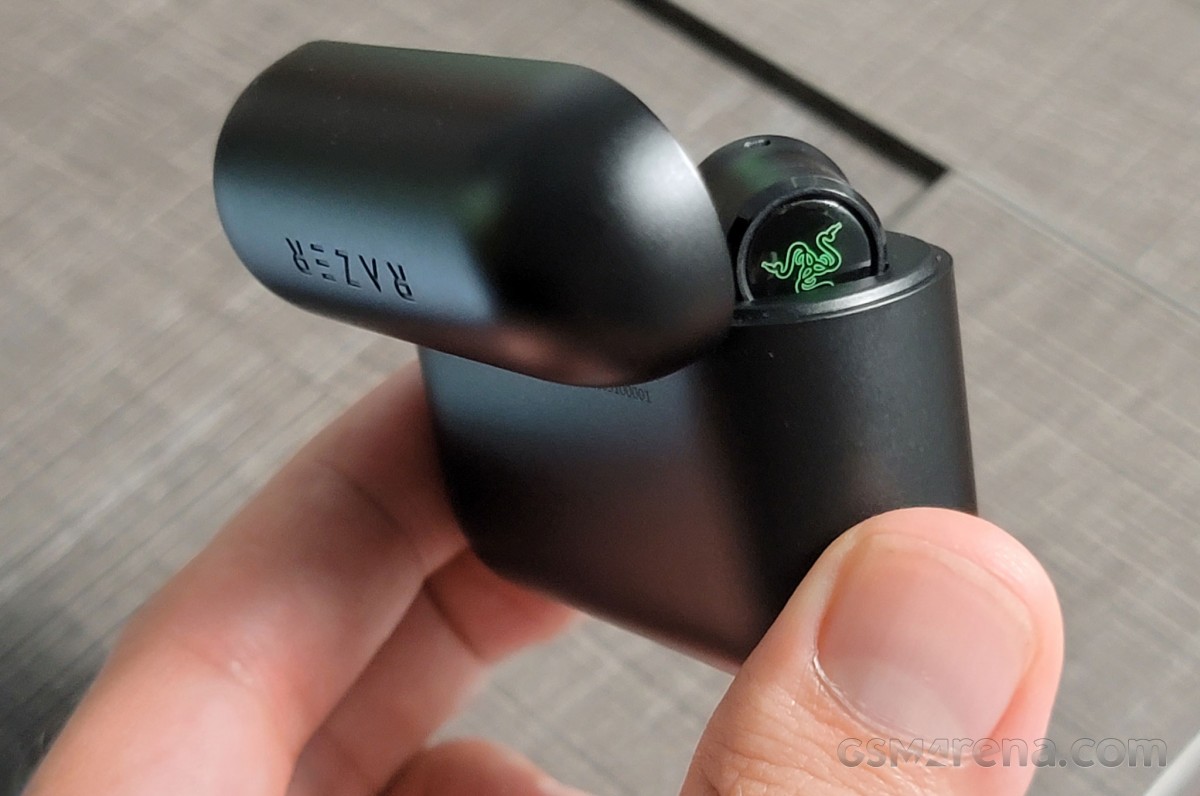 The buds have plenty of features on paper, but are they enough to rival Apple's AirPods? Google's $99 Pixel Buds A-Series? They initially launched for $199, but Razer now sells them for $169, just $10 more than the price of Apple's entry-level AirPods. Let's start with the unboxing.
Razer's packaging on the Hammerhead TWS Pro is much like its other products. The brand's iconic black and green color scheme makes its appearance here. There's a THX sticker on the outside, boasting the product's audial certification process.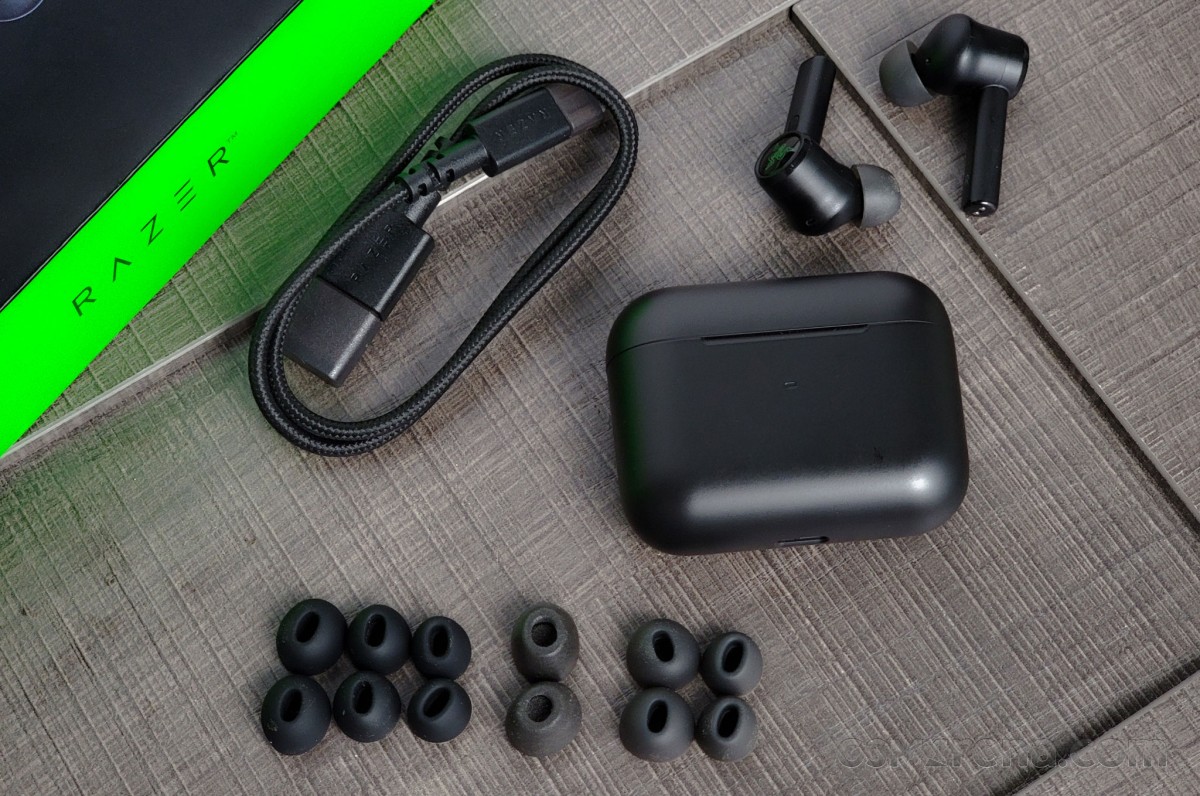 The first thing you're greeted with is a thin document pack that includes a letter from Razer's CEO, a card that outlines how to choose an ear tip, a multi-language quick start guide, and a couple of Razer stickers.
The case and Hammerheads arrive separately so you can see the Razer insignia on the touch control pad of each bud. The medium sized frosted ear tips are pre-installed from the factory, but the other 6 pairs of tips come in the box as well. There's also a 12-inch braided USB-C to USB-A cable for charging the case.
Design and ergonomics
The charging case has matte black finish and fairly large size. The flip-up hinge is sturdily built and strongly flips up or down.
The case itself has no seams to interrupt the curves of its smooth, matte exterior. Of course, the lid's parting is the exception to the comment about there being no seams. The charging case is minimal, with only an LED indicator on the front, and a USB-C charging port on the bottom. There is no physical pairing button on the charging case.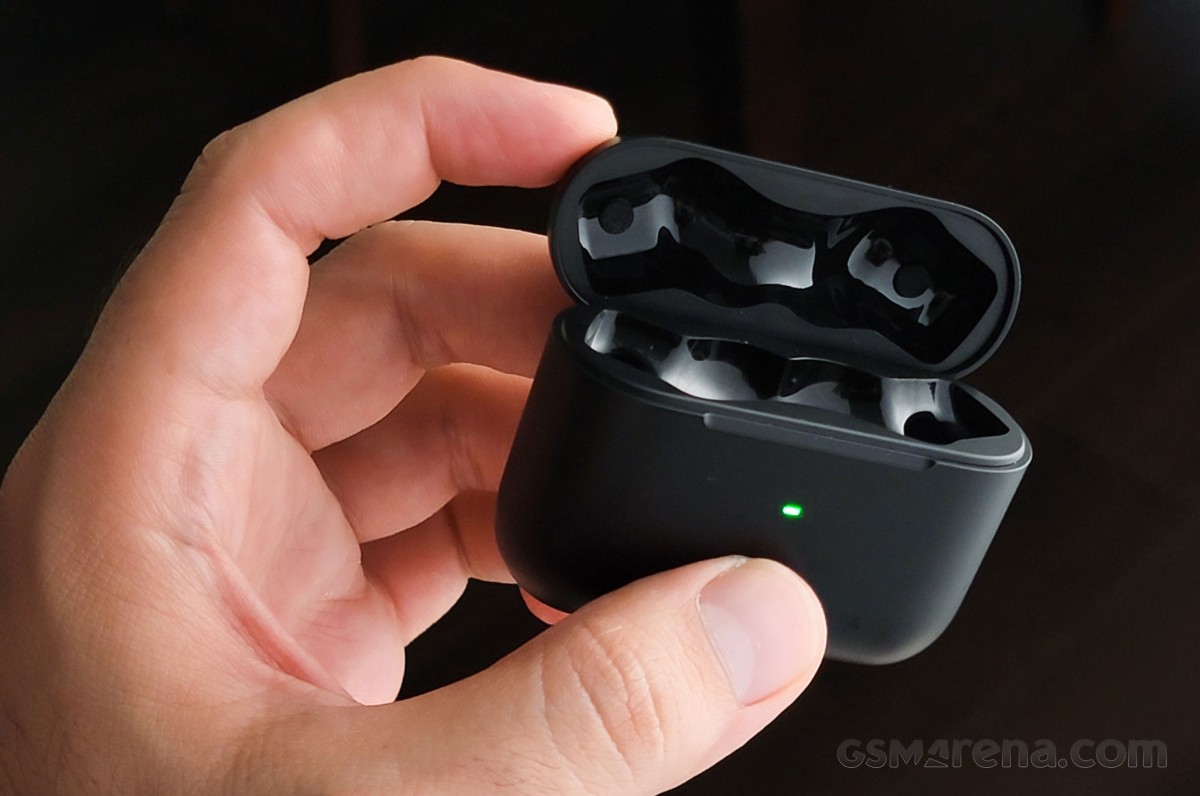 The inside of the charging case has smooth plastic where the buds are inserted. There are even tiny foam pads on the upper side of the lid to protect the buds from rubbing on the inside of the lid. When you open the lid, the LED light up to show the approximate charge remaining in the case.
The buds themselves, like the case, are made of durable plastic. The Hammerhead buds themselves have an ergonomic in-ear design that hooks into the canal while most of the buds' hardware sits on the outside of your ear. This, of course, will depend on each person's ear.
Fit and comfort
Well, I'll start by saying that I find earbuds that sit on the conch of the ear (like AirPods) to be uncomfortable after just an hour or two of use. In-ear buds can be hit or miss for me, but the Hammerhead Pro earbuds were very comfortable, even with just the default M-size tips they came pre-installed with.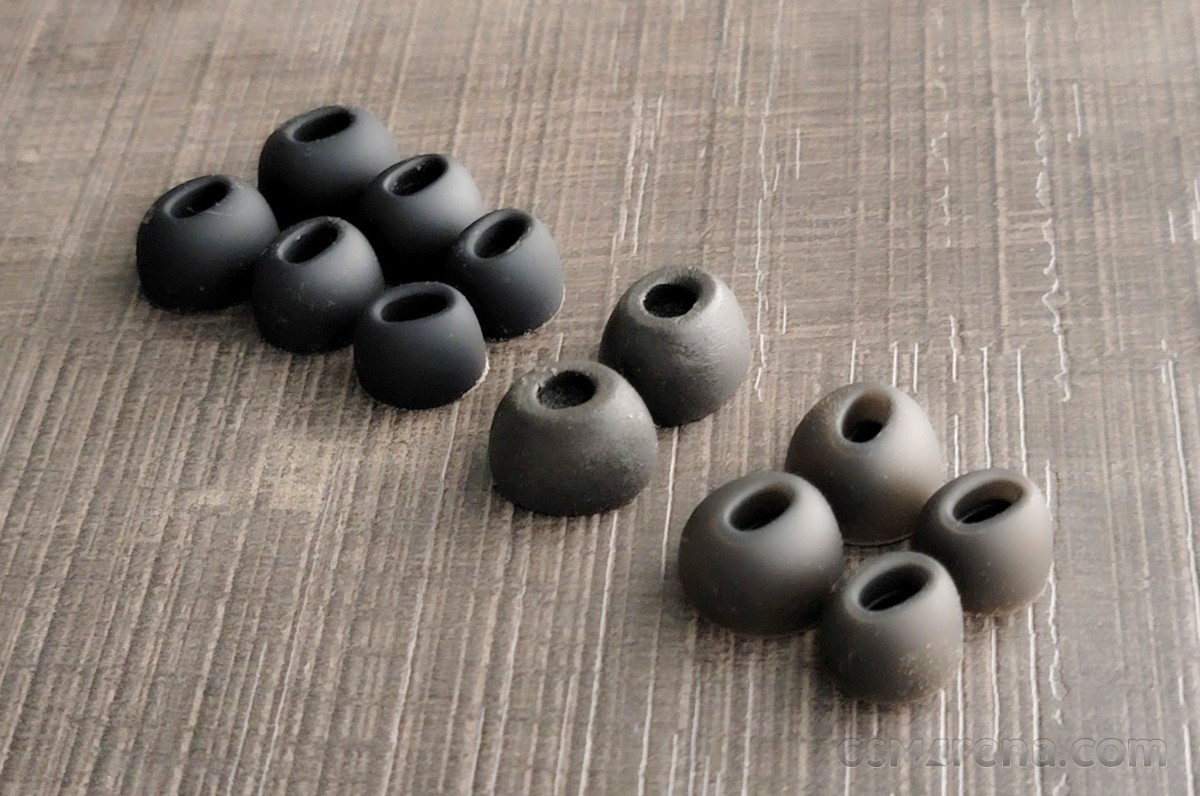 There are a total of seven pairs of tips included with the Hammerheads Pro. Three frosted tips (the pre-installed M tip is of this kind) which have an orange-peel kind of texture on them. Then there are three smooth tips - which are of the same texture that most earbuds tips are made of.
And then there's a single pair of Comply foam tips which ensure the best fit. This is like those orange ear plugs that you must pinch and roll before inserting into the ear canal. Then they decompress in your ear, creating the seal. Despite the type of tip you choose, each one is oblong-shaped, which I find both more comfortable and better fitted than perfectly round tips.
Between the smooth and "frosted" tips, I prefer the latter. Both types will stay put, but the porous texture in the frosted tips seems to not stick to the inside of the canal when you've used them for extended time. If you pull them out to quickly they'll turn inside out and create a tiny vacuum in your ear.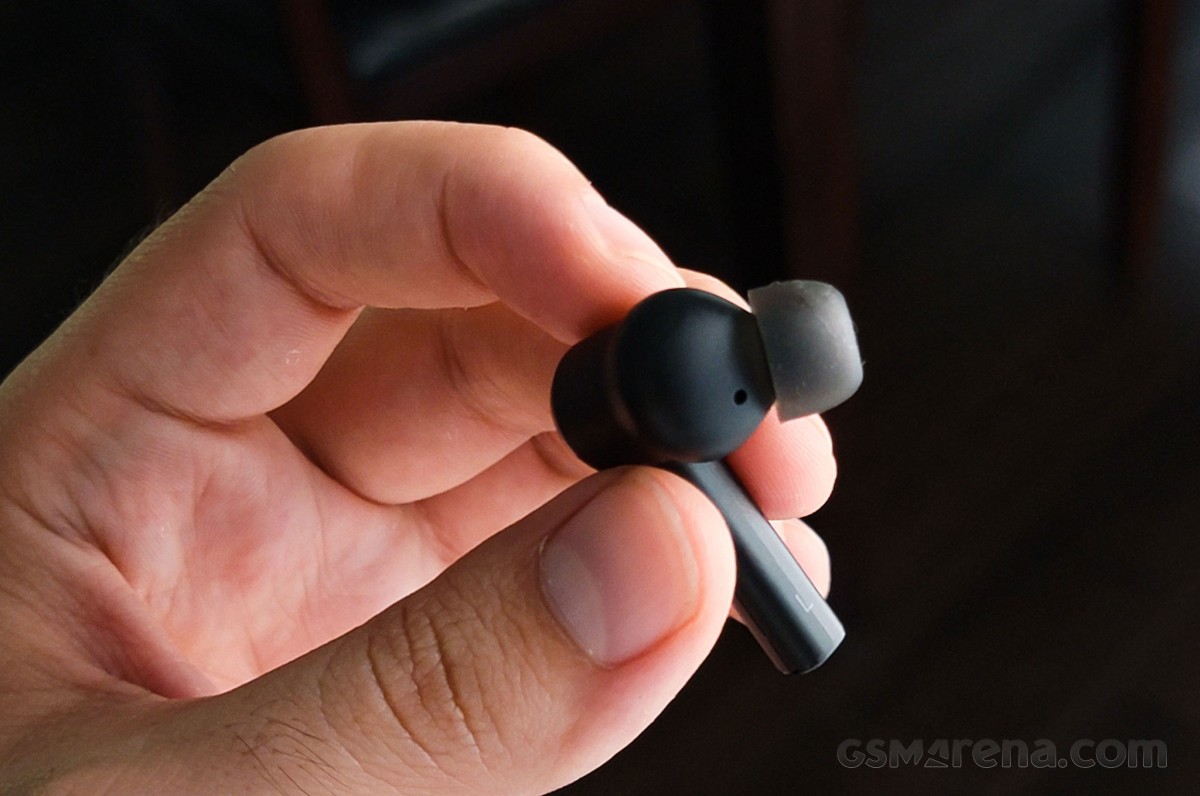 The included Comply tips were quite comfortable. After squeezing the tips so they compress, you insert them into the canals so they can create a tight and comfortable seal when they expand. They don't cause any pressure and they are comfortable enough to wear for hours.
As someone who sweats a lot while working out, the foam tips stay put in my ears and don't slide out by the end of my jog session.
Features, controls, and companion app
The Hammerhead Pro TWS are packed with features with the aid of the iOS and Android companion app. Here you'll be able to remap the touch pad actions, change the EQ settings, perform a fitting test, control ambient modes, and toggle the in-ear detection feature. There's a gaming mode that reduces latency on the buds down to 60ms. The difference is noticeable when playing games whether you're on Android or using a Windows PC.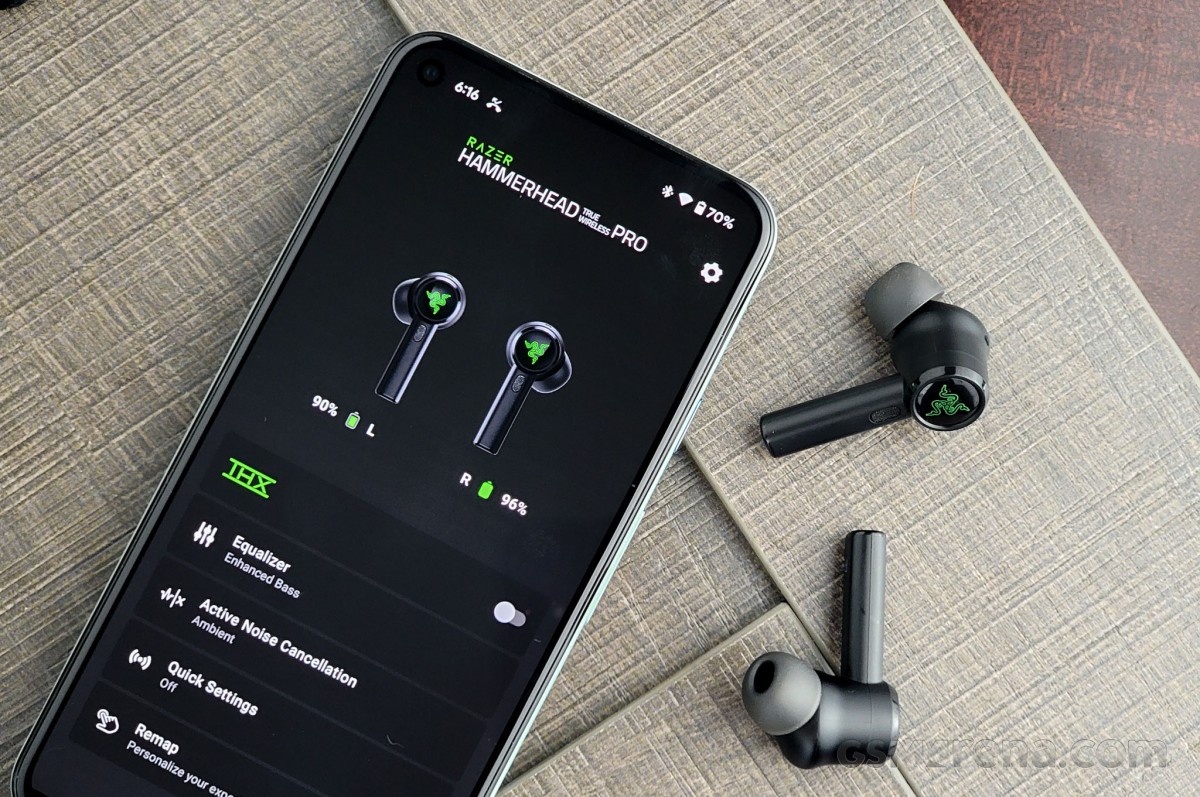 One note that we had for the Razer Opus headphones was that the app was impossible to open the app to make a setting adjustment if you didn't allow the location permission. It seems that while you still need the location permission (at least on Android) to set up the app, it doesn't bother you about it further.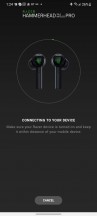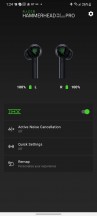 Razer's Hammerhead True Wireless app
Let's start with the multi-function touch control pad on each bud. The round area with the Razer logo on each bud is the touch activated area, but the way that these controls are used come with a learning curve. The app has a tutorial section that lets you practice the touch controls: Single tap, double tap, triple tap, tap-hold 2 seconds, double tap and hold 2 seconds, and triple tap and hold 2 seconds.
When they first launched, controls were quite annoying. They required a very specific cadence to register. Now, you can double and triple tap as quickly as you want. A single press still requires about a half-second hold. This is so that the buds don't register an action by accident, and I appreciate that.
Like any pair of Bluetooth earbuds, the Hammerhead Pros will eventually turn off if you leave them on a desk or table (outside of the case), but the buds are smart enough to turn back on and reconnect when you reach for them and put them back in - all without having to put them back in the case.
The app allows you to choose from five EQ presets or tune your own custom setting. The default "THX" setting is the recommended setting, as tuned for the Hammerhead Pro's THX-certified sound. This profile is meant to be tuned for anything: playing games, music, and watching movies.
That brings us to sound quality.
Sound quality
The in-ear fit contributes to a great sounding pair of buds with superior noise isolation, which helps to produce clearer and higher-quality sound. Sound quality is outstanding compared to other TWS earbuds, though not particularly the best.
The THX profile offered somewhat balanced sound, though emphasis is more in mids towards bass. Trebles sound could use more crispiness and bass doesn't boom too much (if you're into that). Even switching to the Enhanced Bass profile doesn't quite have that boom factor I'm looking for.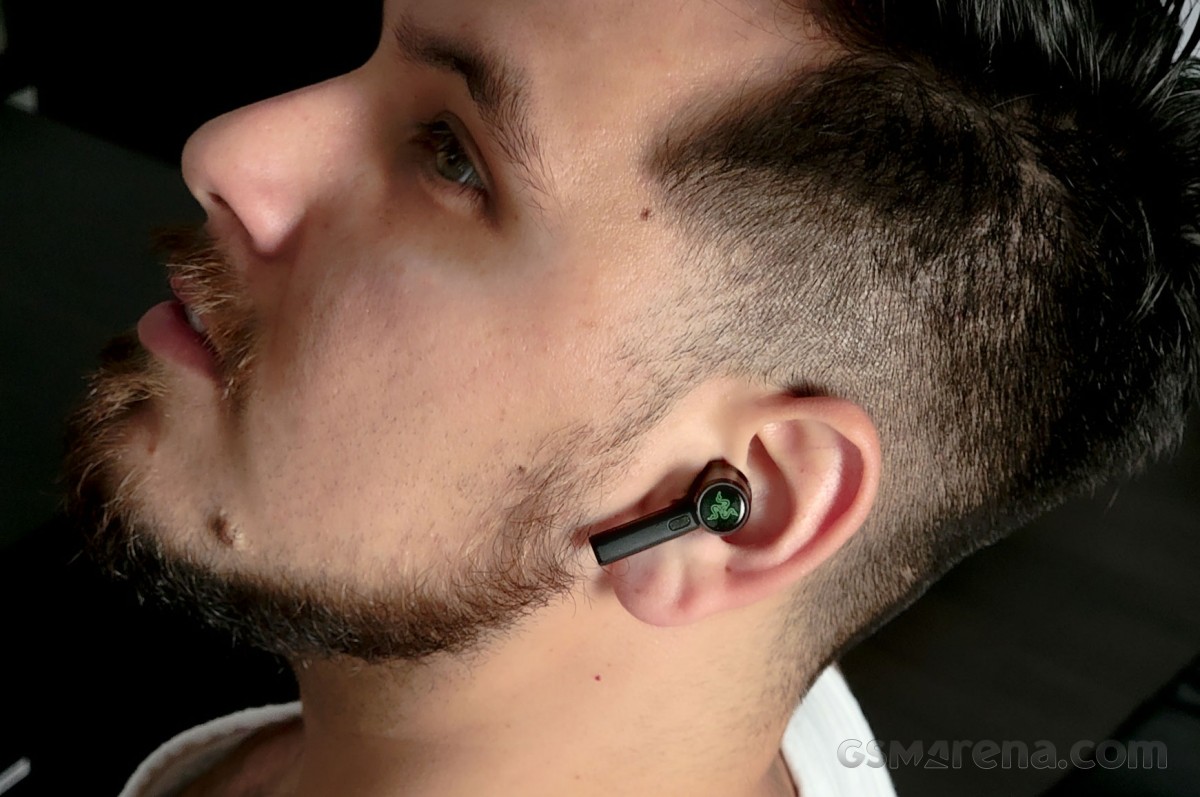 The bass here sounds more like a 'poof' than 'boom' or 'wub' and sustained sounds from bass drums lack some definition in lower volumes. This definition comes through at volumes 70% and higher. Speaking of volume, anything above 90% volume is where the mids and lows begin to distort.
Higher range sounds like hi-hats, snare drums, synths, higher-pitches vocals, and cymbals sound muddled. This is most apparent in music featuring traditional drum sets or higher-toned instruments like violins and trumpets.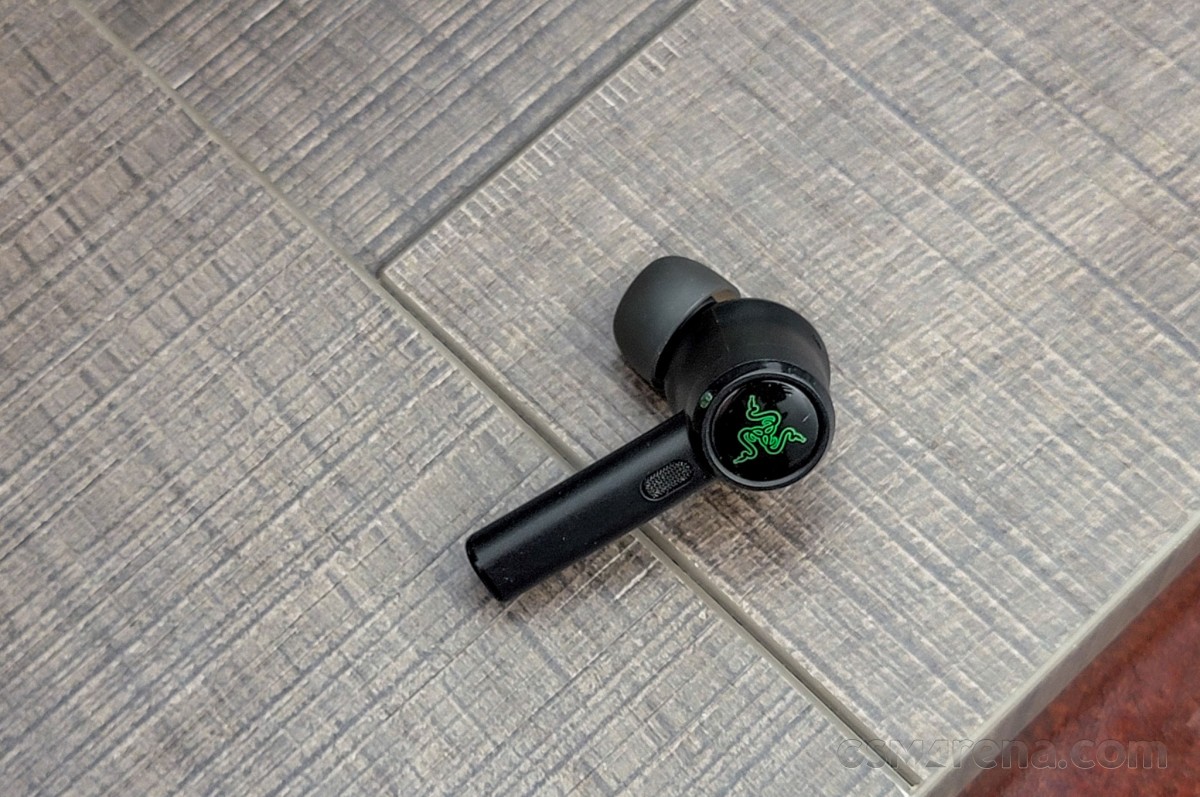 I had to create a custom EQ profile to get the sound that I wanted. Something that offered higher bass and crisper highs and trebles.
Call quality, Hybrid ANC, and passthrough audio
Although the sound quality of the earbuds themselves are quite great, we can't say the same for the call quality of the in-call microphones. According to every person I've spoken to on the phone while using these Hammerheads, I don't sound good at all. Voice over phone calls sounds muddled and far away. I hope that Razer can fix this with a firmware update.
Razer's Hybrid ANC uses dual microphones in ear bud to cancel out noise. One mic on the outside of an earbud hears the noise and one in the inside of the bud hears the sound as it goes into your ear. The result is decent noise cancellation for noisy environments, but it doesn't block out everything.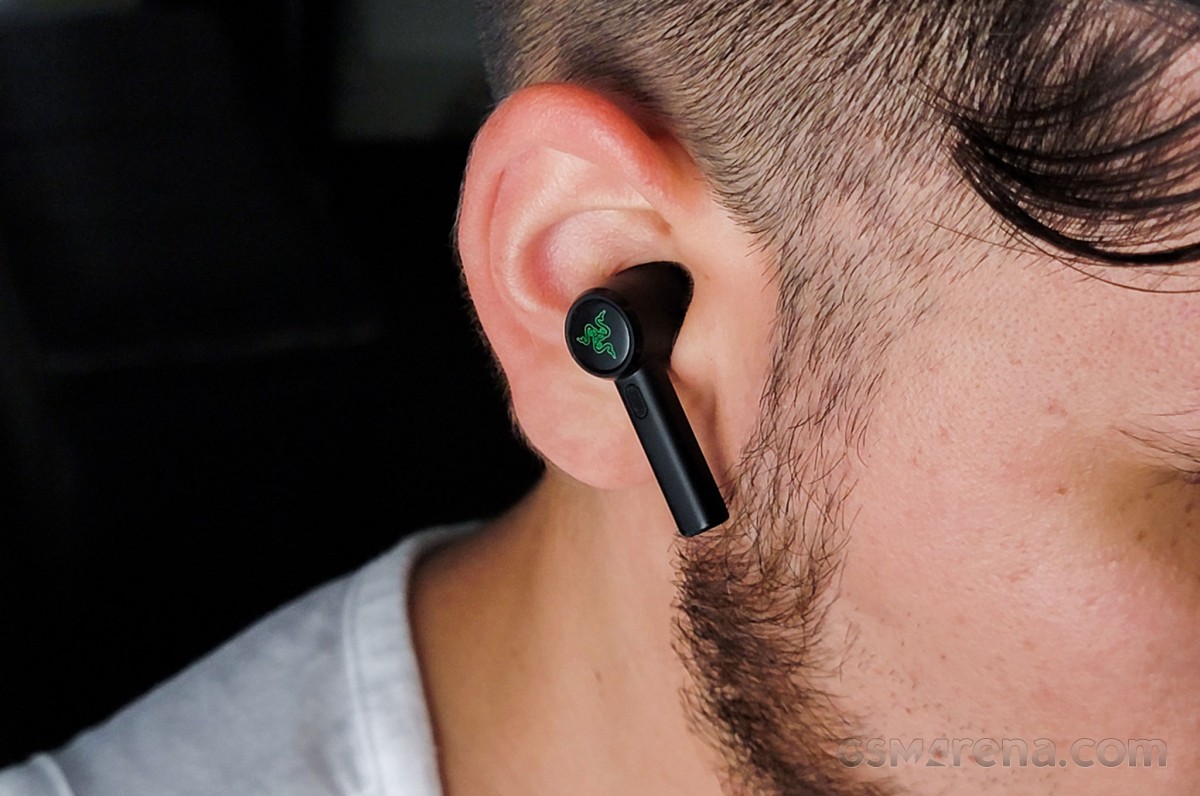 I'll give you an example. With ANC off, I could clearly hear the barista speaking to another customer as they make an order. Meanwhile, I was listening to an EDM mix at around 30% volume. I activated Hybrid ANC and the barista's voice was reduced to about 60% of the original strength, with the music playing I could barely make out what he was saying. Even with Hybrid ANC on at the café, the clatter of dishes still manages to pierce through the Hammerheads. I'd say that the Hybrid ANC is just useful enough to suppress some sound at a noisy café, and maybe some road noise when riding in a car, but you won't drown out the roar of an airplane.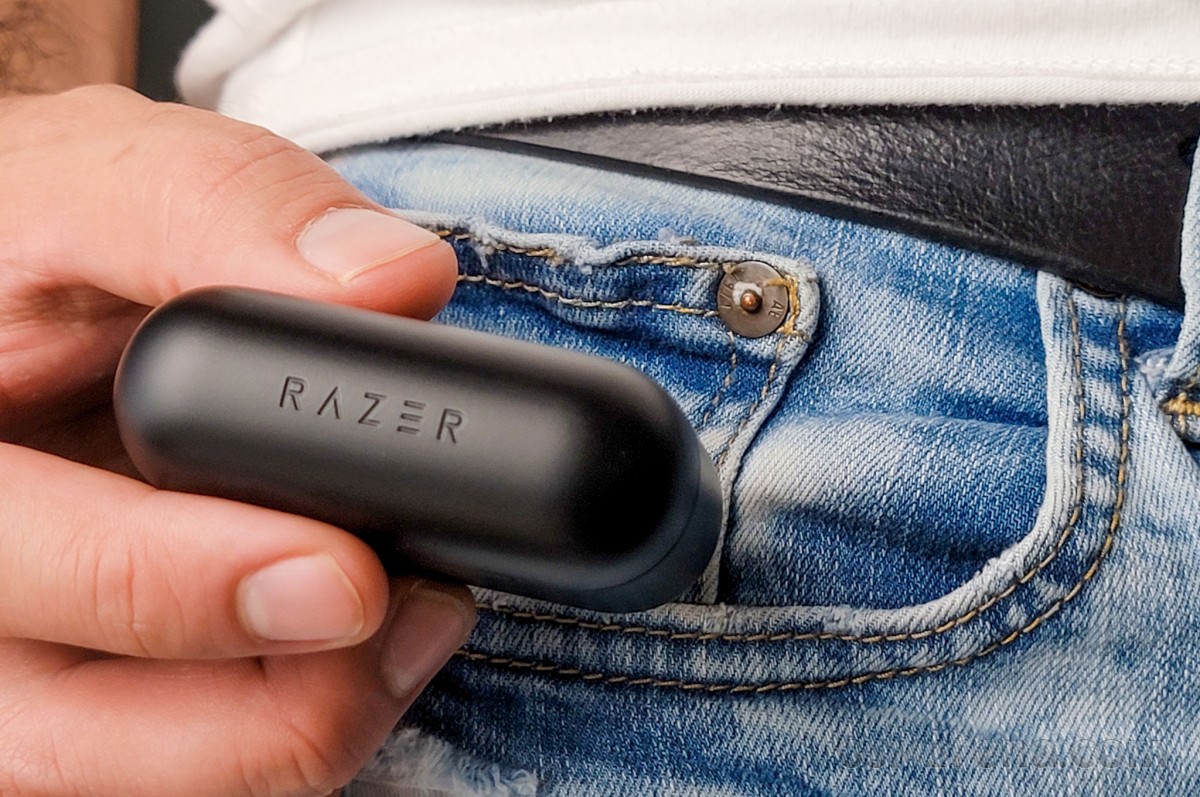 There's a passthrough audio mode that lets ambient noise filter in and it works well if you're at work, at the gym, or even just at home but you need to attend to other people while listening to something. There's a single passthrough mode and no way to adjust its loudness level. It gets the job done and it works decently well at picking up nearby sounds and dialogue.
Verdict
We give points to the Hammerheads for comfort, and we appreciate the extra effort that it took to include all the different kinds of ear tips with the earbuds. The Comply foam tips were my favorite ones, though they didn't fit snugly in the charging case with them on.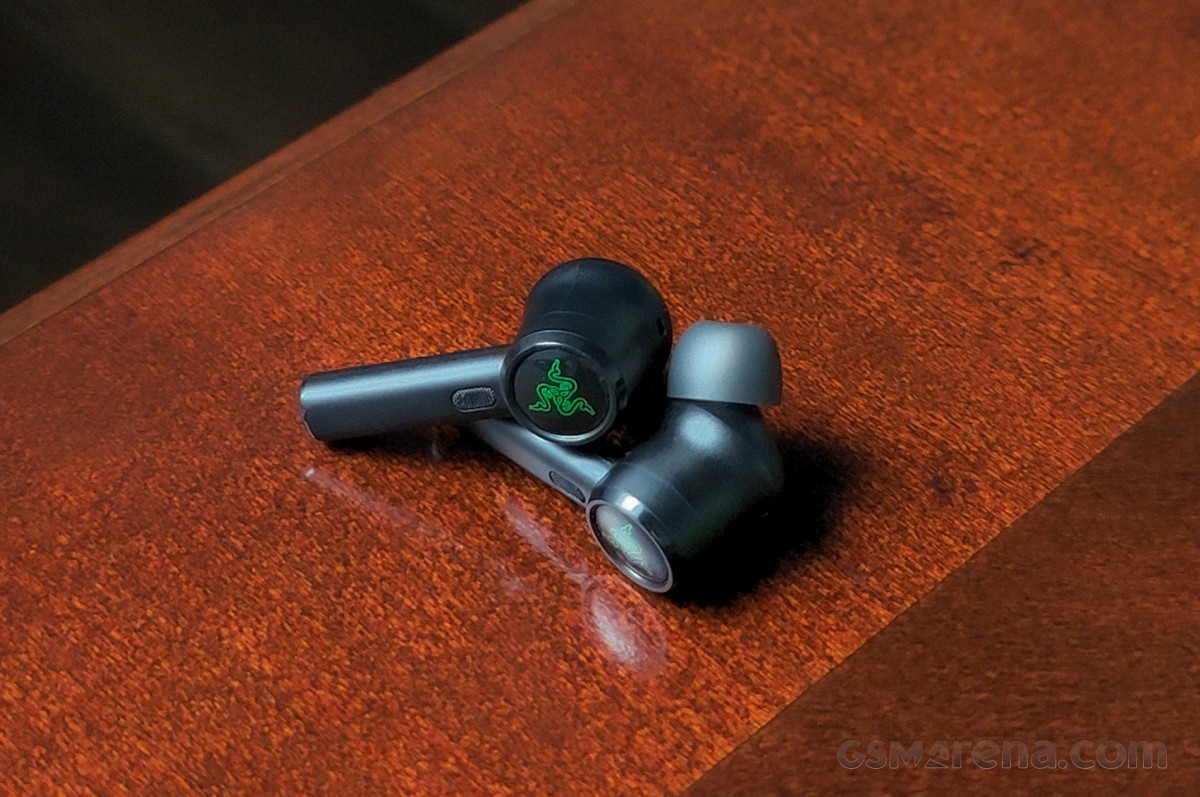 Battery life isn't stellar, as the buds will only last about 4-5 hours out of the charging case. With the charging case, the buds could last well over a week using them a few hours every day.
This is one of the most comfortable pairs of TWS earbuds that I've ever used. When a pair of buds have great comfort like this, the superb sound quality is just a bonus and I'm glad that the Razer Hammerheads Pro has both.
These Hammerheads are capable of great sound, but it will require some tweaking of the EQ settings. They are loud, and they have plenty of app features and modes that will keep any techie person busy. The low-latency Game Mode is a bonus, but we just wish the in-call microphones sounded better.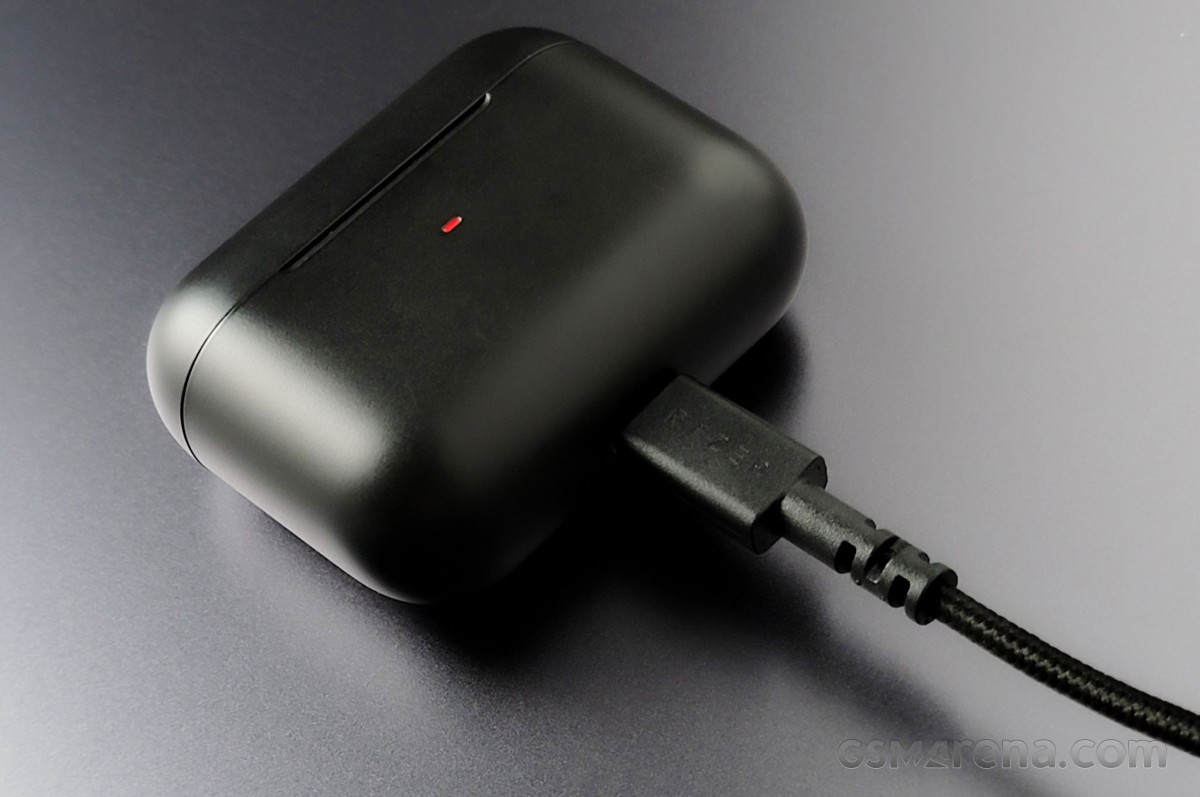 As the app got better and the touch controls were tweaked, my experience with the Hammerheads TWS Pro improved over time. These earbuds get our recommendation for anyone who's already a fan of Razer product and would like a pair of compact TWS buds with low latency for gaming. If you're not satisfied with the in-ear fit of other TWS buds, perhaps you can give the Hammerheads a try.
Pros:
Great sound and plenty of EQ customization
Comfortable fit, many ear tip options included
Sturdily built charging case
Well-featured app
Cons:
Average battery life for continuous usage
Phone call audio is not good
No wireless charging
ANC only reduces some noise
App takes several seconds to connect to the buds every time
Related
Anonymous
31 Jul 2021
4@$
Gm my experience wasnt good withthe ear buds,they would disconnect during a conversation and or while I was listening to music. I reached out to tech support they couldn't find a problem stating that our conversation was clear which by the way ...
Oh, I did listen to a lot of their headphones and speakers, Krakens are probably one of the worst headsets I have ever heard ... not to mention abysmal built quality.
AnonD-731363
26 Jul 2021
SH3
Man i bet you havent anything from this company. I am their fan since very long time ago and all their products are awesome quality. Having Razer Kraken for example and they working perfectly for like 7 years now.
Popular articles
Popular devices
Electric Vehicles