Realme 6 review
GSMArena team, 1 April 2020.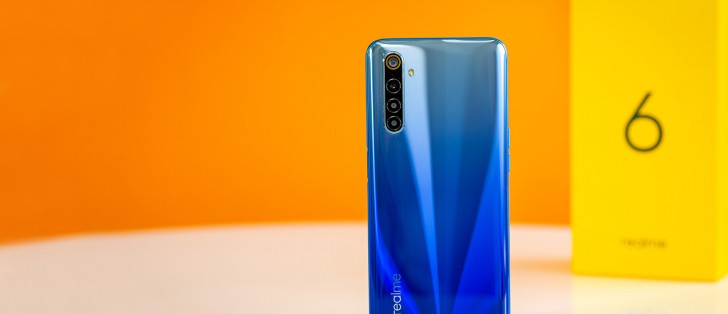 Realme UI on top of Android 10
The Realme 6 is among the first devices to boot Android 10 with the brand new Realme UI launcher. The maker has promised us a new take on ColorOS that's made by Oppo, and with the most recent Series 6 and X50 it surely delivered.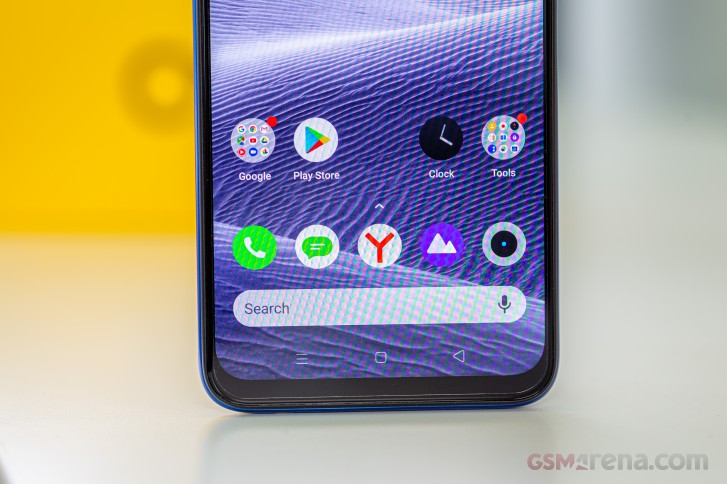 The new launcher looks a lot like vanilla Android with no-nonsense homescreens, simplistic notification/toggles area, and easy-to-use task switcher. An App drawer is available, too, and it is as clutter-free as one could hope for.
The new Realme UI supports different icon packs, so if you are not happy with the default one, you can opt for material style, pebbles, or you can even fully customize them by your liking.
There are a lot of powerful tools within the settings menu if you want full control over your Android OS. Or you can leave everything as is and enjoy hassle-free Android experience optimized by Realme's AI algorithms and machine learning.
Similar to the recent Galaxies, the Realme UI offers a Smart Sidebar on the edge of the screen - you can customize the actions and app shortcuts that appear there.
The multimedia apps such as Gallery, Music, and Videos - are provided by Realme. There is also a redesigned File Manager, and even a Phone Manager app. And with that, the non-Google app list is complete.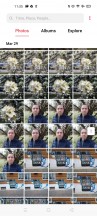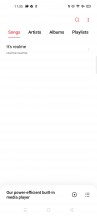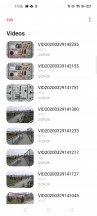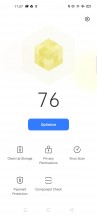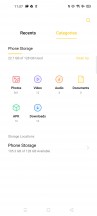 Gallery • Music • Videos • Phone Manager • File Manager
Finally, the Realme UI supports 90Hz and is displayed with 90fps - meaning it looks buttery smooth and blazing fast.
Depending on the market your Realme 6 may or may not come with some pre-installed third-party apps that may or may not display annoying notifications. Worst-case scenario, you'd have to disable or remove such apps and services.
Performance and benchmarks
The Realme 6 employs the MediaTek Helio G90T - a gaming-centric SoC for mid-range purposes. It is fabricated on the 12nm FinFET manufacturing process from TSMC. The G90T packs an octa-core CPU with two high-performance Cortex-A76 cores ticking at 2.05GHz and six energy-efficient Corext-A55 cores working at 2.0GHz.
The Mali-G76 MC4 GPU takes care of graphically intensive tasks and should provide great performance for the class though we doubt any games will go beyond the 60fps mark and you'd need 90fps to utilize the full benefits of the 90Hz screen.
The Realme 6 here packs 8GB of RAM, but there are versions with 4GB and 6GB RAM.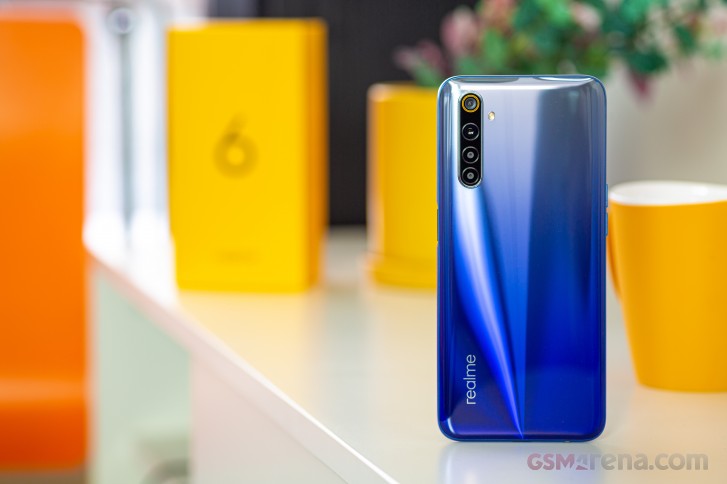 So, we ran some benchmarks and the CPU scores are pretty much class-leading. The G90 CPU is a great performer, be it for single or multi-core tasks and you can clearly see the proof from the charts below.
GeekBench 4.4 (multi-core)
Higher is better
Huawei P40 Lite
7846
Realme 6
7815
Redmi Note 8 Pro
6999
Realme X2
6926
Realme 6 Pro
6513
Realme 5 Pro
6106
Realme 6i
5890
Realme 3 Pro
5881
Realme 5
5707
Xiaomi Redmi Note 8T
5620
Samsung Galaxy A51
5401
Honor 9X
5345
Realme 3
4936
GeekBench 4.4 (single-core)
Higher is better
Huawei P40 Lite
2844
Realme 6 Pro
2639
Realme 6
2606
Realme X2
2508
Redmi Note 8 Pro
2472
Realme 5 Pro
1913
Realme 6i
1835
Samsung Galaxy A51
1668
Honor 9X
1559
Realme 5
1537
Xiaomi Redmi Note 8T
1519
Realme 3
1482
Realme 3 Pro
1471
GeekBench 5.1 (multi-core)
Higher is better
Huawei P40 Lite
1862
Realme X2
1750
Realme 6
1726
Realme 6 Pro
1666
Redmi Note 8 Pro
1622
Realme 6i
1349
Samsung Galaxy A51
1294
GeekBench 5.1 (single-core)
Higher is better
Huawei P40 Lite
591
Realme 6 Pro
565
Realme 6
548
Realme X2
545
Redmi Note 8 Pro
493
Realme 6i
388
Samsung Galaxy A51
347
The quad-core Mali-G76 is quite a treat for the budget class and the Realme 6 once again aces the GPU tests. In fact, Realme has managed to deliver similar and consistent gaming performance across all three Realme 6 smartphones in spite of their completely different platforms. Impressive!
GFX 3.0 Manhattan (onscreen)
Higher is better
Huawei P40 Lite
49
Realme 6
45
Realme 6i
43
Redmi Note 8 Pro
40
Realme 6 Pro
37
Realme 3
34
Realme X2
34
Realme 5
33
Realme 5 Pro
31
Honor 9X
19
Xiaomi Redmi Note 8T
16
Samsung Galaxy A51
15
GFX 3.1 Manhattan (onscreen)
Higher is better
Realme 6i
31
Huawei P40 Lite
30
Realme 6 Pro
27
Realme 6
27
Realme 5
26
Realme 3
26
Realme X2
24
Redmi Note 8 Pro
24
Realme 5 Pro
22
Realme 3 Pro
20
Honor 9X
12
Xiaomi Redmi Note 8T
11
Samsung Galaxy A51
8.9
GFX 3.1 Car scene (onscreen)
Higher is better
Realme 6 Pro
19
Huawei P40 Lite
18
Realme 6i
17
Realme 6
16
Realme 3
15
Redmi Note 8 Pro
14
Realme 5
13
Realme X2
13
Realme 5 Pro
12
Realme 3 Pro
11
Honor 9X
6.5
Xiaomi Redmi Note 8T
5.9
Samsung Galaxy A51
5.6
Aztek Vulkan High (onscreen)
Higher is better
Realme 6 Pro
11
Realme 6
10
Redmi Note 8 Pro
9.4
Realme 6i
9.3
Realme X2
8.9
Huawei P40 Lite
8.6
Samsung Galaxy A51
5.6
Aztek OpenGL ES 3.1 High (onscreen)
Higher is better
Huawei P40 Lite
12
Realme 6 Pro
11
Realme 6
11
Realme 6i
11
Redmi Note 8 Pro
10
Realme X2
9.2
Samsung Galaxy A51
5.6
Only one smartphone can beat the Realme 6 on the compound AnTuTu test and it's the more expensive and slightly more powerful Huawei P40 Lite.
AnTuTu 8
Higher is better
Huawei P40 Lite
325777
Realme 6
288931
Redmi Note 8 Pro
279355
Realme 6 Pro
268785
Realme X2
257443
Realme 6i
202275
Honor 9X
187528
Samsung Galaxy A51
175363
Xiaomi Redmi Note 8T
167395
These benchmarks show the Helio G90T as one very potent chip, especially for this budget class. Sure, few, if any, games will be able to exceed 60fps and make use of the 90Hz display, but it will still deliver lag-free performance across the board and that's what really matters.
For a budget smartphone, we'd say the Realme 6 is over-equipped, and any user will be happy with it.
Note 8 pro or realme 6 never by note 9 pro
I got 8/128 variant used for 8 months no problems every day 3 hours straight pubg...
Why is the caller tune in the phone don't have quality music all sound like a baby toy instrument and it is below the standard development ,cos this sound shows the caller tune don't have any knowledge in music .