Realme 7i hands-on review
Victor, 08 November 2020
Introduction
Realme has been churning-out handsets at breakneck pace since its inception with the budget segment its happiest hunting ground. Hot on the heels of the new Narzo 20 trio - 20A, 20 and 20 Pro, Realme also decided to refresh its number series the Realme 7i.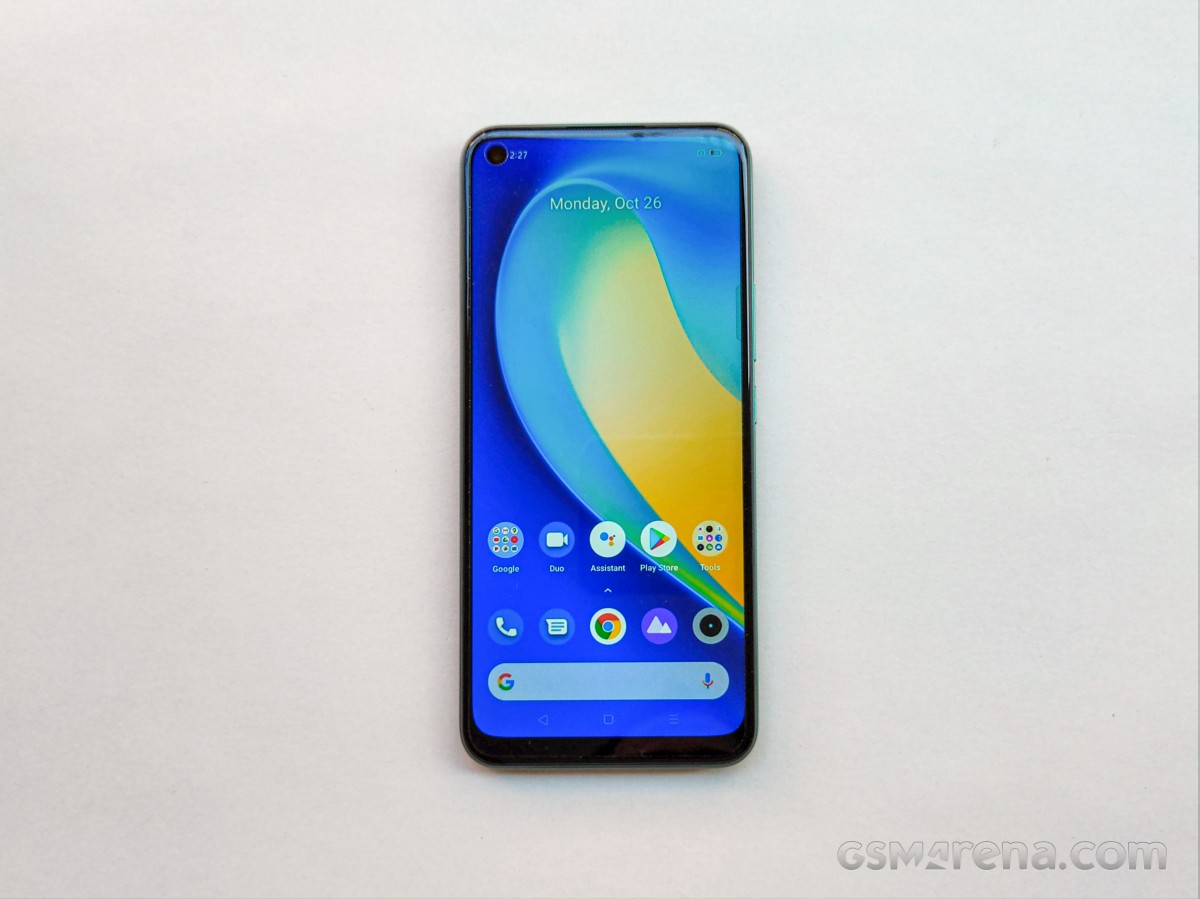 As the "i" suffix suggests, the Realme 7i is a slightly toned-down version of the vanilla Realme 7. In this case, the Asian Realme 7 variant is a closer match than the Global Realme 7 due to the shared 64MP Quad-Bayer camera.
Realme 7i specs at a glance:
Body: 164.1x75.5x8.9mm, 188g; Colors: Aurora Green, Polar Blue.
Display: 6.50" IPS LCD, 720x1600px resolution, 20:9 aspect ratio, 270ppi; 90Hz.
Chipset: Qualcomm SM6115 Snapdragon 662 (11 nm): Octa-core (4x2.0 GHz Kryo 260 Gold & 4x1.8 GHz Kryo 260 Silver); Adreno 610.
Memory: 64GB 4GB RAM, 128GB 4GB RAM, 128GB 8GB RAM; UFS 2.1; microSDXC (dedicated slot).
OS/Software: Android 10, Realme UI.
Rear camera: Wide (main): 64 MP, f/1.8, 26mm, 1/1.73", 0.8µm, PDAF; Wide (main): 64 MP, f/1.8, 26mm, 1/1.73", 0.8µm, PDAF; Wide (main): 64 MP, f/1.8, 26mm, 1/1.73", 0.8µm, PDAF; Wide (main): 64 MP, f/1.8, 26mm, 1/1.73", 0.8µm, PDAF; LED flash, HDR, panorama.
Front camera: 16 MP, f/2.1, 26mm (wide), 1/3", 1.0µm; HDR.
Video capture: Rear camera: 1080p@30fps, gyro-EIS; Front camera: 1080p@30fps, gyro-EIS.
Battery: 5000mAh; Fast charging 18W.
Misc: Fingerprint (rear-mounted), accelerometer, gyro, proximity, compass.
Pricing for the Realme 7i starts at INR11,999 ($165/€140) for the 64GB variant and goes up to INR12,999 ($175/€150) for the 128GB one. Both with 4GB of RAM. That's a bit less than the MSRP for the vanilla Realme 7 and in the realm of the new Narzo 20 budget family, we already mentioned.
In order to reduce the price of the Realme 7i, some hardware cut-backs naturally had to be made compared to the vanilla Realme 7. These notably include a slightly slower chipset, though one that does not sacrifice on modern connectivity, like Dual-Band Wi-Fi ac, but does cap video capture resolution at FullHD.
Screen resolution is bumped down to HD+, but the 6.5-inch display diagonal and the trendy 90Hz refresh rate have been preserved. And the last major bit is probably charging speed, which is set at 18W on the Realme 7i, compared to 30W on the Realme 7.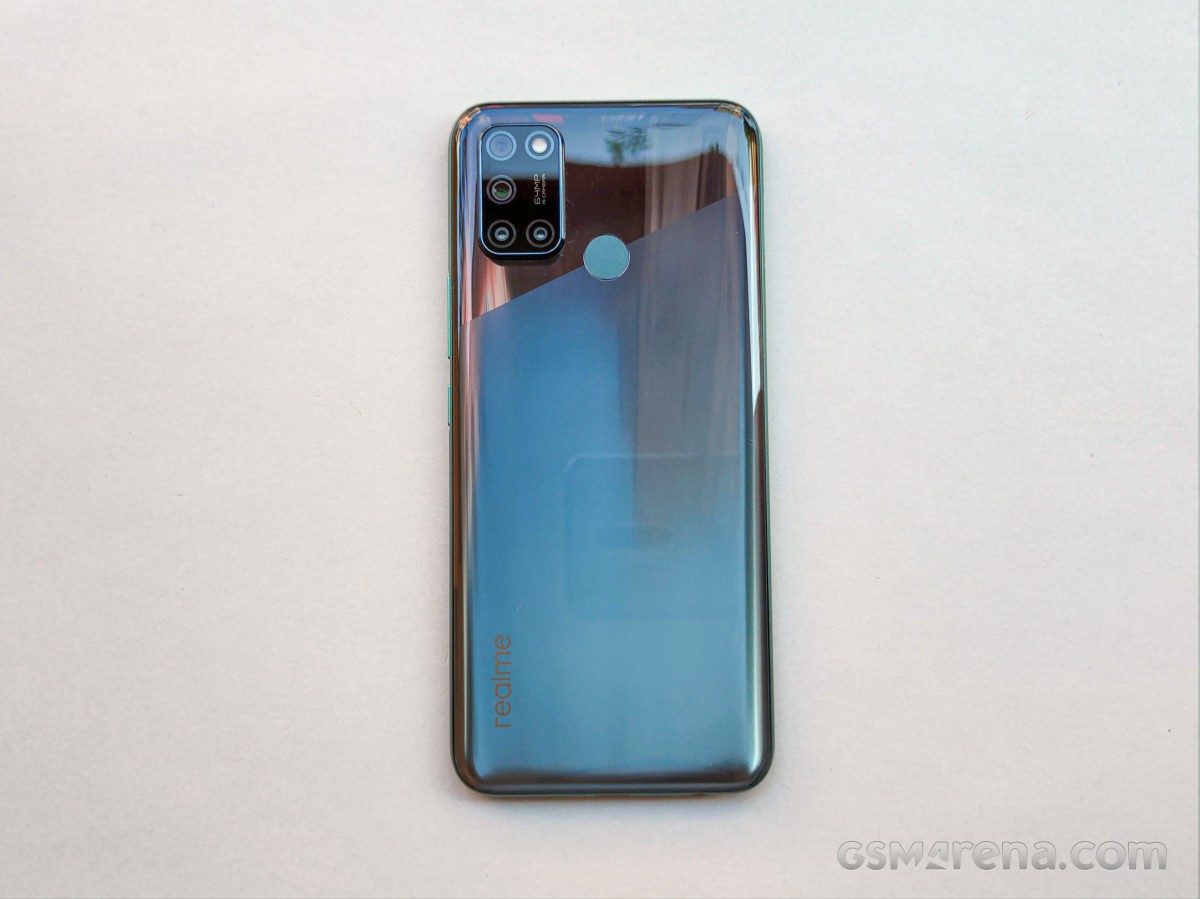 All of these honestly sound like easily-justifiable and well though-out downgrades that do not tamper with the core experience of the Realme 7i.
Design, materials, handling
The back side of the Realme 7i has a very interesting and distinctive two-tone design going on. The material and finish of the surface are still the same and feel identical, but the geometric transition from glossy to mat is still rather unique and a conversation-starter.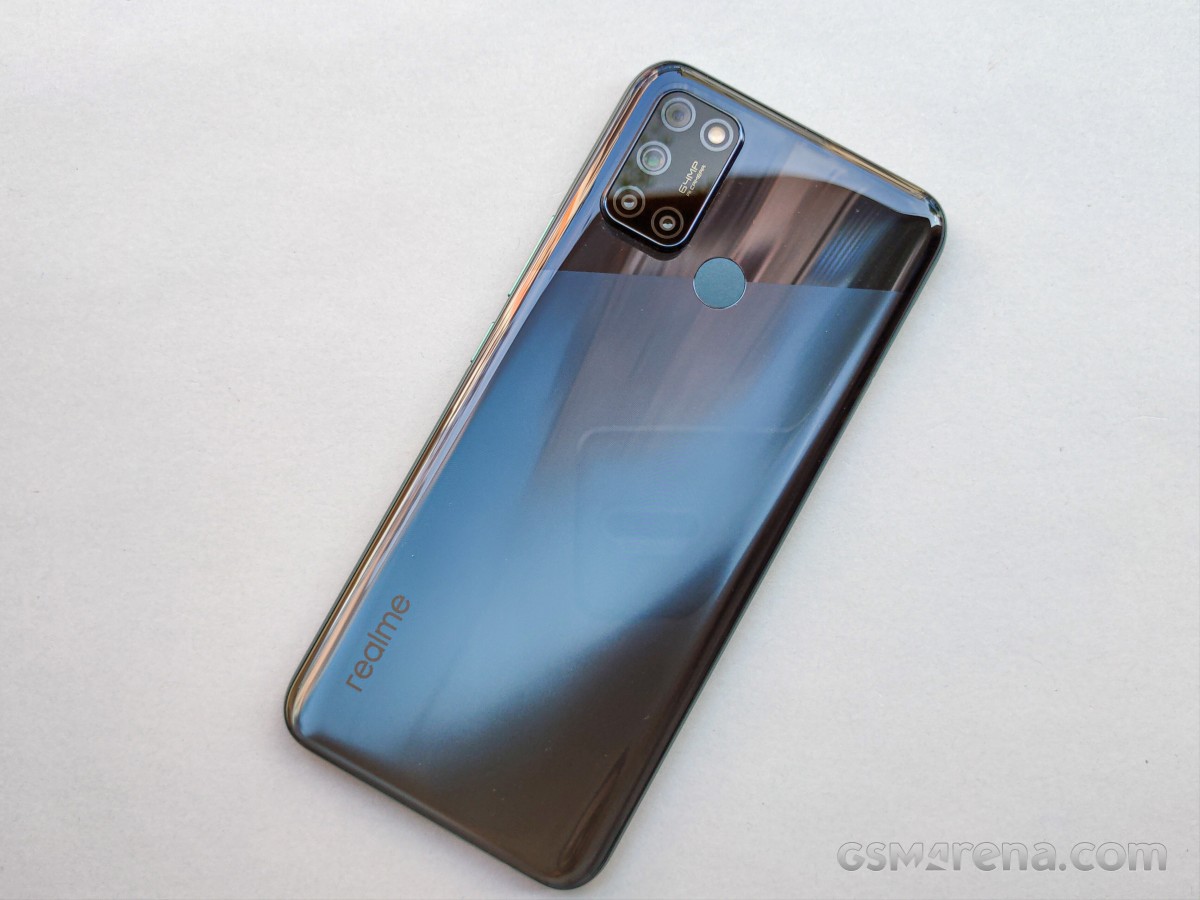 The surface itself is slick and a bit slippery. Also, a major fingerprint magnet. As you can imagine, prints come up particularly clear on the top glossy bit of the phone. This almost mirror-like segment also has us a bit more worried about scratches and scuffs. Since the back surface is identical throughout, it shouldn't really be more prone to scratching than the matte bit = it will just show scratches more easily.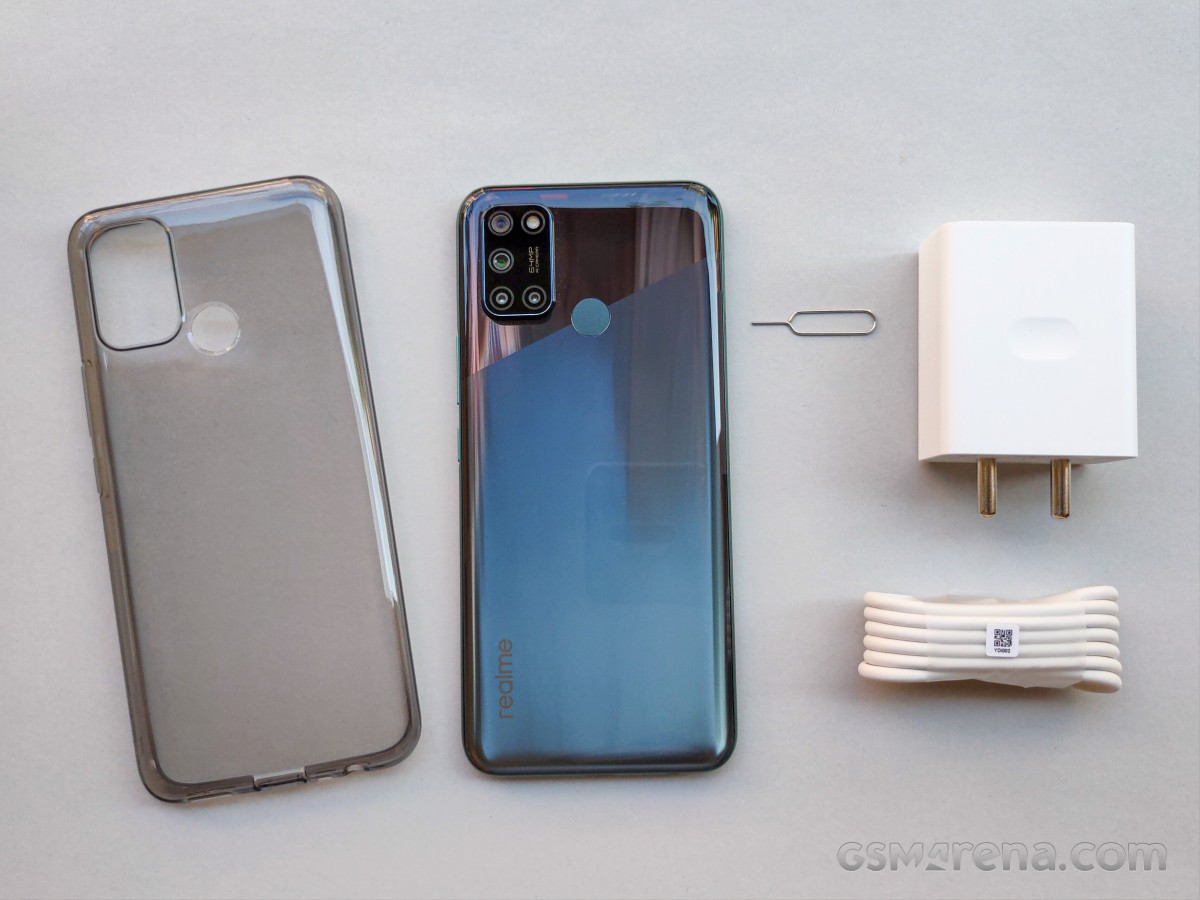 Thankfully, there is a mostly-transparent, soft silicon case included in the Realme 7i's box. It hides away some of the visual appeal of the two-tone design, but still lets a lot of it shine through. Plus, having it on mostly takes care of the camera wobble, which is otherwise noticeable.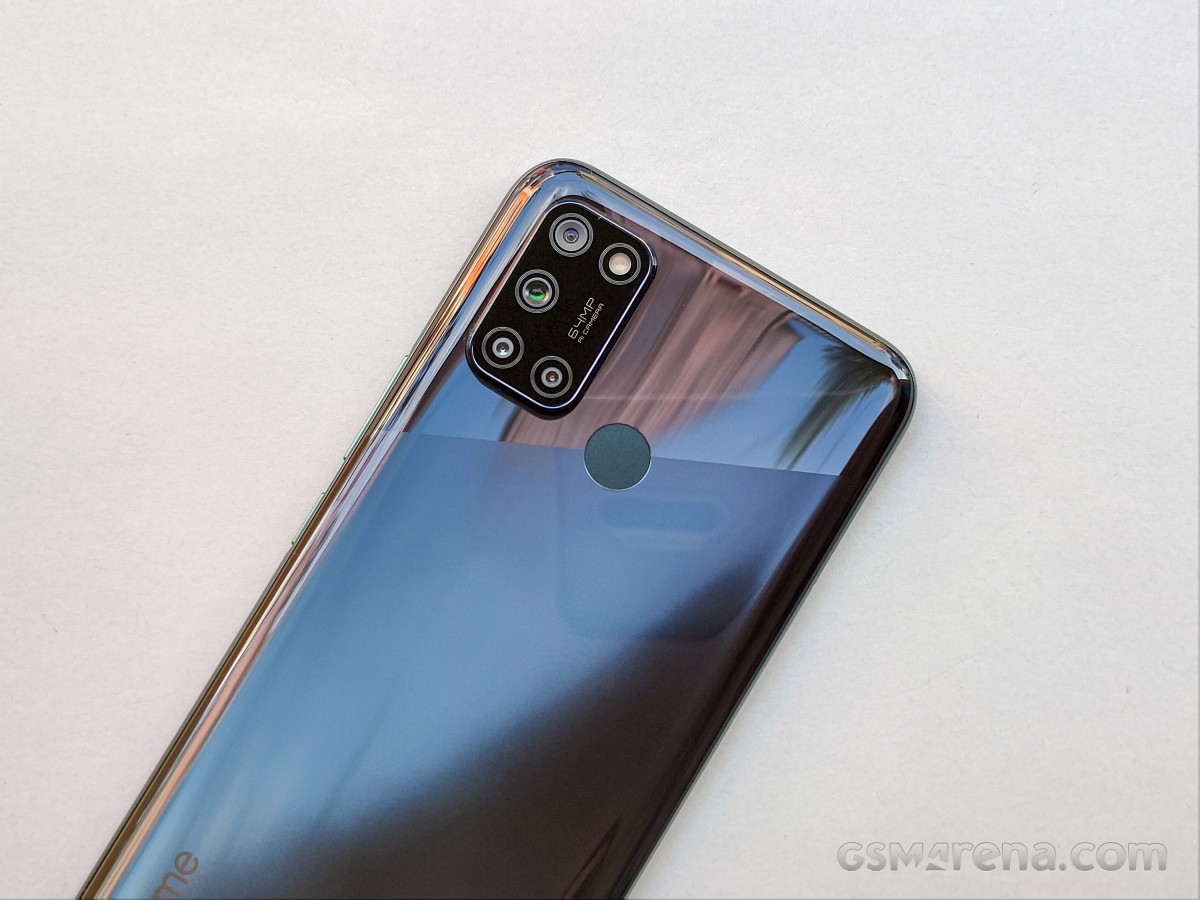 Aesthetics aside, the 164.1 x 75.5 x 8.9 mm body of the Realme 7i is decently comfortable to hold in-hand, but not ideal. Our best guess is that a thicker profile, like the 9.4mm of the regular Realme 7, or more aggressive body curvature could have benefited overall ergonomics. That, however, is more of a nitpick on our end than anything.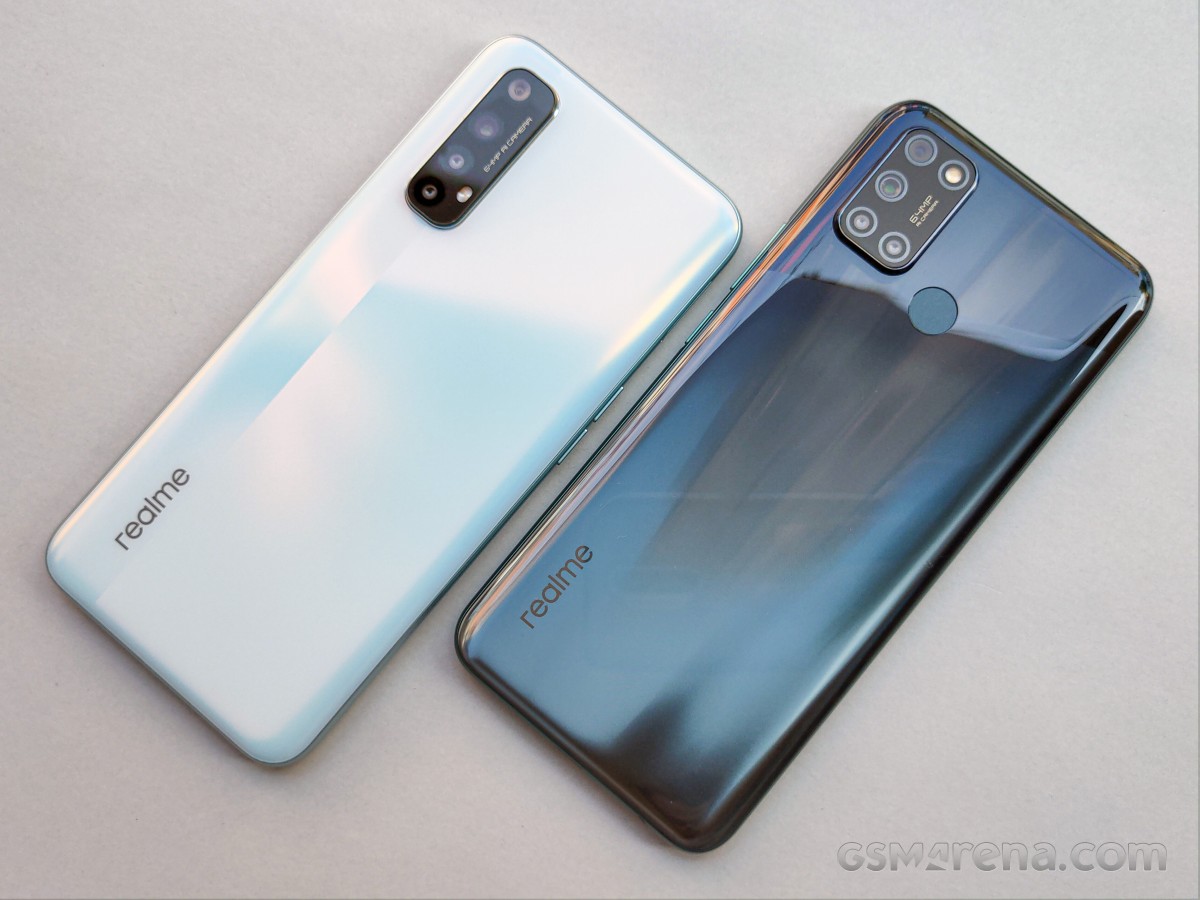 Tipping the scale at 188 grams, the Realme 7i is a bit lighter than the regular Realme 7, despite the fact that it still has the same big 5,000 mAh battery capacity. Whether weight was shaved from different materials, a reduced cooling solution for the lower-end chipset or less-complicated battery structure is hardly important.
The Realme 7i is notably missing the FM radio and NFC of the Realme 7, but neither of those modules weigh all that much. In any case, the Realme 7i feels surprisingly light in the hand.
On to controls. The Realme 7i has a very standard set and layout for these. The rear-mounted fingerprint reader is snappy and reliable. Setting it up is also a breeze. All qualities we have come to expect from traditional capacitive readers.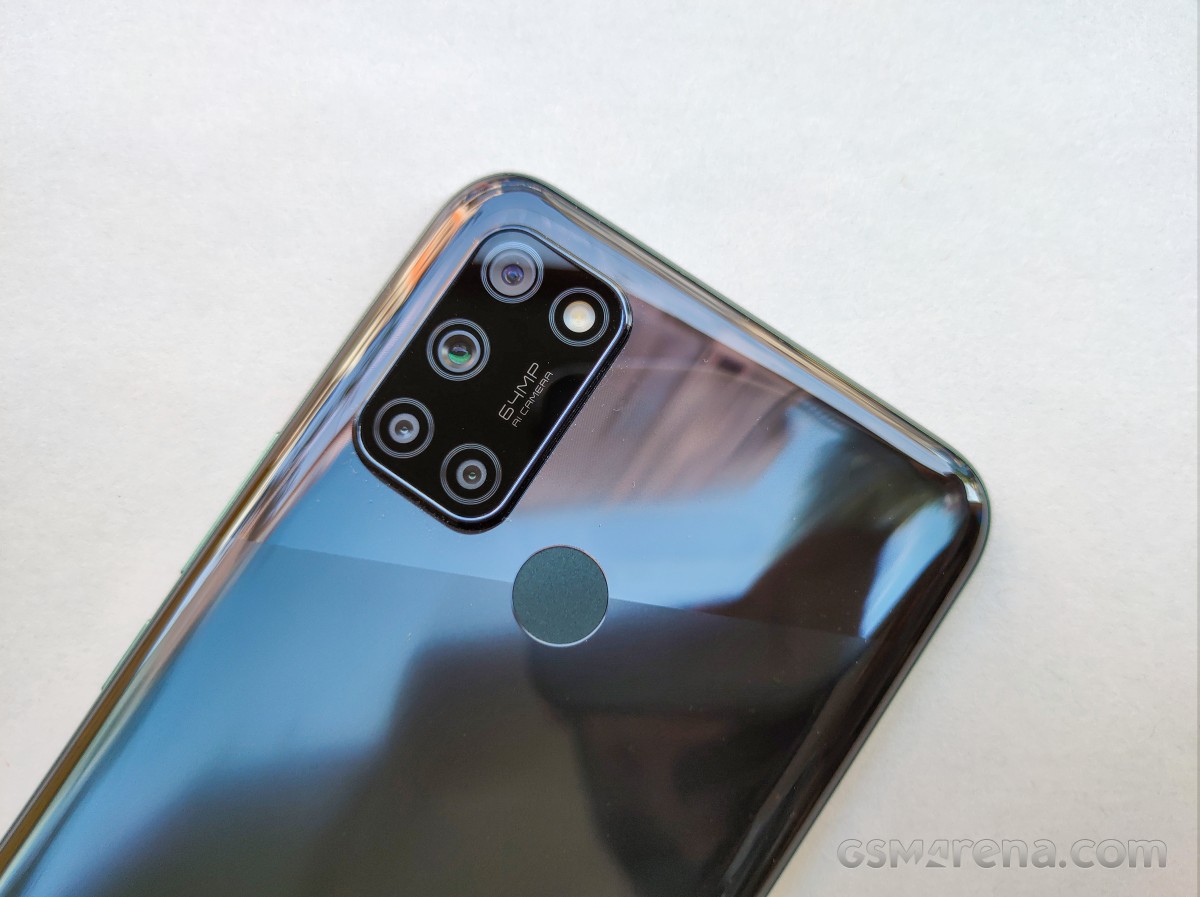 Buttons on the Realme 7i are nice and clicky, with plenty of tactile feedback. They are also positioned inside a convenient groove and very easy to feel-out. Realme went for a volume rocker, instead of separate volume buttons on this one.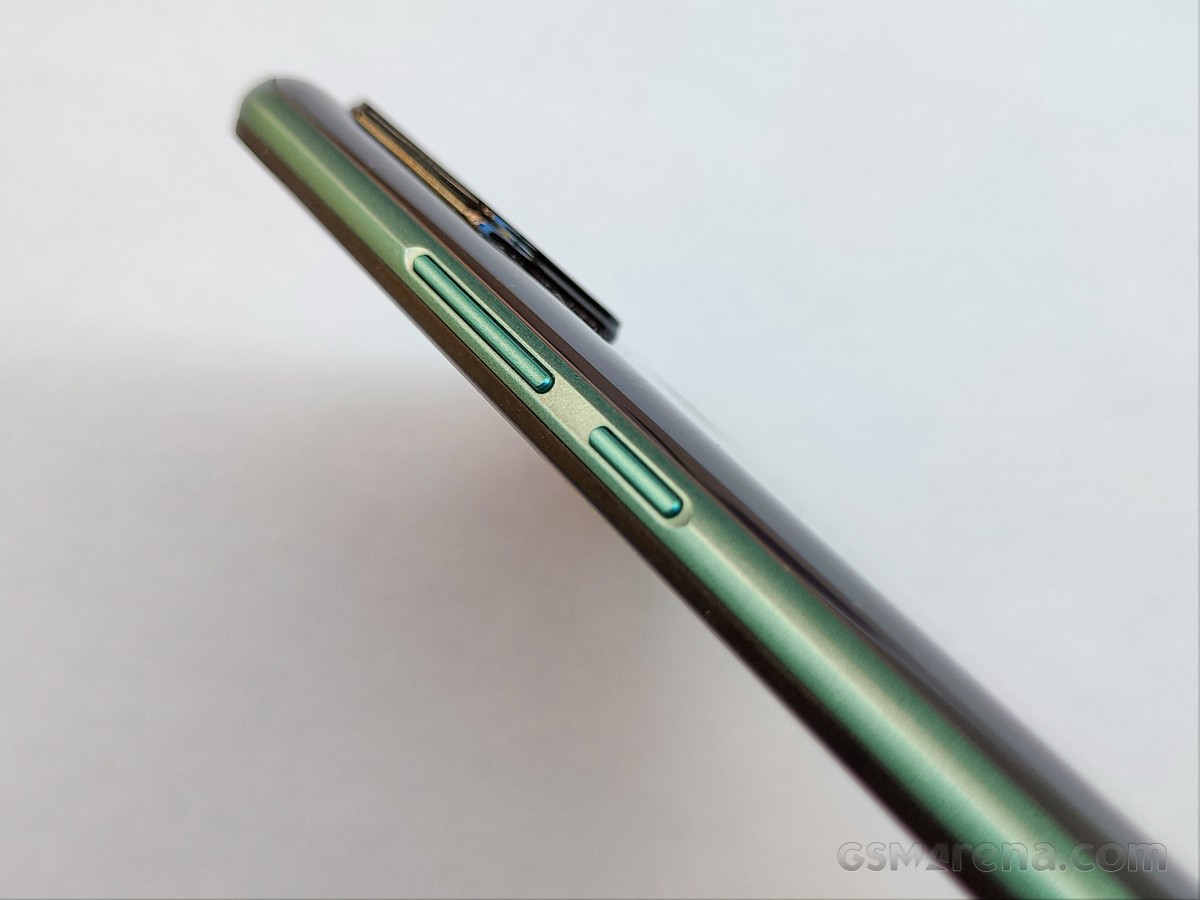 On the opposite side of the button array lies a triple slot tray. It can handle two microSIM cards, alongside a microSD card for expansion all at the same time.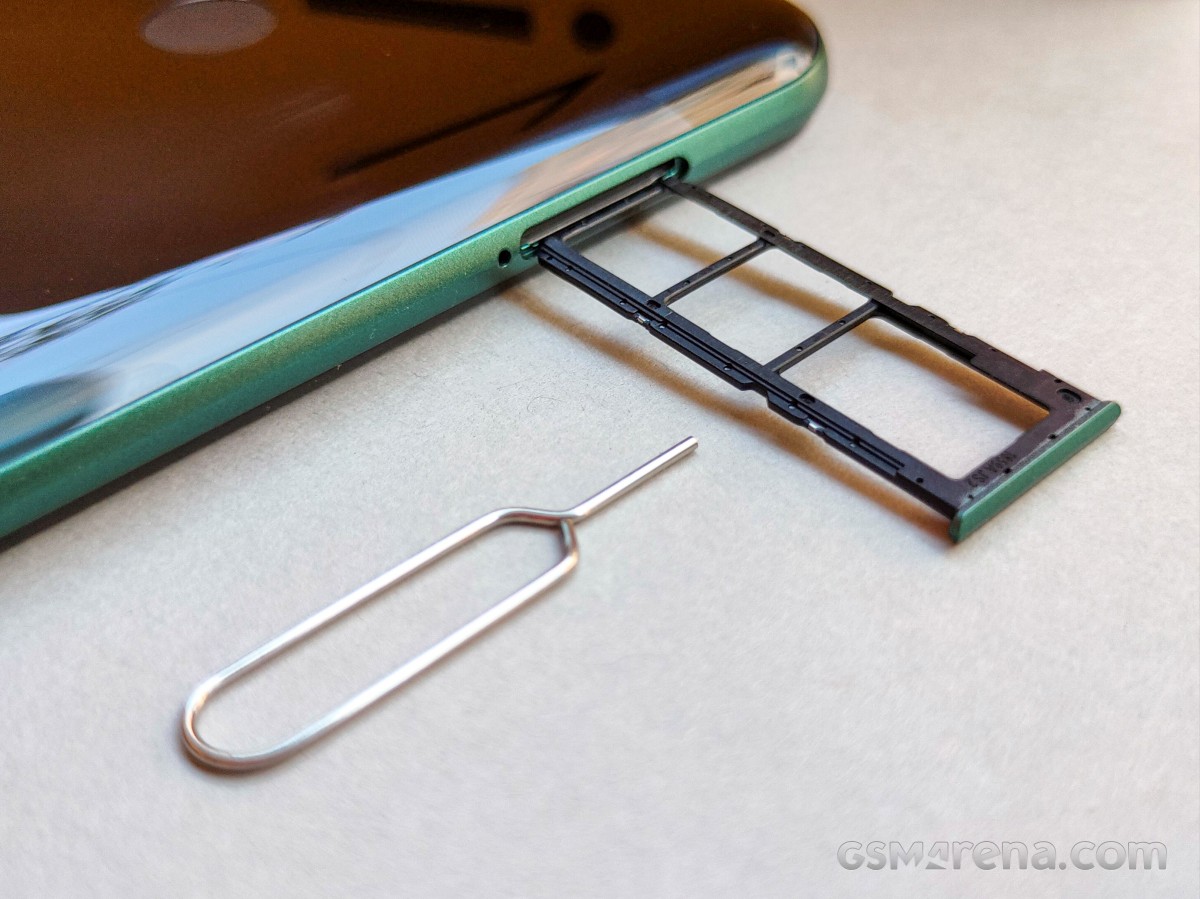 The bottom side of the Realme 7i also follows recent company convention and is rather busy. Here we find the single bottom-firing speaker and the main microphone, alongside a trusty old 3.5mm port. The Type-C port in the middle can handle USB 2.0 speeds and charging up to 18W.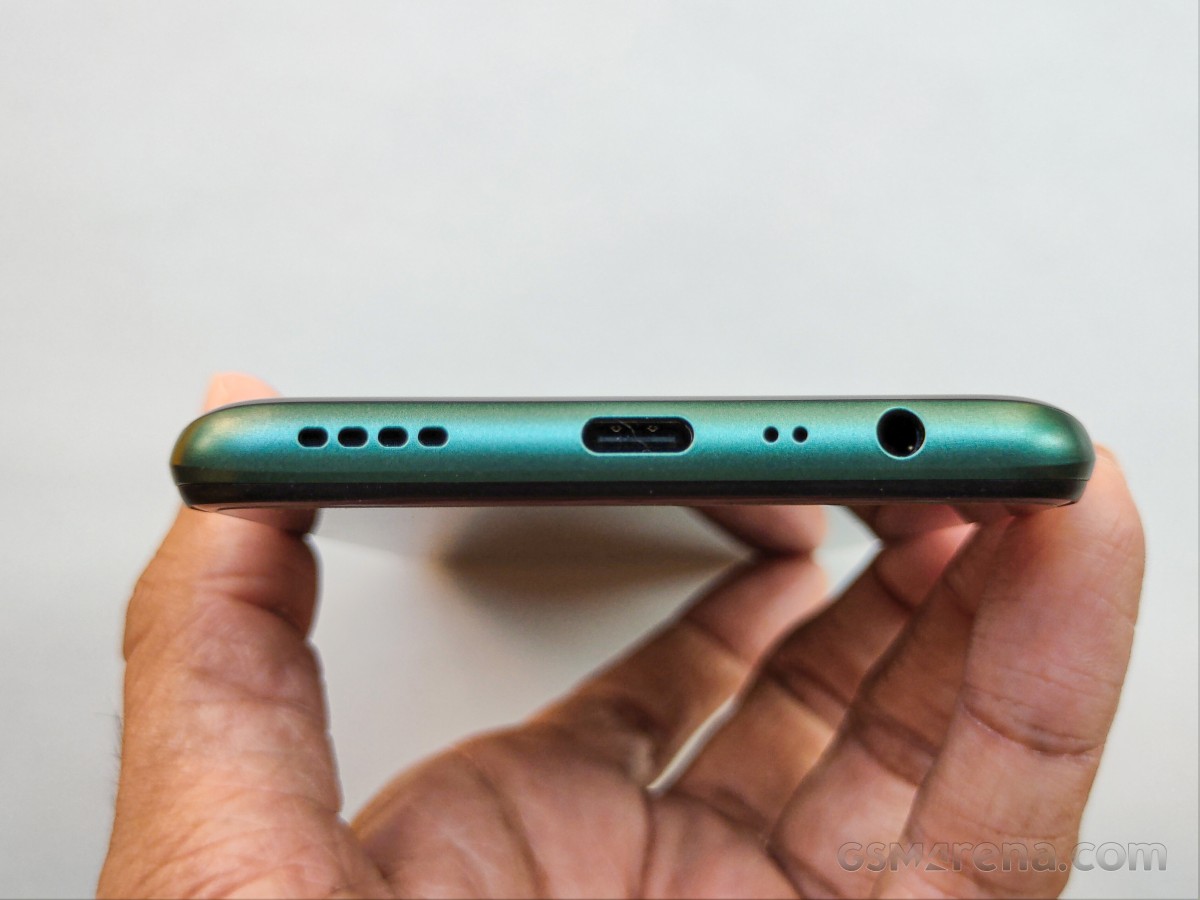 The bundled charger in the Realme 7i's box has those 18W covered as well.
Display
Just like its vanilla sibling, the Realme 7i maintains a sizeable 6.5-inch display diagonal, with a 20:9 aspect ratio and what we would consider quite slim bezels for a budget device. Despite the size and visual similarity, including the punch hole selfie, the panel is not directly borrowed from the Realme 7. Instead the Realme 7i has a lower-resolution 720 x 1600-pixel LCD, which works out to a modest 270ppi.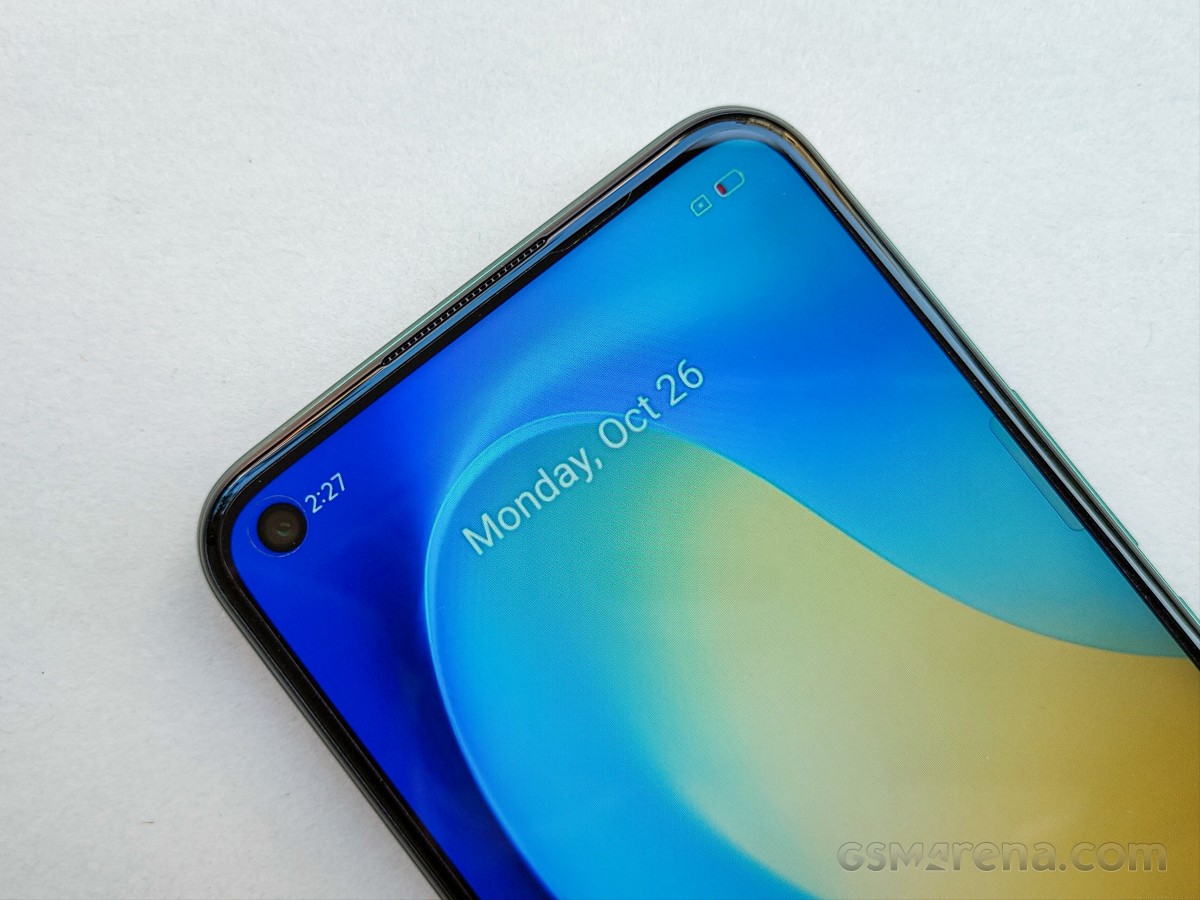 Still, in person, it looks adequately sharp, especially within the Realme UI itself. You have to put it next to a vanilla FullHD+ Realme 7 to really notice the difference and even then, it's hardly major. Plus, one benefit of rocking a lower native resolution is that there is less pressure on the GPU. A move that works well in conjunction with Realme's decision to downgrade the chipset in the Realme 7i to a Snapdragon 662, with an Adreno 610 GPU.
The Realme 7i's display had enough brightness to remain usable outdoors. At full blast, text was still legible under sunlight.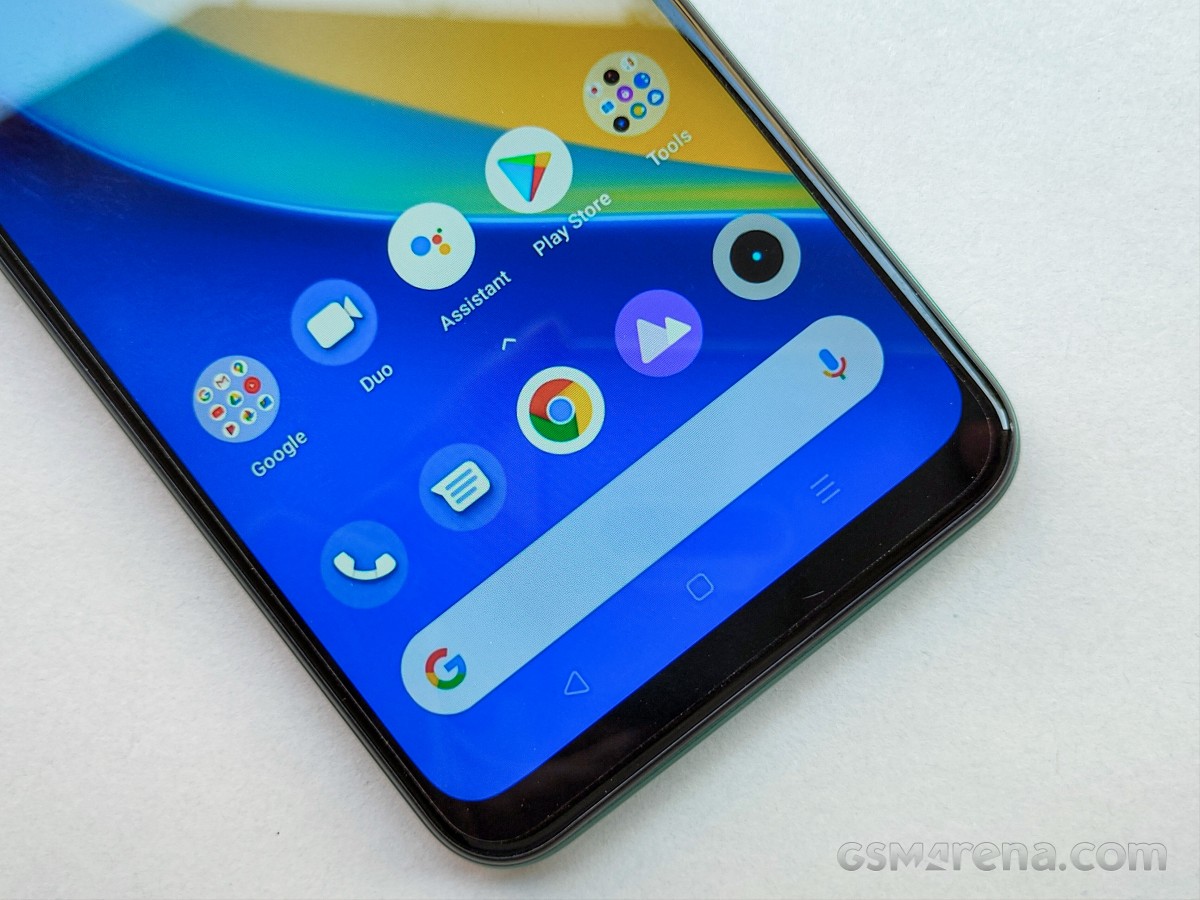 Resolution on the Realme 7i might have taken a hit, but the trendy 90Hz refresh rate is still present. A move that makes a lot of marketing sense in our mind. Realme, like many other manufacturers, is still tweaking its refresh rate behavior, resulting in differences across current models, as well as post various software update packages. In Auto refresh rate mode, the panel on our Realme 7i unit maintains 90Hz while it is being interacted with and drops down to around 80Hz when idle. We observed this behavior on the home screen, app drawer, in settings, Google Play Store and Chrome. Basically, all throughout the UI, with the exception of certain apps, like YouTube, which we know forces 60Hz.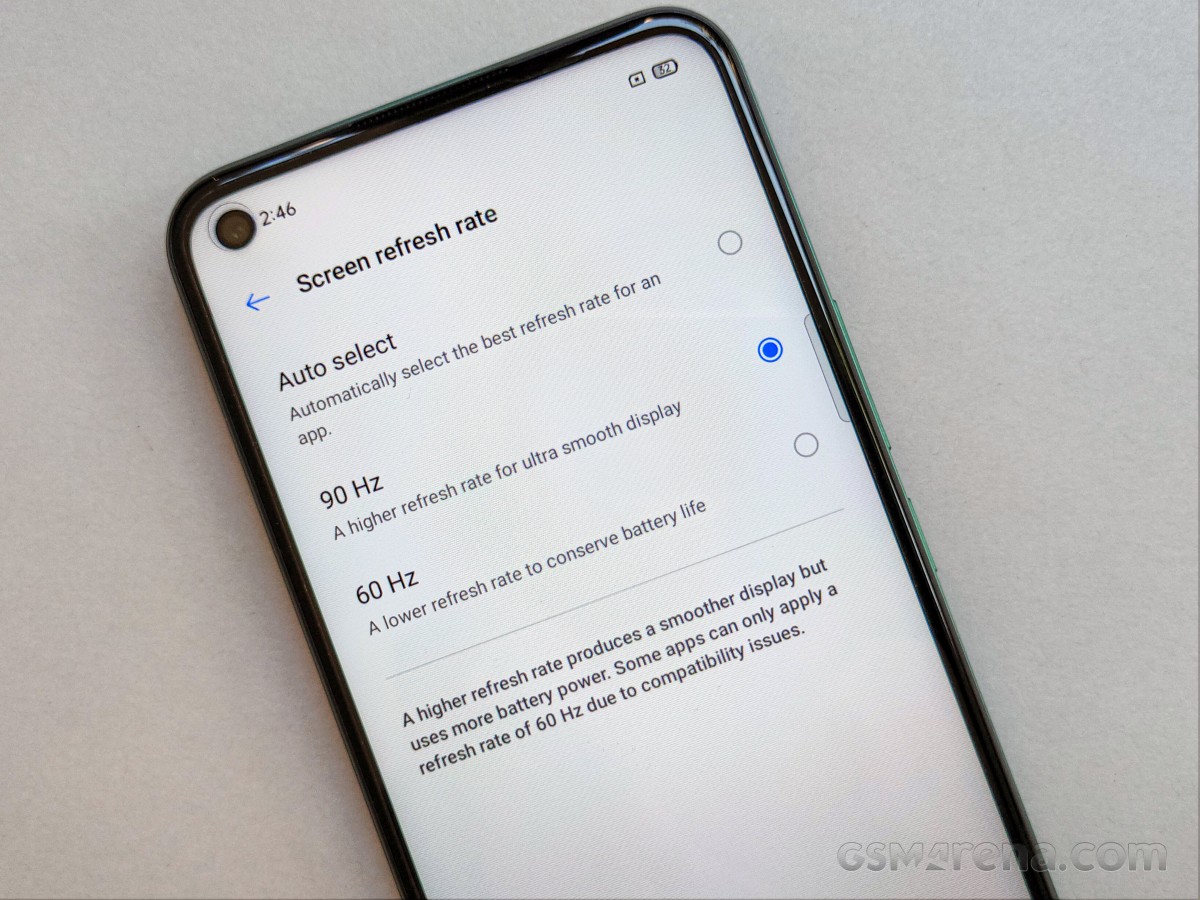 Setting the refresh rate to 90Hz in the Realme 7i's menu results in the same overall behavior of 90Hz while active and 80Hz in idle throughout the UI. Only now YouTube had its 60Hz lock overridden and also ran at 90Hz. This behavior is a bit more consistent that what we observed while testing the recent Narzo 20 trio, but a lot less sensible in terms of actual battery savings. It's likely not final.
Battery
The Realme 7i retains the ample 5,000 mAh battery capacity of its vanilla Realme 7 sibling, which is more than enough for a single day away from the charger. In fact, given the less demanding chipset and screen inside the Realme 7i, we expect it to potentially even do a bit better in terms of endurance than the Realme 7. The latter scored a solid 126 hours in our proprietary battery endurance test, which you can read more about in the full review.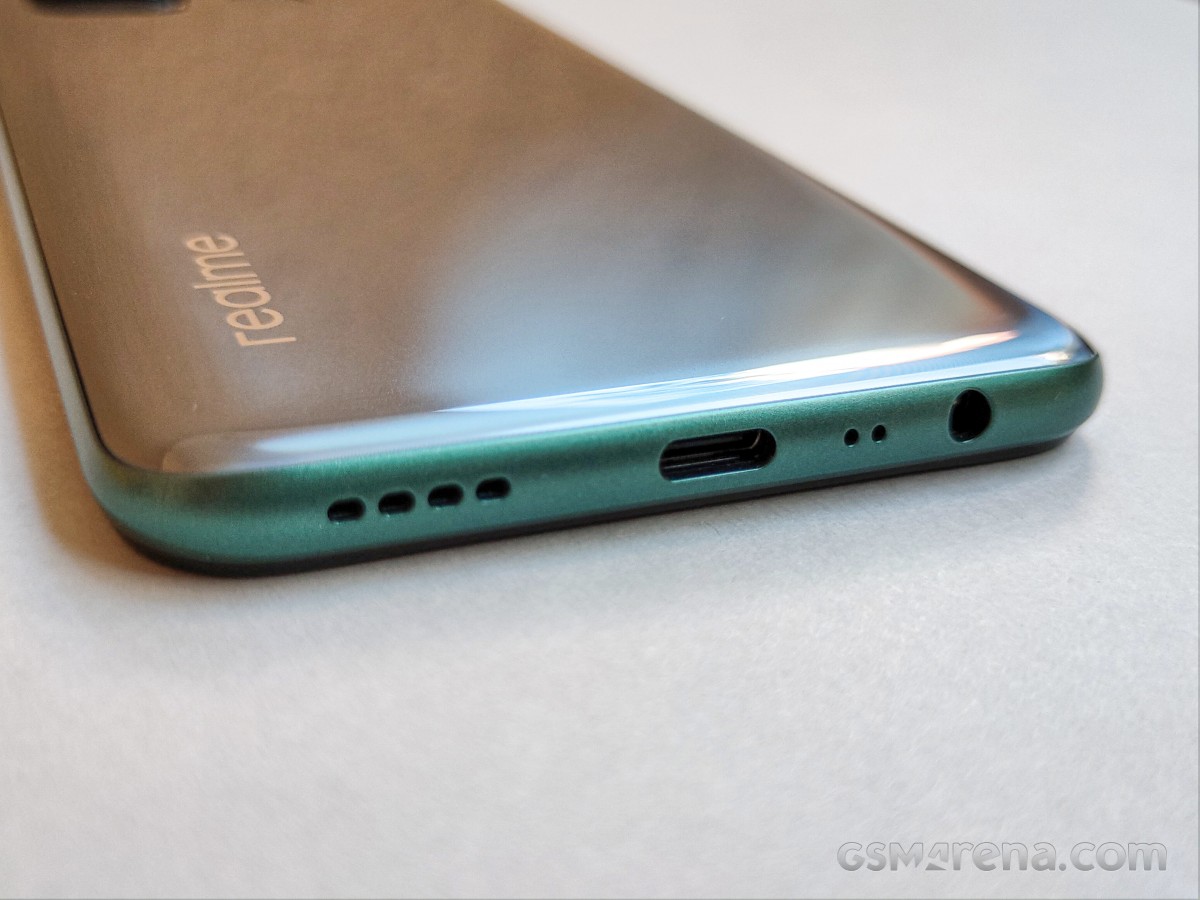 The one thing that didn't make the cut, though, is the 30W fast charging of the regular Realme 7. Instead the 7i has to do with 18W of fast charging. A bit of a drag, but still better than the 10W the Realme Narzo 20A uses to top-off its equally-sized 5,000 mAh pack.
Performance
A chipset swap is a fairly-common cost-saving measure and we see it implemented in the Realme 7i. It uses the 11nm Snapdragon 662 chipset, which has a four by four CPU configuration, as follows: 4x2.0 GHz Kryo 260 Gold, 4x1.8 GHz Kryo 260 Silver and a modest Adreno 610 GPU. That's paired with 4GB of RAM and either 64GB or 128GB of storage.
An 8GB RAM version, with 128GB of storage is said to exist as well, but we can't really find it in the wild. The storage is of the UFS 2.1 variety, though, which provides a boost. In terms of raw performance, this definitely falls behind the MediaTek Helio G95 inside the vanilla Realme 7. Same goes for the Realme Narzo 20 Pro, also based on the G95, as well as the Realme 7 Pro and its Snapdragon 720G and the vanilla Realme Narzo 20, rocking a Helio G85.
GeekBench 5 (multi-core)
Higher is better
Realme 7 Pro
1811
Redmi Note 9S
1785
Xiaomi Redmi K30 (Poco X2)
1692
Realme 7
1681
Realme Narzo 20 Pro
1666
Redmi Note 8 Pro
1622
Realme Narzo 20A
1400
Realme Narzo 20
1328
Xiaomi Redmi 9 (Prime)
1325
Samsung Galaxy M21
1319
Realme 7i
1318
Redmi Note 9
1292
Realme C3
1262
Samsung Galaxy M31s
1261
Samsung Galaxy A21s
1100
GeekBench 5 (single-core)
Higher is better
Realme 7 Pro
576
Redmi Note 9S
570
Xiaomi Redmi K30 (Poco X2)
548
Realme 7
536
Realme Narzo 20 Pro
517
Redmi Note 8 Pro
493
Realme Narzo 20
385
Xiaomi Redmi 9 (Prime)
362
Redmi Note 9
361
Samsung Galaxy M31s
349
Realme C3
347
Samsung Galaxy M21
346
Realme Narzo 20A
314
Realme 7i
312
Samsung Galaxy A21s
184
AnTuTu 8
Higher is better
Realme 7
292828
Realme Narzo 20 Pro
291407
Redmi Note 8 Pro
279355
Realme 7 Pro
278414
Xiaomi Redmi K30 (Poco X2)
272229
Redmi Note 9S
254000
Xiaomi Redmi 9 (Prime)
201829
Redmi Note 9
200414
Realme Narzo 20
193912
Realme C3
192223
Samsung Galaxy M31s
187863
Samsung Galaxy M21
180711
Realme 7i
172933
Realme Narzo 20A
169543
Xiaomi Redmi Note 8T
167395
Samsung Galaxy A21s
107157
In fact, as far as GPU performance goes, the Realme 7i has the sort of "benefit" the Narzo 20 and 20A also share - a lower native resolution, meaning less strain on the GPU while rendering at full res, on screen.
GFX Manhattan ES 3.1 (offscreen 1080p)
Higher is better
Realme 7
34
Realme Narzo 20 Pro
34
Realme 7 Pro
30
Xiaomi Redmi K30 (Poco X2)
30
Redmi Note 9S
30
Redmi Note 8 Pro
29
Realme Narzo 20
16
Samsung Galaxy M21
16
Realme C3
14
Realme Narzo 20A
13
Realme 7i
13
Xiaomi Redmi Note 8T
13
Samsung Galaxy M31s
12
Samsung Galaxy A21s
9.4
Of course, unlike purely synthetic load, modern Android games typically scale-back rendering and even resolution very gracefully and masterfully to accommodate even lower-end hardware.
GFX Manhattan ES 3.1 (onscreen)
Higher is better
Realme Narzo 20
32
Realme 7
28
Realme Narzo 20 Pro
28
Xiaomi Redmi K30 (Poco X2)
27
Realme C3
27
Realme Narzo 20A
26
Redmi Note 9S
26
Realme 7 Pro
25
Realme 7i
25
Redmi Note 8 Pro
24
Samsung Galaxy A21s
19
Samsung Galaxy M21
14
Samsung Galaxy M31s
14
Xiaomi Redmi Note 8T
11
The Realme 7i is actually quite comparable to the Narzo 20A in terms of all-round performance. As we mentioned, both deliver a solid and smooth budget experience. The real difference between the Snapdragon 665 inside the Realme Narzo 20A and the Snapdragon 662 inside the Realme 7i comes down to extra features, outside of the CPU and GPU configuration.
In order to save costs, the Snapdragon 662 uses a less-powerful Hexagon 683 DSP and a slower memory controller. Also, the X11 LTE modem is somewhat of a downgrade compared to the X12 in the SD665. Overall, however, these downgrades are not really all that noticeable from an end-user standpoint. Certainly not nearly as noticeable as the 90Hz refresh rate and the extra fluidity it adds on the Realme 7i, compared to its similarly-powerful 60Hz Narzo 20A sibling.
Camera
It is fairly safe to assume that the Realme 7i borrows its camera setup from the Asian version of the vanilla Realme 7. It's not too dissimilar from that on the Narzo 20 Pro, either, but the 64MP main unit sets it apart. It has a 1/1.73" Quad-Bayer sensor with 0.8µm pixels and a fairly-bright f/1.8 lens in front.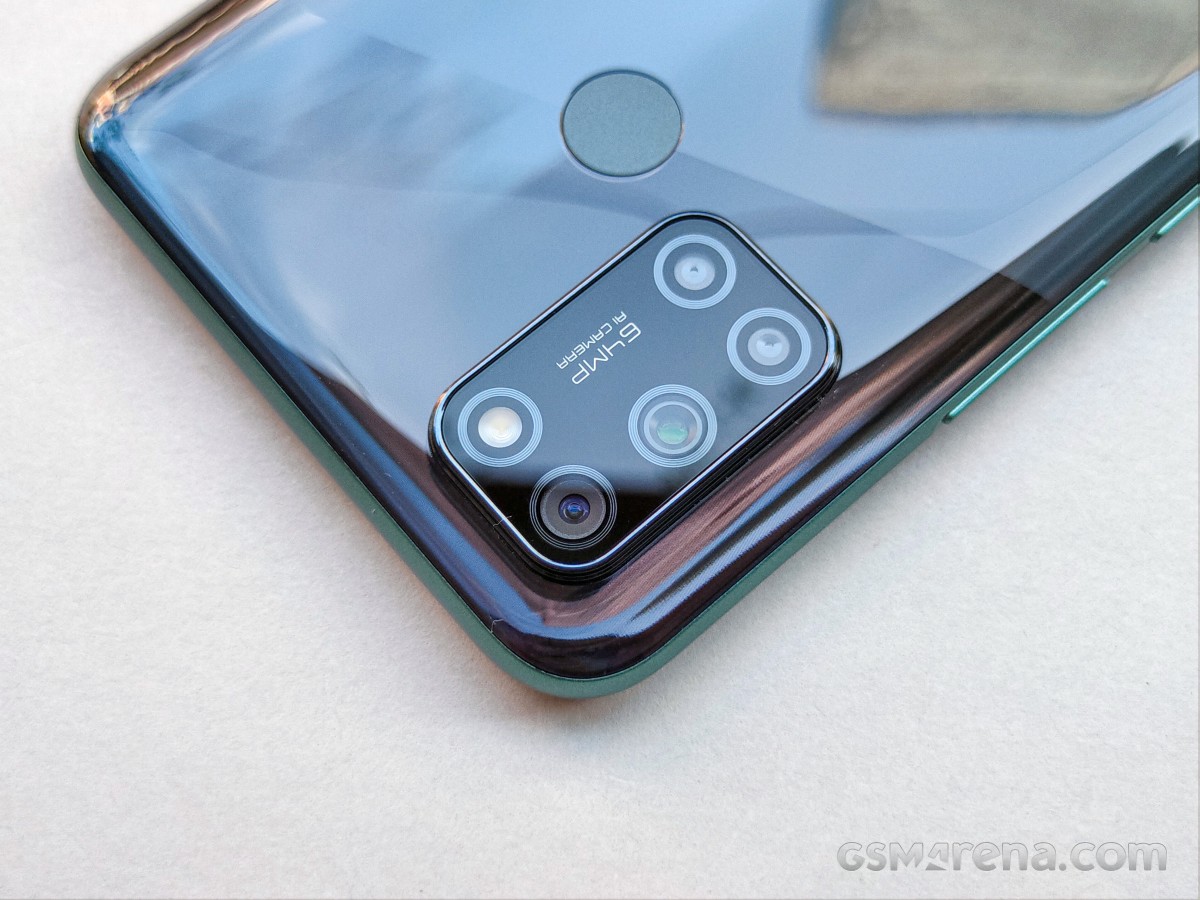 Joining the main camera, we have an 8MP ultrawide - 1/4.0" senor, 1.12µm pixels, f/2.3 lens - a rather standard choice also found of the Realme 7, the Narzo 20 Pro, we already mentioned and the vanilla Narzo 20. Then we have a pair of 2MP f/2.4 snappers - one for macro shots, while the other for depth information. Another common occurrence on recent Realme phones.
There are a couple of important things worth noting about the camera modes available on the Realme 7i and its capabilities. Most-notably, it is capped at 1080p (30fps or 60fps) for video capture, whereas the Realme 7 can do 4K.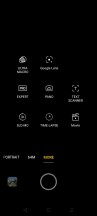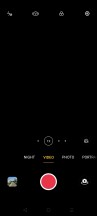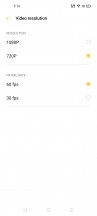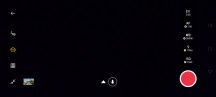 Camera options and video capture
Interestingly enough, however, there is a special Movie Mode in the Realme 7i camera app, which is missing from the Narzo 20 family. It is effectively a Pro video capture mode. Another notable quirk sees the Chroma Boost option, again popular on the Narzo line, swapped for something called AI Dazzle Color. Though, in practical terms, their effect on shots seems to be similar.
We grabbed a few quick test shots with the main 64MP shooter on the Realme 7i. We made sure to include ones with HDR on, as well as the Dazzle Color toggle.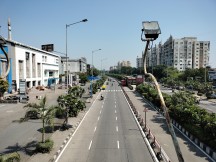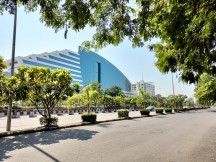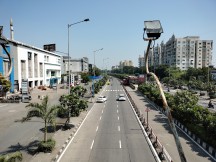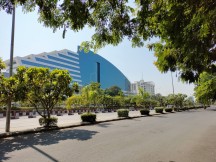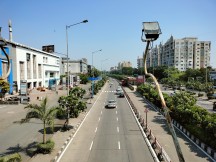 Realme 7i main 16MP camera samples: Regular • Regular • HDR • HDR • Dazzle Color • Dazzle Color
By default, the main 64MP camera captures 16MP stills, after the pixel binning process is done. If you want to, however, you can shoot at its full 64MP resolution. Here are a couple of scenes in that mode, as well as 48MP with Dazzle Color enabled.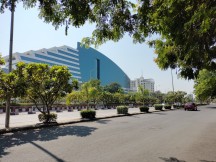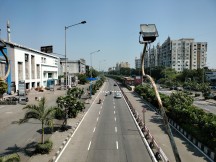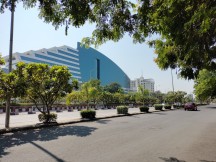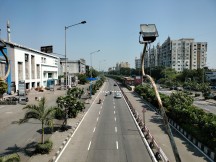 Realme 7i main 64MP camera samples: Regular • Regular • Dazzle Color • Dazzle Color
On to the 8MP ultrawide then and the same couple of scenes. Again, accompanied by HDR and Dazzle Color samples. Naturally, we reserve any quality analysis and comment for a full review format.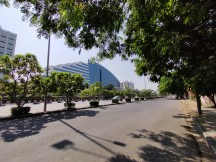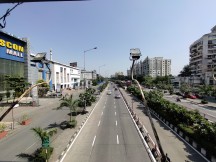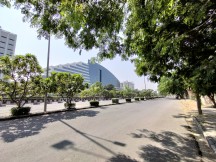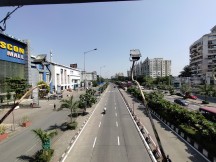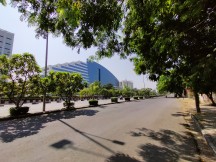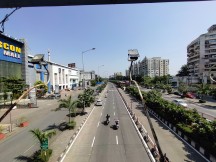 Realme 7i ultrawide 8MP camera samples: Regular • Regular • HDR • HDR • Dazzle Color • Dazzle Color
The Realme 7i shares the selfie camera module with the Realme 7. It is a 16MP snapper, with an 1/3" sensor, 1.0µm pixel size and f/2.1 aperture.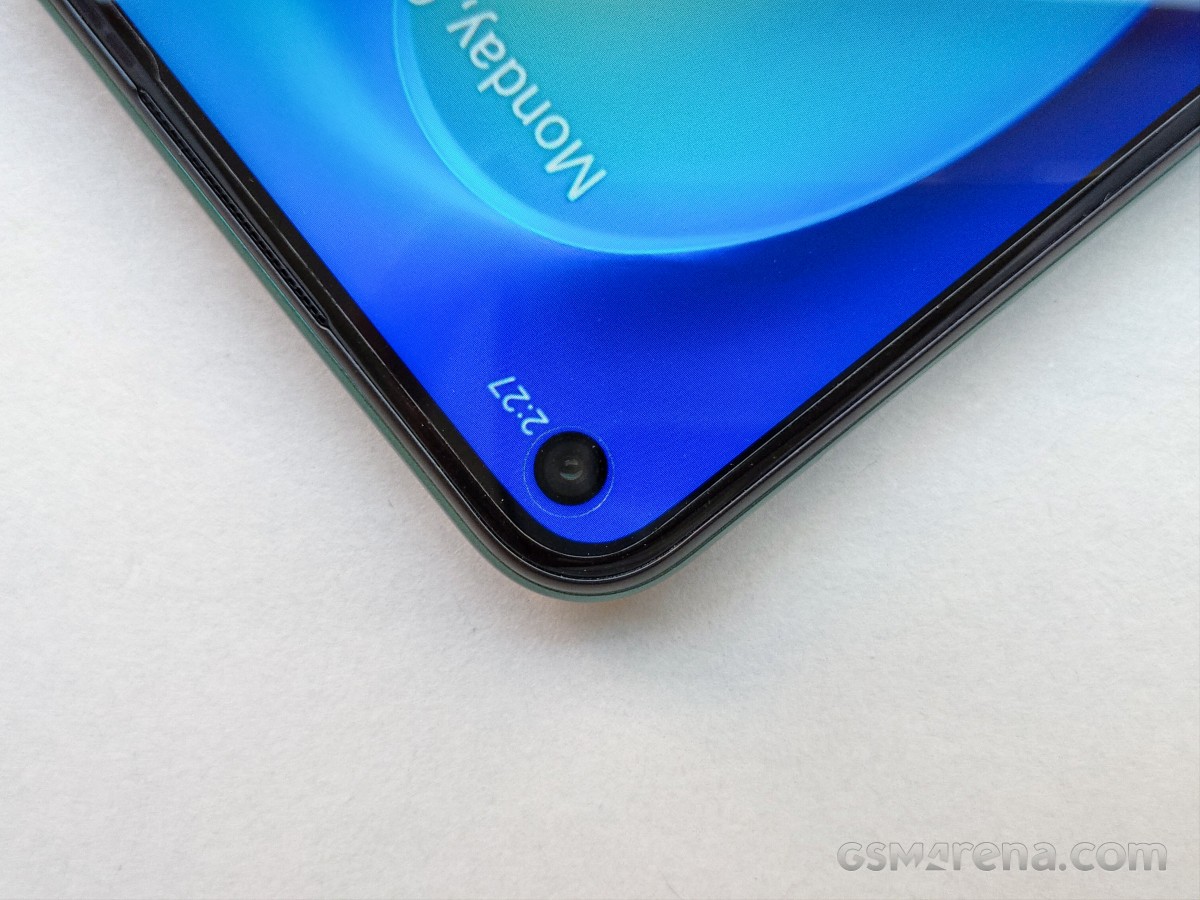 Nothing too fancy, but there is the important addition of gyro-based EIS on the Realme 7i, which works on both the main and the selfie camera.
OS and UI
Not unlike the recent Narzo 20 family, the Realme 7i runs on the company's realme UI 1.0 out of the box.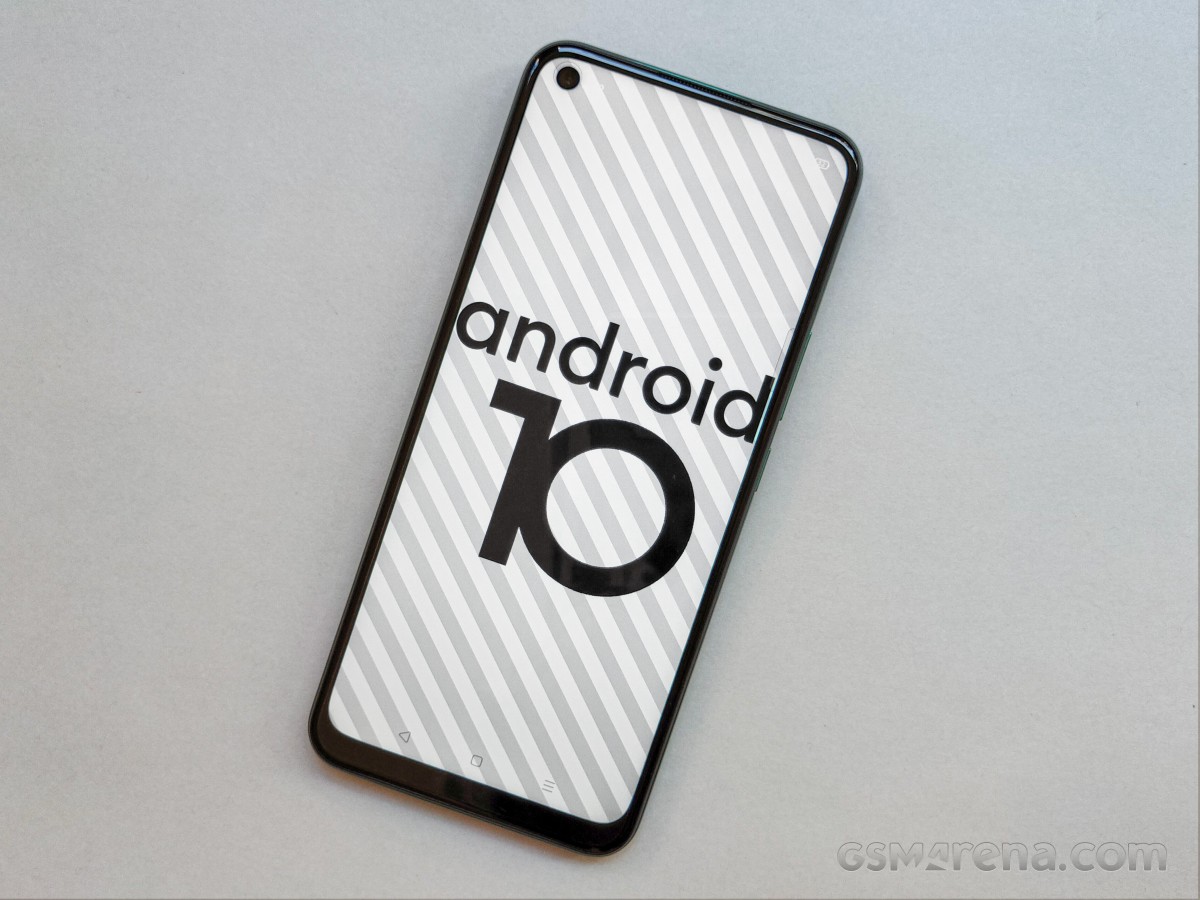 It is built on top of Android 10 and our unit was still rocking the slightly older August 5 security patches.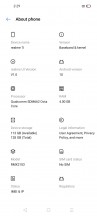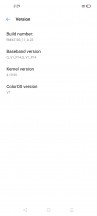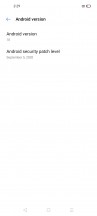 About the Realme 7i and realme UI
Realme UI isn't shy about its AOSP influences. We can't complain either, since it manages to remain rather clean, despite having more options than most other custom Android skins. The Realme 7i even uses Google's AOSP Phone and Messages apps.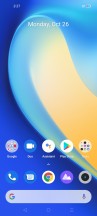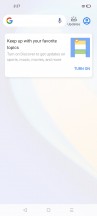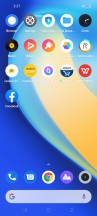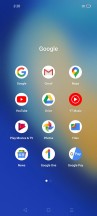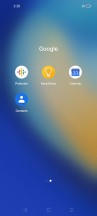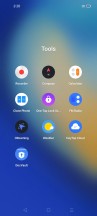 realme UI home screens and folders
The default icons are also very AOSP-like. Same goes for the notification shade and quick toggles area, as well as the recent apps interface.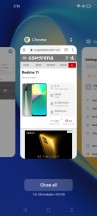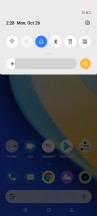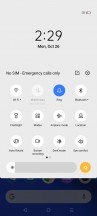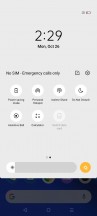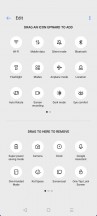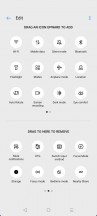 Recent apps • Notification shade and quick toggles
Realme UI uses a conventional app drawer by default. Some of the noteworthy preloaded apps include Realme PaySa and Realme Link.
The app drawer is just an option in Realme UI, though. If it's not to your liking, you can easily switch to a home-screen only based navigation model instead. Plus, an extra simple mode provides nifty versatility for older folks or remedial Android users, through its use of fewer and bigger UI components. Navigation can also be heavily customized, including quite a few gestures and things like an assistive ball.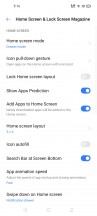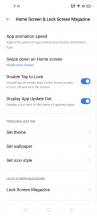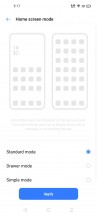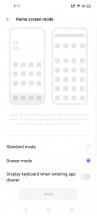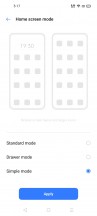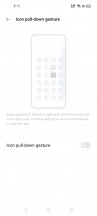 realme UI home screen, navigation and customization options
Game Space is a nifty portal that has all of the expected distraction-avoidance options well covered. This includes muting calls and notifications. There are also some performance and battery tuning options thrown in the mix, so you can try to either squeeze-out a few extra frames or longer playtime from the modest hardware of the Realme 7i.
Finally, there is the realme Lab menu, where the company tends to offer upcoming features for early beta testing to end users. Realme is constantly working on new things.
Final thoughts
The Realme 7i offers a rather unorthodox set of features and has an interesting position within the company's current lineup. On the one hand, it is obviously an attempt to bring most of the important features of the vanilla Realme 7 at a lower price point, without really sacrificing too much. With a starting price of INR11,999 ($165/€140) for the 64GB variant and going up to INR12,999 ($175/€150) for the 128GB one, they clearly got the budget part of the equation right. Mind you, you still get a quad main-camera setup on the back, as well as the trendy 90Hz refresh rate on the panel. With a certain demographic the latter might make a a more tangible difference in perceived smoothness and responsiveness than a higher-end chipset, which Realme chose to forego.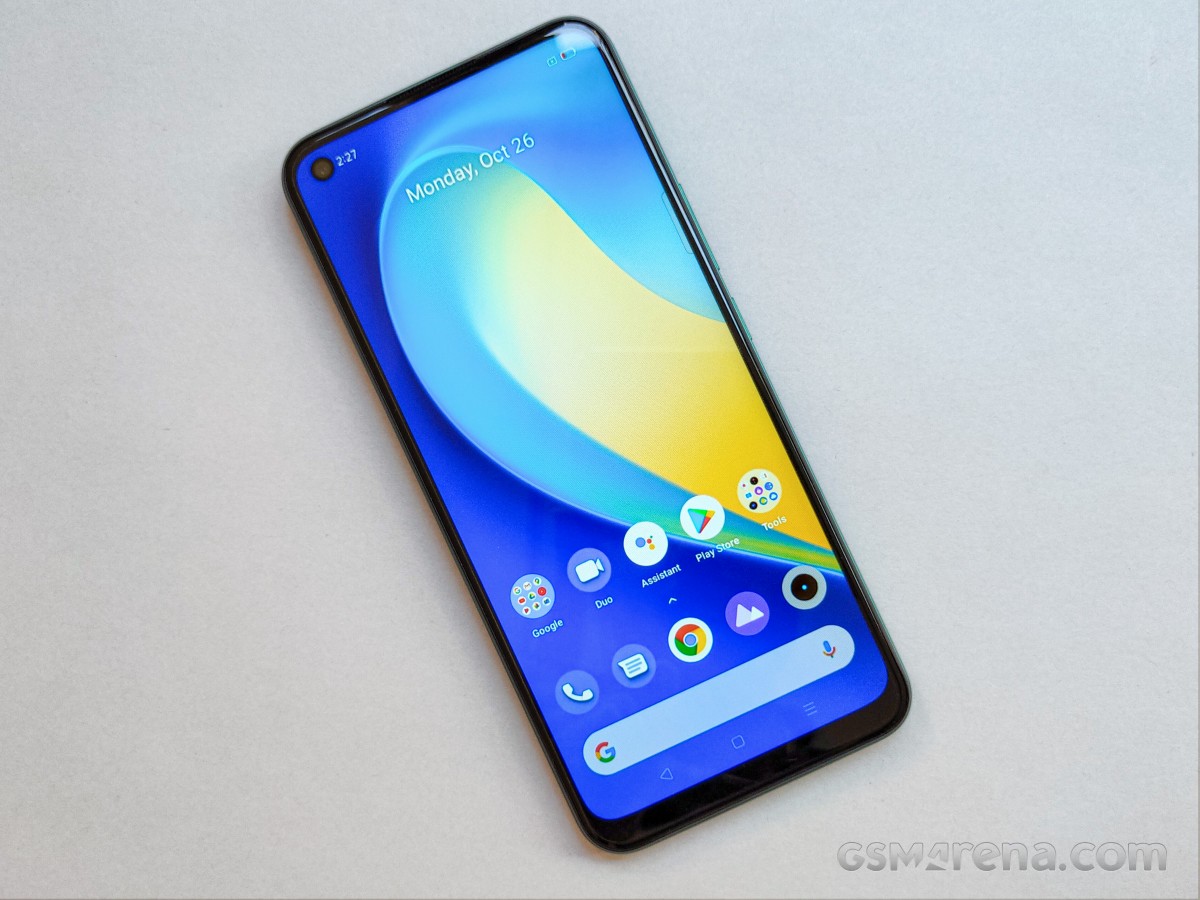 Related
Been 3 year with 7i. Using sams s5 before and its a downgrade to display. For performance it's enough for work and daily uses. And 7i still has 3.5 jack, sd card, charger Because sometimes They're disappear in newer phone. So I...
Brand loyalty and having a good experience with the iphone is why people buy it, even if its expensive. No bloatware as well.
Anonymous
19 Jul 2021
t@g
Not really a garbage, iphone still use near HD screen about 326ppi, not really surprising, but people still love apple and willing to buy it even over 700 USD
Popular articles
Popular devices
Electric Vehicles