Realme 7 review
GSMArena team, 13 October 2020.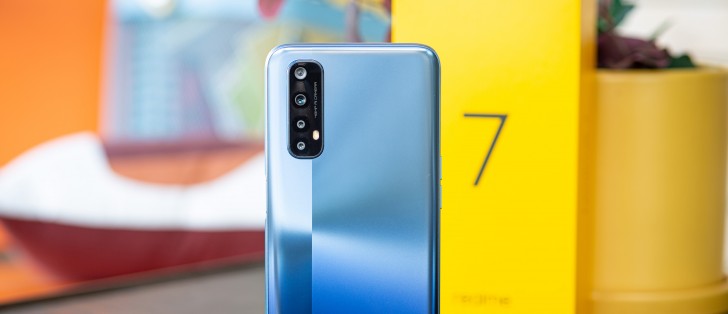 Display
The Realme 7 has the same display as the Realme 6 - it's a 6.5-inch IPS LCD screen of extended 1080p resolution, supporting 90Hz refresh rate. There is one small punch hole for the selfie camera near the top left corner.
The screen panel has the trendy rounded corners, and it is protected by a Gorilla Glass 3 piece.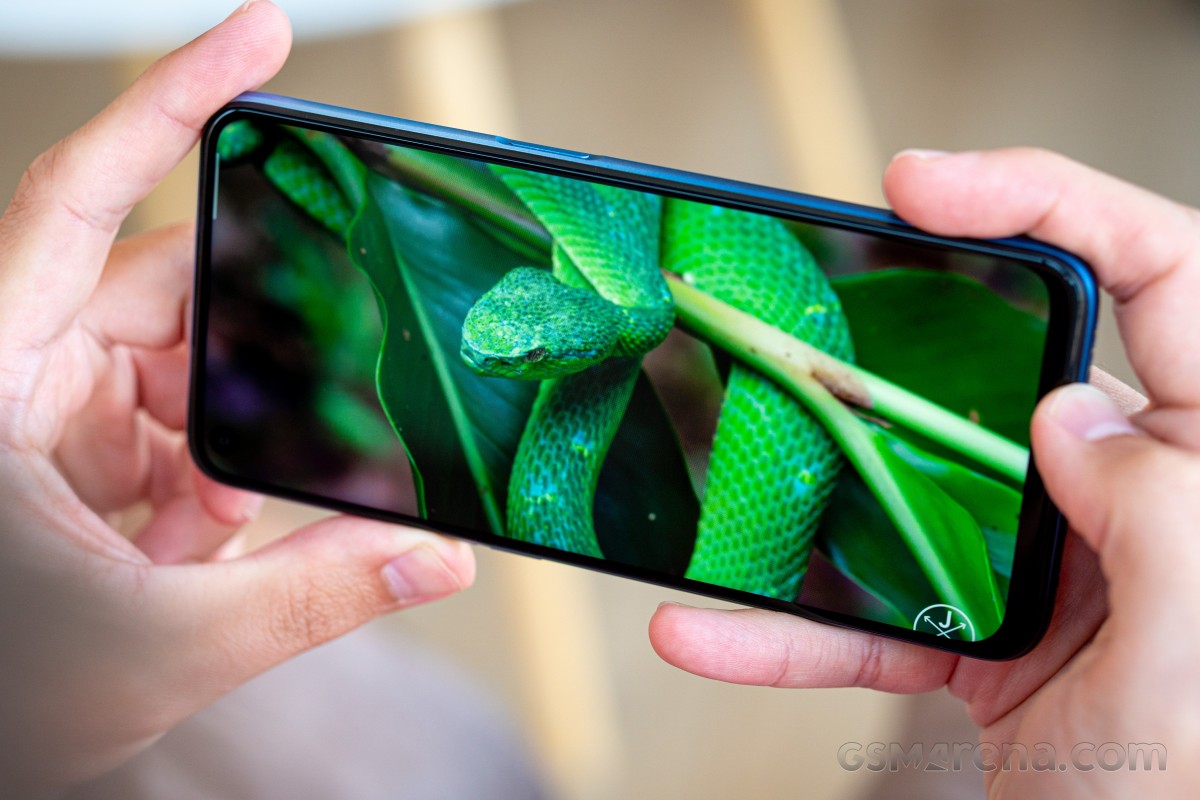 So, the screen has a resolution of 2,400 x 1,080 pixels or 405ppi density. As we mentioned, it supports a high refresh rate - 90Hz in this case, but you can choose between 60Hz, 90Hz, and Auto in the Settings menu.
We suggest leaving it to Auto and letting the operating system decide on when to use what. Realme UI is optimized to work at the high framerate needed to match the max refresh rate, so you will be enjoying smooth-looking OS operations for sure.
Realme is promising 480nits of typical brightness for the Realme 7 screen, and our measurements are in the same ballpark. The display turned out a maximum brightness of 457nits in manual and 526nits in Auto mode - okay for this budget class. The black levels are quite deep, and the Realme 7 scored an excellent contrast ratio of 1474:1.
The lower brightness we could capture on the Realme 7 is 3.8 nits, which is dim enough for comfortable use in the dark.
Display test
100% brightness
Black,cd/m2
White,cd/m2
Contrast ratio
Realme 7
0.31
457
1474:1
Realme 7 (Max Auto)
0.374
526
1406:1
Realme 6
0.343
451
1315:1
Realme 6i
0.328
528
1610:1
Realme 6 Pro
0.318
421
1324:1
Realme 7 Pro
0
459
∞
Realme 7 Pro (Max Auto)
0
585
∞
Xiaomi Redmi Note 9S
0.303
421
1389:1
Xiaomi Redmi Note 9S (Max Auto)
0.42
575
1369:1
Xiaomi Redmi Note 9
0.298
370
1242:1
Xiaomi Redmi Note 9 (Max Auto)
0
466
∞
Xiaomi Redmi 9
0.202
328
1624:1
Xiaomi Redmi 9 (Max Auto)
0.253
426
1684:1
Huawei P40 Lite
0.425
461
1085:1
Huawei P40 Lite (Max Auto)
0.501
515
1028:1
Motorola Moto G9 Plus
0.315
427
1356:1
Motorola Moto G9 Plus (Max Auto)
0.39
522
1338:1
The Realme 7 offers no color correction settings - what you get out of the box is your only option. The color reproduction is decent with lively though not that accurate colors. We measured an average deltaE of 6.5 and a maximum deviation of 11.2 at point Purple Blue. Indeed, the white and gray hues visibly shifted towards blue, while all blue hues are visibly more saturated than they should be.
Battery life
The Realme 7 is powered by a massive 5,000 mAh battery - up from Realme 6's 4,300 mAh cell. The phone supports 30W Dart Charge, which is very welcome with such large capacity.
The Realme 7 posted an outstanding score in our battery test with a 126-hour Endurance rating. It did an excellent job across all test scenarios - video playback, calls, web browsing, and we recorded impressive standby endurance.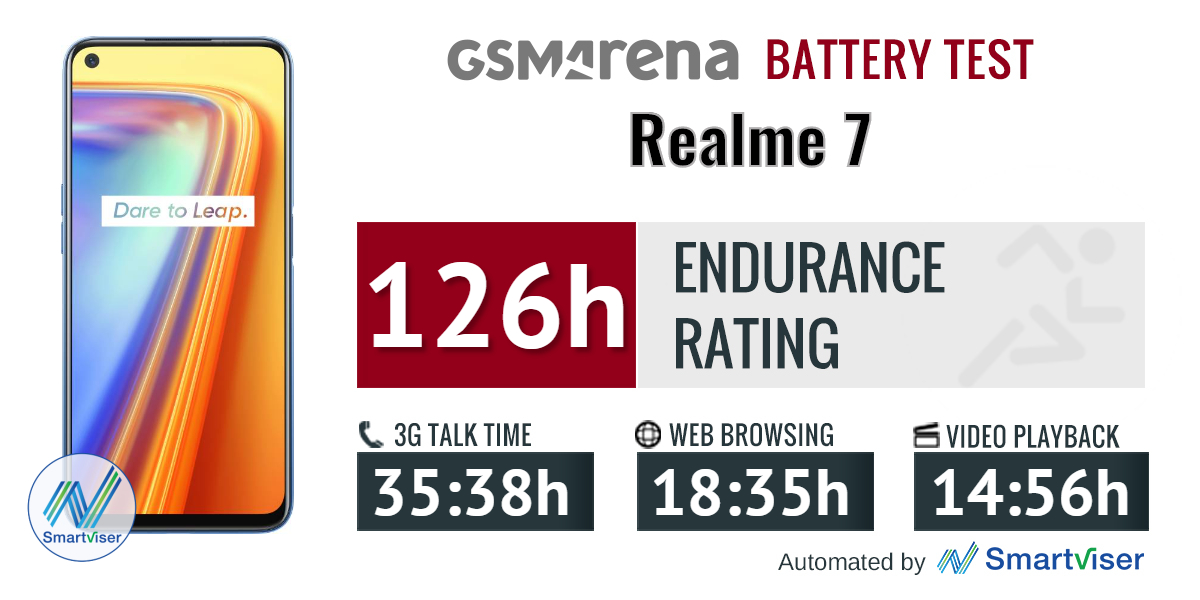 Our battery tests were automated thanks to SmartViser, using its viSer App. The endurance rating above denotes how long a single battery charge will last you if you use the Realme 7 for an hour each of telephony, web browsing, and video playback daily. We've established this usage pattern so that our battery results are comparable across devices in the most common day-to-day tasks. The battery testing procedure is described in detail in case you're interested in the nitty-gritty. You can check out our complete battery test table, where you can see how all of the smartphones we've tested will compare under your own typical use.
Charging speed
The Realme 7 supports 30W Dart Charge, and the proprietary 30W charger and USB cable are bundled with the phone. Realme claims they should replenish 50% of your dead battery in 26 mins and 100% in 65 mins.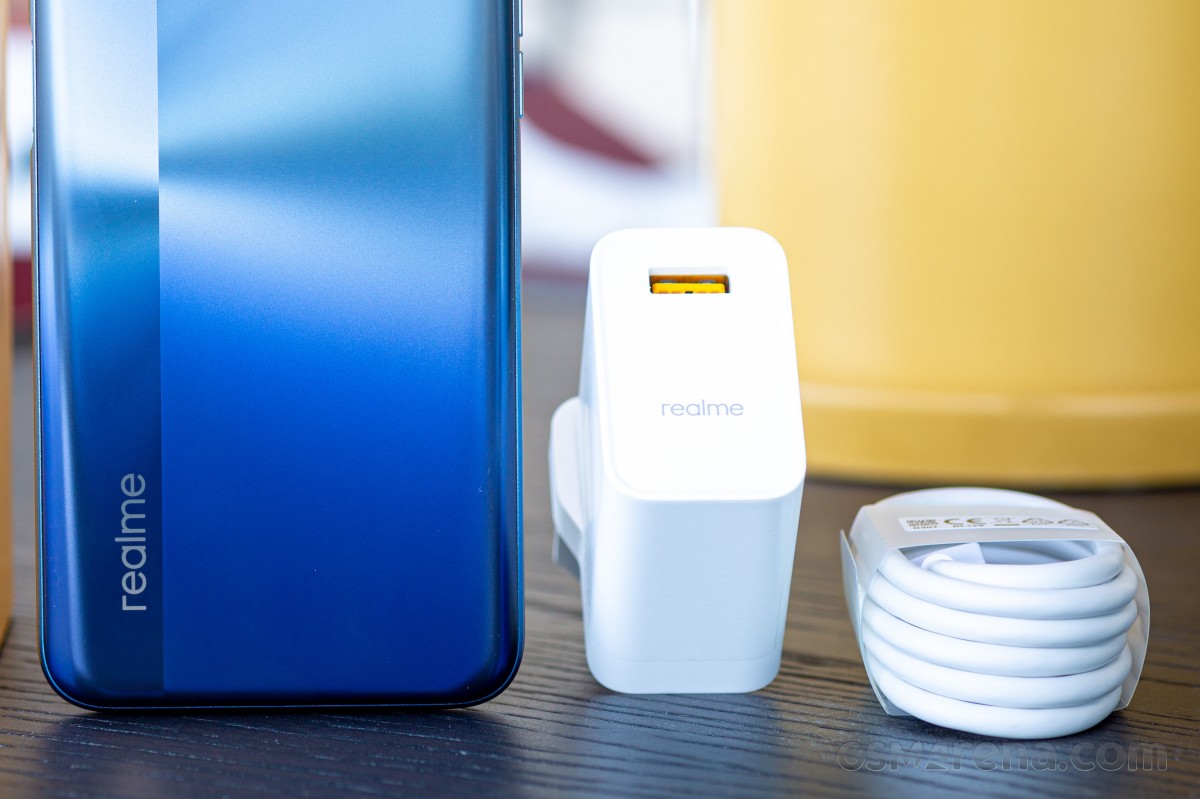 We did put these claims to the test, and the 30W Dart adapter recharged 50% of the Realme 7's flat battery in precisely 26 mins. Nice!
30min charging test (from 0%)
Realme 7 Pro
94%
Realme 6
70%
Xiaomi Redmi Note 9 Pro
63%
OnePlus Nord
60%
Realme 7
58%
Poco X3 NFC
55%
Realme 5 Pro
50%
Xiaomi Redmi Note 9S
37%
Realme 6i
33%
Xiaomi Redmi 9 (18W)
33%
Xiaomi Redmi Note 9
31%
Realme 5
21%
Xiaomi Redmi 9
20%
A full charge took exactly 65 mins - matching Realme's advertised minutes once again.
Time to full charge (from 0%)
Realme 7 Pro
0:37h
Realme 6
0:51h
Realme 7
1:05h
OnePlus Nord
1:05h
Xiaomi Redmi Note 9 Pro
1:11h
Poco X3 NFC
1:15h
Realme 5 Pro
1:30h
Xiaomi Redmi Note 9S
1:45h
Xiaomi Redmi Note 9
2:33h
Speaker
The Realme 7 has a single loudspeaker firing down from the bottom, and it posted a 'Very Good' result for loudness in our seven-track music test. It lacks a low-frequency thump, and the high notes aren't good either, but it handles vocals pretty well.
Use the Playback controls to listen to the phone sample recordings (best use headphones). We measure the average loudness of the speakers in LUFS. A lower absolute value means a louder sound. A look at the frequency response chart will tell you how far off the ideal "0db" flat line is the reproduction of the bass, treble, and mid frequencies. You can add more phones to compare how they differ. The scores and ratings are not comparable with our older loudspeaker test. Learn more about how we test here.
Should I buy realme 7 or realme 8 suggest please,
My realme 7 both the camera are not being open...what should I do
Yes same issue here. Autofocus not working . Can't focus when moving from one to another subject. Also brightness reduced during shooting videos after 15 sec