Realme 8 review
GSMArena Team, 18 May 2021.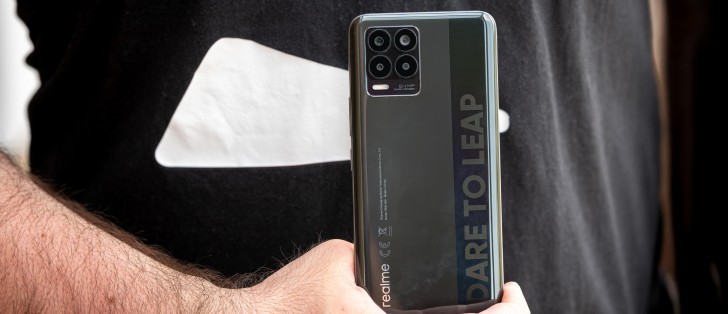 Design and materials
Realme has been doing this segmented, "two-tone" design for its back panels for some time now. The objectively huge "DARE TO LEAP" text is not new either. We really aren't sure who it's appealing to exactly, since it is frankly a bit over the top and obtrusive. It gets tackier still since Realme decided to finish the background of the vertical strip, as well as the camera island in a way that produces rainbow-colored reflections. It is definitely less visible on the Cyber Black variant than it is on the Cyber Silver one. We understand that looks are subjective and there are definitely going to be people who find the design appealing. There just weren't many of those around our office.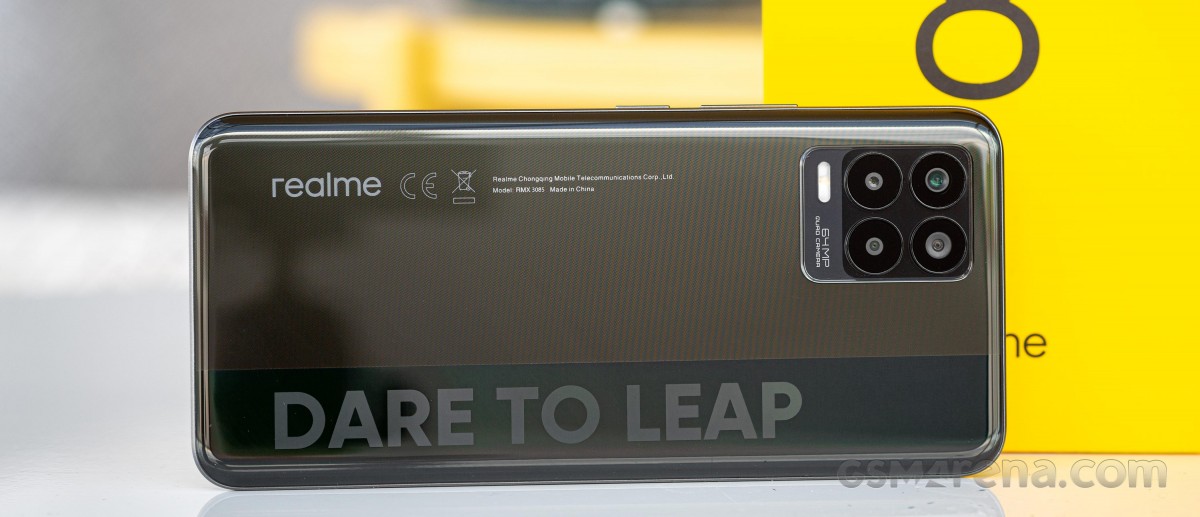 The actual material used for the curved back doesn't exactly help the overall look and feel either. It is plastic and one that is particularly prone to accumulating grease and fingerprints. The sand-blasted finish on the Realme 8 Pro feels a lot better. At least the surface itself is grippy and offers confident handling. Still, we would say that a case is a necessity. Particularly since plastic is not as sturdy or scratch-resistant as glass.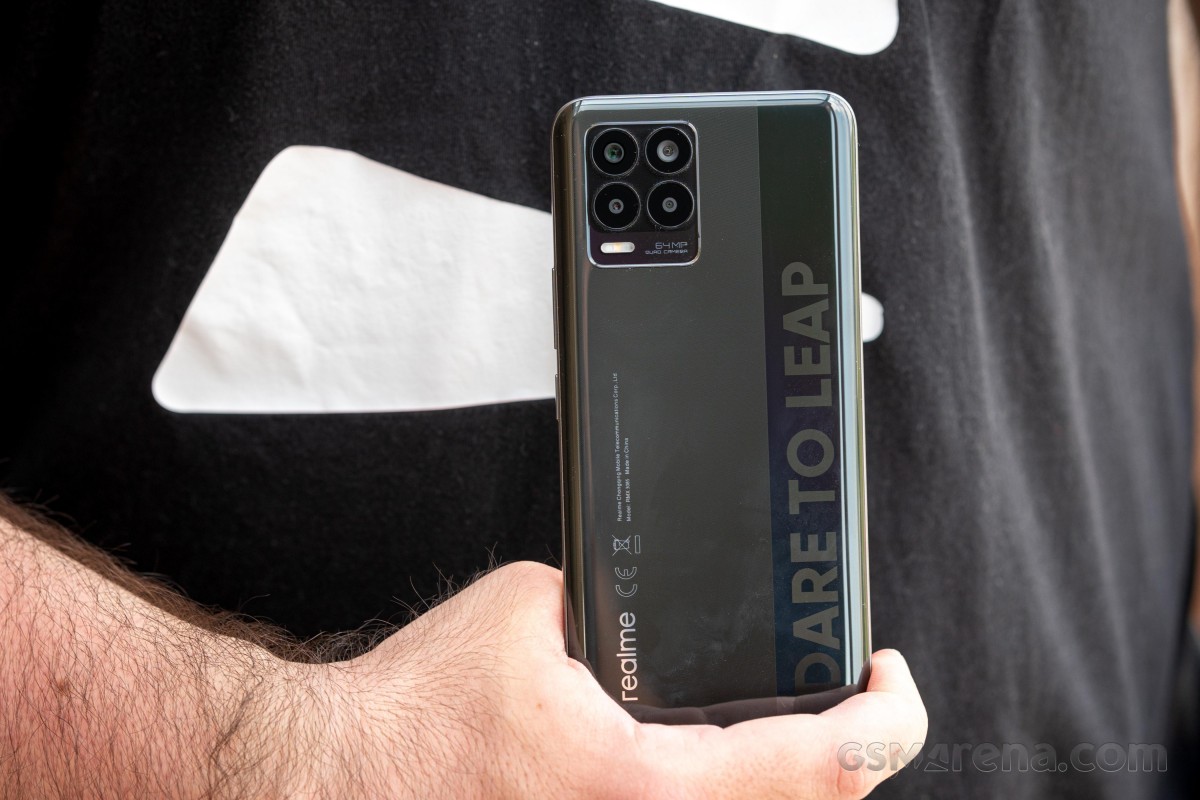 Speaking of which, the middle frame on the Realme 8 is also plastic. It does a decent job of faking metal, though, and feels a lot nicer than the back panel. It is still worth protecting with a case, as well, though.
Speaking of protection and materials, the front on the Realme 8 is made of glass, but it's not directly identified, which is a bit disconcerting. That wasn't the case with the Realme 7, which we know has Gorilla Glass 3.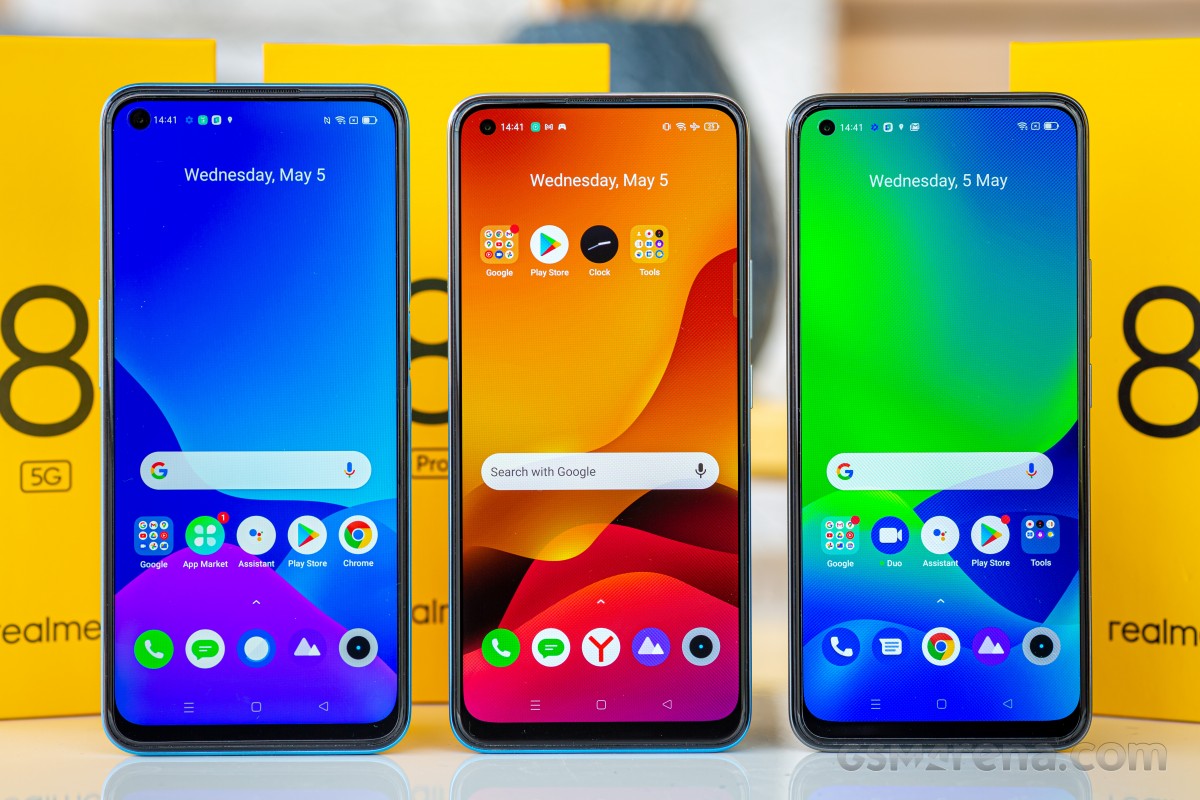 Since we already mentioned the last-get Realme 7 line, we had really hoped to see the water-repellent coating of the Realme 7 Pro spread out across the Realme 8 family. Instead, we got the exact opposite - neither the Realme 8 Pro nor the vanilla Realme 8 has it. There is no rubber gasket surrounding the SIM tray either. We guess it didn't fit the budget.
Speaking of fitting, we should circle back to the front of the Realme 8, where there is a screen protector fitted from the factory. Granted, it's not a perfect fit, with some notable misalignment in the hole punch area, but it is thin and perfectly applied. We appreciate the extra peace of mind and promise to stop the "fitting" bit while we are hopefully still ahead.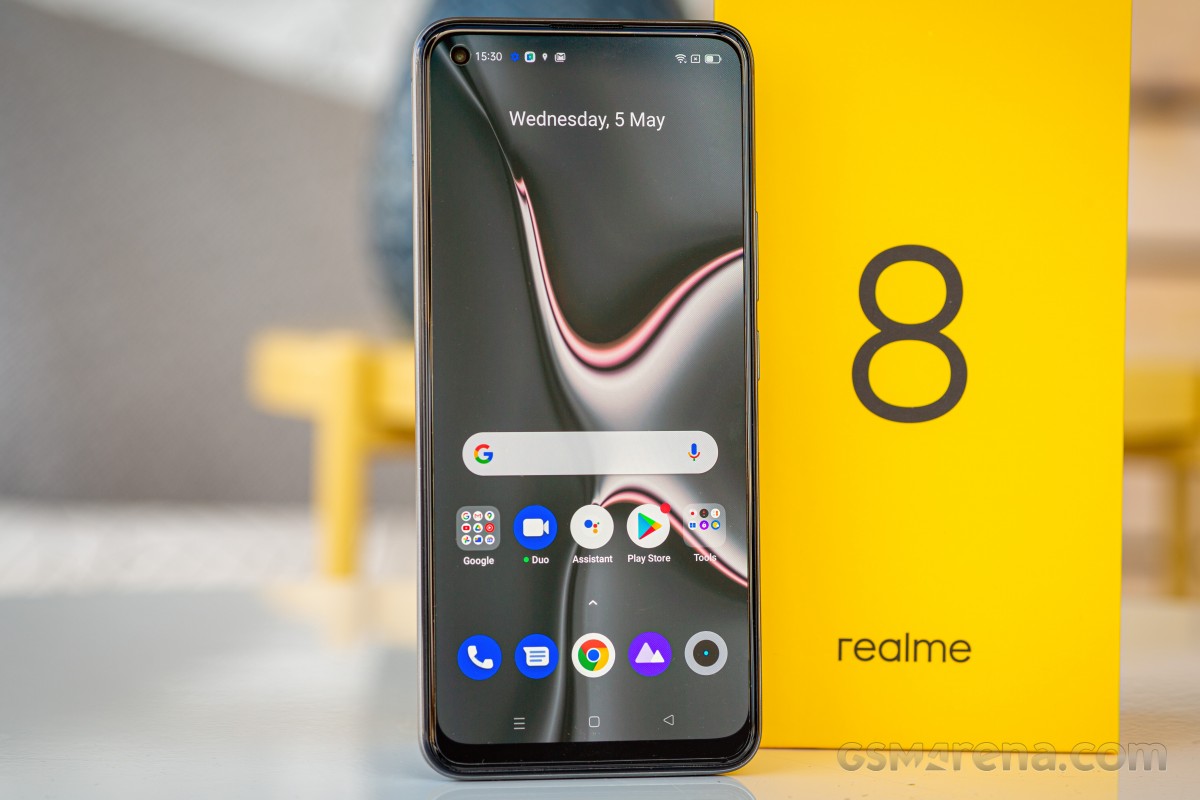 Measuring 160.6 x 73.9 x 8 mm, the Realme 8 has gotten smaller in every dimension compared to its Realme 7 predecessor. Granted, its display is a bit smaller too, but Realme still managed to cram the same big 5,000 mAh battery into a thinner body. Better still, it only weighs 177 grams.
Impressive slimming all-around, but one that unfortunately hasn't affected the size of the bezels too much. They are still a dead giveaway for the budget nature of the Realme 8 - particularly the bottom chin.
Controls
While we are on the topic of thick bezels, we do wish that space was put to good use, like with a stereo speaker setup. Granted, we can't mandate that at a budget price point. A notification LED seems like a much more reasonable ask, but one is absent from the Realme 8 as well. Pity.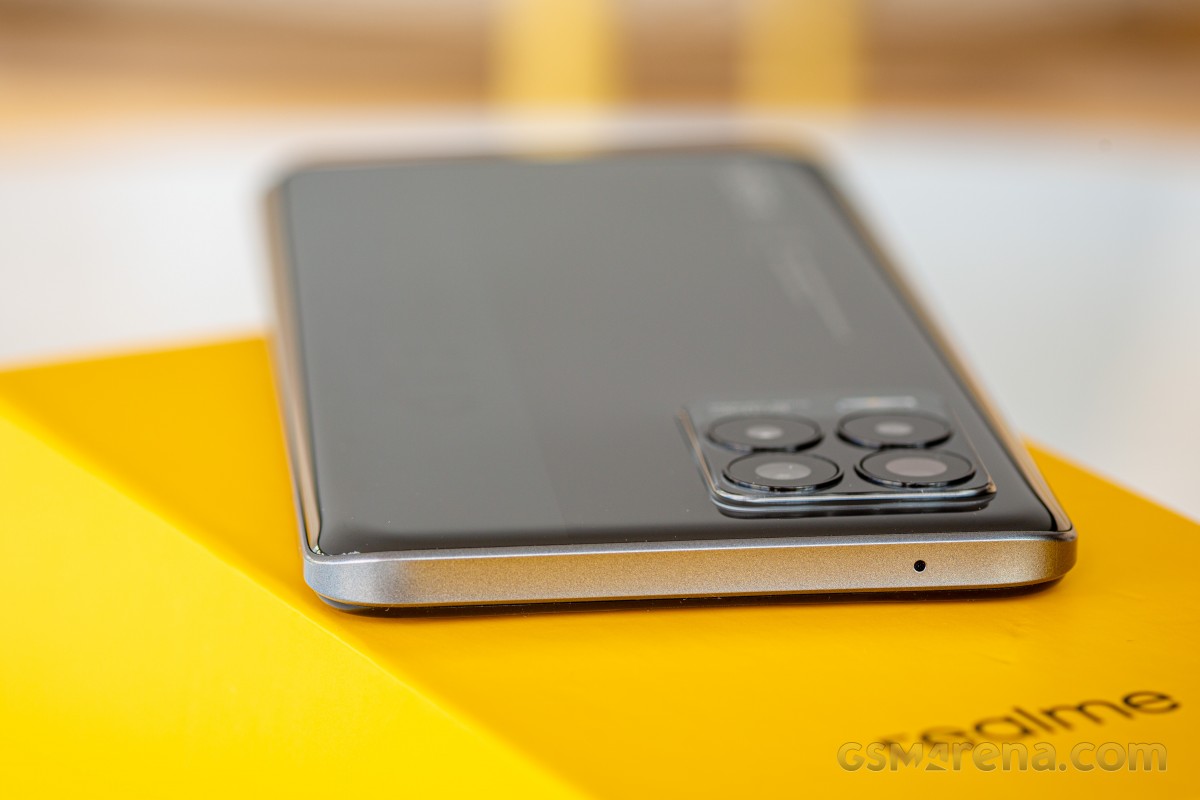 The top side is mostly empty, as is usually the case. It just houses the secondary noise-canceling microphone.
Same goes for the left side. There is just a SIM tray there. It is a versatile triple-slot tray, though. Two nano-SIM slots (4G with dual standby) and a dedicated microSD slot.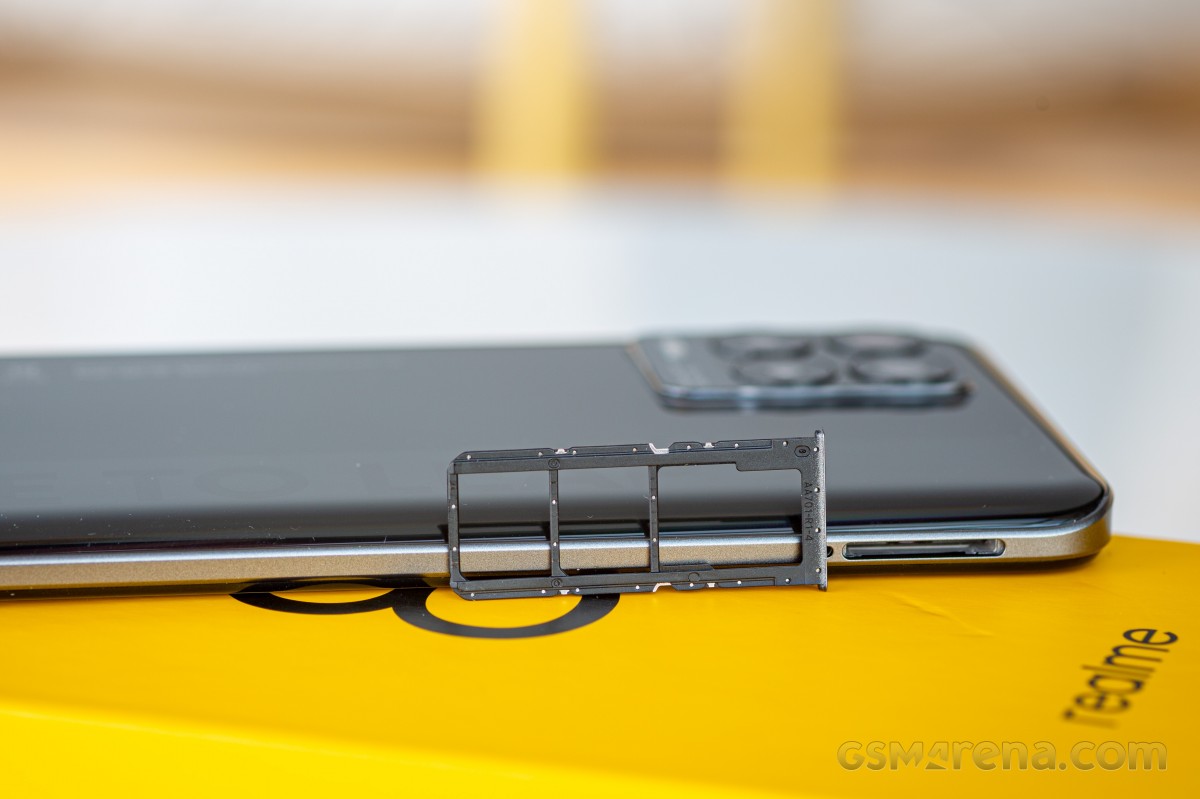 Volume rocker and the power button are on the right bezel. Their position and reachability are good. They are not particularly nice as buttons, though. The tactile feedback isn't great, and it takes quite a bit of force to press them. Their thin profile doesn't particularly help in this regard either. What does, to some degree, is putting a case on the Realme 8. It's not a perfect solution, but the problem isn't exactly monumental either. Plus, we cross-referenced these observations with another Realme 8 unit and found its buttons much better overall. Hence, we are willing to chuck this down to a faulty review unit or production inconsistency.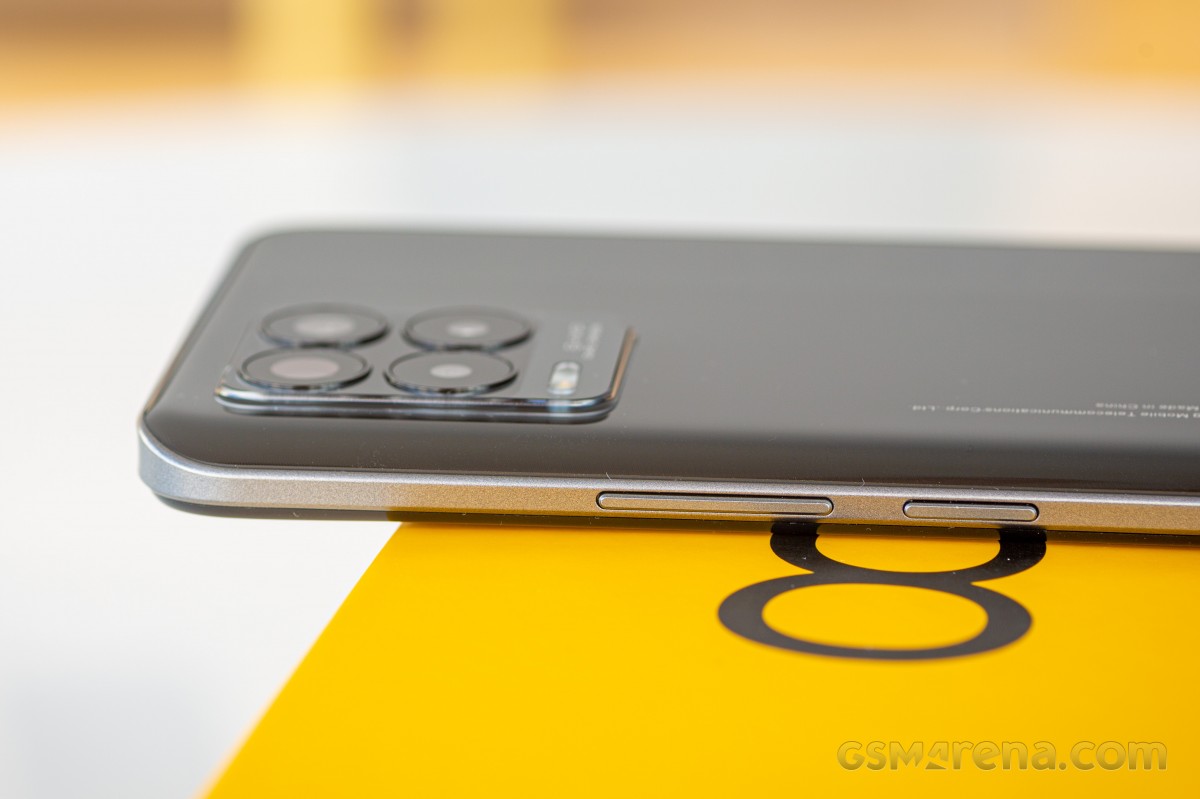 The bottom side of the Realme 8 is comparatively busy. The single bottom-firing loudspeaker and main microphone are here, flanking the OTG-enabled USB 2.0 Type-C port.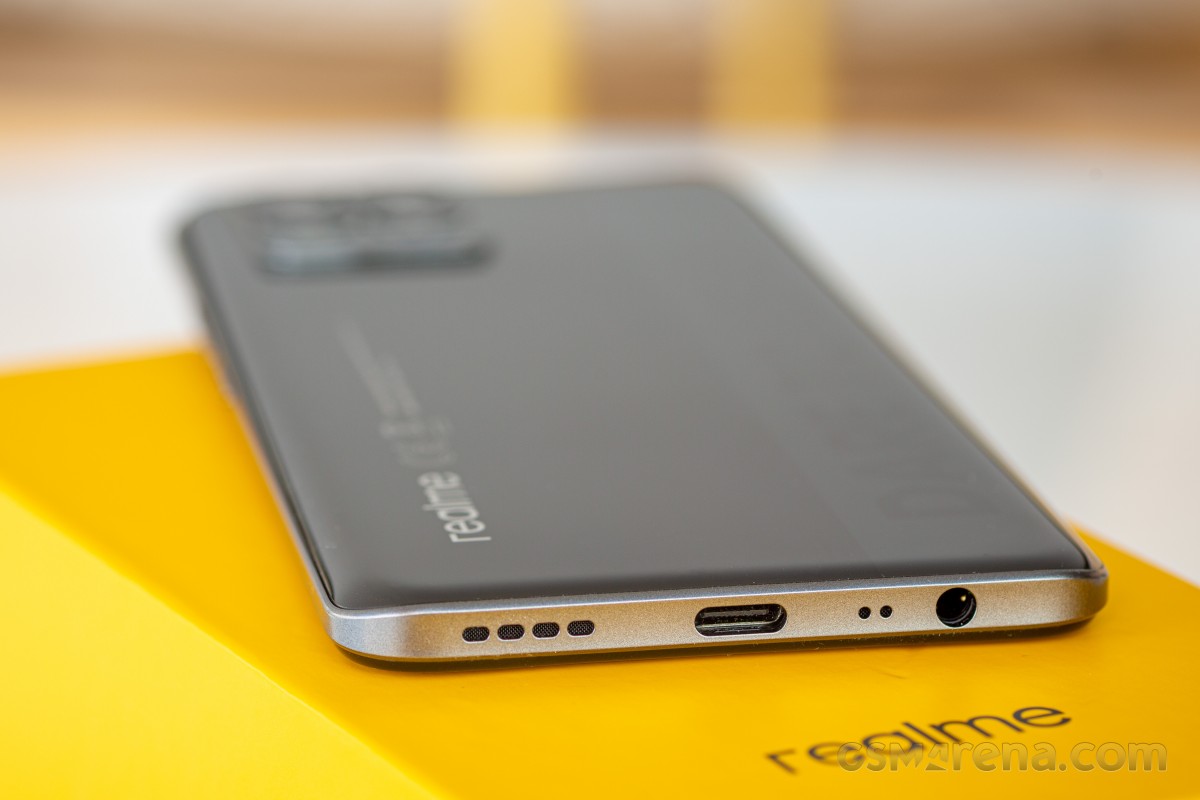 The trusty old 3.5mm audio jack is also great to see. The Realme 8 advertises 24-bit/192kHz audio output through it.
Last, but not least, the side-mounted fingerprint reader from the Realme 7 has been replaced with an under-display unit, just like the Realme 7 Pro and Realme 8 Pro have.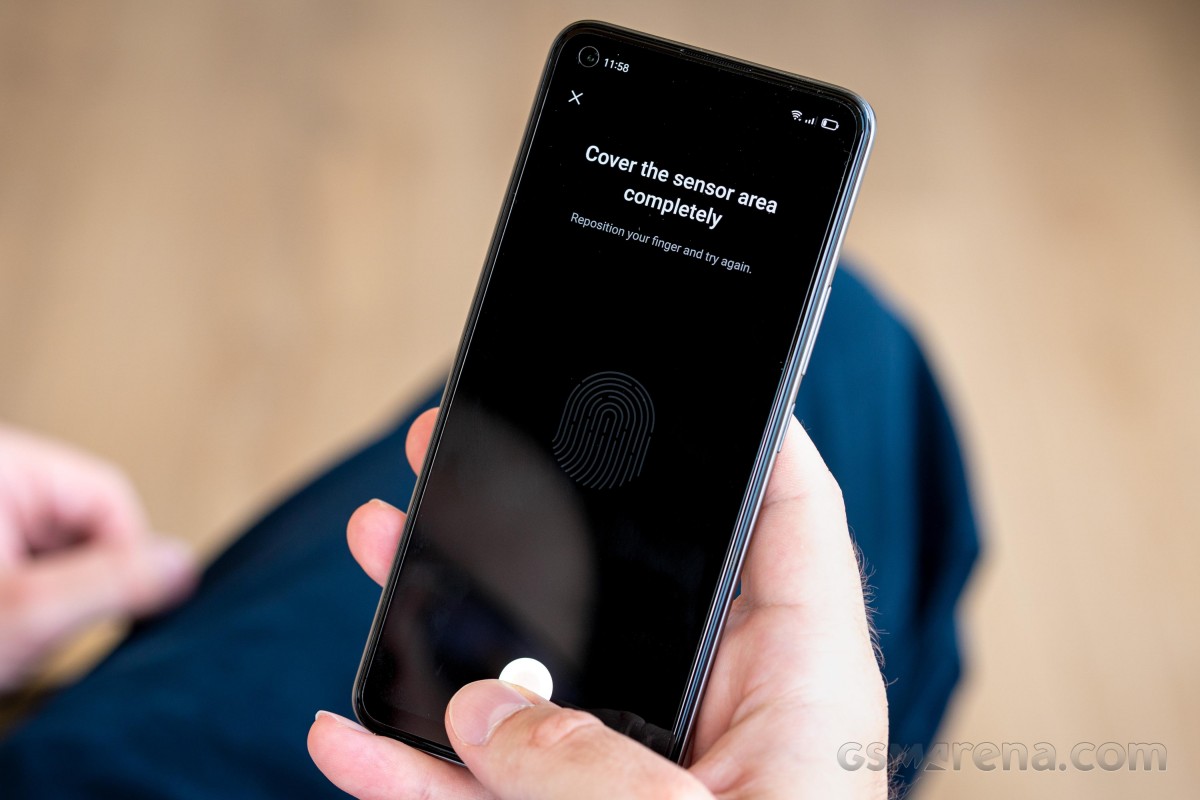 It is an optical module. Even the budget ones have really come a long way lately, and the one in the Realme 8 performs great. It is both speedy and consistent. No complaints there.
Hello sir, My device realme 8 automatically battery drain problem solved. please support me
Sathavane
03 Aug 2023
g3h
I have use this pic but now few day ago updating new vesion are not working properly all applications speed are very slow internet speed are very slow working, now some applications not working like Google crom is not working also several time app re...
I used this phone from last 10month & I am very happy with this phone .All features & app works good except voice recording app.